The global enterprise data management market size was valued at $79.7 billion in 2021 and is projected to reach $224.5 billion by 2031, growing at a CAGR of 10.8% from 2022 to 2031.
Data analysis has become more demanding as the amount of data collected from various corporate processes has increased. As a result, organizations in a variety of end-user industries are using data integration solutions. Artificial Intelligence in cognitive media solutions enables real-time data synthesis for better decision-making by supporting real-time analysis, allowing firms to convert, monitor, and disseminate data; comprehend business processes; and bridge the gap between IT & businesses.
The data management platform requires the right people to manage the business, but a major issue for its expansion is the shortage of a skilled workforce. The developer must be knowledgeable in HTML, CSS, and JavaScript to implement data platform management. As a result, the employment of appropriate competence is hampered by a lack of this fundamental knowledge, lowering business productivity. These serious problems make it harder for the market for data platform management to expand.
The industry players are investing heavily in the research and development of smart, unique solutions to sustain their growth in the market. These strategies include ensuring that the volume of information generated by businesses does not exceed the capacity of traditional storage media. This causes a significant amount of wasted space in their current systems, which increases the cost of their backup and storage infrastructure. By automating storage procedures in a centralized location without requiring any manual involvement from engineers or administrators, enterprise data management systems assist in lowering the cost of IT infrastructure, storage, and backup. This is regarded as one of the principal advantages of enterprise data management.
The key players profiled in this report include NTT Communications Corporation, IBM Corporation, SAP SE, SAS Institute Inc., Cloudera, Inc., HP Development Company, L.P., Microsoft, TierPoint, LLC., VMware Inc., and Amazon Web Services, Inc.
The global enterprise data management market share is segmented based on component type, product type, deployment type, organization size, end-use industry, and region. By component type, it is classified into software and services, by product type, the market is classified into data security, master data management (MDM), data integration, data migration, data warehousing & business intelligence and others, by deployment type, it is classified into on-premises and cloud, by organization size, the market is classified into large enterprises and small and medium-sized enterprises, by end-use industry, the market is classified into banking, financial services, and insurance (BFSI), healthcare & life sciences, telecom & information technology, government & public sector, media & entertainment, retail and consumer goods and others.  By region, the market is analyzed across North America, Europe, Asia-Pacific, and LAMEA.
The spread of the Covid-19 pandemic has drastically disrupted businesses slowing down the global economy. The adverse effects of the pandemic dramatically reduce digital spending across different industries.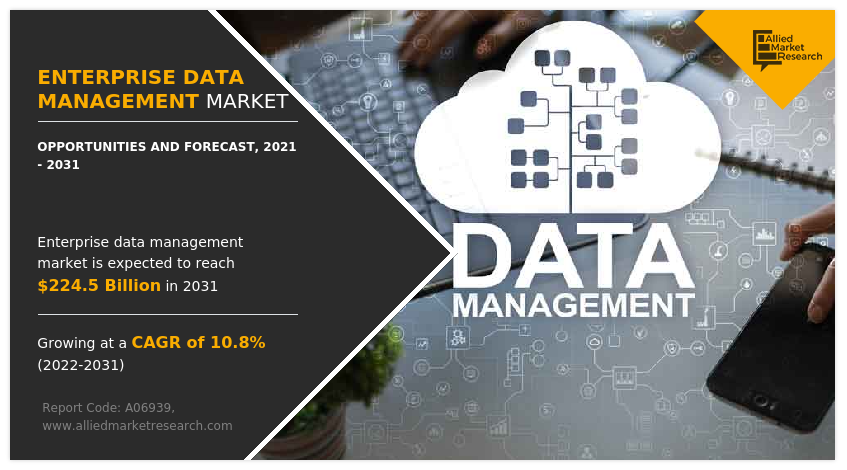 The enterprise data management market is segmented into Deployment Type, Organization Size, End-use Industry, Component Type, and Product Type.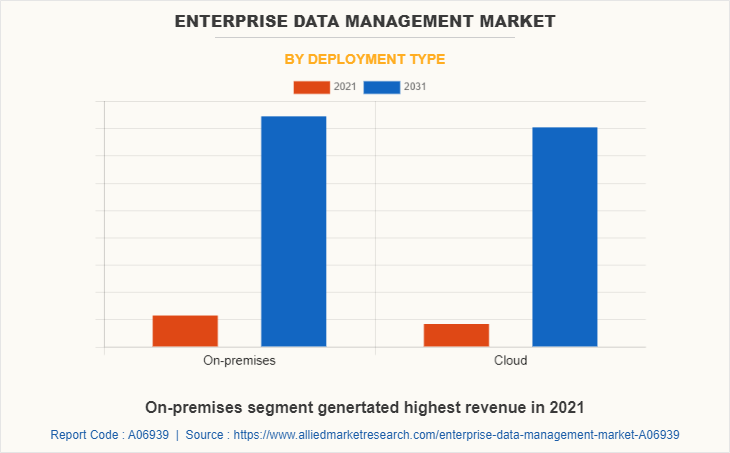 By development type, the on-premise sub-segment dominated the market in 2021. The innovative data management methods for app management are on-premises. An on-premises application majorly provides operational efficiency and reduces the dependency of internet to access data. Additionally, unlike cloud storage, on-premise is less vulnerable to third parties and prying eyes. The industries which handle sensitive data mainly banking and financial services prefer such deployment type to reduce unauthorized personnel.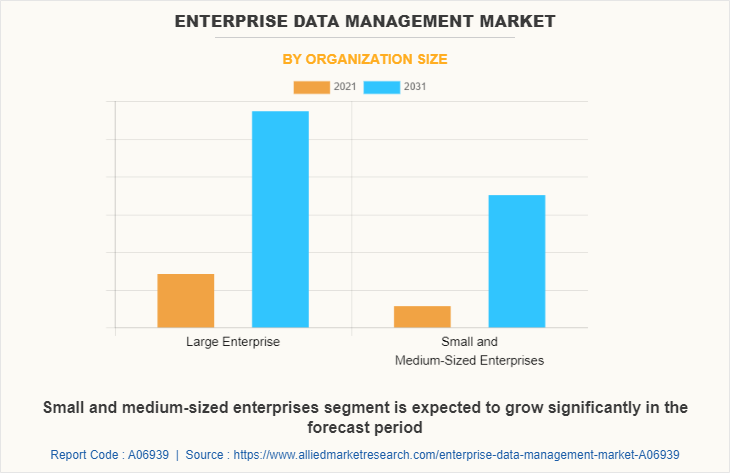 By organization size, the large enterprise sub-segment dominated the global enterprise data management market share in 2021. Large enterprises require high-tech tools, such as various analysis engines, process blueprints, and real-time data compilation tools, to drive the adoption of business solutions. Large organizations place a great emphasis on using effective data methodologies to assess and anticipate potential dangers, and then using this data to make faster business choices. These factors are expected to fuel demand for EDM solutions.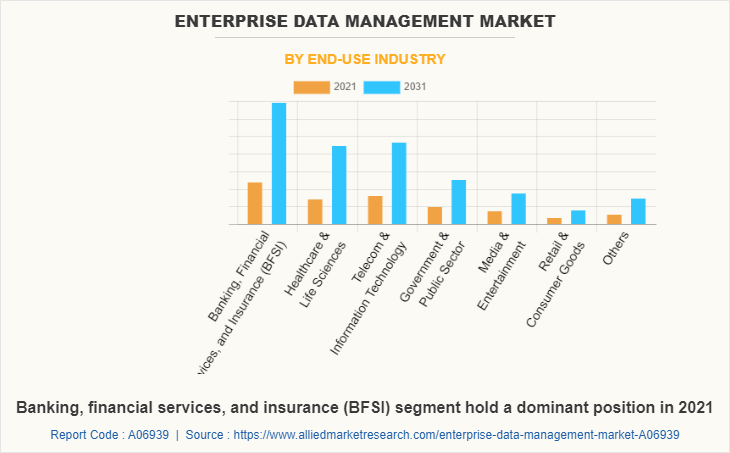 By end-use industry, the banking, financial services, and insurance banking, financial services, and insurance sector (BFSI) sub-segment dominated the global enterprise data management market share in 2021. Implementing enterprise data management solutions may assist incumbents in the banking, financial services, and insurance sector. BFSI industry handle enterprise-wide risks more effectively, improve sales and marketing operations, track and monitor finance and accounting procedures, and manage numerous compliances more efficiently. Banking institutions throughout the world, for example, have deployed advanced agile ways to safeguard their data and assure correct data quality. These technological improvements are boosting the use of enterprise data management systems throughout the BFSI industry.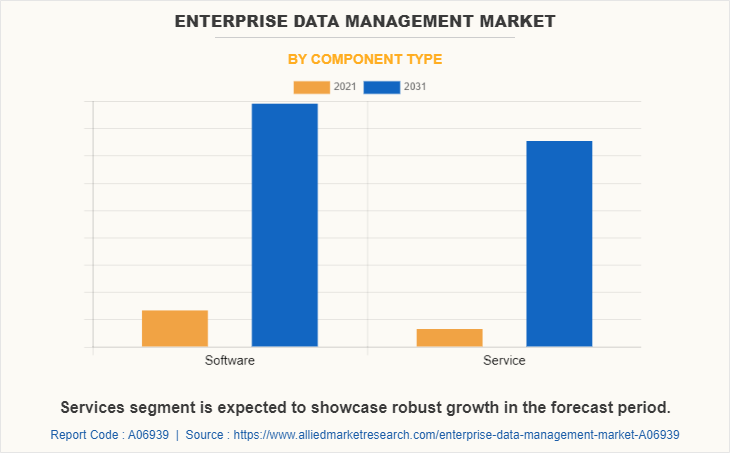 By component type, the software sub-segment dominated the market in 2021. The growth of the software segment is anticipated to be boosted by the rise in use of enterprise data management solutions by small and medium-sized organizations. To satisfy legal requirements for compliance with things like data privacy and financial reporting, many businesses are gradually installing efficient EDM systems. Continued expansion is anticipated to be fueled by advantages including decreased duplicate and inaccurate data as well as the resulting increases in organizational productivity. During the forecast period, it is also anticipated that these will be the key variables influencing the size of the corporate data management market.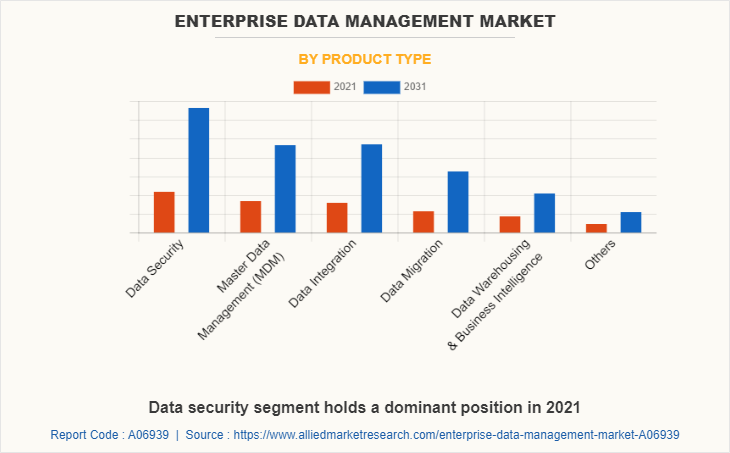 By product type, the data security sub-segment dominated the global enterprise data management market share in 2021. Enterprise data security is primarily concerned with the implementation and management of data security standards and procedures for an organization's data. Enterprise data security standards and practices might differ depending on the criticality and use of data. Highly sensitive data, for instance, can be protected via multi-factor authentication, encryption, and limited access. In general, enterprise data security works to safeguard a company against data loss and to assure the security of all data-using devices. It is given with the help of information security technology such as firewalls and antivirus, as well as data security standards and rules for monitoring and supervising the entire process.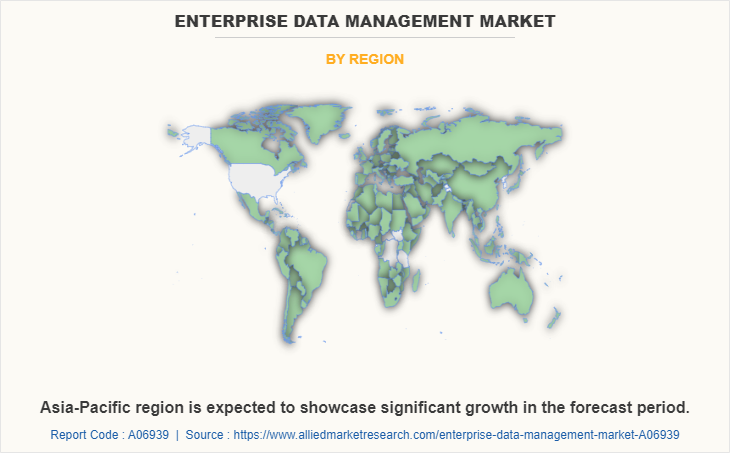 By region, North America dominated the global market in 2021 and is projected to remain the fastest-growing sub-segment during the forecast period. The rapid growth of small, medium, and large organizations in North America is driving the enterprise data management sector. The emergence of several businesses that create big amounts of data has prompted organizations to take considerable measures toward effective data management to avoid data loss. This element has aided the growth of the corporate data management business. Rising demand for risk management solutions from major companies is expected to boost market expansion in the region over the forecast period.
Impact of COVID-19 on the Global Enterprise Data Management Industry
COVID-19 has negatively impacted various industries such as technology that has led to a drastic decline in information technology sales. As enterprise data management is widely used in technology

industry, there was significant reduction in the enterprise data management demand globally.

Sales of enterprise data management are directly proportional to the demand from end-use industries namely healthcare, banking, financial services, and insurance sector (BFSI), telecom & information technology, retail & consumer goods, media & entertainment, government & defense and others. However, the demand for enterprise data management in Telecom & Information Technology industry was greatly affected owing to import-export restrictions, closed borders, and supply chain disruptions due to the outbreak of the COVID-19 pandemic.

Economic slowdown has affected the setup of new enterprise data management projects in the situation of financial uncertainty, many organizations are being compelled to contemplate more fast adoption of cloud services to meet their computing and storage requirements.
Highlights of the Report
The report provides exclusive and comprehensive analysis of the global enterprise data management market forecast along with the market trends

.

The report elucidates the enterprise data management market opportunity along with key drivers, and restraints of the market.

It is a compilation of detailed information, inputs from industry participants and industry experts across the value chain, and quantitative and qualitative assessment by industry analysts.

Porter's five forces analysis aids in the analysis of buyer and supplier potential as well as the competitive scenario of the market for strategy development.

The report includes an enterprise data management industry analysis that maps the qualitative influence of various industry factors on market segments and geographies.

The data in this report focuses on market dynamics, trends, and developments affecting the enterprise data management market growth.
Key Benefits For Stakeholders
This report provides a quantitative analysis of the market segments, current trends, estimations, and dynamics of the enterprise data management market analysis from 2021 to 2031 to identify the prevailing enterprise data management market opportunities.
The market research is offered along with information related to key drivers, restraints, and opportunities.
Porter's five forces analysis highlights the potency of buyers and suppliers to enable stakeholders make profit-oriented business decisions and strengthen their supplier-buyer network.
In-depth analysis of the enterprise data management market segmentation assists to determine the prevailing market opportunities.
Major countries in each region are mapped according to their revenue contribution to the global market.
Market player positioning facilitates benchmarking and provides a clear understanding of the present position of the market players.
The report includes the analysis of the regional as well as global enterprise data management market trends, key players, market segments, application areas, and market growth strategies.
 Enterprise Data Management Market Report Highlights
Aspects
Details
Market Size By 2031
USD 224.5 billion
Growth Rate
CAGR of 10.8%
Forecast period
2021 - 2031
Report Pages
280
By Deployment Type
By Organization Size

Large Enterprise
Small and Medium-Sized Enterprises

By End-use Industry

Banking, Financial Services, and Insurance (BFSI)
Healthcare & Life Sciences
Telecom & Information Technology
Government & Public Sector
Media & Entertainment
Retail & Consumer Goods
Others

By Component Type
By Product Type

Others
Data Security
Master Data Management (MDM)
Data Integration
Data Migration
Data Warehousing & Business Intelligence

By Region

North America (U.S., Canada, Mexico)
Europe (Germany, United Kingdom, France, Spain, Italy, Rest of Europe)
Asia-Pacific (China, Japan, India, South Korea, Australia, Rest Of Asia Pacific)
LAMEA (Brazil, Saudi Arabia, UAE, South Africa, Rest of LAMEA)

Key Market Players
EnterWorks, Inc., Symantec, Cloudera, Inc., IBM Corporation, SAS Institute Inc., Oracle Corporation, Zaloni, Inc., SAP SE, Amazon Web Services, Inc., Teradata Corporation