Explosion Proof Equipment Market Overview:
Explosion proof equipment market is estimated to reach $8,217 million, registering a significant CAGR of 9.3% during 2016 to 2022. North America is expected to dominate the global market throughout the analysis period, registering a notable CAGR of 8.4%. Explosion protection equipment are used in different industry verticals to prevent ignition from dangerous substances that could lead to explosion.
Typically, explosion proof products are able to withstand an internal eruption. These should be certified by appropriate national standards such as Atmosphères Explosives (ATEX), which is an authorized testing body. ATEX Directive outlines procedures to evaluate a product design based on groups and categories.
Increased demand for integrated systems, investments in emerging markets, rise of automation sector, growth in industrial sectors, and stringent government regulations are projected to foster the market growth, globally. However, lack of standardization is expected to restrict the market growth.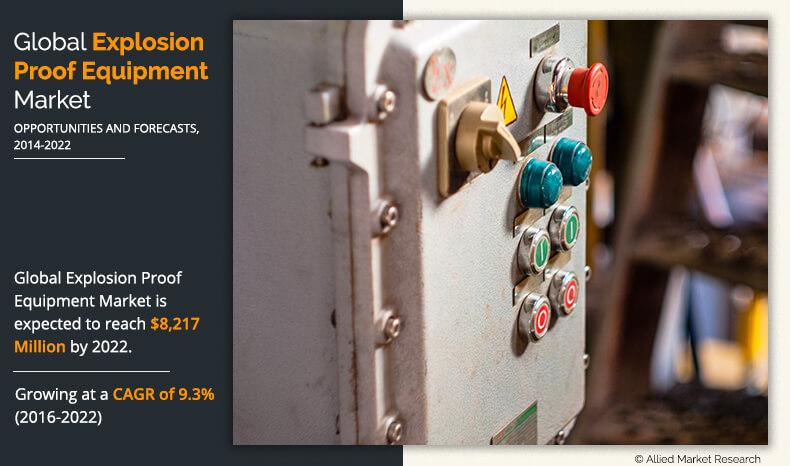 The probability of the presence of explosives substance being present at any specific location of an industry is defined by classifying the area. The equipment is produced, designed, and installed as per the laws, regulations, and standards of the legislatures. The EU formulates the manufacturing of equipment as per the zone system— Zone 0, Zone 1, Zone 2, Zone 20, Zone 21, and Zone 22 classify the hazardous areas in which the presence of flammable substances is very high, high, or moderately high. Furthermore, the National Electric Code (NEC) is the standard followed by North America, comprising class, division, and group system. The presence of three categories of flammable substance are defined as "class" category, whereas "divisions" specify the likelihood of explosive materials in the hazardous environments. The classes and divisions are further grouped into seven wherein classes are defined by ranking the flammable and critical nature related to other substances.
ABB Group, Rockwell Automation Inc., R. Stahl AG, Bartec Group, Adalet, Siemens AG, Intertek Group Plc, Pepperl + Fuchs GmbH, and Cooper Industries (Eaton), are some of the key market players that operate in the global explosion proof equipment market.
Other players in the value chain include BCom Solutions, Inc., Honeywell International Inc., CamLogic Snc, Johnson Controls, Excalibur Miretti Group, Shomal Co., Bosch Rexroth AG, Shenzhen KHJ Semiconductor Lighting Co., Ltd., Shanghai Explosion-proof Motor Co., Ltd., and Parker Hannifin Corporation.
Top Investment Pockets of Global Explosion Proof Equipment Market
The following graph exhibits the growth potential of various industry verticals equipped with explosion proof equipment. These include oil & gas, marine, manufacturing, pharmaceutical, mining, and food processing, among others. As illustrated in the graph, the market is predominantly driven by oil & gas industry, which had the maximum share in 2014–2015. However, manufacturing industry is expected to grow rapidly during the forecast period.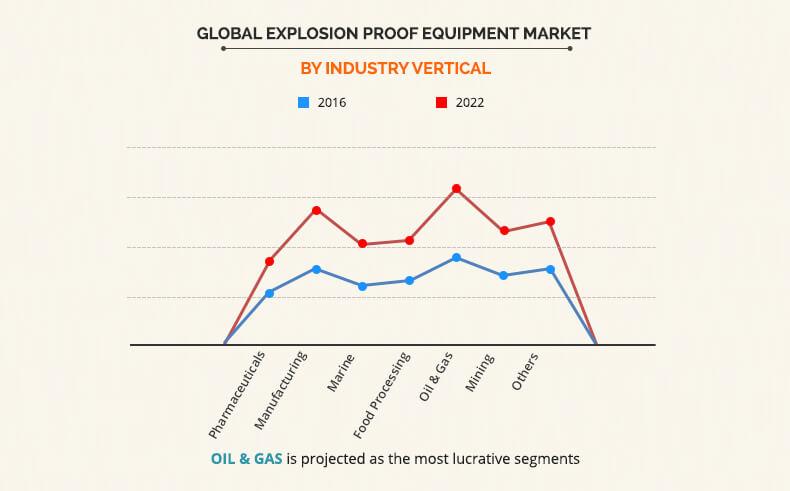 Overview
Oil & gas industry generated the highest revenue in 2015 due to wide adoption of explosion-protected products in this sector as a preventive measure against explosive areas. The adoption of spark-resistant enclosures, thermocouples, and sensors in hazardous areas of oil & gas industry eliminate the release of potential toxic and flammable substances. Thus, it is expected to dominate other segments at a prominent CAGR of 10.3% during forecast period.
Extreme conditions in manufacturing industry due to presence of chemicals, toxic paints, and other combustible dusts result in increased adoption of explosion proof equipment. In fact, corrosion resistant motors are widely adopted in the manufacturing industry, as they act as a prevention under abnormal conditions. Thus, the manufacturing segment is expected to grow at a CAGR of 10.2% during the forecast period.
However, other industries that include HVAC, automotive, construction, and waste management generated the second-highest revenue in 2015 and is estimated to grow at a CAGR of 8.6% during the forecast period. The automotive and construction industries are exposed to flammable substances that pose danger to the health and safety of individuals and environment. The installation of explosion proof systems & solutions within the industries has witnessed a notable growth.     
Explosion Proof Equipment Market by Segmentation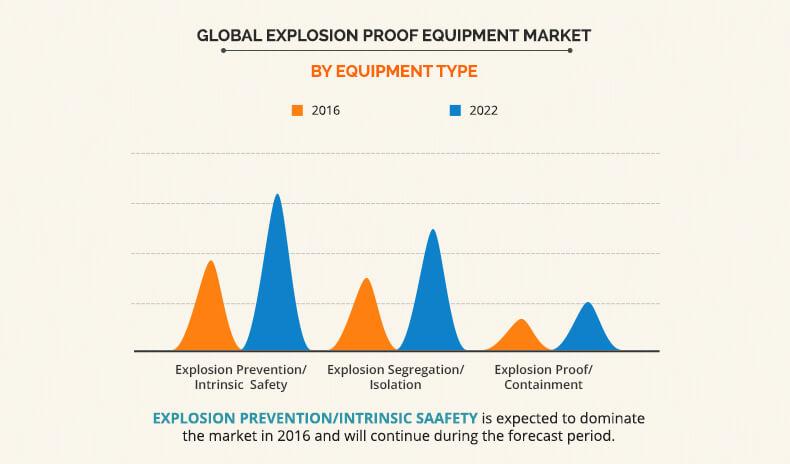 Segment Overview
Explosion proof equipment is segmented into industry vertical, applicable system, protection method, and geography. On the type of applicable system, the market is divided into cable gland, junction boxes & enclosures, lighting system, lifting & material handling system, automation system, surveillance & monitoring system, signaling devices, and others. Across the globe, the market is segmented into North America, Europe, Asia-Pacific, and LAMEA. North America is the leading revenue contributor to the global market owing to high production of explosion-protected devices and systems.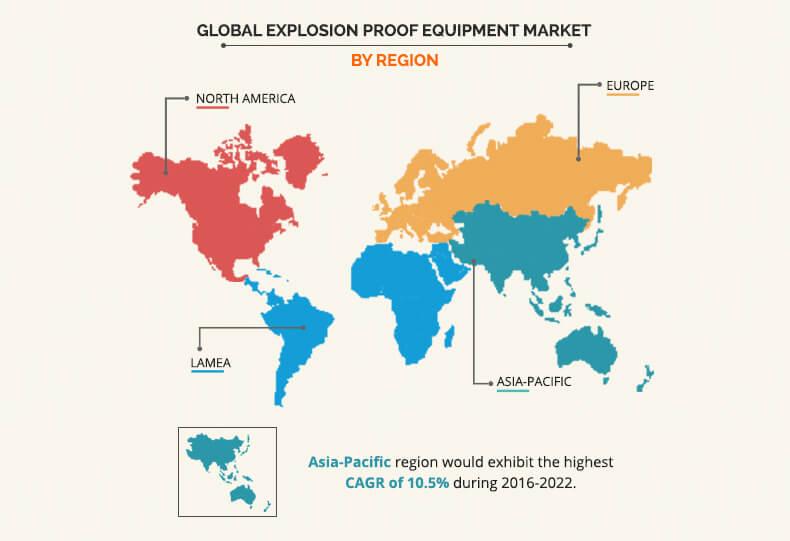 However, chemical sector in France is the key industry of Europe followed by ship building, pharmaceutical, and construction. Development in such industries help in growth of other manufacturing activities and contributing to economic growth. The high adoption of explosion proof equipment in hazardous location has witnessed increased safety and better productivity. For instance, the explosion proof junction box offered by IPSI is widely used in hazardous locations that connect wells and differential-mode spark gaps on insulating joints.
Key Benefits
The report includes an in-depth analysis of the world explosion proof equipment market, which includes current trends, drivers, restraints, and growth opportunities.
Porter's Five Forces model illustrates the potency of buyers and sellers to support market players for adopting effective strategies.
Value chain analysis provides a clear understanding of the key intermediaries involved and their respective roles at every stage.
Key market players are profiled to gain an understanding of the strategies adopted by them.
The current market trends are quantitatively analyzed and estimated from 2016 to 2022, which are provided to highlight the financial competency of the explosion proof equipment market.
Explosion Proof Equipment Market Segmentation:
By Industry Vertical
Pharmaceutical
Manufacturing
Marine
Mining
Food Processing
Oil and Gas
Others (Construction, Automotive, Waste Management, Service)
By Applicable System
Cable Glands
Junction Boxes & Enclosures
Lifting & Material Handling System
Lighting System
Automation System
Surveillance and Monitoring System
Signaling Devices
Others (Switchgear, HVAC, Conduits, Flexible Couplings and Unions)
By Protection Method
Explosion Containment
Explosion Prevention
Explosion Segregation
By Geography
North America

U.S.
Rest of North America

Europe

Germany
France
UK
Rest of Europe

Asia-Pacific

China
India
South Korea
Rest of Asia-Pacific

LAMEA

Latin America
Middle East
Africa
Market Players in Value Chain
Adalet
Intertek Group Plc
Extronics Ltd
Bartec Group
R. Stahl AG
Pepperl+Fuchs Gmbh
Siemens AG
Rockwell Automation, Inc.
Cooper Industries (Eaton)
ABB Group
BCom Solutions, Inc.
Honeywell International Inc.
CamLogic Snc
Johnson Controls
Excalibur Miretti Group
Shomal Co.
Bosch Rexroth AG
Shenzhen KHJ Semiconductor Lighting Co., Ltd.
Shanghai Explosion-proof Motor Co., Ltd
Parker Hannifin Corporation