The global automotive flooring market was valued at $1.3 billion in 2021, and is projected to reach $2.2 billion by 2031, growing at a CAGR of 5.8% from 2022 to 2031.
The COVID-19 impact on the automotive flooring market is unpredictable, and is expected to remain in force for a few years. The COVID-19 outbreak forced governments across the globe to implement stringent lockdown and ban import–export of essential raw material items for most of 2020, and few months in 2021. This led to sudden decline in availability of important raw materials for vehicle components. As a result of interrupted supply chains and production schedules caused by the COVID-19 pandemic, aviation production and sales suffered severely, which, in turn, negatively impacted the market for automotive flooring market in 2020. To prevent the spread of the COVID-19 virus, governments across the globe implemented strict lockdowns and made social distancing mandatory. Consequently, several organizations began work from home programs as precautionary measure. This led to a sudden decline in global demand for traveling, which has affected the automotive flooring market However, vaccination drive enabled lowering of barriers to economic activity, as well as domestic and international travel. As the restrictions lifted, travel recovered quickly leading to increase in vehicle commutation which expected to boost the automotive flooring market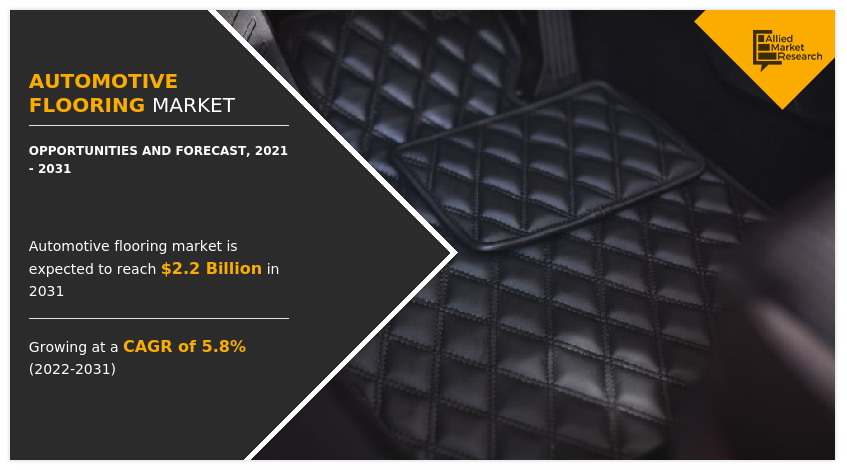 The automotive flooring market is segmented into Product, Application, Material and Sales Channel.
Automotive flooring can be referred as the carpets and mats that are designed and used inside the vehicle to safeguard the original surface from dirt, wear, corrosion, and others. The use of automotive flooring does not only add an esthetic appeal to the vehicle's interior, but also keeps it clean. Automotive interiors are available in a wide range of design and material such as polypropylene, nylon, polyurethane, and rubber. They are also available in various shapes, color, and sizes.
Factors such as rise in awareness pertaining to noise, vibration and harshness (NVH) and increase in demand for environment-friendly material are anticipated to boost the growth of the global automotive flooring market during the forecast timeframe. However, volatile prices of raw materials and increase in opposition for the use of leather are expected to hinder the growth of the global market during the forecast timeframe. Moreover, rise in demand for low-weight automotive material to reduce vehicle pollution and surge in demand for electric vehicles are expected to create an opportunity for the automotive flooring industry in the future.
The automotive flooring market is segmented on the basis of product, application, material, sales channel and region. By product, it is divided into carpet, and mat. By on application, it is segmented into passenger cars, light commercial vehicles (LCV), and heavy commercial vehicles (HCV). By material, it is divided into polyurethane, polypropylene, nylon, rubber, and others. By sales channel, the market is divided into OEM, and Aftermarket.  By region, the market is analyzed across North America, Europe, Asia-Pacific and LAMEA.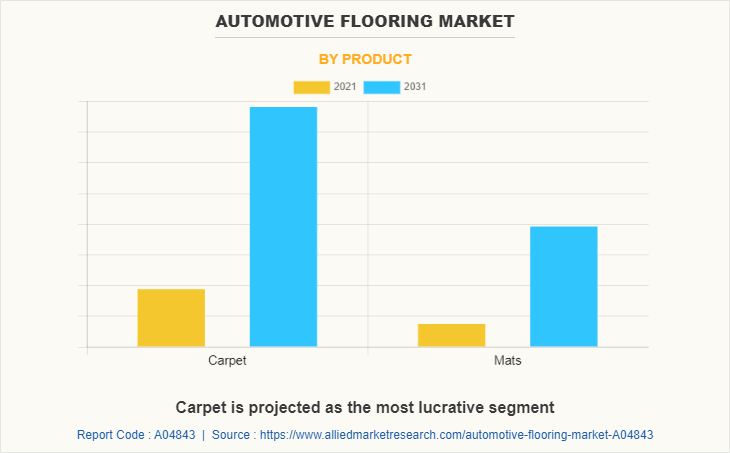 The key players that operate in automotive flooring market are ACME Mills Company, IDEAL Automotive GmbH, Auto Custom Carpet Inc., Autoneum, Autotech Nonwovens, Feltex Automotive, Grupo Antolin Irausa, S.A., Hayakawa Eastern Rubber Co., Ltd., Hayashi Telempu, IAC Group, Kotobukiya Fronte Co., Ltd., Lear Corporation, Magna International Inc., Shandong Exceeding Auto Interior Parts Co., Ltd., Shanghai Shenda, Suminoe Textile Co., Ltd., and Toyota Boshoku Corporation among others.
Growing awareness pertaining to NVH
Vehicle noise and vibration performance is an important factor in vehicle design validation, as it significantly affects acceptance of the vehicle among customers. Noise and vibration degrade the driver's and passengers' comfort and induce fatigue and stress among others. Modern vehicle development requires vibration and noise refinement to deliver the customer satisfaction and acceptance. Thus, owing to this, the demand for noise and vibration produced by the vehicle body, chassis, and components is increasing significantly. It becomes evident that powertrain induced noise is a key component of the vehicle's interior noise owing to increased market demand for lighter and more powerful vehicles. Vehicle floor is one of the noisiest part of a vehicle, as it transmits the suspension screeches and noise of wheels among other. Owing to this, acoustic lining materials such as in the floor mats and carpets are widely used to damp noise from various sources and to reach the passenger comfort targets.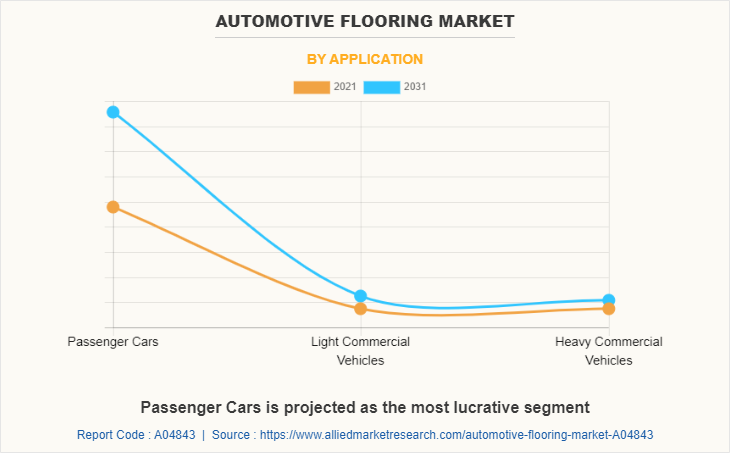 Moreover, new technologies and advances in noise, vibration and harshness (NVH) materials for sound dampening are providing options to eliminate extra noise from in-cabin vibrations and friction. For instance, vehicle manufacturers are using automotive mats made from fiber based insulators with enhanced acoustic absorption performance. Thus, awareness about acoustics of vehicle trims and in-cabin noise reduction for comfort and satisfaction is on the rise among consumers, which is driving the automotive flooring market. 
Increase in demand for environment-friendly material
Governments across the globe are actively promoting environment-friendly leather or fabric in their respective countries after analyzing the adverse impacts of fabric material on the environment. Numerous producers are opting for animal-free and eco-friendly alternatives. Moreover, animal right laws in several countries have become a major hurdle for natural leather manufacturers. In addition, growth in awareness among consumers regarding cruelty toward animals, owing to programs run by organizations, such as PETA, PAWS, WWF, and others, have played a major role in boosting the demand for other alternatives. Furthermore, the supply-demand gap in the natural leather industry is another major factor responsible for manufacturers opting for artificial alternatives. For instance, Marvel Vinyls started offering a variety of fabric materials for automotive applications, which are environment-friendly. Moreover, OEMs across the globe are using recycled materials to make their vehicle components. For instance, Hyundai is using waste PET bottles, which are being made into non-woven, knitted, and suede fabrics for use in head linings, pillar trims, sun visors, trays, trunk mats, and spare floor mats for the Hyundai G80. Such innovation and technological advancements and increase in demand for eco-friendly materials with improved performance further drive the usage of PU (polyurethane) materials in automotive flooring market.
Volatile prices of raw materials
The crude derivatives such as nylon and polyester, are used as raw materials in the manufacture of automotive flooring. Also, rubber is one of the most widely used material for manufacturing automotive mats and carpets, which witnesses high fluctuations in cost. Flooring mats are made from synthetic and natural rubber, steel wire, as well as petrochemical reinforcing materials such as nylon, vinyl and polyester. The pricing of these raw materials has a significant impact on the overall price of automotive flooring such as mats and carpets. These materials are traded on community exchange and owing to global economic ups and downs in the market; prices of these materials fluctuate occasionally. In the recent past, inflation and increase in demand has fueled raw material prices. For instance, in September 2017, Evonik, a chemical specialist, announced a global price hike for polyurethane foam additives. Furthermore, to meet the automotive industry's demand for floor mats, OEMs and manufacturers require a large amount of raw materials. Uncertainty in the pricing of these raw materials proves to be a major restraint to the global growth of the automotive flooring market.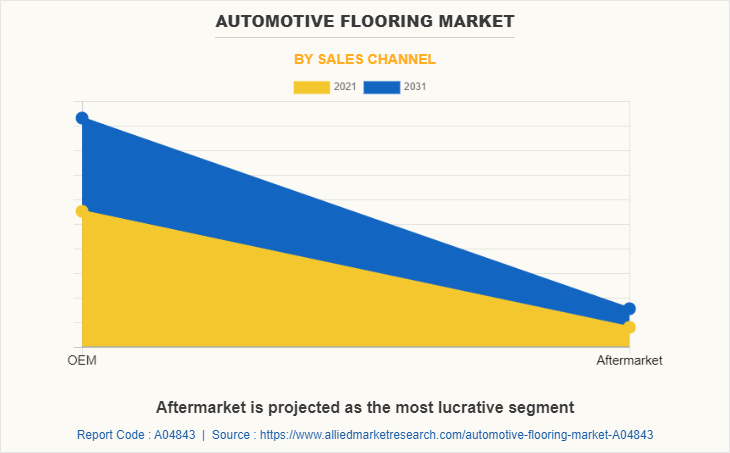 Rise in demand for low-weight automotive material to reduce vehicle pollution
Stringent regulations by EC (European Legislation) and CAFE (Corporate Average Fuel Economy) is highly influencing the development of fuel-effective vehicles. Moreover, in many industrialized nations, legislations and directives are governing the emission of pollutant gases, such as carbon monoxide, sulfur, and nitrogen oxide, to reduce CO2 emission. Low-weight automotive materials, such as Polyurethane, Polypropylene, Nylon, are used majorly in the automotive industry for interior & exterior applications. Moreover, advanced materials are essential for boosting the fuel economy of modern automobiles while maintaining safety and performance.
Therefore, replacing traditional steel components with lightweight fabric materials, such as high strength carbon fiber and polymer composites, is expected to reduce the weight of a vehicle's body and chassis by up to 50%, and thus, reduce vehicle's fuel consumption. For instance, the U.S. Department of Energy's Vehicle Technologies Office (VTO) has developed advanced materials that help boost the fuel economy of modern vehicles while maintaining safety and performance. Moreover, now a days, vehicle manufacturers are using advanced materials such as Expanded Polypropylene (EPP) and Expanded Polystyrene (EPS), as these materials can be formed into any shape. The flooring components made from EPP and EPS are highly durable and have excellent shock absorption and reduces the overall weight of the vehicle and increases performance efficiency. Therefore, such advancements and rise in demand for low-weight automotive materials are expected to provide lucrative opportunities for the automotive flooring industry growth in the near future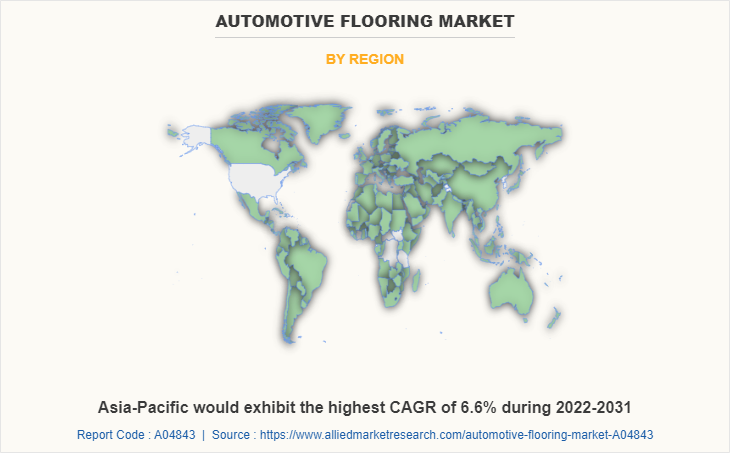 Key Benefits For Stakeholders
This report provides a quantitative analysis of the market segments, current trends, estimations, and dynamics of the automotive flooring market analysis from 2021 to 2031 to identify the prevailing automotive flooring market opportunities.
The market research is offered along with information related to key drivers, restraints, and opportunities.
Porter's five forces analysis highlights the potency of buyers and suppliers to enable stakeholders make profit-oriented business decisions and strengthen their supplier-buyer network.
In-depth analysis of the automotive flooring market segmentation assists to determine the prevailing market opportunities.
Major countries in each region are mapped according to their revenue contribution to the global market.
Market player positioning facilitates benchmarking and provides a clear understanding of the present position of the market players.
The report includes the analysis of the regional as well as global automotive flooring market trends, key players, market segments, application areas, and market growth strategies.
 Automotive Flooring Market Report Highlights
Aspects
Details
By Product
By Application

Passenger Cars
Light Commercial Vehicles
Heavy Commercial Vehicles

By Material

Polyurethane
Polypropylene
Nylon
Rubber
Others

By Sales Channel
By Region

North America (U.S., Canada, Mexico)
Europe (Germany, France, Russia, U.K., Italy, Spain, Rest of Europe)
Asia-Pacific (China, India, Japan, South Korea, Asean, Rest of Asia-Pacific)
LAMEA (Brazil, UAE, Saudi Arabia, South Africa, Rest of LAMEA)

Key Market Players
ACME Mills Company, GRUPO ANTOLIN IRAUSA, S.A., IAC Group, Auto Custom Carpet Inc, SHANDONG EXCEEDING AUTO INTERIOR PARTS CO., LTD, Kotobukiya Fronte Co., Ltd., Shanghai Shenda, Autoneum, Hayashi Telempu, Magna International Inc, LEAR CORPORATION, SUMINOE TEXTILE CO., LTD., Feltex Automotive, Autotech Nonwovens, TOYOTA BOSHOKU CORPORATION, Hayakawa Eastern Rubber Co., Ltd., IDEAL Automotive GmbH