BCG Vaccine Market Overview
The global BCG vaccine market was valued at $46,637.5 thousands in 2020, and is projected to reach $74,269.55 thousands by 2030, registering a CAGR of 4.8% from 2021 to 2030.
Bacillus Calmette-Gurin (BCG) vaccine is the only vaccine currently available for prevention of tuberculosis (TB). In countries with high prevalence of tuberculosis, one dose is recommended for healthy babies. However, in areas where tuberculosis is uncommon, only children at high risk are typically immunized, while suspected cases of tuberculosis are individually tested and treated. Adults not infected with tuberculosis and who have not been previously immunized but are frequently exposed to drug-resistant tuberculosis may be immunized as well. However, side effects associated with the BCG vaccine such as headache, head glands swollen, high temperature, and soreness at the site of injection is predicted to limit the use of BCG vaccines among certain individuals.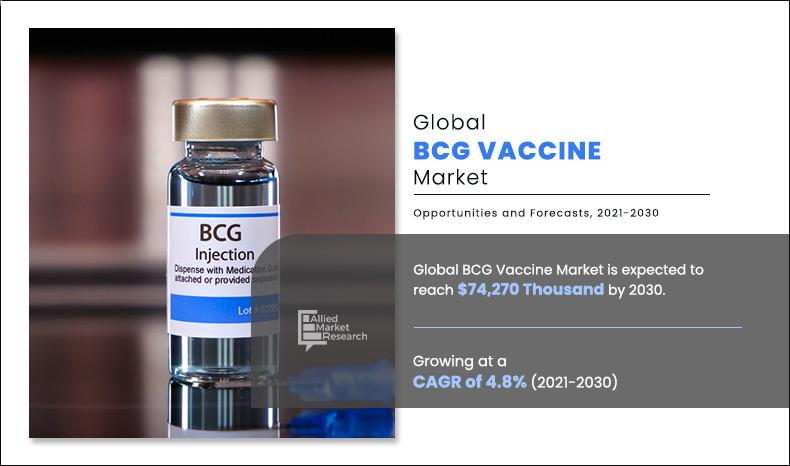 The factors that drive the global BCG vaccine market include increase in prevalence of tuberculosis, especially in developing and underdeveloped countries, and technological advancement in the field of vaccine research. Moreover, rise in demand for BCG vaccines due to surge in number of newborn babies across the globe, increase in government initiatives, and rise in focus on immunization programs globally further boost the market growth. However, side effects of the BCG vaccine and a global shortage of this vaccine restrict the market growth. Untapped market opportunities in developing regions are expected to provide numerous prospects for market development.
COVID-19 Scenario Analysis
Coronavirus (COVID-19) was discovered in late December, 2019 in Hubei province of Wuhan city in China. The disease is caused by a virus, namely, severe acute respiratory syndrome coronavirus 2 (SARS-CoV-2), which is transmitted from humans to humans. The outbreak of COVID-19 pandemic has not affected the BCG vaccine market as BCG vaccination among pediatric population has not decreased. Moreover, BCG vaccination decreases susceptibility to respiratory tract infections and improves immunity in pediatrics. Moreover, few countries did some clinical trials on humans to see the effectiveness of BCG vaccine towards COVID-19, which boosts the market growth. Thus, the COVID-19 pandemic has a positive impact on the BCG vaccine market. 
The BCG vaccine market is segmented on the basis of demographics, and region. On the basis of demographics, it is bifurcated into pediatrics (0-18 Years) and adults (19-35 years). Region wise, the market is analyzed across Asia-Pacific, LAMEA, and Rest of the World.
Demographics Segment Review
The pediatrics (0-18 Years) segment held a major share of the BCG vaccine market in 2020, and is expected to maintain its dominance during the forecast period. BCG is generally administered to all infants up to one year of age in countries where BCG vaccination is a part of the national childhood immunization program. In addition, this vaccine can also be given to older children (more than 1 year of age) who have increased risk of developing tuberculosis. It is rarely given above the age of 16, and rarely administered above the age of 35 as vaccinations are effective only when administered in early stages of life. Thus, aforementioned factor drives the growth of pediatrics (0-18 Years) segment during the forecast period.
Region Segment Review
Rest of the World accounted for major share of the global BCG vaccine market in 2020, and is expected to remain dominant during the forecast period. This was attributed to increase in prevalence of tuberculosis, rise in number of immunization programs, availability of advanced healthcare facilities with trained medical professionals, presence of most of the key players, and surge in investment made by governments in the healthcare system. However, Asia-Pacific is expected to experience the highest growth rate during the forecast period, majorly due to improvement in healthcare infrastructure, rise in number of hospitals equipped with advanced medical facilities, development of the R&D sector, rise in healthcare reforms, and technological advancements in the field of healthcare.
BCG Vaccine Market

---
By Demographics
Pediatrics (0-18 Years) segment is projected as one of the most lucrative segment.
Get more information on this report :
Request Sample Pages
Moreover, BCG vaccination is part of the immunization schedule of the Kenya Expanded Program on Immunization (KEPI). Therefore, the vaccine is administered to all children born in Kenyan hospitals. The vaccine is administered as an injection (single dose) on the left forearm of infants immediately after birth. Moreover, in this region, BCG vaccine is generally given along with polio and Hepatitis B vaccines to infants after birth.
The list of key players profiled in this report include AJ Biologics, China National Biotec Group (a subsidiary of China National Pharmaceutical Group Corporation), Merck & Co., Inc., Sanofi Pasteur, Japan BCG Laboratory, Serum Institute of India Pvt. Ltd., InterVax Ltd., GreenSignal Bio Pharma Limited (GSBPL), Statens Serum Institut, and Torlak Institute of Virology.
BCG Vaccine Market

---
By Region
Asia-Pacific would exhibit the highest CAGR of 5.3% during 2020-2030.
Get more information on this report :
Request Sample Pages
Key Benefits for Stakeholders
This report provides a detailed quantitative analysis of the current BCG vaccine Market trends and forecast estimations from 2020 to 2030, which assists to identify the prevailing market opportunities. 
An in-depth market analysis includes analysis of various regions, which is anticipated to provide a detailed understanding of the current trends to enable stakeholders formulate region-specific plans.
A comprehensive analysis of factors that drive and restrain the growth of the global the BCG vaccine market is provided.
The projections in this report are made by analyzing the current trends and future market potential from 2020 to 2030, in terms of value.
An extensive analysis of various regions provides insights that are expected to allow companies to strategically plan their business moves.
Key market players within the market are profiled in this report and their strategies are analyzed thoroughly, which help in understanding competitive outlook of the market.
 BCG Vaccine Market Report Highlights
Aspects
Details
By Demographics

Pediatrics (0-18 Years)
Adults (19-35 years)

By Region

Asia Pacific (India, China, Bangladesh, Pakistan, Indonesia, Japan, Thailand, Singapore, Rest of Asia-Pacific)
LAMEA (Brazil, Mexico, South Africa, Kenya, Argentina, Colombia, Chile, Rest of LAMEA)
REST OF THE WORLD

By Key Market Players

AJ Biologics
China National group corporation (Sinopharm)
Greensignal Biopharma Limited
Intervax Ltd.
Japan BCG Laboratory
Merck & Co., Inc.
Sanofi
Serum Institute of India Pvt. Ltd.
Stetens Serum Institute
Torlak Institute of Virology