The global car care product market was valued at $13 billion in 2021, and is projected to reach $22.6 billion by 2031, growing at a CAGR of 5.6% from 2022 to 2031.
Car care products are high-performing chemicals used to enhance the aesthetic appearance of cars and improve their durability of the vehicles. It generally includes pads, cleaners, sprays, waxes, anti-aging moisturizing milk, and dust repellents. Apart from this, these products not only improve the shine and gloss of automobiles but also retain or protect the cars' visual appeal or aesthetic value.
The COVID-19 outbreak severely impacted the automotive sector on a global level, which in turn led to considerable drop in automotive sales, insufficiency of raw material, and others. Many small and big players in the automotive sector is witnessing issues such as a halt of production activities, mandated plant closures by the government, and others. As a result, the production of car care product witnessed decline due to the world's economic ecosystems. Furthermore, the overall auto industry, including members in value chain faced uncertainty in their respective businesses. However, the auto industry has shown tremendous resilience over the last few months. From the economic depths experienced in spring 2020, it has rebounded to deliver year-over-year growth in new-vehicle sales across China, Europe, and the US over the last few months. Similarly, the fastest recovery rates owing to the strict lockdowns and social distancing to contain the spread of the virus in some regions are also expected to boost the demand for the car care product industry.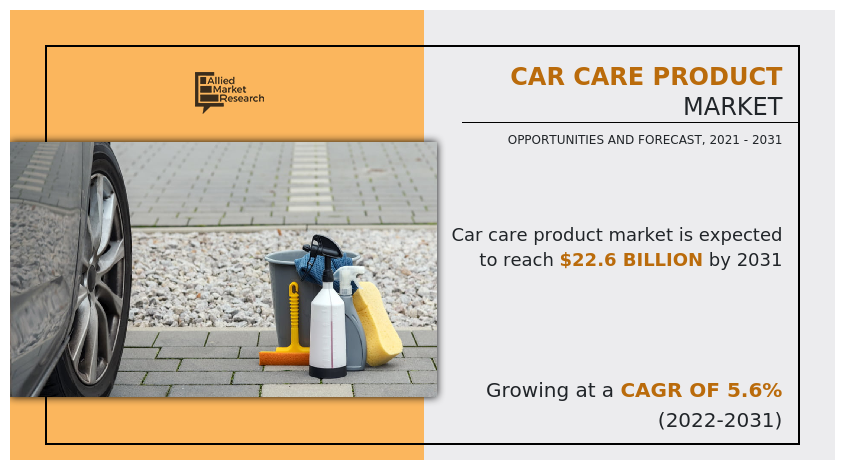 Currently, leading manufacturers are introducing novel products, such as powerful degreasers that can eliminate engine grease and clean dirt buildup on wheels and tires. In addition, the car care product market is gaining traction due to the customer inclination toward installing advanced components in vehicles to improve vehicle appearance and ensure safety while driving. This increased inclination among customers leads to the growth of aftermarket service, which is expected to eventually lead to the development of the car care product industry in the near future. Furthermore, the contribution of automotive component manufacturers boosts the market's growth. For instance, in May 2019, Castrol, a lubricant company, joined hands with 3M for vehicle care products. This partnership will bring 3M-Castrol branded bike and car care products like shampoo, glass cleaner, cream wax, and dashboard and tire dressers.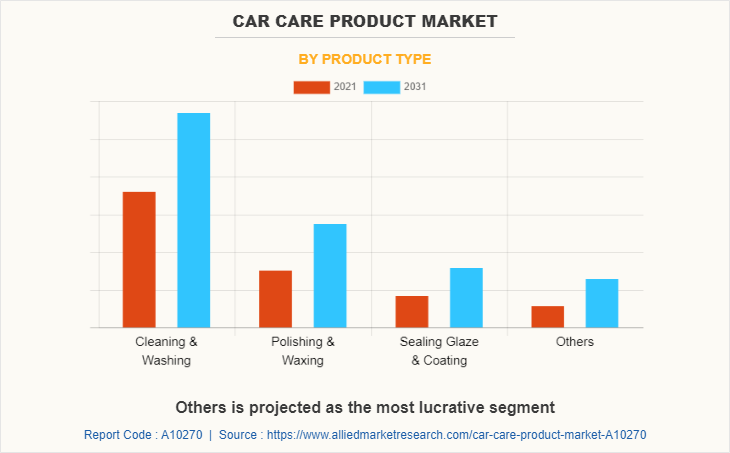 The factors such as stringent government regulations to replace or upgrade vehicle components, growth of automotive after sale services, and adoption of ecommerce platforms by leading players supplement the growth of the car care product market. However, volatile prices of raw materials and usage of hazardous chemicals in car care products are the factors expected to hamper the growth of the market. In addition, rise in trend of vehicle customization coupled with increase in disposable income and development of anti-microbial car care products creates market opportunities for the key players operating in the car care products market.
The car care product market is segmented into product type, solvent, application, vehicle type, distribution channel, sales channel, and region. By product type, the market is divided into cleaning & washing, polishing & waxing, sealing glaze & coating, and others. By solvent, it is fragmented into water-based and foam-based. By application, it is categorized into interior and exterior. By vehicle type, it is further classified into passenger cars, light commercial vehicles, and heavy commercial vehicles. By distribution channel, it is fragmented into online and offline. By sales channel, it is categorized into B2B and B2C. By region, it is analyzed across North America, Europe, Asia-Pacific, and LAMEA.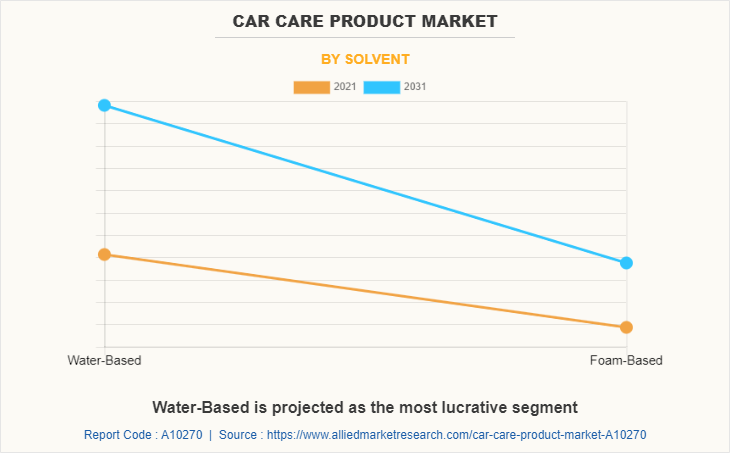 The leading players operating in the car care product market are 3M, Adolf Würth GmbH & Co. KG, Amtra Sp. z o.o., ARMOR ALL, Auto Magic, Autoglym, Cartec BV, Chemical Guys, Illinois Tool Works Inc., Jopasu India Pvt. Ltd., Liqui Moly GmbH, MA-FRA S.p.A., Northern Car Care, Simoniz USA, SONAX GmbH, Tetrosyl Ltd., and Turtle Wax, Inc.
Stringent government regulations to replace or upgrade vehicle components
Many countries are mandating stringent rules and regulations to replace the car accessories after the expiry date. For instance, National Highway Traffic Safety Administration (NHTSA) has stated a new regulatory norm for car parts such as tires, rims, seat belts, and others to be originally manufactured and must be replaced according to the life span of the product. Consequently, there is a rise in the demand for car care products worldwide as they assist in restoring the interiors, cleaning the outer body, extending the life, and adding to the value of the vehicle. Such mandates are expected to boost the sales of the passenger car accessories; thereby, contributing toward the market growth. Moreover, the growth of aftermarket vehicle is fostered by a rise in customer awareness for adopting safe automobile car care technology. For instance, in February 2021, Chemical Guys launched the HydroInterior as its latest product in advanced ceramic protection for automotive interiors. HydroInterior is a versatile interior protectant and combined the ease of use and efficiency of a quick detailer with the long-lasting protective properties of a ceramic into one product designed to clean, protect, and maintain a vehicle's interior surfaces. Such improvements in the government regulations regarding the replacement or upgradation of vehicle components to extend the life & value of the vehicle is expected to propel the growth of the car care product market.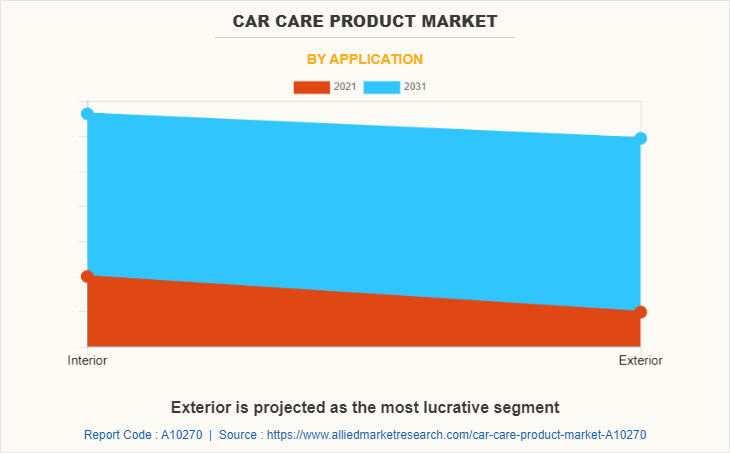 Adoption of ecommerce platforms by leading players
Ecommerce is one of the fastest-growing markets in the world. Ease of purchase or convenience, pricing and discounts on various products and services, and home delivery are the major reasons for increasing preference of e-commerce platforms around the world. Meanwhile, considering the success of e-commerce platforms and increasing consumer spending on car care products to maintain the aesthetics of a vehicle, many car care product manufacturers such as 3M, Illinois Tool Works, SONAX, and others have adopted this strategy to sell their car care products through online platforms and retail stores as well. These manufacturers are not only selling their products through other e-commerce sellers such as Amazon and Flipkart but also through their indigenous websites. Furthermore, e-commerce makes it extremely easy to track orders and customer information, while e-commerce software can be synced with a CRM to help manage customers to ensure they are receiving the best possible experience. Hence, owing to the rise in trend of e-commerce platforms for the selling of car care products is expected to drive the car care products market growth in forecast period.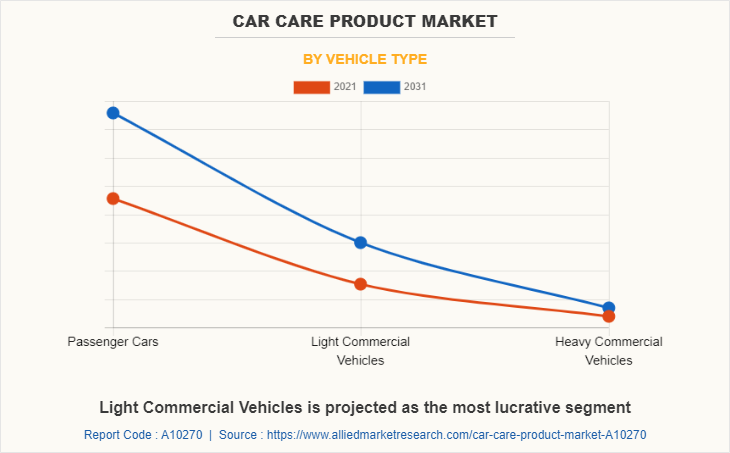 Volatile prices of raw materials
Various raw materials such as leather detergent, solvents, blend of carnauba wax, special polymers and resins are used to manufacture car care products. Therefore, increase in the prices of these raw materials negatively affect the car care product vendors. Also, rubber (natural and synthetic) is the basic element required for various car care products, which witnesses high fluctuations in cost. The pricing of these raw materials has a significant impact on the overall price of the component. These materials are traded on community exchange and owing to global economic ups and downs in the market; prices of these materials fluctuate occasionally. Owing to all the aforementioned factors, the rise in prices of raw materials is expected to hamper the growth of the car care product market during the forecast period.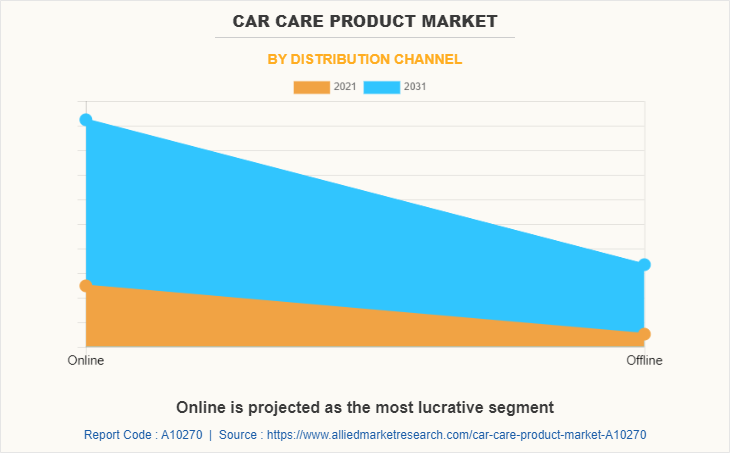 Development of anti-microbial car care products
A car interior that is clean of all dirt, sand, dust, and smudges is great, but what about cleaning up all bacteria and harmful microbes. It assists the driver and occupants of a car, who typically spend 3–4 hours inside, in protecting themselves from a variety of illnesses and health problems associated with bacterial infection. Many makers of car care products as well as automobile owners and customers have come to understand the value of a germ-free surface. COVID-19 has certainly increased the demand for car care products in recent times as car owners have realized the importance of using disinfectants and antibacterial car care products for themselves and other passenger's safety. For instance, in 2020, Adam's Polishes, a leader in auto detailing and cleaning products partnered with Microban, the industry leader in antimicrobial technology to expand its car interior cleaning antimicrobial solution portfolio. Such innovations in anti-microbial car care products is expected to create lucrative opportunity for global car care product market in the forecast period.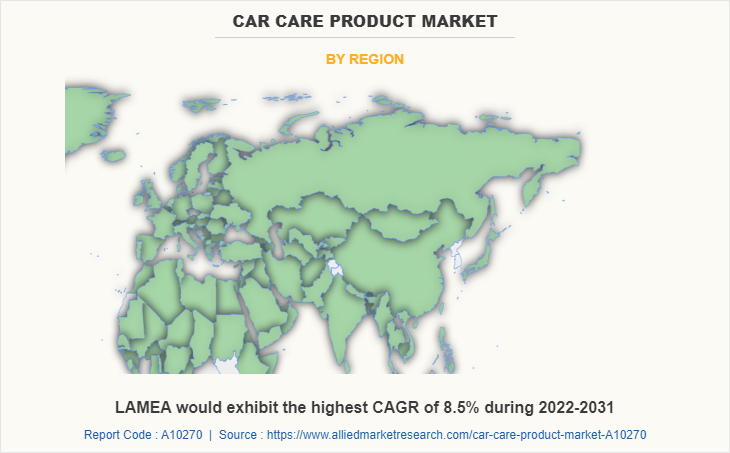 Key Benefits For Stakeholders
This study presents analytical depiction of the global car care product market analysis along with current trends and future estimations to depict imminent investment pockets.

The overall car care product market opportunity is determined by understanding profitable trends to gain a stronger foothold.

The report presents information related to the key drivers, restraints, and opportunities of

the global car care product market with a detailed impact analysis.

The current car care product market is quantitatively analyzed from 2022 to 2031 to benchmark the financial competency.

Porter's five forces analysis illustrates the potency of the buyers and suppliers in the industry

.
 Car Care Product Market Report Highlights
Aspects
Details
By Product Type

Cleaning & Washing
Polishing & Waxing
Sealing Glaze & Coating
Others

By Solvent
By Application
By Vehicle Type

Passenger Cars
Light Commercial Vehicles
Heavy Commercial Vehicles

By Distribution Channel
By Sales Channel
By Region

North America (U.S., Canada, Mexico)
Europe (UK, Germany, France, Italy, Spain, Russia, Rest of Europe)
Asia-Pacific (Australia, South Korea, Rest of Asia-Pacific, China, Japan, India)
LAMEA (Latin America, Middle East, Africa)

Key Market Players
Jopasu India Pvt. Ltd., SONAX GmbH, Armor All, Chemical Guys, Cartec BV, kdc/one, Illinois Tool Works Inc, Simoniz USA, Auto magic, Autoglym, Amtra Sp. z o.o, Turtle wax, Inc, Tetrosyl Ltd., 3M, MA-FRA S.p.A., LIQUI MOLY GmbH, Adolf Würth GmbH & Co. KG