Europe Biodegradable Plastics Market Outlook - 2027
The Europe biodegradable plastics market was valued at $0.8 billion in 2019, and is projected to reach $1.9 billion by 2027, growing at a CAGR of 10.9% from 2020 to 2027.
Owing to the COVID-19 pandemic, governments across different countries made several changes in their regulations regarding disposable and single use plastics to prevent further spread of the virus, which resulted in sluggish growth of biodegradable plastics market.
Biodegradable plastics are capable of undergoing physical and biological decomposition, such that it ultimately decomposes into carbon dioxide (CO2), biomass, and water, and is, in accordance with European standards for packaging, recoverable through composting and anaerobic digestion. Biodegradable plastic is a plastic that decomposes naturally in the environment. This is mainly carried out by the microorganism present in the environment that breaks down the structure of biodegradable plastic. It is manufactured by use of micro-organism, renewable raw material, and petrochemicals. Biodegradable plastic is eco-friendly and has no toxicity as it is produced using renewable raw material. This type of plastic is mainly produced using natural plant material, which mainly includes corn oil, orange peels, starch, and plants.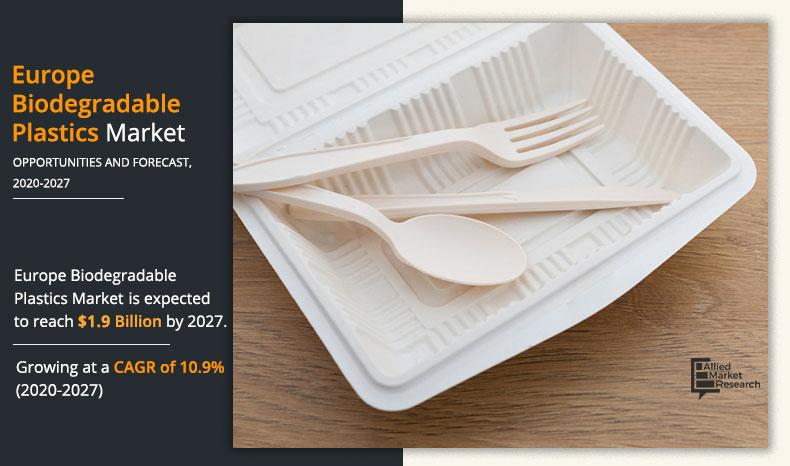 Rise in adoption of biodegradable plastics owing to eco-friendly nature of biodegradable plastics is a key driver of biodegradable plastics. Biodegradable plastics have the potential to reduce carbon dioxide emission by 30%-70%, as compared to conventional synthetic plastic. On the other hand, it does not adversely affect the environment, as the material does not have any toxicity and degrades easily. Biodegradable plastic represents 42% reduction in carbon footprints. Consumers prefer to use bioplastic packaging material over synthetic plastic packaging, since it is capable of being decomposed with food. Factors such as high biodegradation, zero toxicity, environmentally free, and direct substitute to conventional plastic are favoring use of biodegradable plastic and have emerged as the major growth drivers in this Europe biodegradable plastics market. The food & beverage industry is presently one of the largest consumers of plastic packaging, the replacement of plastics by biodegradable plastics will provide bigger opportunities for biodegradable plastic manufacturers. Leading companies such as Coca Cola, Nestle, Nike, and Ford are exhibiting their interest toward the production and usage of biobased biodegradable plastic materials, across various applications. Finally, government's role in reducing conventional plastics will prove beneficial for the adoption of bioplastics. The EU directive has proposed to reduce the dependency on disposable plastics by the end of 2030. Further, countries in Europe have put a value added tax for recycling of plastic products that increases its final price. This forces retailers as well as packers to innovate their packaging for sustainability and biodegradability; thus, increasing the demand for biodegradable plastics during the forecast period.
Despite its advantages, biodegradable plastics face a huge challenge in the form of its high costs. At present, biodegradable products are more than twice expensive as compared to the conventional petroleum plastics. This is mainly due to the high R&D cost, high cost of polymer plant construction, high cost of raw materials, and small production scale. The average cost of conventional plastic resin is around €1.2/Kg; however, biodegradable resin costs around €3.1/Kg. Thus, the high cost of biodegradable plastics currently limits its wide-scale adoption. 
However, owing to government pressure and proactive R&D in this field, economical biodegradable plastics are expected to hit the markets during the forecast period. Industries with a healthy capital base and good infrastructure are well positioned to adopt forward integration strategy to create its own value chain based on biodegradable plastics. For instance, the "green" PET bottle developed by PepsiCo. is 100% bio-based and has identical molecular structure. Biodegradable plastic bottles will be conducive for the Europe biodegradable Plastics market growth.
The Europe biodegradable plastics market is segmented on the basis of type, application, and country. On the basis of type, the market is divided into polylactic acid (PLA), polybutylene adipate terephthalate (PBAT), polybutylene succinate (PBS), polyhydroxyalkanoates (PHA), starch blends, and others. On the basis of application, the market is categorized into packaging, agriculture, textile, consumer durable, and others. The Europe biodegradable plastics market is studied across the UK, Germany, France, Italy, Spain, Romania, Bulgaria, Hungary, Slovakia, Slovenia, Czech Republic, Austria, Poland, and rest of Europe. Major manufacturers studied and profiled in the report are BASF SE, Biotec Pvt. Ltd., Biotrem, Danimer Scientific, Dow Inc., Eastman Chemical Company, Hemp Plastic, Minima, Mitsubishi Chemical Holdings, Novamont SpA, and Solanyl Biopolymers.
Europe Biodegradable Plastics Market

---
By Country
Poland would exhibit a CAGR of 14.6% during 2019-2027.
Europe Biodegradable Plastics Market, By Country
France accounted for the largest share in 2019, owing to the presence of a well-established food processing industry that uses biodegradable plastics
Europe Biodegradable Plastics Market

---
By Type
PLA is projected as the most lucrative segment.
Europe Biodegradable Plastics Market, By Type
PBS accounted for the largest Europe biodegradable plastics market share in 2019. PBS has high resistance and high compatibility with fiber. PBS represents similar properties to polypropylene; therefore, it is also used in similar applications.
Europe Biodegradable Plastics Market

---
By Application
Agriculture segment is projected as the most lucrative segment.
Europe Biodegradable Plastics Market, By Application 
The packaging segment accounted for the largest share in 2019. Biodegradable plastics are used in making bottles, cups, pots, bowls, flexible films, and other products. There is an increase in the popularity of biodegradable plastic due its flexibility and eco-friendly nature
Key benefits for stakeholders
The report provides an extensive qualitative and quantitative analysis of the current trends and future estimations of the Europe biodegradable plastics market from 2019 to 2027 to determine the prevailing opportunities.
A comprehensive analysis of the factors that drive and restrict the growth of the market is provided.
Estimations and forecast are based on factors impacting the Europe biodegradable plastics market growth, in terms of both value and volume.
Profiles of leading players operating in the market are provided to understand the competitive scenario in the European markets.
The report provides extensive qualitative insights on the significant segments and countries exhibiting favorable Europe biodegradable plastics market growth.
Impact Of Covid-19 On The Europe Biodegradable Plastics Market 
The rapid spread of corona virus pandemic reduced the application of any new plastic bags including biodegradable bags. Consumers are bringing their old fabric and plastic bags, and retail shops and small stores are not providing new plastic bags to prevent further spread. 
Prior to COVID-19 breakdown, a large number of multinationals such as Danone, Coca-Cola, and Nestlé promised to adopt biodegradable plastics under pressure from activists and consumers. However, after COVID-19 outbreak governments across different countries made several changes in their regulations regarding disposable and single use plastics to prevent further spread of the virus. For instance, the State of Maine postponed its ban on plastic bags until January 2021; thus, negatively impacting the market growth.
In addition, supply chain disruptions due to irregular transport lead to increasing lead time of raw materials, such as corn starch; thus, delaying the entire product process. For instance, according to a report by business standard, the corn starch consumption has reduced by 50% from 400,000 tons to 200,000 tons.
Import dependency on China for various raw materials for the production of biodegradable plastics may change market scenario. 
As China started production in limited capacity, the material price for biodegradable plastic is expected to increase. Industry players are focusing to extend the lead time to avoid such high material price.
 Europe Biodegradable Plastics Market Report Highlights
Aspects
Details
By Type

Polylactic Acid (PLA)
Polybutylene Adipate Terephthalate (PBAT)
Polybutylene Succinate (PBS)
PHA (Polyhydroxyalkanoates)
Starch blends
Others

By Application

Packaging
Agriculture
Consumer Durable
Textile
Others

By Country

Europe

Germany
France
Italy
Spain
Bulgaria
UK
Hungary
Slovakia
Czech Republic
Poland
Austria
Romania
Rest of Europe

Key Market Players
SOLANYL BIOPOLYMERS INC., MINIMA TECHNOLOGY CO. LTD., MITSUBISHI CHEMICAL HOLDINGS, DANIMER SCIENTIFIC, FKUR KUNSTSTOFF GmbH, BASF SE, EASTMAN CHEMICAL COMPANY, NOVAMONT S.P.A, DOW INC., HEMP PLASTIC