Europe Electric Motor Market Outlook - 2022
Europe Electric Motor Market size is expected to garner $22.32 billion by 2022, registering a CAGR of 3.7% during the forecast period 2016-2022. The electric motor market is at a mature stage but has the potential to grow further at a moderate rate over the forecast period. 
The Europe electric motor market has witnessed tremendous technological advancements in the past few years. In addition, growing awareness in end-user verticals regarding eco-conscious living is accelerating the popularity of products that are driven by electric motors, such as electric cars and electric machineries.
Europe has been one of the prominent regions in the adoption of electric vehicles, led by the high environmental awareness among the consumers and the supportive government legislations. The growing demand of electric cars in the region has in turn created growth opportunities for key players offering electric motors as these cars are equipped with electric motors. Prominent players offering electric cars are focused towards introducing advanced and affordable electric cars in Europe in the near future. For instance, in early 2016, General Motors, a global automotive company, announced a plan to launch electric cars, namely, the Opel Ampera-e in Europe by 2017.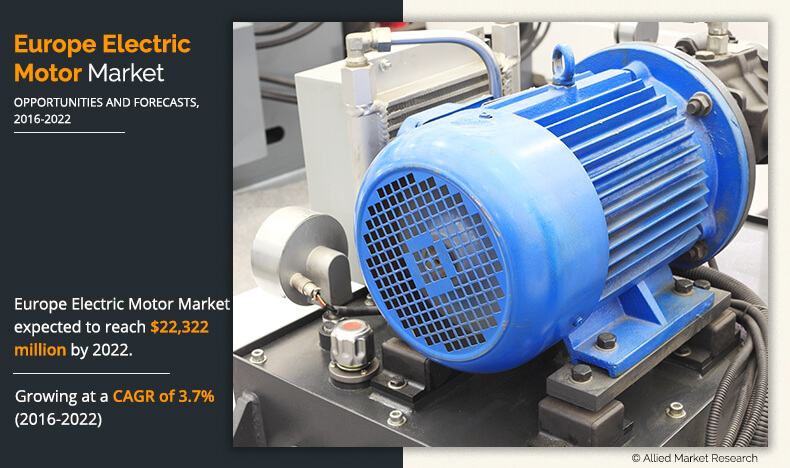 Electric motors are also known as premium efficiency motors that offer several benefits over conventional electric motors, such as longer operating life, low energy consumption, low maintenance cost, and high tolerance for fluctuating voltages. Comparatively, the price of electric motors is higher compared to conventional electric motors. But low energy consumption is one of the major factors responsible for the wide-spread adoption of electric motors in the region.
The Europe electric motor market size is analyzed by type of electric motors, output power, applications where the electric motors are used, and country. Based on the motor type, the market is categorized into AC motors, DC motors, and hermetic motors. AC motors are further classified into synchronous and induction motors, whereas DC motors into brushed and brushless DC motors.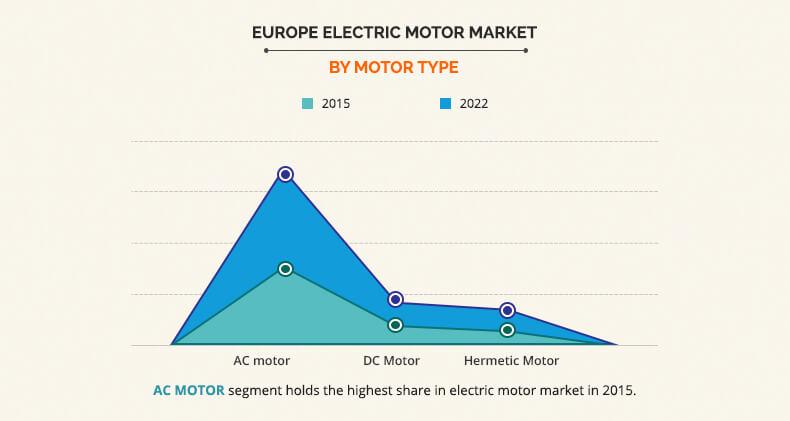 Electric motor-enabled equipment works on the principal that electrical energy is converted into mechanical energy or kinetic energy. These motors find application in industrial fans, compressors, pumps, lathe machines, machine tools, domestic appliances, heating ventilating and air conditioning applications, disk drives, power tools, electric cars, and automated robots.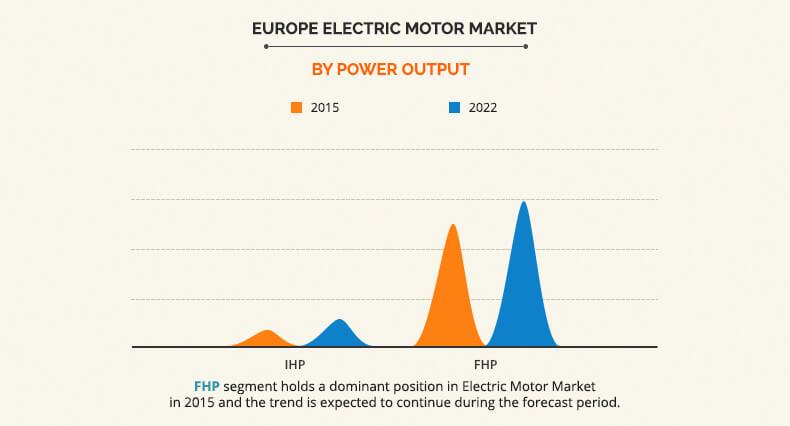 Key companies profiled are Ametek Inc., Siemens AG, Baldor Electric, Allied Motion Technologies Inc., ARC Systems Inc., Asmo Co Ltd, Brook Crompton UK Limited, Franklin Electric Co. Inc., Rockwell Automation, Inc., and Johnson Electric Holdings Ltd.
Major factors that are expected to drive the electric motor market are the introduction of various environment-friendly plans and initiatives by governments of various countries in the European region, and increasing awareness amongst the populace regarding the adoption of green products to limit and minimize the carbon footprints.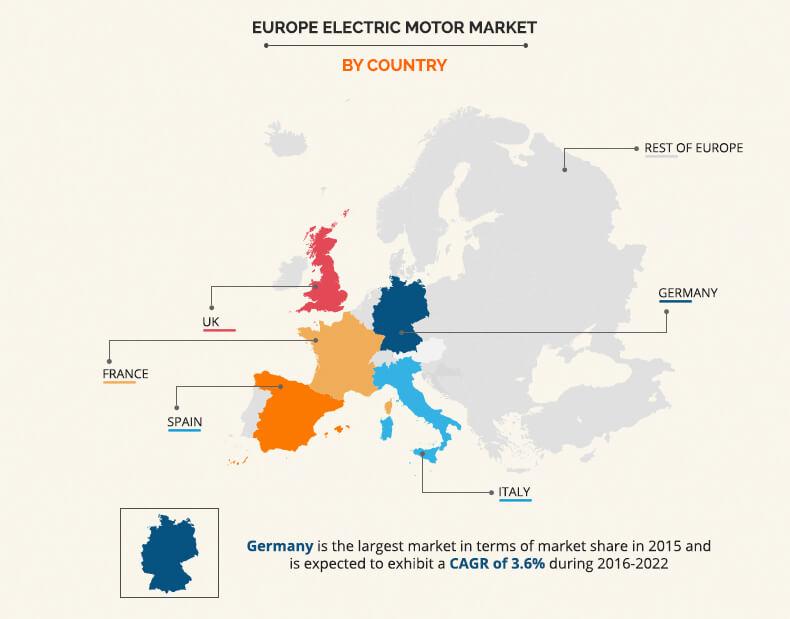 The applications of electric motors discussed are industrial machinery, motor vehicles (automobiles), heating ventilating and cooling (HVAC) equipment, household appliances, aerospace & transportation, and other commercial applications. A country-level market analysis of the electric motor market is done for the U.K., Germany, France, Italy, Spain, and Rest of Europe (RoE).
Key Benefits:
The report provides an overview of the Europe electric motor market forecast with special reference to the market trends, market structure, driving factors, challenges in the industry, scope, and opportunities in the electric motor market.
Porters Five Forces model is used to analyze the potency of buyers & suppliers, and the competitive structure of the market which is likely to enable market players to develop effective strategies.
The segmental study of this Europe electric motor market provides an in-depth analysis of the type of motors, latest technologies, their applications, and end users of the motors in various countries.
The current trends and future estimations on the Europe electric motor market enhance the overall potential of the market.
Drivers & opportunities are examined to identify the current factors, which are responsible for the market growth, and upcoming technologies that are likely to help the market to grow in the future.
Value chain analysis provides a systematic study of the key intermediaries involved, which would in turn help the stakeholders to formulate appropriate strategies.
Europe Electric Motor Market Key Segments:
The market is segmented on the basis of type, output power, application, and country.
By Type
Alternating Current (AC) Motors

Synchronous AC Motor
Induction AC Motor

Direct Current (DC) Motors

Brushed DC Motor
Brushless DC Motor

Hermetic Motors
By Output Power
Integral Horsepower (IHP) Output
Fractional Horsepower (FHP) Output
By Application
Industrial Machinery
Motor Vehicles
Heating Ventilating and Cooling (HVAC) Equipment
Aerospace & Transportation
Household Appliances
Other Commercial Applications
By Country
U.K.
Germany
France
Italy
Spain
Rest of Europe (RoE)
Key Players
Ametek Inc.
Siemens AG
Baldor Electric
Allied Motion Technologies Inc.
ARC Systems Inc.
Asmo Co. Ltd
Brook Crompton UK Limited
Franklin Electric Co. Inc.
Rockwell Automation Inc.
Johnson Electric Holdings Ltd.