Green Polyols Market Research, 2031
The global green polyols market was valued at $7.3 billion in 2021, and is projected to reach $17.2 billion by 2031, growing at a CAGR of 9.1% from 2022 to 2031.
Report Key Highlighters:
The study combines high-quality data, professional opinions and analysis, and valuable independent viewpoints. The research method is intended to provide a balanced picture of global markets and to enable stakeholders to make educated decisions in order to achieve their greatest growth targets.

20 countries are covered in the green polyols market report. The segment analysis of each country in both value ($million) and volume (kilotons) during the forecast period 2021-2031 is covered in the report. 

Historical data and regulations are also covered in the report.

In order to have a deeper knowledge of the market, over 3,700 product literatures, annual reports, industry statements, and other similar materials from major industry participants were reviewed.

The green polyols market is highly fragmented, with several players such as Synthesia Technology Group, UniSol, BASF SE, Cargill Incorporated, Arkema, Covestro AG, IQS Global, BioBased Technologies, Emery Oleochemicals LLC, and Roquette. Also tracked key strategies such as acquisitions, product launches, mergers, expansion, etc. of the players operating in the green polyols market.
The COVID-19 pandemic had a vital impact on green polyol industries such as automotive and construction. However, the COVID-19 pandemic increased the demand for green polyols for food packaging as it provides protection from bacteria and increases the life span of the food product stored.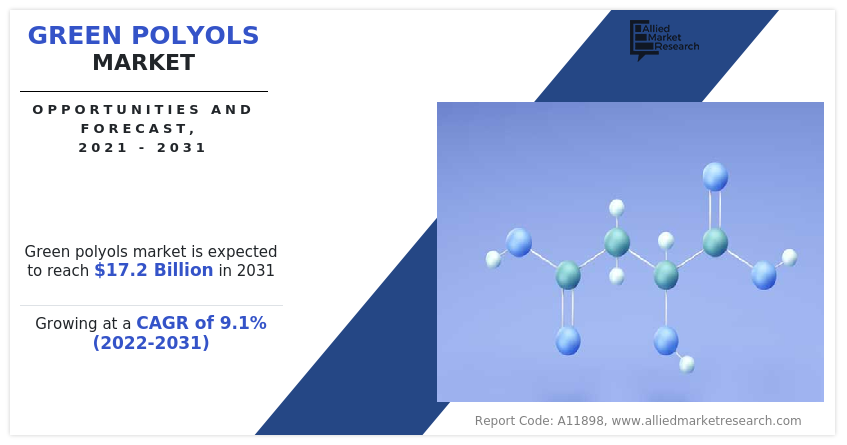 Growth in demand from furniture & bedding, construction, packaging, automotive industries is predicted to propel the green polyols market growth during the forecast period
Green polyol is a vital raw ingredient in the manufacturing of thermoplastics, elastomers, adhesives, synthetic leather, and coatings. Green polyols are soy-based chemicals used in the production of flexible foam for upholstered furniture, mattresses, mattress toppers, pillows, carpet cushions, and vehicle seats. Traditional foam and carpet cushion materials are derived from petroleum. Green polyols used in the production of polyurethane foams which are initiated by natural goods products like insulation, bedding, footwear and even biomedical devices as the initiator is propoxylated and ethoxylated with petrochemical epoxides. Sucrose and sorbitol-initiated Polyether Polyols which is high-functionality polyols.
Green polyols offer durability, abrasion, chemical, & oil resistance capabilities and are utilized in rollers, belts for hauling operations, rollerblade wheels, hospital trolleys, printing rollers, and under-the-hood automobile applications. The polyester polyols range offers a variety of properties, including contemporary coatings comprising polyurethane for durability and a glossy appearance. It may be utilized in a water dispersion coating system as well as a 2K system for wood and metal applications. Green polyols can be used to make a variety of finished products such as sports shoe soles, eyeglasses, auto parts, cell and phone casings, while carbon-neutral oleochemicals which is a polyester polyol are widely used in the synthesis of high-performance lubricants, bio-based plasticizers, pharmaceuticals & agrochemicals, fragrances & flavors and natural cosmetic ingredients.
Green polyols are used in various end-use industries such as furniture & bedding, construction, packaging, automotive, and others. Green polyols are used in furniture and bedding to manufacture numerous varieties of flexible foam used in mattresses, pillows, couches, chairs, and other home or office furniture cushioning. According to IBIS World, there are 50,630 retail market for home furniture & bedding enterprises in the U.S. in 2022, up 0.1% from 2021. Green polyol polyurethane foams are used as exceptionally efficient insulation materials, resulting in increased energy savings. Increased building material effectiveness has resulted in a greater requirement for efficient insulating materials to control heating, ventilation, and air conditioning (HVAC) and offset the amount of energy lost owing to ineffective insulation.
Insulation materials range from bulky fiber materials like fiberglass, rock and slag wool, cellulose, and natural fibers to stiff foam boards and elegant foils. Green polyols are used to make rigid and flexible polyurethane foams, as well as adhesives for packaging and furniture that have great adhesion and bonding to a broad range of surfaces and are utilized in applications ranging from folding cartons to food and beverage packaging. However, availability of alternative use of green polyols as sugar is predicted to hinder the market growth of green polyols. On contrary, rising demand for bio-based polyols in car manufacturing is predicted to offer ample growth opportunities for the market growth.
The green polyols market is segmented into type, application, end-use industry, and region. On the basis of type, the market is bifurcated into polyether polyols and polyester polyols. On the basis of application, the market is categorized into polyurethane foam, adhesives & sealants, coatings, and others. On the basis of the end-use industry, the market is classified into furniture & bedding, construction, packaging, automotive, and others. Region-wise, the green polyols market share is studied across North America, Europe, Asia-Pacific, and LAMEA.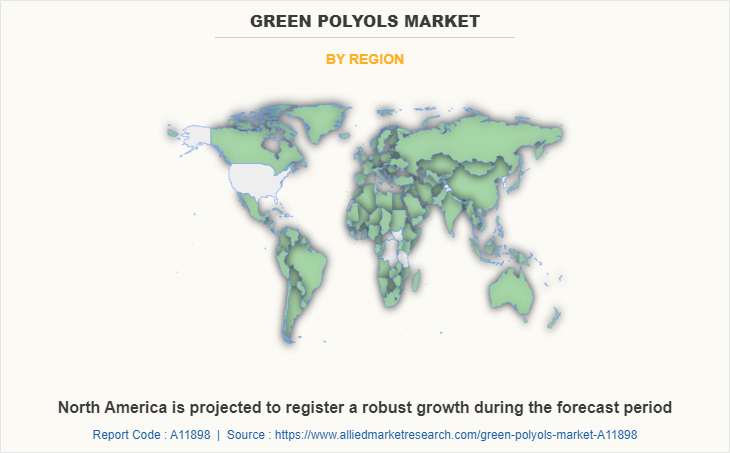 North America is projected to register a robust growth during the forecast period. In North America, green polyols are mostly utilized in the construction and automobile industries. It is a very strong material with excellent cut and tear resistance, and it will make the flooring water resistant, as the coating repels water and helps prevent water absorption. Foams are most typically utilized in commercial and residential seating applications in automotive green polyols. The growing commercial and residential sectors, the expanding regional construction industry, and the emerging renovation trend among urban and suburban residents in the U.S. are driving growth in North America spray polyurethane foam for the building & construction market. Green polyols polyurethane foam (SPF) is extensively used in building roof and wall sealing and insulation, and it may reduce building energy requirements for heating and cooling.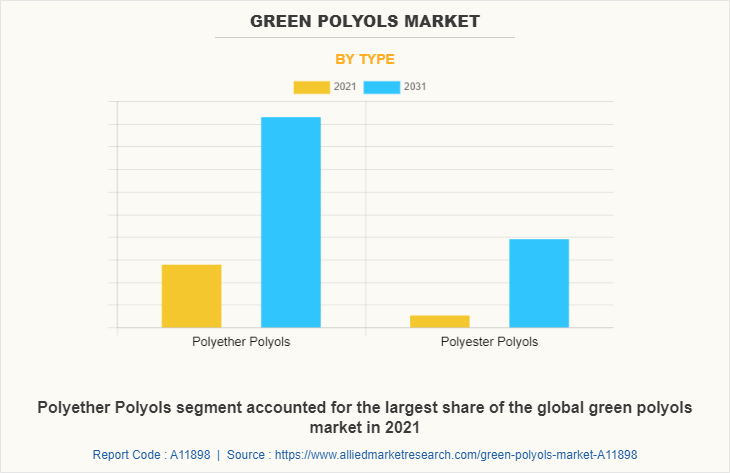 The polyether polyols segment accounted for the largest share of the global green polyols market in terms of revenue, in 2021. Polyether polyols are mostly used to make polyurethane (PU) stiff foam, soft foam, and moulding foam. Polyether Polyols polyol compounds are generally used to manufacture hard polyurethane foaming polymers, which are widely utilized in refrigerators, freezers, refrigerated vehicles, thermal baffles, pipe insulation, and other industries. Polyether polyols in green polyols are derived from natural oil and used to make coatings, inks, castings, and deformers. The increasing use of Polyether polyols in the production of adhesives, lubricants, elastomers, sealants, surface active agents, and other products is projected to drive market growth. The development of bio-based polyether polyols, which are made from natural oils and hence environmentally benign, is intended to alleviate the issue and open up new business potential.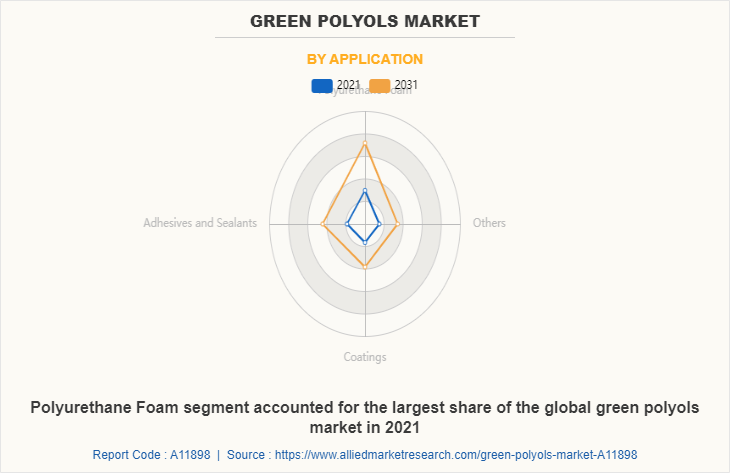 The polyurethane foam segment accounted for the largest share of the global green polyols market in terms of revenue, in 2021. Polyurethane foam is formed from polyether polyols, which are commonly used in the building and construction industry. It is capable of managing temperature effectively. As a result, it is employed in the insulation of walls, doors, panels, and roofs. Polyurethane is used in construction projects like the South San Francisco Civic Center campus, the LaGuardia Airport Construction Project, the O'Hare Airport Construction Project, and the Second Avenue Subway Construction Project, which are expected to drive polyurethane demand in the construction industry. According to the US Department of Energy, commercial and residential buildings utilize 40% of all energy, and builders and architects utilize rigid polyurethane, which reduces energy consumption and carbon emissions, which is great for the environment.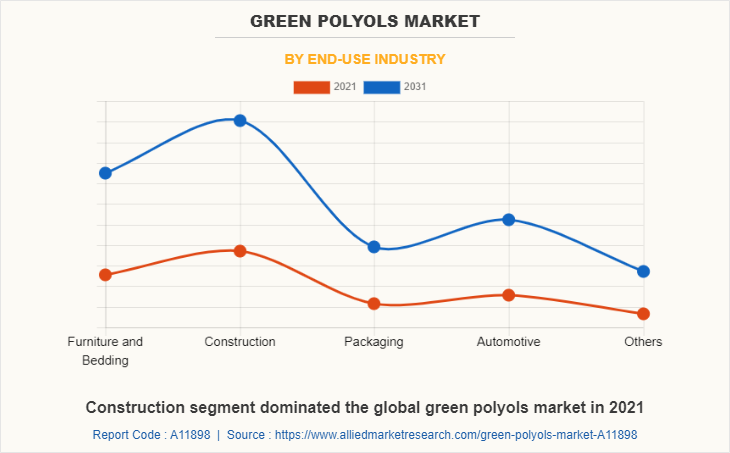 The construction segment dominated the global green polyols market in 2021. Green polyols polyurethanes are used in building and construction to create high-performance, lightweight goods that are both resilient and versatile. Polyurethane materials can also help in the aesthetics of homes and structures. Polyester polyols, which are used in residential construction, have properties like as abrasion resistance, heat resistance, hardness, solvent resistance, and shock absorption.
Key Players and Strategies:
The major players operating in the global green polyols industry include Synthesia Technology Group, UniSol, BASF SE, Cargill Incorporated, Arkema, Covestro AG, IQS Global, BioBased Technologies, Emery Oleochemicals LLC, and Roquette. These players have been adopting various strategies to gain higher share or to retain leading positions in the market. For instance:
In September 2022, Covestro AG expanded its business by introducing bio-circular Polyether Polyols based on sustainable Polyether Polyols. The introduced mass balance approach allows for the gradual substitution of fossil-based raw materials with bio-circular alternatives, improving the sustainability of these applications even further.
In June 2021 BASF SE introduced VALERAS, a new brand for its plastic additives portfolio that helps customers meet their sustainability targets. VALERAS includes BASF's existing plastic additives, which improve durability, save energy, reduce emissions, and promote biodiversity in plastic applications.
Key Regulations:
On July 19, 2021, the European Commission published the Regulation (EU) 2021/1175 of 16 July 2021 amending Annex II to Regulation (EC) No 1333/2008 on "The use of polyols in certain energy-reduced confectionery products." Labelling of foods containing more than 10 % added polyols must include the mandatory statement 'excessive consumption may produce laxative effects.
COVID-19 Analysis:
The COVID-19 pandemic had a vital impact on green polyol end-use industries such as automotive and construction. Lockdowns and societal estrangement have resulted in the closure of many manufacturing plants of green polyols.

Furthermore, during the COVID-19, there was increasing demand for flexible foam as food packaging provides protection from bacteria and increases the life span of the product stored. Pandemic-related lockdown measures had a significant impact on several green polyol's segments, including packaging. The COVID-19 pandemic increased demand for green polyols packaging owing to an increase in takeaway orders that employ single-use packaging.
Key Benefits For Stakeholders
This report provides a quantitative analysis of the market segments, current trends, estimations, and dynamics of the green polyols market analysis from 2021 to 2031 to identify the prevailing green polyols market opportunities.
The market research is offered along with information related to key drivers, restraints, and opportunities.
Porter's five forces analysis highlights the potency of buyers and suppliers to enable stakeholders make profit-oriented business decisions and strengthen their supplier-buyer network.
In-depth analysis of the green polyols market segmentation assists to determine the prevailing market opportunities.
Major countries in each region are mapped according to their revenue contribution to the global market.
Market player positioning facilitates benchmarking and provides a clear understanding of the present position of the market players.
The report includes the analysis of the regional as well as global green polyols market trends, key players, market segments, application areas, and market growth strategies.
 Green Polyols Market Report Highlights
Aspects
Details
Market Size By 2031
USD 17.2 billion
Growth Rate
CAGR of 9.1%
Forecast period
2021 - 2031
Report Pages
250
By Type

Polyether Polyols 
 Polyester Polyols

By Application

Polyurethane Foam
Adhesives and Sealants
Coatings
Others

By End-use Industry

Construction
Packaging
Automotive
Others
Furniture and Bedding

By Region

North America (U.S., Canada, Mexico)
Europe (Germany, UK, France, Italy, Spain, Rest of Europe)
Asia-Pacific (China, India, Japan, South Korea, Australia, Rest of Asia-Pacific)
LAMEA (Brazil, South Africa,, Saudi Arabia, Rest of LAMEA)

Key Market Players
IQS Global, BASF SE, Emery Oleochemicals LLC, Roquette, BioBased Technologies, Arkema, Cargill Incorporated, Covestro AG, Synthesia Technology Group, UniSol