LTE Market Overview:
Global LTE  Market is expected to garner $997 billion by 2020, registering a CAGR of 58.2% during the forecast period 2013-2020.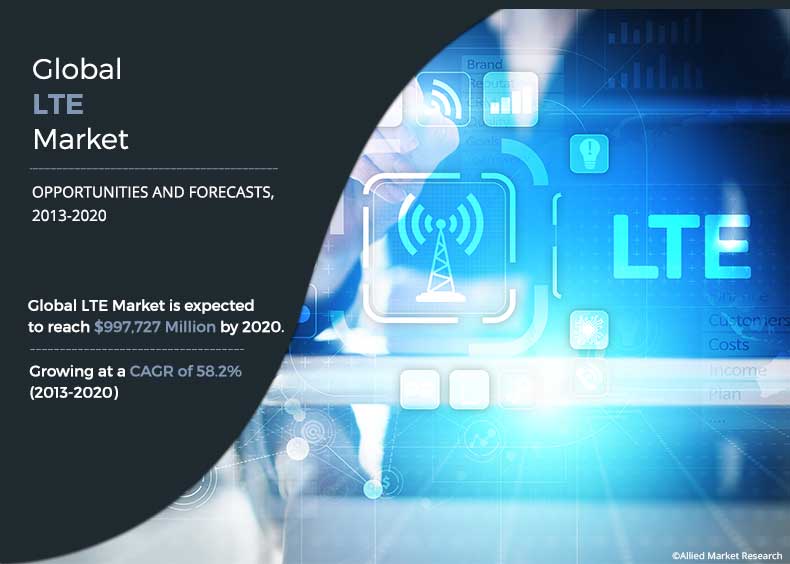 4G LTE is the latest technology in the mobile broadband market. LTE can provide a data speed of up to 30 Mbps and LTE Advance can even provide a speed of 100 Mbps. Moreover, this is an era of sophisticated gadgets, which provides the users with most of the features of a computer handy. Use of internet in mobile devices such as tablets, phablets, smartphones and mobile data cards, is the primary reason that has pushed the adoption of mobile broadband service across the globe. The development of new mobile applications that provide video streaming, video calls, and many other real-time functioning features, has brought the need for high-speed mobile broadband internet.
Increased need for higher data-rates and greater spectral efficiency are the primary factors driving the market growth. Implementation of LTE in the public sectors such as public safety as well as in defence and security is further driving the market exponentially. These applications require high-speed communication at times of emergency; therefore, LTE is the best-suited network to feed this need. Furthermore, changing customer preferences and rising demand for high-speed mobile broadband in Asia Pacific region has created a huge potential in the APAC market. Telecom operators have planned highest number of LTE installations in these developing countries.  
Segmentation Overview
The world LTE market is segmented on the basis of technology, application and geography Based on technology, world LTE market is segmented into LTE FDD, LTE TDD and LTE advance. Based on application, world LTE market is segmented into M2M & connected device, public safety LTE, VoLTE, surveillance browsing & large enterprise, video on demand and defense & security. The market is analyzed on the basis of four regions, namely North America, Europe, Asia-Pacific and RoW.

The market based on application is segmented into M2M and connected device, public safety LTE, VoLTE, video on demand, defense and security and others. At present browsing, surveillance and large enterprise that come under the "others" segment in our report, is the highest revenue generating market with a market share of 35.5% in 2012 and is expected to hold the place throughout 2020. However, Defense and Security would be the fastest growing market throughout 2013-2020.
Top Factors Impacting World LTE Market
The world LTE market is influenced by numerous factors including need for high data transfer rates, rise in adoption of public safety LTE, limited spectrum, growth in wireless Infrastructure. In addition, increasing adoption of managed security services fuel the growth of the market. These factors collectively create opportunities for the market growth, whereas some of them hamper the market growth. However, each factor would have its definite impact on the market during the forecast period.
Need for high data transfer rates
With increasing technological advancements and rising awareness regarding the same are acting as strong factors in the market. Customers expect a rapid, smooth and seamless data access while using a mobile broadband. These demands of the customers are highly influencing the adoption of the LTE. 4G LTE provides approx. 30 Mbps speed to the users. In some areas, 4G LTE can even exceed the maximum speeds of ADSL2+ broadband. Faster the data speed, better is the communication of a device with online websites through a browser or an application. LTE-advance is expected to offer data rates up to 100 Mbps to mobile users and 1Gbit/s fixed speed. Time constraint with the 2G and 3G networks, which fall below the LTE, is also a strong reason for adoption of 4G LTE.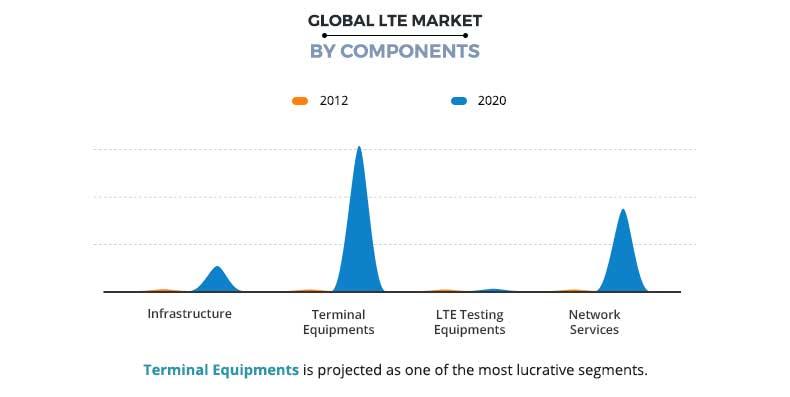 Rise in adoption of public safety LTE
Certain public safety networks help the customers to communicate with services like fire, police and ambulance. As these networks are designed for emergency help, it is essential that the network is highly robust and provide high-speed communication services. With 4G-LTE, responders can collaborate, communicate and operate with each other. This assists in fast and precise decision-making and improves public safety.
Limited spectrum
LTE service is provided through a specific band of high frequency radio waves. The companies providing this service are allotted specific bands of spectrum to be used for its operation. These spectrums are auctioned by the government and the companies need to offer services through these frequency bands. With increasing demand for mobile communication, there has been a scarcity in the available bands for data transfer. This availability of limited spectrum is posing a challenge to manufacturers who manufacture LTE supporting devices as well as the telecom companies. This is hindering the LTE market growth.

Top Winning Strategies
The market is largely driven by partnership strategy. Increased need for higher data transfer rates and greater spectral efficiency driven by increased data usage has contributed to the growth of the world LTE market. The vendors in the market offer cost-effective and differentiated products in the market to enhance their portfolios.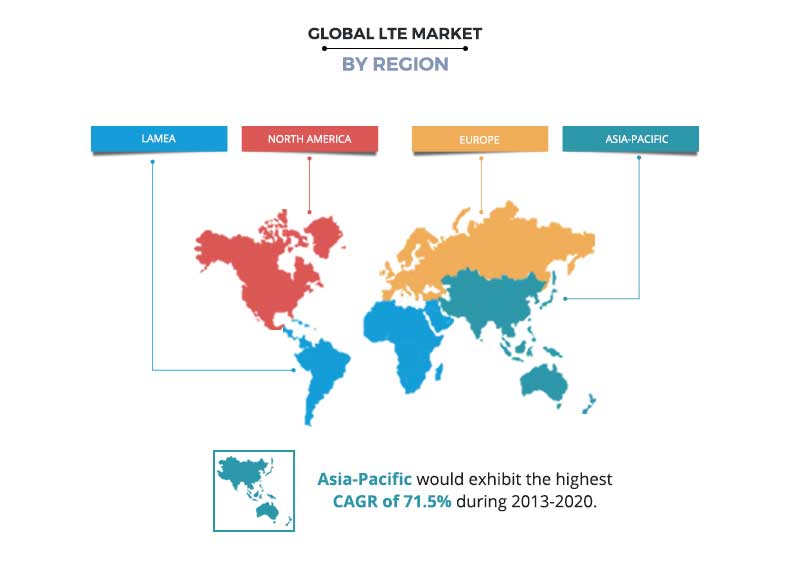 Key Benefits
The report provides a comprehensive analysis of the world LTE market with current trends and future growth opportunities, challenges, and competitive scenario.
The current market trends are quantitatively analyzed and estimated for the period 2012–2020, which have been provided to highlight the financial competency of the market.
Porter's five forces analysis provides inputs on the potential of buyers and suppliers and highlights the competitive structure of the market, which is likely to enable market players to devise effective growth strategies and facilitate better decision-making.
Value chain analysis provides key inputs on the role of different stakeholders involved at various stages.
SWOT analysis of the key market players highlights the essential strengths and potential opportunities in the market.
 LTE Market Report Highlights
Aspects
Details
BY TECHNOLOGY

Global LTE-TDD market

Global LTE advance market
Global LTE-FDD market
Global LTE network services market

Global LTE infrastructure market
Global LTE terminal equipment market

Routers
USB modems
DAS
Femtocell
Others
Handheld devices

BY APPLICATION

M2M and Connected Device
Public Safety LTE
Video-on Demand
VoLTE
Defense and Security
Others (IP Surveillance, Browsing)

BY GEOGRAPHY

North America
Europe
Asia Pacific
ROW

Key Market Players
AT&T, Inc, NTT DOCOMO, Inc, Alcatel-Lucent, Verizon Communication Inc, Bharti Airtel Ltd, LM Ericsson, Vodafone Group Plc, Nokia Solutions and Networks. B.V, Huawei Technologies Co. Ltd, China Mobile Ltd