Saudi Arabia Construction Chemicals Market Outdlook - 2032 
The Saudi Arabia construction chemicals market size was valued at $1.5 billion in 2022 and is anticipated to generate $2.7 billion by 2032. The market is projected to experience growth at a CAGR of 5.9% from 2023 to 2032.  
Report key highlighters:
The report outlines the current Saudi Arabia construction chemicals market trends and future scenario of the market from 2022 to 2032 to understand the prevailing opportunities and potential investment pockets.
The Saudi Arabia construction chemicals market has been analyzed in terms of value ($billion) and volume (tons). The analysis in the report is provided on the basis of product type and end-use industry across the country.
The Saudi Arabia construction chemicals market is fragmented in nature with many players such as Fosroc International Ltd., SABIC, Arkema, and Don Construction Products Ltd., which hold significant share of the market.
The report provides strategy planning and industry dynamics to enhance decision making for existing market players and new entrants entering the Saudi Arabia construction chemicals market.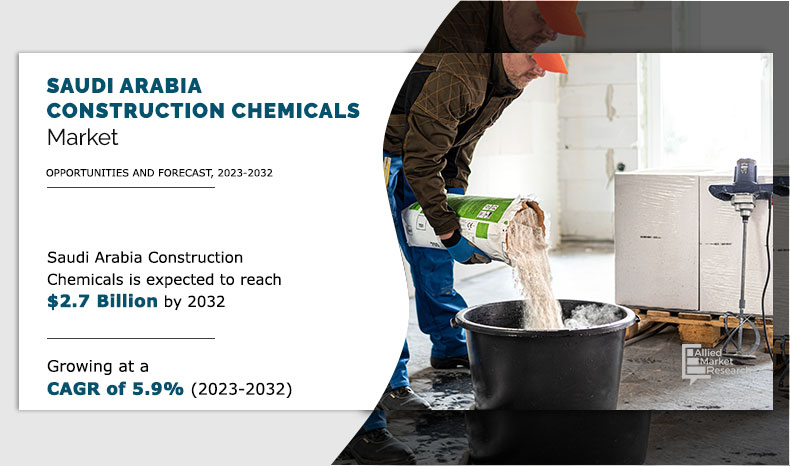 Construction chemicals, also known as specialty construction chemicals or construction chemical products, are substances and compounds specifically designed and formulated to enhance performance, durability, and overall quality of construction materials and structures. These chemicals play a crucial role in the construction industry by providing various benefits such as improving the strength of concrete, protecting against corrosion, enhancing adhesion, and increasing the lifespan of buildings and infrastructure. Construction chemicals are commonly used in both residential and commercial construction projects. 
Chemical solutions, usually used to stick to them during construction activities with cement, concrete, or other materials. Construction chemicals improve concrete strength and quality and provide water resistance and improved rigidity. The concrete system is protected from atmospheric corrosion. For concrete, different chemical materials are used to decrease the quantity of cement and water, such as concrete admixtures. To ensure consistency during mixing, curing, and placement, concrete admixtures are known to modify hardened concrete properties. 
Market Dynamics
The demand for construction chemicals in Saudi Arabia is expected to expand at a strong pace as the country experiences an expansion of its infrastructure base, structural reforms, and technological advances. Furthermore, upcoming infrastructure megaprojects in various sectors of the economy, with particular focus on renewable energy development projects, are driving the market growth. 
In addition, the government of Saudi Arabia is keen to improve transport infrastructure, electricity, and utility facilities and introduce affordable housing programs across the country to probe the country's demand for building chemicals. For instance, through the National Transformation Program (NTP) 2020, the government proposed to spend $71.5 billion towards the development of Saudi Arabia's transport and tourism infrastructure. All these factors increase the demand for construction chemicals and drive the market growth. 
Smart and green buildings are increasing the priority of the Kingdom of Saudi Arabia. Saudi Arabia is expected to continue increase its green building sector with the goals of Vision 2030, mega ventures, supporting activities, and various initiatives by the Ministry of Housing. The nation is currently constructing a megacity, NEOM, which is an initiative of Vision 2030. The city is expected to be operated entirely by renewable energy. Also, King Salman Energy Park (SPARK) in Aramco, is the world's first LEED pre-certified industrial area.
Due to a growing acceptance of sustainable and green building principles, the demand for concrete surface retarders is poised to expand. A green building combines other measurable objectives, architecture, construction, and operational practices that use sustainable building materials for an outstanding surface finish and enhanced aesthetic appeal. Water-based retarders improve the architectural beauty of buildings by offering decorative finish. They also provide concrete surfaces with slip-resistance.
Owing to high growth in the construction industry, the concrete surface retarders market has a positive outlook. However, in certainly developed countries, individuals are less aware of these retarders or of the advantages they offer. Most countries already use cheaper alternatives. For example, techniques used in flatwork involve only spreading sugar-water mixture on the surfaces of freshly poured concrete or spreading and rolling pea gravel. To have a decorative finish, end users, such as consumers from the precast concrete industry, the concrete cast stone industry, the concrete goods industry, or the ready-mix concrete industry, prefer these alternatives. 
Therefore, informing consumers about the positive features and advantages of the use of concrete surface retarders on vertical and horizontal concrete surfaces is important for the growth of this field. In developed countries, commercials, trade shows, and exhibits are bound to help build awareness and encourage the use of concrete surface retarders.
However, delayed projects due to high initial investment cost and long contract awarding & execution process hamper the Saudi Arabia construction chemicals market. Furthermore, Saudi Arabia's growing economy and abundance of oil reserves result in increased public investment in the development of economic cities and related infrastructure provide the nation's building chemicals manufacturers with significant growth opportunities.
Adoption of construction chemicals is motivated by an increase in construction activities in each category, such as residential, commercial, repair, and industrial activities. The rapid growth in the number of industries is responsible for economic development in emerging economies. In the manufacturing sector, several countries are investing in increasing production capacities and thus leading to construction of new plants and manufacturing facilities. Rise in industrialization fuels the demand for building activities, which in turn boosts the growth of the market for building chemicals. 
In addition, increase in urbanization and rise in population in developing countries are generating a fundamental need for safe and environmentally friendly infrastructure. In emerging economies, demand for building chemicals is expected to increase and the effect of these factors is expected to generate significant opportunities for market expansion during the forecast period.
The Saudi Arabia construction chemicals market is segmented on the basis of product type, external insulation & finishing, and application. Depending on product type, the market is categorized into concrete admixtures, surface treatment, repair & rehabilitation, waterproofing, flooring & coating, adhesives & sealants, coatings, and others. By external insulation & finishing, the Saudi Arabia construction chemicals market is divided into insulation material, components, and usage. On the basis of application, it is divided into residential, commercial, infrastructure, and industrial.
The major players operating in the industry are Fosroc International Ltd., SABIC, Arkema, Don Construction Products Ltd., Construction Material Chemical Industries, Saak Construction Chemicals, Polywed Construction Chemicals, Meister Co., 3M Company, and Sika AG. The companies adopted key strategies such as partnership, acquisition, product launch, and expansion to increase their market share.
Construction Chemicals Market, by Product Type 
Concrete admixture is the leading product type segment, as they are extremely efficient in strengthening of the concrete and prevention of potential damage. Furthermore, they reduce the quantity of cement used in the concrete by making it economical, offer additional strength to concrete, and reduce early heath of hydration, which eliminates the thermal cracking problem in concrete. Due to increased performance requirements imposed on concrete and mortar, especially in urban areas and for infrastructure construction, the demand for admixtures is currently on the rise. In addition, use of alternative materials, such as processed aggregates (sand) and alternative materials with cement-based properties in cement, mortar and, thus, even in concrete, has led to rise in need for admixtures.
Saudi Arabia Construction Chemicals Market

---
By Product Type
Concrete Admixtures is projected as the most lucrative segment.
Construction Chemicals Market, by External Insulation & Finish Systems
By external insulation & finish systems, insulation material segment dominated the market share for 2022. Insulation materials in construction chemicals are used to reduce heat transfer and provide thermal resistance in buildings. These materials are essential for improving energy efficiency, maintaining indoor comfort, and reducing heating and cooling costs. Insulation materials are available in various forms, each with unique properties and applications. Fiberglass insulation consists of fine glass fibers that are spun into mats or rolls. It is one of the most widely used insulation materials due to its cost-effectiveness and ease of installation.
Saudi Arabia Construction Chemicals Market

---
By External Insulation & Finishing
Insulation Material is projected as the most lucrative segment.
However, the components segment is projected to grow at a higher CAGR during the forecast period. In construction, a wide range of component chemicals are used to create various materials and products that are integral to the building process. These component chemicals are essential for achieving specific properties, such as adhesion, strength, durability, and protection against environmental factors. 
Construction chemicals Market, by Application
By application, the residential segment dominated the market share in 2022 and is further projected to maintain its dominance during the forecast period. Residential construction often involves the use of concrete for foundations, slabs, and structural elements. Construction chemicals such as concrete admixtures are added to the concrete mix to improve workability, strength, durability, and reduce water permeability. 
Saudi Arabia Construction Chemicals Market

---
By Application
Residential is projected as the most lucrative segment.
Recent Market Scenario
In September 2023, Arkema S.A. announced the expansion of its global production capacity of DMDS (dimethyl disulfide) at its Beaumont facility in the U.S. This strategic move is driven by the rapidly growing biofuel market, which is fueled by the demand for sustainable solutions and the imperative to decarbonize road and air transportation.
In July 2023, Arkema, Polymem and Tergys partnered for innovative autonomous filtration systems to supply drinking water. The innovation is the result of a three-way development between the companies to develop innovative autonomous filtration systems that bring drinking water to remote and disaster-stricken territories
In June 2023, Fosroc, Inc. appointed Mannai Trading Co. WLL as its exclusive distributor to supply the most comprehensive range of high-performance construction chemicals serving the construction, infrastructure, oil & gas industries in the State of Qatar.
In May 2023, Sika acquired the MBCC Group, a leading global supplier of construction chemicals. Sika strengthens its footprint across all regions, reinforces its range of products and services across the entire construction life cycle. Sika sold MBCC Group's chemical admixtures assets in the UK, the USA, Canada, Europe, Australia, and New Zealand to the international private equity firm Cinven. Sika's sustainable product portfolio will be further enhanced with MBCC's innovative technologies.
In February 2023, Arkema S.A. launched the most complete and integrated offering on the market for Pressure Sensitive Adhesives. It provides the customers with unique access to the most sustainable high-performance solutions for the fast-growing pressure sensitive adhesives market and for a wide variety of demanding applications such as tapes, labels, and specialty films.
Key Benefits For Stakeholders
The report provides an in-depth analysis and Saudi Arabia construction chemicals market forecast along with the current and future market trends.
This report highlights the key drivers, opportunities, and restraints of the market along with the impact analyses during the forecast period.
Porter's five forces analysis helps analyze the potential of the buyers & suppliers and the competitive scenario of the Saudi Arabia construction chemicals industry for strategy building.
 A comprehensive analysis of the factors that drive and restrain the Saudi Arabia construction chemicals market growth is provided.
The qualitative data in this report aims on Saudi Arabia construction chemicals market trends, dynamics, and developments. 
The Saudi Arabia construction chemicals market size is provided in terms of revenue.
The report provides extensive qualitative insights on the significant segments and regions exhibiting favorable Saudi Arabia construction chemicals market share.
 Saudi Arabia Construction Chemicals Market Report Highlights
Aspects
Details
Market Size By 2032
USD 2.7 billion
Growth Rate
CAGR of 6.3%
Forecast period
2022 - 2032
Report Pages
259
By Product Type

Concrete Admixtures

Water Reducers

Naphthalene
Polycarboxylate
Lignosulphonates
Others

Retarding Admixtures

Calcium Sulphates
Lignosulphonates
Phosphonates
Others

Accelerating Admixtures

Calcium chloride
Portland Cement
Calcium Silicate
Others

Air Entraining Admixtures

Rosin resin
Alkyl Sulphontes
Others

Superplasticizers

Sulponated Melamine Formaldehyde
Sulponated Naphthalene Formaldehyde
Others

Corrosion Inhibitors

Hexamine
Phenylenediamine
Ammonium Bisulphite
Others

Mineral Admixtures

Fly Ash
Ground Granulated Blast Furnace Slag
Silica Fumes
Others

Others

Surface Treatment

Curing Compounds
Sealers
Hardeners
Bonding Agents
Others

Repair And Rehabilitation

Concrete Repair Mortars
Grouts
Crack Fillers
Structural Strengthening Systems
Anchoring Systems
Others

Water Proofing

Liquid Membranes
Sheet Membranes
Cementitious Waterproofing
Bituminous Coating
Others

Flooring

Epoxy
Polyurethane
Vinyl
Polymethyl Methacrylate
Others

Adhesives & Sealants

Tile Adhesives
Flooring Systems Adhesives
Joint Sealants
Others

Coatings

Decorative Coatings
Anti-corrosion Coatings
Marine Coating
Wood Coatings
Industrial Coatings
Automotive Coatings
Fire Resistant Coatings
Others

Others

By End-use Industry

Residential
Commercial
Infrastructure
Industrial

Key Market Players
MAPEI S.p.A., Sika AG, Chembond Chemicals Limited, Akzo Nobel N.V., Pidilite Industries Ltd., Cera-Chem Pvt. Ltd., ACC Limited, Magicrete Building Solutions Pvt Ltd., Saint-Gobain, Dow Inc.
Analyst Review
According to the CXOs of the leading companies, growth in the demand for construction chemicals in Saudi Arabia is expected to be driven by growing urbanization and industrialization in major developing countries, introduction of stringent government policies, and increase in investment in the construction sector. Also, one of Saudi Arabia's main strategies for fueling economic growth is investment in large-scale infrastructure projects.
To maintain growth in the manufacturing sector and expand municipal services, the government's efforts to develop the country's infrastructure is expected to lead to growth in construction spending. Rise in levels of personal income, household growth, and population migration from rural to urban areas is anticipated to increase the country's need for better construction facilities and the development of road infrastructure. For example, in 2023, the Kingdom of Saudi Arabia has signed a deal with South Korean and Chinese companies under a $100 billion project to construct 1.5 million affordable housing tons over the coming years.
In addition, the government is concentrating extensively on the development of public-private-partnership deals as part of the Saudi Arabia Vision 2030 program. As a result, the country aimed to privatize all airports by 2020 and announced PPP (Public Private Partnerships) in Yanbu, Taif, Qassim, and Hail for airport ventures. In addition, a rise in awareness of high-value products, such as concrete mixing, is anticipated to play a key role in market development. However, as per the CXOs, lack of awareness regarding long-term benefits of construction chemical projects is anticipated to limit the overall market growth