Smart Home Appliances Market Overview:
Smart Home Appliances Market is expected to reach $38.35 billion by 2020, registering a CAGR of 16.6% during the forecast period of 2015-2020. Smart home appliances are next generation conventional home appliances, equipped with advanced features for receiving, processing, and transmitting information using smartphones, tablets, and laptops. Increasing use of appliances in homes has led to higher energy consumption, thereby, posing challenges for power companies to produce more electricity. According to the U.S. Energy Information Administration, the global energy demand would increase by nearly 37% by 2035. In such a scenario, the adoption of smart home appliances would increase, as they facilitate real-time communication to operate the device at low frequencies or shift the operations time to off-peak periods. Thus, smart home appliances offer revolutionary control features to consumers as well as service providers along with enhanced convenience, security, and efficiency.
Smart home appliances market is expected to witness dynamic growth in future, due to the advancement in electronics and communication technologies. Factors such as increasing purchasing power and changing lifestyles of people have fostered the demand for smart home appliances, worldwide.
The key market players profiled in smart home appliances market are General Electric Company, Panasonic Corporation, Electrolux AB, LG Electronics, Inc., Samsung Electronics Co., Ltd., Koninklijke Philips N.V., Apple, Inc., Haier Electronics Group Co., Ltd., Miele & Cie. KG, BSH Hausgerate GmbH and Whirlpool Corporation. New product launch is the key strategy adopted by renowned market players to sustain the market competition. However, these players focus on raising awareness through trade shows, events, and other promotional activities.
Top factors impacting world smart home appliances market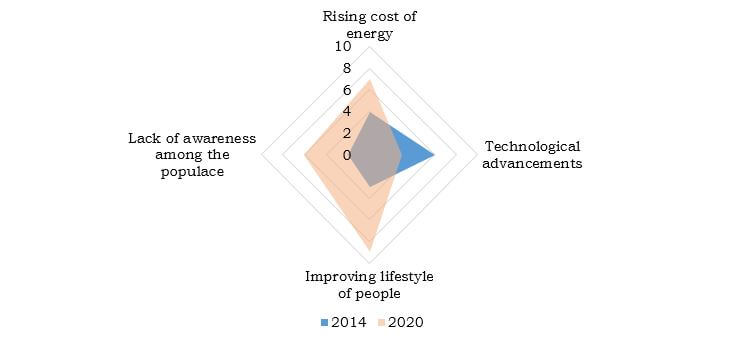 Rising cost of energy
Increasing cost of electricity bills is a major concern for household consumers. For instance, according to a recent study by Hawaiian Electric, appliances, such as air conditioners, water heaters, refrigerators, lighting fixtures, and home entertainment systems consume enormous amount of electricity. The following graph illustrates the cost of energy consumed by these appliances in a family with four members.
These increased costs are driving the households towards energy saving options. In such a scenario smart home appliances, which can communicate among themselves, have emerged as effective solution. Thus, the households are adopting the smart home appliances to minimize the energy costs.
Technological advancements
Technological advancements in the wireless communication would facilitate remote operations of home appliances. For instance, smartphones and tablets are used for monitoring and controlling these appliances via Wi-Fi. In addition, Bluetooth technology facilitates data exchanges between two devices. Therefore, Bluetooth-enabled appliances can be controlled and monitored using smartphones. New technologies, such as ZigBee, have emerged as a feasible technology for monitoring smart home appliances.
Improving lifestyle of people
Increasing income level and changing lifestyle of people are expected to drive the market growth. Improving life style of consumers, especially in the urban areas supplemented with increasing disposable income have fostered the sale of smart home appliances. Nowadays, the adoption of smart home appliances has increased, owing to their convenience in managing and operating the appliances. This trend is expected to continue during the forecast period, thereby positively fueling the smart home appliances market growth.
Lack of awareness among consumers
The smart home appliances market is hampered due to lack of awareness about these products.  Lack of awareness regarding use of technologies and sophisticated appliances is the major factor hampering the market growth. However, industry players have adopted strategies, such as promotional campaigns and advertising programs, to promote these products. These factors would foster the growth of the smart home appliances market in future.
Top winning strategies
The key business strategies have been discussed based on the recent developments of the top companies operating in the smart homes appliances market. The key players have adopted product launch, partnerships, and acquisitions to expand their product portfolio and improve their market presence across various geographies.
Top winning strategies, 2012-2015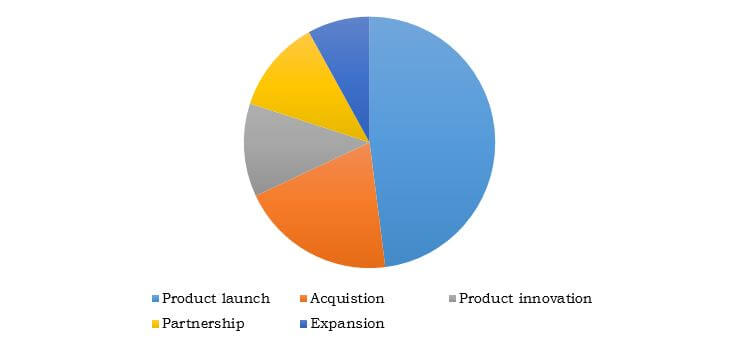 Top investment pockets
This section highlights the potency of the market segments in terms of investment opportunities for stakeholders. The potency of the market segments is based on the present market condition as well as growth prospects during the forecast period. The following illustration demonstrates the potency of the market depending on the growth rate and market attractiveness.
The following graph illustrates the potential of various technologies deployed for managing smart home appliances. Nowadays, smart home appliances are connected with smartphones, tablets, and laptops using various technologies. Factors, such as power requirement and compatibility with various appliances, play a vital role in the adoption of a particular technology.
Top investment pockets of world smart home appliances market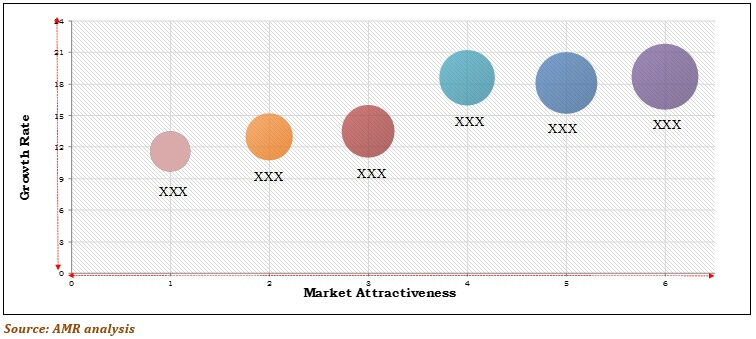 Segment Overview:
The world smart home appliances market is segmented into product type, technology, and geography. Based on product type, the market is segmented into washing machines, refrigerators, dishwashers, air conditioners, and others (small electrical appliances such as coffee machine, vacuum cleaners). Among the types of smart home appliances, smart washing machine generates the highest revenue in the market. Smart home appliances are operated using various technologies, such as Wi-Fi, Radio Frequency Identification (RFID), ZigBee, cellular technology, Bluetooth, and others. Wi-Fi, ZigBee, and Bluetooth are the most widely used technologies in the market and this trend is expected to continue during the forecast period. The growing penetration of Internet of Things (IoT) concept, worldwide, has led to widespread popularity of Wi-Fi technology.
The world smart home appliances market is analyzed based on regions, which include North America, Europe, Asia-Pacific and Latin America, Middle East and Africa (LAMEA) regions. Asia-Pacific region is expected to dominate the global market due to high demand of these appliances in China, India, and Japan among others.
Market Segmentation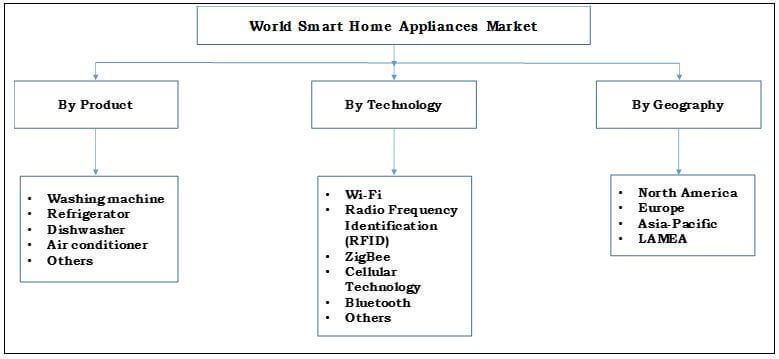 World Smart Home Appliances Market by Technology
Rapid developments in Information Technology and topology of wireless communication are the major factors boosting the integration of home appliances with mobile devices such as laptops, smartphones, and tablets. Wireless communication plays a significant role in monitoring and controlling home appliances from remote locations, to reduce electricity consumption.
Wi-Fi technology is mostly used in homes and commercial establishments as an alternative to wired LAN. Presently, this technology has emerged as an effective technology to operate a large number of home appliances from remote locations.
LG Electronics Wi-Fi-enabled refrigerator and washing machine alerts consumers about minor issues to reduce maintenance cost. Whirlpool, one of the leading players in manufacturing consumer electronics devices, launched Wi-Fi enabled devices that can be managed using apps.
Key Benefits
This study highlights the current scenario of the world smart home appliances market along with its scope to identify the ongoing trends in the market.
Porter's Five Force Analysis highlights the potency of the suppliers and buyers along with a competitive scenario of the market, which would facilitate efficient strategic planning.
The drivers and opportunities have been analyzed to identify the current factors, which are responsible for the growth of the market as well as the upcoming technologies that are expected to foster the market growth in future.
The value chain analysis of the industry highlights the key intermediaries involved and elaborates their roles and value additions at every stage in the value chain.
Quantitative analysis of the current market trends and estimations for the period of 2014–2020 are provided to determine the financial appetency of the market.
 Smart Home Appliances Market Report Highlights
Aspects
Details
By Product Type

Washing machine
Refrigerator
Dishwasher
Air conditioner
Others

By Technology

Wi-Fi
Radio Frequency Identification (RFID)
Cellular technology
ZigBee
Bluetooth
Others

By Geography

North America
Europe
Asia-Pacific
LAMEA (Latin America, Middle East and Africa)

Key Market Players
General Electric Company, Panasonic Corporation, Electrolux AB, LG Electronics Inc., Samsung Electronics Co., Ltd., Koninklijke Philips N.V., Apple Inc., Haier Electronics Group Co., Ltd., Miele & Cie. KG, BSH Hausgerate GmbH, Whirlpool Corporation