Tubing Spools Market Outlook - 2026
The global tubing spools market size was valued at $490.5 million in 2018, and is projected to reach $725.8 million by 2026, registering a CAGR of 4.9% from 2019 to 2026. The tubing spool is an equipment that is attached to the smallest casing string or uppermost casing head. It is used to seal the annular space between the casing and tubing. There are a variety of tubing spools available in metals such as high manganese steel, carbon steel,  and stainless steel. Moreover, the spool supports the tubing string on an oil well, and connects with a tubing adapter on the top. It consists of upper and lower flange for packoff tubing hanger retention and testing of the secondary seal. Its parts include upper bowl, lockdown screw, load shoulder, secondary seal area, test port, outlet, lower & upper flanges, and ring gasket groove. 
Major players such as EthosEnergy Group Limited, Integrated Equipment, Jereh Oilfield Equipment, Weir Group, and others, are offering durable and efficient tubing spools to the market. For instance, Integrated Equipment offers wide range of tubing heads & spools designed with a straight bowl profile.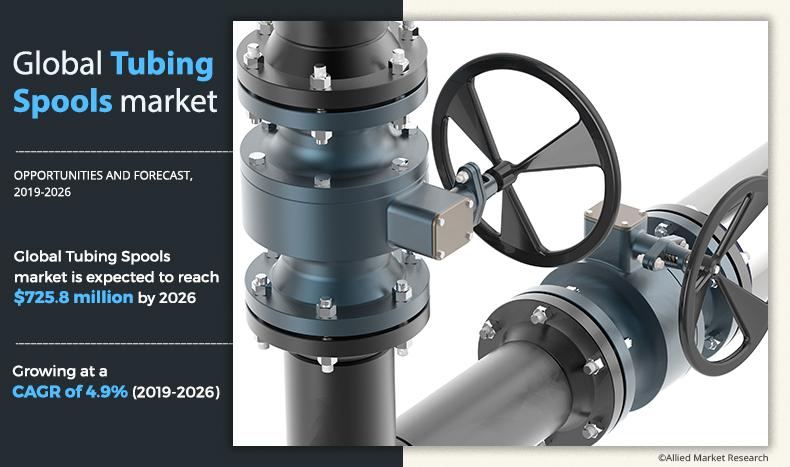 The growing exploration and drilling activities for oil around the globe, and oil price recovery are some of the major factors which drives the tubing spools market growth. In addition, the rise in redevelopment of mature oil wells propel the demand for tubing spools in the oil and gas industry. However, increase in prices of raw materials and fluctuations in foreign currencies are expected to hinder the tubing spools market growth. 
Furthermore, the technological developments in wellhead system offer lucrative growth opportunities for the market players during the forecast period. The tubing spools are an integral and essential part of wellhead system. The tubing spools is an associated accessory required to assemble the wellhead system. Wellhead systems are required to control the pressure during production and drilling operation. In addition, it connects the surface pressure-control equipment and serves as a point to suspend  tubing & casing strings. The advance technology in wellhead system provides reduced life cycle cost, and superior reliability for pressure seals  and suspension point. For instance, in March 2019, ABB, a Swiss-Swedish multinational corporation launched ABB Ability Wellhead Manager, a versatile new cloud-based visualization system for oil and gas operators.  Similarly, in August 2017, Australia-based KINETIC and WEFIC collaborated to launch high-end wellheads in Australia. The new feature of wellheads include nested hanger configurations. The new wellheads have an ability to drill without dismantling blowout preventer (BOP).
The global tubing spools market is segmented based on type, application, and region. Based on type, the market is segmented into single tubing, and dual tubing. The single tubing spool is projected to experience growth during the forecast period due its utilization for HTHP application in the oil & gas industry. These single tubing spools are an essential part of a piping system in the oil and gas industry, which are also utilized to supports the tubing string on an oil well, and connect with tubing adapter on the top.
Tubing Spools Market

---
By Type
Single tubing segment is projected to grow at a significant CAGR
Based on application, the market is divided into onshore, and offshore The onshore segment is a largest segment in 2018 in terms of revenue owing to the discovery of new oil and gas resources. In addition, The tubing spool  in onshore application is widely used for proper pressure sealing of the total casing, which are used in the respective operation. Moreover, increase in investments in offshore oil & gas exploration and production activities offers lucrative growth opportunities for the tubing spools market growth.
Tubing Spools Market

---
By Application
Onshore segment holds dominant position in 2018
Based on region, the tubing spools market is analyzed across North America, Europe, Asia-Pacific, and LAMEA. The North America region is projected to experience growth during the forecast period owing to expansion of the oil and gas sector in the region. Moreover, rise in investment in new well drilling activities is also expected to fuel the market growth in the region.
Tubing Spools Market

---
By Region
North America holds a dominant position in 2018 and is expected to grow at a highest rate during the forecast period.
Competition Analysis
The key market players profiled in the report of the tubing spools market include Delta Corporation, EthosEnergy Group Limited, Integrated Equipment, Jereh Oilfield Equipment, Jiangsu Sanyi Petroleum Equipment Co., Ltd, JMP Petroleum Technologies, Inc., Msp/drilex, Inc., Uztel S.A, Sunnda Corporation, and Weir Group.
The major players operating in the global market have adopted key strategies such as acquisitions and business expansion, to strengthen their market outreach and sustain the stiff competition in the tubing spools market. For instance, in July 2018,  Weir Group , a Scottish engineering firm acquired ESCO Corporation. The ESCO Corporation is merged with Weir Group to operate as a new division. The company deals in oil and gas drilling tool and other parts. Similarly, in April 2019, Weir Group opened a new 92,000 square-foot customer service center at David Mims Business Park in New Mexico, U.S. to fulfil the rise in customer demand. Moreover, in February 2019, Integrated Equipment, Inc., a manufacturer of oilfield equipment received $9 million from Veritas Financial Partners for future growth and improve its supply chain by establishing a global support network. 
Key Benefits for Stakeholders
The report provides an extensive analysis of the current and emerging tubing spools market trends and dynamics.  
In-depth tubing spools market analysis is conducted by constructing estimations for the key segments between 2018 and 2026. 
Extensive analysis of the market is conducted by following key product positioning and monitoring of the top competitors within the market framework.
A comprehensive analysis of all the regions is provided to determine the prevailing opportunities.
The global tubing spools market forecast analysis from 2018 to 2026 is included in the report.
Key market players operating in the market are profiled in this report, and their strategies are analyzed thoroughly, which help understand the competitive outlook of the tubing spools industry. 
Global Tubing Spools Market Segments
By Type
By Application
By Region
North America
Europe

Germany
UK
Italy
Russia
Rest of Europe

Asia-Pacific

China
India
Thailand
Australia
Rest of Asia-Pacific

LAMEA

Latin America
Middle East 
Africa
Key Players
Delta Corporation
EthosEnergy Group Limited
Integrated Equipment
Jereh Oilfield Equipment
Jiangsu Sanyi Petroleum Equipment Co., Ltd
JMP Petroleum Technologies, Inc.
MSP/Drilex, Inc.
Sunnda Corporation
Uztel S.A 
Weir Group
 Tubing Spools Market Report Highlights
Aspects
Details
By TYPE

Single tubing
Dual tubing

By APPLICATION
By Region

North America (U.S., Canada, Mexico)
Europe (France, Germany, Italy, Spain, UK, Russia, Rest of Europe)
Asia-Pacific (China, Japan, India, South Korea, Australia, Thailand, Malaysia, Indonesia, Rest of Asia-Pacific)
LAMEA (Brazil, South Africa, Saudi Arabia, UAE, Argentina, Rest of LAMEA)

Key Market Players
. Integrated Equipment, Inc., The Weir Group PLC, Jiangsu Sanyi Petroleum Equipment Co., Ltd., EthosEnergy Group Limited, Sunnda Corporation, Yantai Jereh Oilfield Services Group Co., Ltd., UZTEL S.A., Delta US Corporation LLC, MSP/DRILEX, (Shanghai) Co., Ltd., JMP Petroleum Technologies, Inc