3D Camera Market Overview:
Global 3D Camera Market is expected to garner $10.8 billion and register a CAGR of 40.0% during the forecast period, 2016‐2021. The 3D cameras are instrumental in capturing a high quality 3D visual of any object. Due to this feature, the cameras find extensive use in numerous applications, such as scene recording for 3D movie or games, industrial activity monitoring, home automation management, and others. Evolution in the 3D scanning applications and advent of technically advanced applications, such as 3D imaging in smartphones or tablets facilitate the market growth.
The 3D camera market emphasizes on camera types, available technologies, and its corresponding applications across diverse geographies. Types are classified into target cameras and target-free cameras. The technologies segment is segregated into time-of-flight, stereo vision, and structured light sensing. From applications perspectives, the industry is analyzed according to point of usage, such as professional cameras, smartphones, tablets, computers, and others. Revenue of the entire component is consider to compute overall 3D professional camera that features 3D technology. The report elaborates on competitive advantages of 3D cameras over conventional alternatives.
The drivers, restraints, and opportunities are explained in the 3D camera market report, to understand the industry dynamics. The market is primarily driven by increase adoption in applications, such as media & entertainment, manufacturing, construction, and others. However, higher prices of 3D cameras as compared to 2D alternatives and lack of consumer awareness restricts the market growth. In addition, rise in home automation and virtual reality products would contribute to higher adoption of the 3D camera products.
Key players in the 3D camera market include Nikon, Go Pro, Sony Corp., Canon, Panasonic Corp., LG Electronics Inc., Samsung Electronics Corp., Fujifilm Corp., Kodak, and Faro Technologies.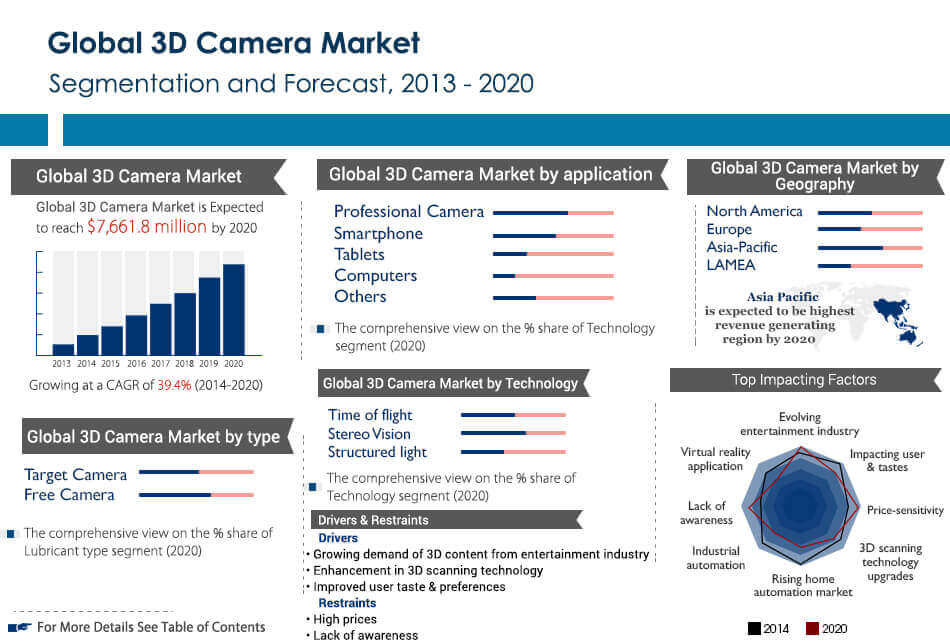 Segment Overview
Different technologies, such as time-of-flight, stereo visioning, and structured light imaging are used for developing 3D cameras. The Time-of-flight cameras are highly sophisticated in terms of quality they render. The stereo visioning cameras are cost effective solutions and are commonly used in moviemaking applications. The Structured light cameras are less portable; however, they capture details of an object from multiple angles simultaneously.
The time-of-flight technology is useful in the 3D camera solutions for various purposes, such as automotive, healthcare, industrial, and others. In automobile applications, the technology is useful for autonomous driving with increased safety through real-time alerts of driving conditions. In industrial applications, the time-of-flight sensors act as effective human machine interfaces to ensure safety in automated processes. These sensors are useful in recognizing and calibrating human gestures.
The 3D cameras market is classified in accordance to their focus technology. There are two types of 3D camera namely, target camera and target-free camera. A Target camera features a mechanism, which renders focus at one particular object, whereas the target-free cameras (often known as free focused cameras) do not focus on any particular object. The target cameras are capable of focusing on specific elements/targets and capturing it in high resolutions. These features makes such cameras useful in object tracking and surveillance. This camera is useful in asset monitoring of industrial applications. North America exhibits a dynamic hub for the growth and developments in target cameras and constitutes a notable share of the target camera market revenue in 2014. Target-free camera was the largest revenue-generating segment in year 2014 and would continue to contribute the highest market revenue through 2021.
From the applications perspective, the global 3D camera market includes professional cameras, smartphones, tablets, computers, and others. Other devices consist of iPads, notebook PCs, and mobile robots. Among all applications, professional cameras was the largest revenue-generating segment in 2014. The tablet application is expected to grow at the highest CAGR among all applications owing to ongoing innovations by OEMs.
North America Overview
North America is a significant consumer market for new technologies, such as 3D cameras. The 3D cameras are extensively used in professional cameras, camcorders, smartphones, and tablets. The 3D target cameras are extensively used in developing military applications. It is used   across multiple industries covers asset/activity monitoring, recording 3D movies, photography, and gaming purposes. The U.S.A. is the prime driver of the North American market owing to use by both industrial and individual users.
Value Chain
The Value chain of the 3D camera market includes various stakeholders, such as component manufacturers, 3D software developers, OEMs, utility solution manufacturers, and service providers. Each of these players share a specific value at their point of operation; which in turn contributes to the competitive value of the product. The R&D activities, innovations, marketing strategies, and aesthetics concerns enhance the value associated with the end-deliverable by each of the players.
Suppliers to 3D Camera Manufacturers
The manufacturing process of the 3D camera requires components, such as camera lenses, 3D imaging software, and processors. The developers of these components supplement requirements of the 3D camera manufacturers.
3D Camera Manufacturing
The 3D camera manufacturers including Fujifilm, Canon, Nikon, and other players enhance value by upgrading the quality of the product. The design of the product is improved in order to suit customer's requirements.
Several industries, such as home automation, electronics, security providers, and content developers for gaming & entertainment adopt 3D camera solutions.
 3D Camera Market Report Highlights
Aspects
Details
By Technology

TIME OF FLIGHT (TOF)
STEREO VISION
STRUCTURED LIGHT IMAGING

By Type

TARGET CAMERA
TARGET-FREE CAMERA

By Application

Professional Camera
Smartphone
Tablets
Computer
OTHERS (NOTEBOOK, IPAD, MOBILE ROBOTS)

By Region

North America (U.S., Canada, Mexico)
Europe (UK, France, Germany, Russia, Rest of Europe)
Asia-Pacific (China, India, Japan, Australia, Rest of Asia-Pacific)
LAMEA (Latin America, Middle East, Africa)

Key Market Players
NIKON CORPORATION, INTEL CORPORATION, CANON, INC., SAMSUNG ELECTRONICS CO. LTD., FUJIFILM HOLDINGS CORPORATION, FARO TECHNOLOGIES, PANASONIC CORPORATION, GO PRO, INC., LG ELECTRONICS, INC., SONY CORPORATION