3D Imaging Market Overview:
3D Imaging Market was valued at $4,631 million in 2015, and is expected to reach $21,341 million by 2022 with a CAGR of 24.7% during the forecast period. 3D imaging technology is used in 3D scanning, 3D rendering, 3D modeling, gesture recognition, and other applications. 3D technology has a wide range of applications in medical, defense, entertainment, security & surveillance, industrial automation, construction, architecture, media & entertainment, industrial automation, and others, where 3D medical imaging is one of the prominent application. Moreover, increase in demand for 3D displays & sensors for high-resolution visualization, growing awareness of 3D imaging, increased usage in smartphones and tablets, as well as surge in demand in industrial automation drive the market.
Various 3D imaging industries prefer this technology owing to its high-resolution visualization features. Moreover, rise in awareness among consumers has fueled the sale of consumer electronics, creating a positive effect on the global market. However, recent R&D and emergence of 4D technology are anticipated to increase the consumer base in the future.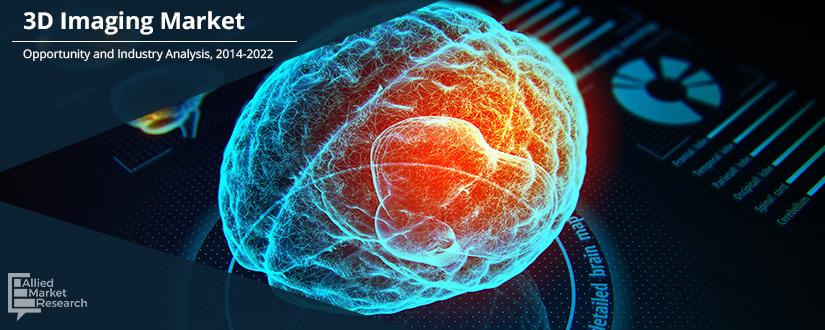 Emerging economies, such as China and India, offer lucrative opportunities to market players due to large population base and the advent of new technological innovations in healthcare, entertainment, industrial automation, and consumer electronics. North America dominated the global market in 2015.
The global 3D imaging market is segmented by product type, image sensors, application, end use industry, and geography. Based on product type, the market is divided into 3D cameras, sonography, smartphones, and others; moreover, 3D cameras are sub-segmented into time of flight, stereo vision, and structured light, while the sonography segment is further subdivided into sonars and ultrasound. Based on image sensor, the market is classified into charge-coupled device (CCD) and complementary metal-oxide semiconductor (CMOS). The application areas of 3D imaging include 3D modeling, 3D scanning, layout & animation, 3D rendering, and image reconstruction. Based on end use industry, it is segmented into entertainment, healthcare, architecture & engineering, industrial applications, security & surveillance, and others. The market is analyzed across North America, Europe, Asia-Pacific, and LAMEA.
Top Investment Pockets
Due to increase in demand for better and sophisticated healthcare facilities for advanced resolution and visualization for accurate test diagnosis, 3D healthcare industry is anticipated to witness high adoption of 3D imaging and dominate the global market share by 2022. Moreover, the emergence of 4D technology and increase in demand for consumer electronics such as smart gadgets for fitness, are expected to fuel the growth of 3D imaging healthcare market. Likewise, the entertainment industry is expected to witness substantial adoption of 3D imaging technique due to advancement of technology and preference for high resolution visualized images and videos. The industrial automation and other emerging end user industries, such as architecture & engineering, security & surveillance have high growth potential and are lucrative investment opportunities for market players.
Top Winning Strategies
The key players adopt merger, acquisition, expansion, product launch, partnership, and joint venture as their business strategies to sustain competition and increase their market share.
 
LAMEA Review:
The demand for enhanced visualization effects in videos and images have boosted the adoption of this technology in smartphone and entertainment industries in the LAMEA region. The emergence of 4D technology offers lucrative growth opportunities to market players. The 3D imaging market in LAMEA is anticipated to grow with a CAGR of 25.23% between 2016 and 2022.
The 3D imaging market industry players include Google Inc., Microsoft Corporation, Panasonic Corporation, Lockheed Martin Corporation, Stemmer Imaging Ltd., Infineon Technologies, Konica Minolta, Inc., Hewlett-Packard Corporation, GE Healthcare, and Zebra Imaging Inc.
Other prominent 3D imaging market industry players (not profiled in this report are) TomTec Imaging Systems GmbH, Toshiba America Medical Systems Inc., Samsung Medison America, Inc., Siemens Healthcare, Agilent Technologies, Frontop Digital Technology Co., Apple Inc., Sony Corporation, Visage Imaging Inc., North Grumman Corporation, and Mazor Robotics Ltd.
KEY BENEFITS FOR STAKEHOLDERS
This report gives a detailed analysis of the 3D imaging market from various perspectives, across various geographies along with 3D imaging market share.
 It highlights the prevailing market opportunities and threats in 3D imaging market.
The detailed quantitative analysis of current market and estimations through 2014-2022, are elucidated to identify the potential investment pockets.
This report entails the detailed quantitative analysis of current market and estimations through 2016-2022, that assist in identifying the prevailing market opportunities to capitalize on the global 3D imaging market.
Comprehensive analysis on factors that are driving and restraining growth of global 3D imaging market is included.
Competitive intelligence of leading manufacturers and distributors of 3D imaging market mentioned in report helps in understanding the competitive scenario across the geographies.
3D Imaging Market Key Segment
By Product Type
3D Cameras

Time of Flight
Stereo Vision
Structured Light

Sonography
Smart Phones
Others
By Image Sensor
Charge-Coupled Device (CCD)
Complementary Metal-Oxide Semiconductor (CMOS)
By Application
3D Modeling
3D Scanning
Layout and Animation
3D Rendering
Image Reconstruction
By End User Industry
Entertainment
Healthcare
Architecture & Engineering
Industrial Applications
Security & Surveillance
Others
By Geography
North America
Europe
Asia-Pacific
LAMEA
 3D Imaging Market Report Highlights
Aspects
Details
By PRODUCT TYPE

3D cameras

North American 3D Camera Market

NORTH AMERICAN SONAR MARKET
North American ultrasound market

European 3D camera Market

European sonar Market
European ultrasound Market

Asia-Pacific 3D Camera Market

Asia-Pacific sonar Market
Asia-Pacific ultrasound Market

LAMEA 3D Camera Market

LAMEA sonar Market
LAMEA ultrasound Market

Sonography

North American sonography market
European sonography market
Asia-Pacific Sonography Market
LAMEA Sonography Market

Smartphones

North American smartphone market
Europe smartphone market
Asia-Pacific smartphone market
LAMEA smartphone market

Other

North American Others Market
European Others Market
Asia-Pacific others market
LAMEA Others Market

By IMAGE SENSOR

CMOS Sensors

North American CMOS sensor market
European CMOS sensor market
Asia-Pacific CMOS sensor market
LAMEA CMOS sensor market

CCD Sensors

North American CCD sensor market
European CCD sensor market
Asia-Pacific CCD sensor market
LAMEA CCD sensor market

By APPLICATION

3D Modeling

North American 3D Modelling Market
European 3D Modelling Market
Asia-Pacific 3D Modelling Market
LAMEA 3D Modelling Market

3D Scanning

North American 3D Scanning Market
European 3D Scanning Market
Asia-Pacific 3D Scanning Market
LAMEA 3D Scanning Market

Layout and Animation

North American Layout And Animation Market
European Layout And Animation Market
Asia-Pacific Layout And Animation market
LAMEA Layout And Animation Market

3D Rendering

North American 3D Rendering Market
European 3D Rendering Market
Asia-Pacific 3D Rendering Market
LAMEA 3D Rendering Market

Image Reconstruction

North American Image Reconstruction Market
European Image Reconstruction Market
Asia-Pacific Image Reconstruction Market
LAMEA Image Reconstruction Market

By END USE INDUSTRY

Entertainment
Healthcare
Architecture & Engineering
Industrial Applications
Security & Surveillance
Others

By GEOGRAPHY

North America
Europe

France
Germany
Italy
Spain
UK
Russia
Rest of Europe

Asia-Pacific

China
Japan
India
South Korea
Australia
Thailand
Malaysia
Indonesia
Rest of Asia-Pacific

LAMEA

Brazil
South Africa
Saudi Arabia
UAE
Argentina
Rest of LAMEA

Key Market Players
GE Healthcare, Infineon Technologies, Hewlett-Packard Corporation, Zebra Imaging Inc, Konica Minolta Inc, Panasonic Corporation, Stemmer Imaging Ltd, Lockheed Martin Corporation, Google Inc., Microsoft Corporation