3D Printing Market Outlook - 2020
3D Printing Market in emerging economies is expected to garner $4.5 billion by 2020, registering CAGR of 37.4% during the forecast period 2014-2020. 3-D printing or additive manufacturing is the process which builds layer upon layer to create a three-dimensional solid object from a digital model with the help of computer system. The computer controls layer by layer material deposition maintains very low wastage of printing material. 3D printing provides the integration of metals and alloys and other raw materials available in the market according to the specifications of the final product.
The emerging economies such as China, India, UAE, Brazil and South Africa are investing substantially on the 3D printing technology. Among the emerging nations, China holds lions share in the 3D printing technology. In April 2013, Chinas Ministry of science and Technology had invested $6.5m for National High technological Research and Development Program to promote the technology and increase the rate of adoption of 3D printing. The contour crafting technology adoption by China has bought a new revolution in the construction industry.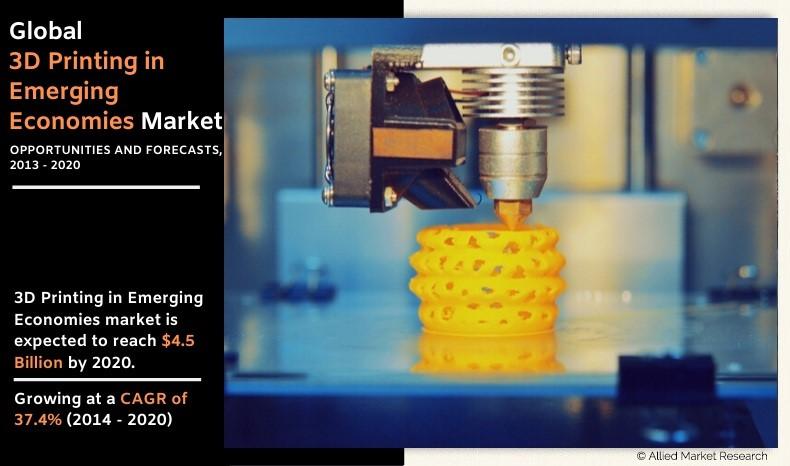 The Shanghai Winsun Decoration Design Engineering company has built around 10 houses in a clocks time, which is a milestone in the construction market. South Africa, in December 2013, had organized an event called Euromold to solve technical queries among the existingusers and eventually lead to widespread adoption. Mergers and acquisitions in the emerging regions also motivate manufacturersin adopting the technology. Gauging the potential in the emerging economies, 3D Systems acquired Robotech, a well-known additive manufacturing company in Brazil to increase its 3D printing market share.
Minimal material wastage, low labor cost, faster processing, user friendly interface and availability of the printers at affordable cost are the prime features of the technology. 3D printing is widely adopted by manufacturing industries to prototype the product, which is difficult to print by traditional methods of printing. Precise group has launched TIM project, which is a combination of advanced scanning technology, proprietary software and 3D printing techniques. Mingda has introduced the biggest desktop 3D printer in Brazil, which has an LCD facility and can print at a speed of 250mm/s. Wide range of consumer items such as dresses, key chains and toys are also produced with the help of 3D printing.
The companies profiled in the report are Stratasys Ltd, 3D Systems, Arcam AB, Autodesk Inc., ExOne Company, Voxeljet AG, Optomec Inc., Hoganas AB. Organovo Holdings Inc. and Ponoko.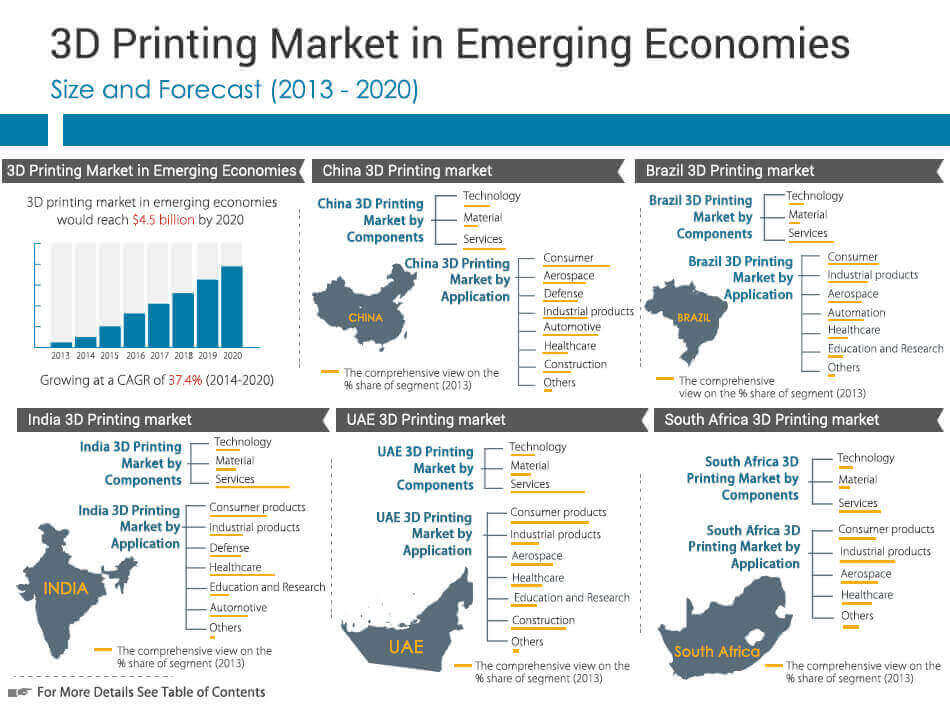 Key Benefits:
An in-depth analysis of the current 3D printing market scenario with future market trends are provided to facilitate decision-making
Key application segments such as health care and consumer goods, based on their potential are highlighted to assist in strategically capitalizing the prevailing opportunities
Porters Five Forces analysis exposes the competitive structure of the 3D printing market in the emerging economies, which would be invaluable for market strategists
Comprehensive exposition of the opportunities prevailing in various geographic regions would throw light on potential technological segments of 3D printing
Quantitative analysis of the current market and estimations through 2013-2020 would be a perfect barometer for stakeholders to design business strategies
Drivers and opportunities are evaluated to highlight the top factors responsible for the 3D printing market growth. Various segments are carefully evaluated to gauge the potential of the 3D printing market
Value chain analysis in the report provides a clear understanding of the roles of stakeholder involved in the value chain
3D Printing Market Key Segmentation:
China - 3D Printing Market
By Components
By Technology
By Material
By Service
By Application
India - 3D Printing Market
By Components
By Technology
By Material
By Service
By Application
UAE - 3D Printing Market
By Components
By Technology
By Material
By Service
By Application
Brazil - 3D Printing Market
By Components
By Technology
By Material
By Service
By Application
South Africa - 3D Printing Market
By Components
By Technology
By Material
By Service
By Application