Global 3D Semiconductor Packaging Market Overview:
Global 3D semiconductor packaging market size is estimated to reach $8.9 billion by 2022, growing at a CAGR of 15.7 % from 2016 to 2022. 3D semiconductor packaging refers to an advanced packaging technology of semiconductor chips in which two or more layers of active electronic components are stacked together and interconnected vertically as well as horizontally to perform as a single device. This technology possesses various advantages over other advanced packaging technologies such as reduced space consumption, decreased power loss, better overall performance, and enhanced efficiency which makes 3D semiconductor packaging industry the leading amongst all advanced packaging technologies.
Imminent requirement for size reduction in electronic devices, improved efficiency, and less power consumption drive the adoption of 3D semiconductor packaging in microelectronic devices and consequently navigates the growth in 3D semiconductor packaging industry. 3D semiconductor packaging technology provides improved performance of electrical devices operating at high frequencies, which increases its adoption in dynamic random access memory (DRAMS), NAND, and other high-end applications. It exhibits high speed and enhanced overall system efficiency while consuming smaller space as compared to its alternatives.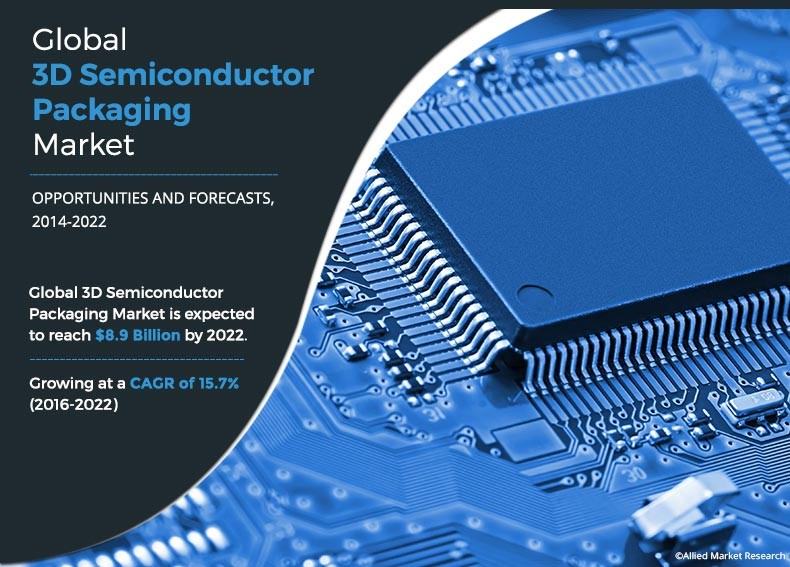 The 3D semiconductor packaging market trends which navigate unprecedented growth in 3D semiconductor packaging industry include, its advantages over other packaging technologies, lower cost, smaller size and enhanced efficiency. In 3D Through Silicon via (TSV) technology, the vertical connections are made through silicon die, and interconnect length is reduced drastically as compared to 2D technology where the connections are horizontal. The technological advantages of 3D packaging drive its demand in high-end applications such as chips used in super computers, DRAMS, NAND, microelectronic circuits, and others. Owing to these advantages, 3D semiconductor packaging market size has a lot of potential to rise with high growth rate. In 2015, US had the highest 3D semiconductor packaging market share in the overall North America 3D semiconductor packaging market, due to the high penetration of 3D TSV technology.
Factors Impacting 3D Semiconductor Packaging Market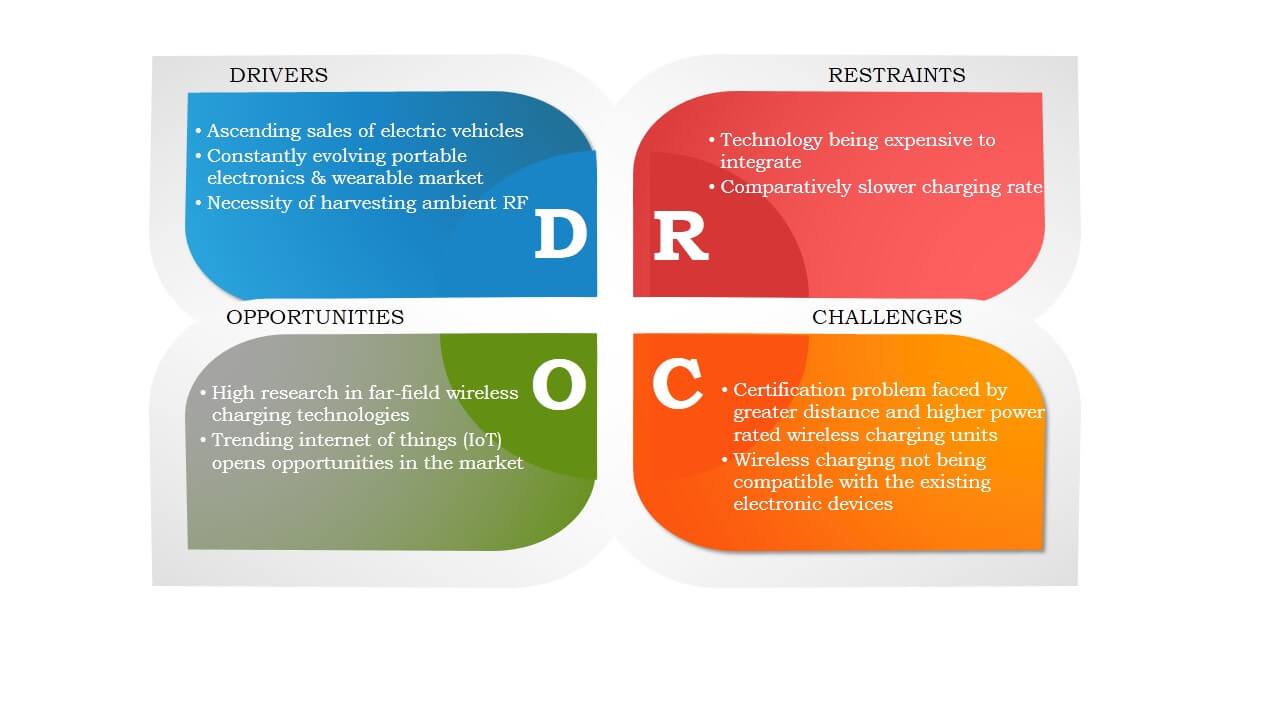 The demand for 3D packaged chips is expected to surge due to heavy investments on the R&D by many key players, including Amkor Technology, ASE group, Siliconware Precision Industries Co., Ltd., and others, leading to the improvement in advanced packaging technique. Leading outsourced assembly and test (OSAT) companies collaborate to give a tough competition to foundries in packaging business, thus fostering the market growth. For instance, in 2015, Jiangsu Changjiang Electronics Technology Co., Ltd. acquired Statschippac to increase its R&D capacity, and another giant ASE group is considering to acquire SPIL.
Segment Overview:
The 3D semiconductor packaging market is segmented on the basis of technology, material, industry vertical, and geography. Based on technology, the market is segmented into 3D through silicon via, 3D package on package, 3D fan out based, 3D wire bonded, and others. By materials, the market is classified into organic substrate, bonding wire, leadframe, encapsulation resin, ceramic package, die attach material, and others. Furthermore, the market is categorized on the basis of industry vertical, which includes electronics, industrial, automotive & transport, healthcare, IT & telecommunication, aerospace & defense, and others. Geographically, the market is divided into North America, Europe, Asia-Pacific, and LAMEA.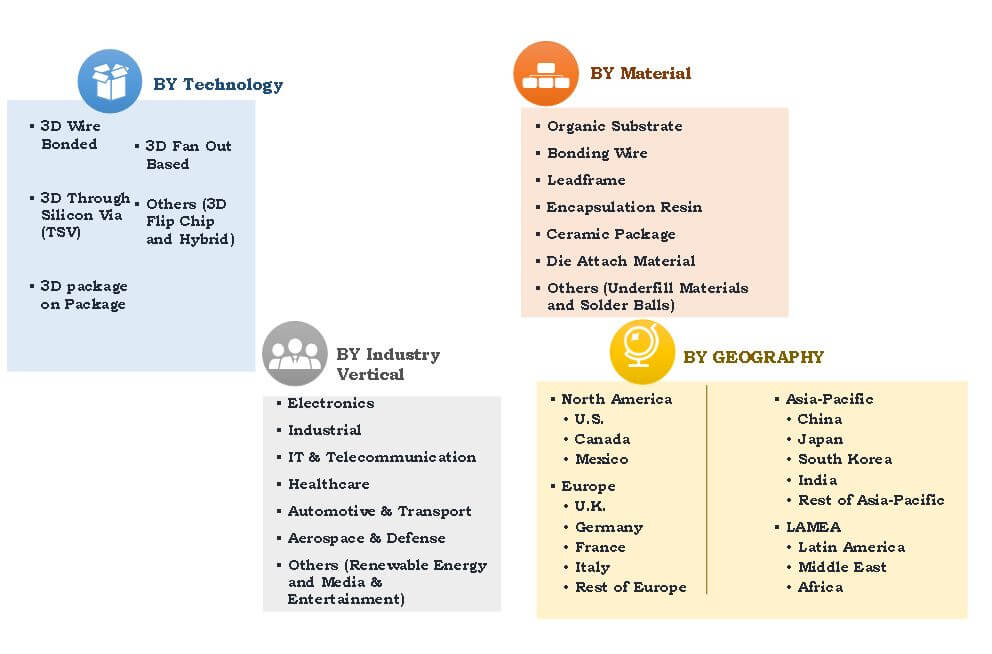 The key players profiled in the report include Amkor Technology, ASE group, Siliconware Precision Industries Co., Ltd., Jiangsu Changjiang Electronics Technology Co. Ltd., SÜSS MicroTec AG., International Business Machines Corporation (IBM), Intel Corporation, Qualcomm Technologies, Inc., STMicroelectronics, and Taiwan Semiconductor Manufacturing Company.
Increase in Demand for Miniaturized Circuits in Microelectronic Devices:
The microelectronic devices include small surgical apparatus used in healthcare industry and miniature MEMS devices used in electronic products and others. These devices constitute various integrated chips, in which the manufacturers focus on their size reduction. Small size and low-power consumption are the major factors that drive the demand for chips with different advanced semiconductor packaging techniques one of which is 3D packaging design. The demand for compact electronic circuitry is accelerating, with the decreasing size of electronic devices for ease of access for users. All these factors collectively fuel the demand in 3D semiconductor packaging technology market.
Top Winning Strategies: Nature and Type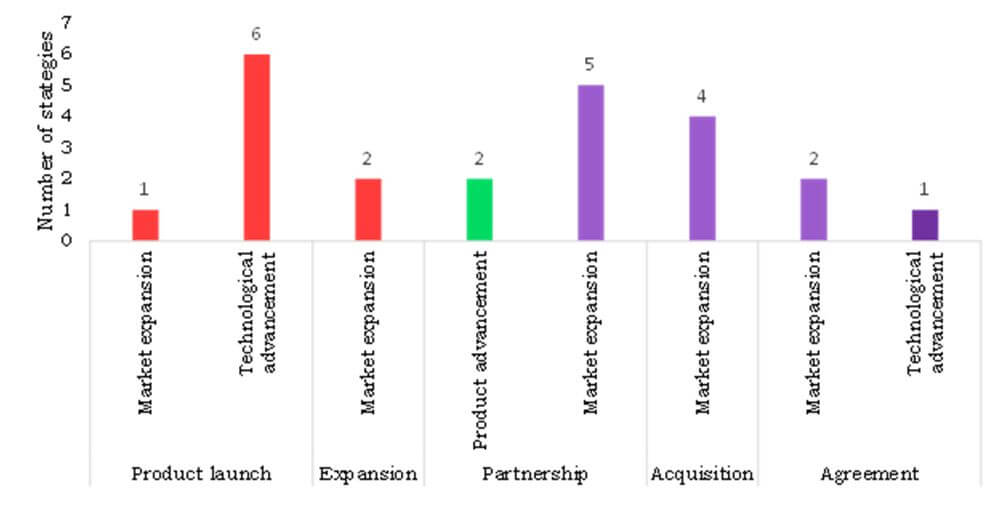 The key players of the global 3D semiconductor packaging market are employing novel concepts & ideas, improving manufacturing techniques, and upgrading the current set of products, besides enhancing their profitability to gain a competitive edge over the other market players.
Potential Benefits For Stakeholders:
This report provides an in-depth analysis of the global 3D semiconductor packaging market along with current 3D semiconductor packaging market trends and future estimations to identify lucrative investment opportunities
This report identifies the key drivers, opportunities, and restraints that shape the market along with their impact analysis
Porter's Five Forces analysis highlights the potency of buyers and suppliers that participate in this market to facilitate better business decisions for stakeholders and strengthen their supplier and buyer networks
Market estimation of geographical regions is based on the current market scenario and future trends
 3D Semiconductor Packaging Market Report Highlights
Aspects
Details
By Technology

3D Wire Bonded
3D Through Silicon Via
3D Package on Package
3D Fan Out Based

By Material

Organic Substrate
Bonding Wire
Leadframe
Encapsulation
Resins
Ceramic Packages
Die Attach Material

By Industry Vertical

Electronics
Industrial
Automotive & Transport
Healthcare
IT & Telecommunication
Aerospace & Defense

By Geography

North America
Europe

UK
Germany
France
Italy
Rest of Europe

Asia-Pacific

China
Japan
South Korea
India
Rest of Asia-Pacific

LAMEA

Latin America
Middle East
Africa0

Key Market Players
AMKOR TECHNOLOGY, INC., JIANGSU CHANGJIANG ELECTRONICS TECHNOLOGY CO., LTD., INTERNATIONAL BUSINESS MACHINES CORPORATION (IBM), QUALCOMM TECHNOLOGIES, INC., INTEL CORPORATION, TAIWAN SEMICONDUCTOR MANUFACTURING COMPANY LTD., STMICROELECTRONICS N.V., SILICONWARE PRECISION INDUSTRIES CO., LTD. (SPIL), SUSS MICROTEC AG., ASE GROUP
Other players in the value chain include:
Sony Corp, SAMSUNG Electronics Co. Ltd., Advanced Micro Devices, Inc., Cisco