Third-party Logistics (3PL) Market Statistics - 2027
The global third-party logistics (3PL) market was valued at $1,027.71 billion in 2019, and is projected to reach $1,789.94 billion by 2027, registering a CAGR of 7.1% from 2020 to 2027. In 2019, the Asia-Pacific region garnered the highest share in the global 3PL market. 
3PL is the function by which a manufacturer outsources activities related to logistics and distribution. A 3PL company can provide specialized services such as inventory management, cross-docking, door-to-door delivery, and packaging of products. The market for 3PL service is expected to witness significant growth, due to development of the e-commerce industry. Moreover, the demand for this service is expected to escalate in the near future, due to increase in focus of manufacturers and retailers on their core business (known as core competencies) and subcontracting activities, such as logistics where they have less expertise. Thus, increase in competition has diverted the focus of manufacturers to promote respective specializations in production and distribution.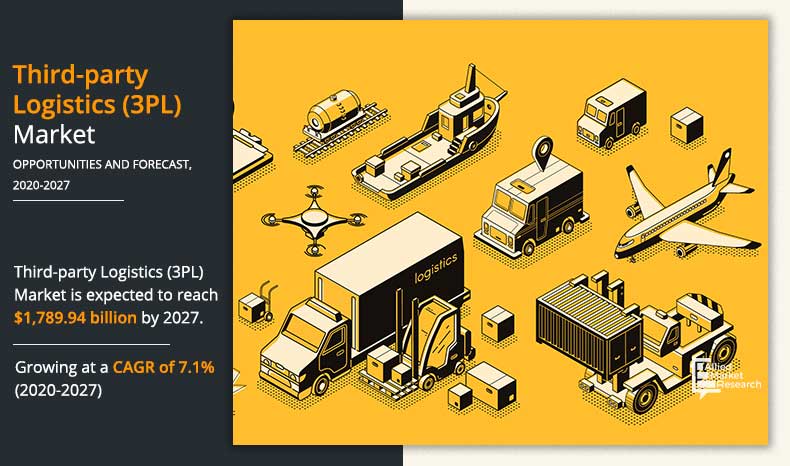 Furthermore, rise in globalization has aided in setting up a worldwide network of manufacturing activities. To maintain it efficiently, the demand of 3PL services is expected to rise. Moreover, the scope of 3PL services is anticipated to increase during the forecast period, as productivity gains in supply chain in terms of cost and reliability can be derived with the help of managerial and information technology expertise provided by 3PL companies. In addition, the development of the e-commerce industry and increase in reverse logistics operations drive the growth of the global 3PL services market. However, loss of direct control on the logistics service and potential loss of reputation are the most critical factors that restrict the growth of this market. 
Some of the key players operating in the 3PL market include C.H. Robinson Worldwide, Inc., DB Schenker, DHL International GMBH, FedEx Corporation, KUEHNE+NAGEL Inc., Maersk, Nippon Express, Panalpina World Transport Ltd., Union Pacific Railroad, United Parcel Service, and others.
Top Impacting Factors
Increase in trading activities due to globalization
Dynamic market conditions and improvement in the global economy are the key factors driving globalization. Various activities related to trade have been witnessed to increase, owing to rise in globalization. Hence, manufactures or retailers find it difficult to keep a track of these activities in an efficient manner, 3PL companies help these manufacturers to keep track and control these activities. This factor is expected to drive the market. Moreover, development of the overseas market is a significant factor that fuels the growth of the 3 PL industry. 3PL services are becoming extremely vital for price-sensitive customers who require a wider choice of high-quality products with timely delivery. Thus, increase in trading activities due to globalization fuels the growth of the 3PL market.
Rise in focus of manufacturers and retailers on core competencies 
Increase in focus of retailers and manufacturers on their core business and sub-contracting activities, such as logistics where they have less expertise, has been witnessed in the market. The goal here is to promote respective specialization in production and distribution. 3PL companies can make better use of transportation assets by balancing the needs of multiple client shippers across transportation and distribution functions, which will result in economies of scale. Off shoring and outsourcing result in longer and more complex supply chains.
Management of this type of supply chain is extremely difficult for manufactures; therefore, the need for 3PL service providers is expected to increase in the upcoming years.
3PL model provides greater asset utilization and asset sharing alliances, which is increasing its demand, thereby contributing toward the growth of the global market.
Risk to goodwill of manufacturer
Third-party logistics service providers are responsible for one of the most critical functions of the business such as management of custom, distribution,  and order fulfillment. Their mistake is expected to affect the manufacturer's reputation and relation with customers. In case a 3PL service provider fails to deliver the order on time, it leads to decrease in creditability of the manufacturing company, thereby degrading the level of trust of consumers on the company. This factor is expected to restrain the growth of the global 3PL market.
Lack of control of manufacturers on logistics service
By using 3PL service, a manufacturing company has to rely on the reliability, competency, and honesty of service providers. In this scenario, manufacturer has to rely on 3PL provider, which results in lack of direct control. In addition, manufacturer is not able to monitor the operations at warehouse, which is a serious threat to the quality of products. Thus, lack of control of manufacturers on logistics service hinders the global market growth.
Key Benefits For Stakeholders
This study comprises the analytical depiction of the global 3PL market analysis along with the current trends and future estimations to depict the imminent investment pockets.

The overall market potential is determined to understand the profitable trends to gain a stronger foothold.

The report presents information related to the key drivers, restraints, and opportunities of the global 3PL market with a detailed impact analyses.

The current market is quantitatively analyzed from 2019 to 2027 to benchmark the financial competency.

Porter's five forces analysis illustrates the potency of the buyers and suppliers in the industry.
Key Market Segments
By Mode of Transport
Railways 
Roadways
Waterways
Airways
By Service Type
Dedicated Contract Carriage (DCC)
Domestic Transportation Management 
International Transportation Management
Warehousing &Distribution
Others
By Industry
Technological
Automotive
Retailing
Elements
Food & Groceries
Healthcare
Others
By Region
North America
Europe

UK
Germany
France
Italy
Rest of Europe

Asia-Pacific

China
Japan
India
Australia
Rest of Asia-Pacific

LAMEA

Latin America
Middle East
Africa