3D Graphene Market Research, 2031
The global 3d graphene market was valued at $2.5 million in 2021, and is projected to reach $39.1 million by 2031, growing at a CAGR of 31.6% from 2022 to 2031.
REPORT KEY HIGHLIGHTERS:
The 3D graphene market has been analyzed in both value and volume. The value of the 3D graphene market is analyzed in millions.

Global 3D graphene market is fragmented in nature with many players such as ACS Material, American Elements, CVD Equipment Corporation, G6 Materials Corp., Graphex Group, Integrated Graphene Ltd., Lyten, Inc., Nano Dimension, NANOCHEMAZONE and Ultrananotech Private Limited. Also tracked key strategies such as product launches, acquisitions, mergers, expansion etc. of various manufacturers of 3D graphene.

Included more than 20 countries in the report which covers market volume as well as market value for all the countries of the 3D graphene market.

Covered the detailed list of manufacturers by application of 3D graphene market. It covers the product information, application, and geographical presence of the companies.

Conducted primary interviews with raw material suppliers, wholesalers, suppliers, and manufacturers of 3D graphene market to understand the market trends, growth factors, pricing, and key players competitive strategies.
Increasing global population, increased consumption of fossil fuels, spiraling energy demand, rapid environmental degradation and global climate change, energy and environmental issues receive a lot of attention from the perspective of sustainable development. In order to address these complex and interlinked challenges, the development of new materials for affordable green energy technologies including batteries, supercapacitors, fuel cells and solar cells and environmental remediation methods is essential. 3D graphene is of great interest in these applications given their large surface area and adaptable surface chemistry. 3D graphene for clean energy and environmental applications provides a critical and comprehensive account of the recent advances in the development and potential applications of high-performance 3D GBMs for tackling global energy and environmental issues in a sustainable manner.
3D graphene is a material that consists of a graphene-based framework that has a porous and three-dimensional structure. A macroscopic 3D graphene architecture is a porous 3D monolith made up of multiple interconnected and curved few-layer graphene sheets or an integrated few-layer graphene sheet with a deformed and porous structure. The most profound meaning for the development of 3D graphene structures is to facilitate the practical application of graphene material with maintained advantageous properties such as large surface area, high intrinsic conductivity, and others.
Porous structures are common in 3D graphene nanomaterials such as graphene foams, networks, gels, and graphene-CNT hybrid structures. Graphene foams, in particular, can be generated using the CVD process with nickel foams as the template. The porous structure can be reserved after the nickel foam template is removed. On the other hand, graphene gels can be synthesized by freeze drying graphene oxide, with or without reduction, leading to a crosslinked graphene hydrogel or aerogel. The recently reported graphene-CNT integrated 3D materials with a pillared structure can be produced by one or multiple-step CVD processes.
The global 3D graphene market is driven primarily by surge in demand for graphene in the electronics sector. In addition, the rise in use of graphene in the energy industry is expected to boost the size of the market in the coming years. The growth is due to the high quality of electrical mobility and permeability. However, stringent health-related rules and regulations may restrict business development. Nonetheless, ongoing research and development activities relating to graphene are expected over the next few years to generate new prospects for the major manufacturers in the market.
Factors that are expected to fuel the growth of the graphene market are growing purchasing power and increasing consumer electronics demand such as tablets and mobile phones. In addition, graphene oxide-based transparent conductive films are used as a raw material in automotive to make them safer and lighter. However, the toxic nature of graphene and the risk involved in the graphene production process may hamper the growth of the 3D graphene market during the forecast period.
On the other hand, the electronics industry is making significant progress, and the growth of the market studied is increasing rapidly. The production of cellular phones, portable computing devices, gaming systems, and other personal electronic devices may continue to foster the demand for electronic components, which is expected to boost the demand for 3D graphene during the forecast period.
Lucrative use for 3D graphene from electronics sector
3D graphene is currently the most well-known to the world in the electronics sector due to its extremely advantageous conductive properties. 3D graphene has the potential to change electronics and the way they are made now and, in the future, because of its extraordinary strength, high thermal conductivity, and high electron mobility. Graphene may even replace silicon as the primary component in electrical devices due to its superior qualities over silicon in many situations.
Companies that produce graphene will increase output to keep up with the rate of innovation since demand is anticipated to increase as additional applications are developed. It has been widely reported that 3D graphene can produce milliwatt power for applications involving the transfer of mechanical energy into electrical energy. 3D graphene is widely used in battery production. With less weight and a lower manufacturing cost than current battery types, 3D graphene can provide results that are superior to them. Moreover, battery anodes made of graphene can increase the lifespan and energy density of current battery technologies like lithium-ion cells. 
Over the past decade, touchscreen technology has developed significantly, becoming more sensitive, reliable, and cost-effective than ever before. The commercially available material indium tin oxide (ITO) is utilized in computers, tablets, and mobile devices as a transparent conductor. A graphene-based thin film has been  developed by Rice University researchers for touchscreen applications. It has been discovered that thin films made of graphene perform better than ITO and other materials because they have less resistance and more transparency. As a result, 3D graphene is the new potential material to replace ITO.
Furthermore, 3D graphene is also used as a superconductor. At temperatures near to absolute zero, most superconductive materials exhibit their properties. Even elevated temperature superconductive materials can function at a temperature of about -140 °C. In other words, the cooling process for these superconductive materials is extremely energy intensive. For many application areas, there will be a significant revolution if 3D graphene can be employed as a superconductive material at temperatures close to room temperature. 
3D graphene and derivative-based optical sensors have several benefits, including high sensitivity, low cost, quick response times, and small dimensions. The electronic sector is projected to expand the growth of the 3D graphene market owing to great advantages of 3D graphene.
High demand for 3D graphene from various end-use industries
3D graphene is used extensively in nuclear power plants. A million tons of CO2 are emitted during the production of the heavy water needed in nuclear power plants to cool the reactors, which is also expensive to generate. A more cost-effective and environment-friendly way to create heavy water is by using 3D graphene membranes, according to researchers at the University of Manchester. As comparison to present technology, 3D graphene could help lower the energy costs associated with producing heavy water and decontamination in nuclear power plants by more than 100 times. The potential to effectively separate sub-atomic particles due to the special characteristics of 3D graphene makes this method effective and economical.
 The simultaneous electrostatic and hydrophobic interactions that can be produced, along with the large   specific surface area, indicate that 3D graphene has a bright future in the absorption of water pollutants. It is used in water purification and removing germs and other impurities. In recent times, 3D graphene-based macrostructures (3D GBMs) have attracted more interest because of their enormous potential for use in the water treatment industry. 3D GBMs are fascinating materials for water purification through adsorption, capacitive deionization, and solar distillation because of their distinctive structural characteristics such as large surface area and physically interconnected porous network and excellent qualities like high electrical conductivity, good chemical/thermal stability, ultra lightness, and high solar-to-thermal conversion efficiency.
Moreover, 3D GBMs have a much greater number of potential uses in water treatment since they may be used as frameworks to encapsulate powder nanomaterials and create monolithic adsorbents and photo-/electrocatalysts. Moreover, the 3D porous graphene's defects and edge placements play a significant role in encouraging gas adsorption. High-performance gas sensors have been developed using 3D porous graphene structures such as graphene hydrogels, graphene aerogels, and graphene foams. The market for 3D graphene is projected to experience growth during the forecast period owing to these wide range of applications of 3D graphene.
The 3D graphene market is segmented on the basis of application and region. By application, it is categorized into energy storage, sensors, catalysis and others. By region, the market is analyzed across North America, Europe, Asia-Pacific, and LAMEA
The major players operating in the industry include American Elements, Integrated Graphene Ltd., ACS Material, NANOCHEMAZONE, Nano Dimension, CVD Equipment Corporation, Graphex Group, Lyten, Inc. and G6 Materials Corp. These players have adopted product launch as their key strategy to increase their market shares.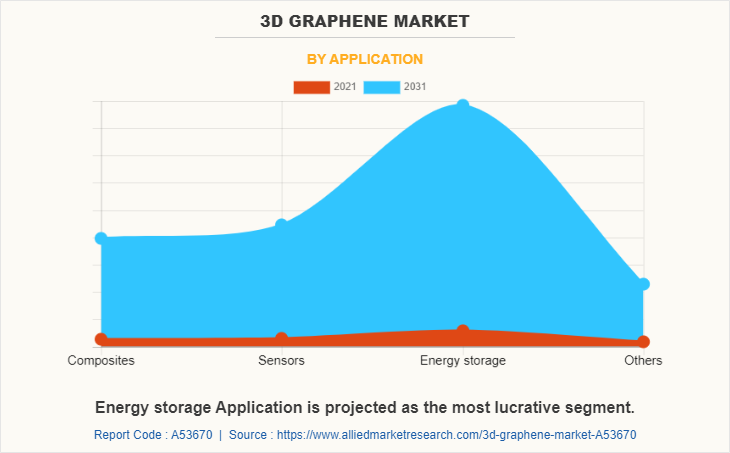 Based on application, the energy segment dominated the largest market share in 2021 due to the properties of 3D graphene such as high conductivity, high resistance, and others.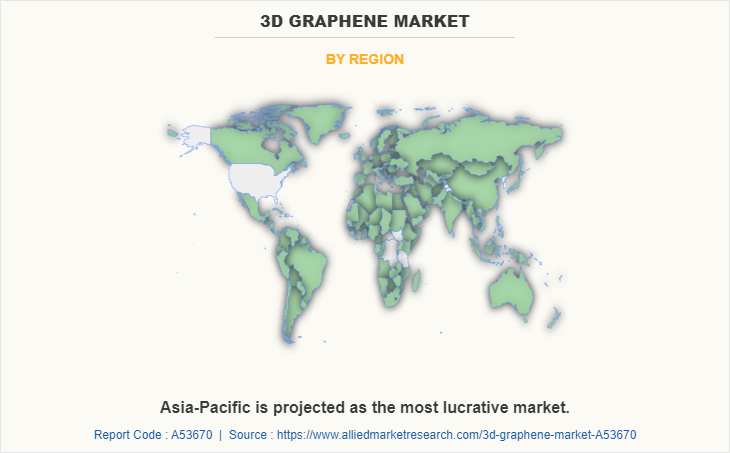 Based on region, Asia-Pacific region dominated the highest market share in 2021 due to the highly developed electronic sector in China and the continuous investments done in the region through the years to advance the electronic sector.
IMPACT OF COVID-19 ON THE GLOBAL 3D GRAPHENE MARKET
COVID 19 pandemic has made many of the industries to suspend their work for the time being. The economy has fallen in many countries due to halt of many sectors, mainly transportation and supply chain. Due to the lockdown, the upcoming demand of the product is hampered because there is no production. Graphene is mainly used in batteries, cell phones, and in automotive industries; and these industries have been witnessing sudden declining growth trends in response to the nationwide lockdown. Therefore, a massive drop in the graphene demand is witnessed in the year 2020 and 2021.
3D graphene is widely used in electronic, automotive, and other sectors. These industries have gained momentum and started their production process smoothly. Hence, the demand for 3D graphene has increased post COVID.
Key Benefits For

Stakeholders
This report provides a quantitative analysis of the market segments, current trends, estimations, and dynamics of the 3D graphene market analysis from 2021 to 2031 to identify the prevailing 3D graphene market opportunities.
The market research is offered along with information related to key drivers, restraints, and opportunities.
Porter's five forces analysis highlights the potency of buyers and suppliers to enable stakeholders make profit-oriented business decisions and strengthen their supplier-buyer network.
In-depth analysis of the 3D graphene market segmentation assists to determine the prevailing market opportunities.
Major countries in each region are mapped according to their revenue contribution to the global market.
Market player positioning facilitates benchmarking and provides a clear understanding of the present position of the market players.
The report includes the analysis of the regional as well as global 3D graphene market trends, key players, market segments, application areas, and market growth strategies.
 3D Graphene Market Report Highlights
Aspects
Details
Market Size By 2031
USD 39.1 million
Growth Rate
CAGR of 31.6%
Forecast period
2021 - 2031
Report Pages
240
Application

Composites
Sensors
Energy storage
Others

By Region

North America (U.S., Canada, Mexico)
Europe (Germany, UK, France, Italy, Spain, Rest of Europe)
Asia-Pacific (China, India, South Korea, Japan, Australia, Rest of Asia-Pacific)
LAMEA (Brazil, Saudi Arabia, South Africa, Rest of LAMEA)

Key Market Players
AMERICAN ELEMENTS, Integrated Graphene Ltd., ACS Material, Ultrananotech Private Limited., Nano Dimension, Graphex Group, Lyten, Inc., NANOCHEMAZONE, CVD Equipment Corporation, G6 Materials Corp.
Analyst Review
The 3D graphene market is consolidated in nature. 3D graphene is extensively used in different industries due to its excellent properties such as high specific surface areas, large pore volumes, great mechanical strengths, and fast mass and electron transport. Its use in the electronics sector has increased tremendously in various applications such as displays of electronic equipment, touchscreens, batteries, and others. Moreover, its applicability is extended in the manufacturing of solar cells and panels leading to the growth of the 3D graphene market. 3D graphene also finds its use in the food industry, energy production, and others.
The production of 3D graphene is tedious and expensive. A small quantity of pure 3D graphene is generated by using methods like chemical vapor deposition and exfoliation. Hence, the production cost is not affordable which restrains the growth of the 3D graphene market. However, the increase in demand for 3D graphene in medical and healthcare sectors and rise in technological advancements to produce 3D graphene has led to excellent growth opportunities for many manufacturers across the globe.
Currently, the sensors segment makes maximum use of 3D graphene; however, energy storage is expected to grow in terms of revenue. Similarly, the Asia-Pacific region is expected to grow at a significant rate during the forecast period.