3D Printed Drugs Market Overview:
3D Printed Drugs Market are medications, which are designed by 3D printing technique to customize for the individuals in a safer and effective way. These drugs have unitary porous structures that readily disperse in the mouth, as a result of which these high-dose medicines need not to be swallowed intact. Thus, this form of medication is helpful to patients who often have swallowing difficulties, children, elderly, and those dealing with the complications of stroke, Alzheimers disease, head & neck tumors, and other neurological disorders. The first 3D printed drug to receive approval from the U.S. Food and Drug Administration (FDA) is Spritam (levetiracetam) tablets developed by Aprecia Pharmaceuticals.
Spritam is the only 3D printed drug which has received FDA approval. This drug was first available in the market in 2016, and can be used to treat epilepsy. The potential market for other 3D printed drugs (moderate growth scenario) is estimated to be $278 million in 2020, and would reach $522 million by 2030, growing at a CAGR of 6.5% from 2020 to 2030.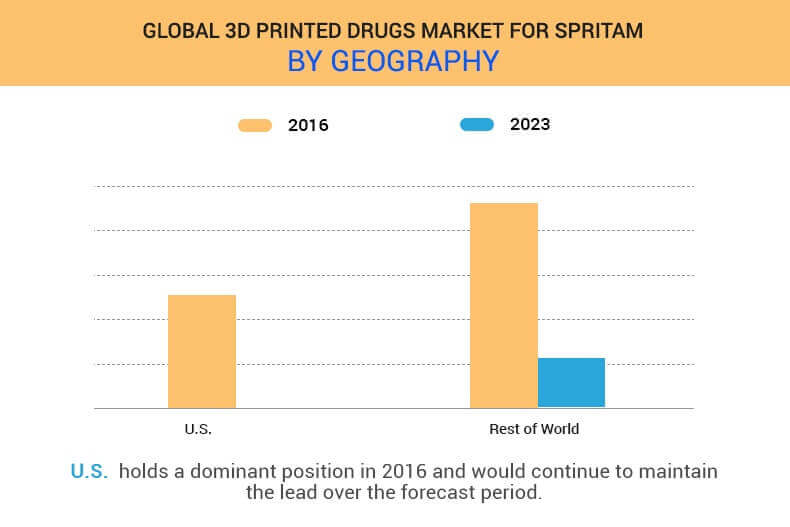 Surge in demand for instantaneous soluble drugs that can disperse easily in the mouth is the major factor that drives the growth of the global 3D printed drugs market. In addition, increase in prevalence of dysphagia, rise in usage of 3D printing technique in the medical & healthcare industries, increase in adoption of personalized drugs, and production of combination medicine boost the market growth.
However, adverse effect related to these drugs, usage of 3D printing to develop illegal drugs, and lack of government regulations for 3D printed products restrain the growth of the market. Conversely, rise in awareness pertaining to the advantages of these drugs, such as their instantaneous solubility, improvement in healthcare infrastructure, and technological advancements in developing countries are expected to provide numerous opportunities for the market growth.
Market Dynamics of 3D Printed Drugs Market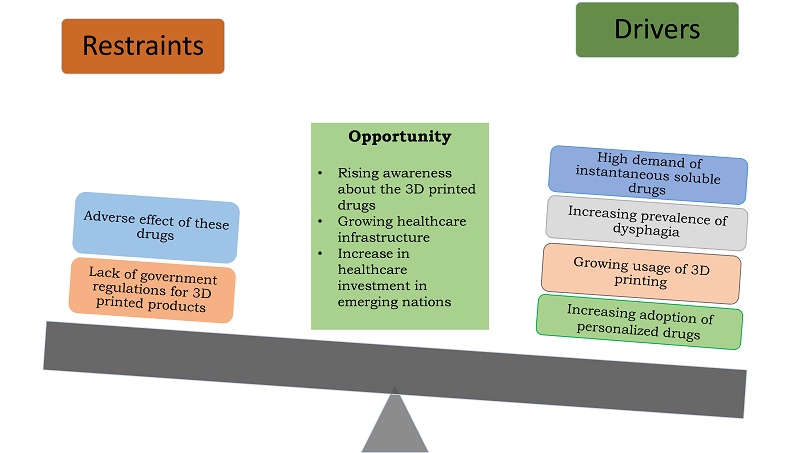 Segment Review
The global potential analysis of other 3D printed drugs market is analyzed based on forecast scenario such as rapid growth scenario, moderate growth scenario, and low growth scenario. In the rapid growth scenario, maximum percentage of total population affected by dysphagia is estimated to be treated in the first-year launch of 3D printed drugs in the market.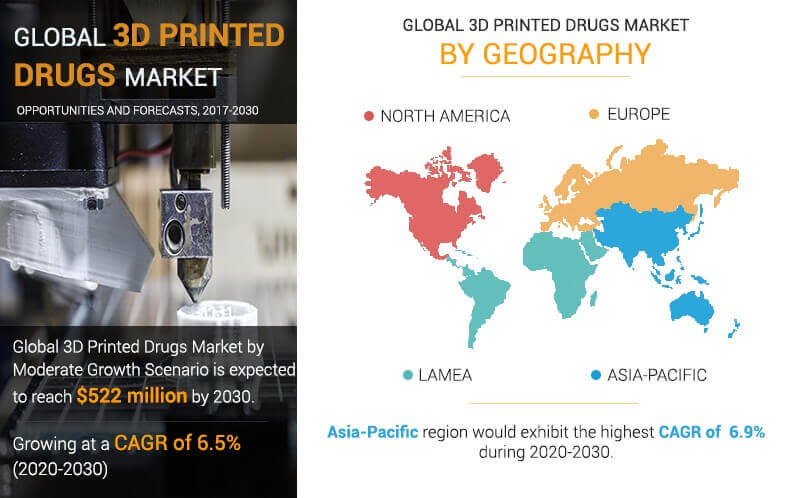 Snapshot of LAMEA 3D Printed Drugs Market
The major driver of the LAMEA other 3D printed drugs market include rise in prevalence of dysphagia. Brazilian Journal of Otorhinolaryngology reported that in 2017 approximately 65 million people were affected by dysphagia in Brazil, that is, around 35.9% of total population of Brazil. Thus, increasing number of people suffering from dysphagia and developing healthcare facilities are expected to fuel the market growth.
In addition, technological advancement in the region, increase in affordability, and rise in awareness towards 3D printing technique fuel the market growth. Moreover, increase in funds by government organizations to improve the healthcare infrastructure propels the growth of the 3D printed drugs market in LAMEA.
The key players profiled in this report include Aprecia Pharmaceuticals, GlaxoSmithKline Plc., Hewlett Packard Caribe, BV, LLC, 3D Printer Drug Machine, and FabRx Ltd.
The organizations engaged in the research of 3D printed drugs included in this report are UCL School of Pharmacy, University of Glasgow, University College London, The University of Nottingham, and National University of Singapore.
The other organizations in the value chain include University of Michigan, bo Akademi University, and University of Sheffield.

Key Benefits
The study provides an in-depth analysis of the market with current trends and future estimations to elucidate the imminent investment pockets.
The report provides information about the current and upcoming trends in the market from 2016 to 2023, which helps to determine the prevailing opportunities.
Comprehensive analysis of factors that drive and restrict the growth of the market is provided.
Identification of factors instrumental in changing the market scenario, rise in opportunities, and identification of key companies that can influence this market on a global and regional scale are provided.
Key market players within the market are profiled in this report and their strategies are analyzed thoroughly, which help understand the competitive outlook of the global market.
 3D Printed Drugs Market Report Highlights
Aspects
Details
By Geography
By Scenario

Low Growth Scenario
Moderate Growth Scenario
Rapid Growth Scenario

By Region

North America (U.S., Rest of North America)
Europe (UK, Germany, France, Italy, Spain, Rest of Europe)
Asia-Pacific (Japan, China, Australia, Rest of Asia-Pacific)
LAMEA (Brazil, Saudi Arabia, Rest of LAMEA)

Key Market Players
APRECIA PHARMACEUTICALS COMPANY, FABRX LTD., GLAXOSMITHKLINE PLC