Advanced Driver Assistance Systems (ADAS) Market Outlook - 2026
The global Advanced Driver Assistance Systems Market size was valued at $39,638.4 million in 2018 and is projected to reach $189,142.9 million by 2026, registering a CAGR of 21.4% from 2019 to 2026. Europe accounted for the highest share in 2018 and LAMEA anticipated to exhibit lucrative growth rate during ADAS market forecast. 
Factors such as high demand for safety features and increased requirement for comfort while driving foster the ADAS market growth. In addition, stringent safety rules and regulations are anticipated to propel the growth of the market. However, high initial cost and complex structure and lower efficiency in bad weather conditions hinder the ADAS market size. Furthermore, technological Advancements in Advanced driver assistance system and production of multifunctional system is anticipated to provide a remarkable growth opportunity for the ADAS Market Leaders. All the factors mentioned above have significant impact on the global market during the forecast period.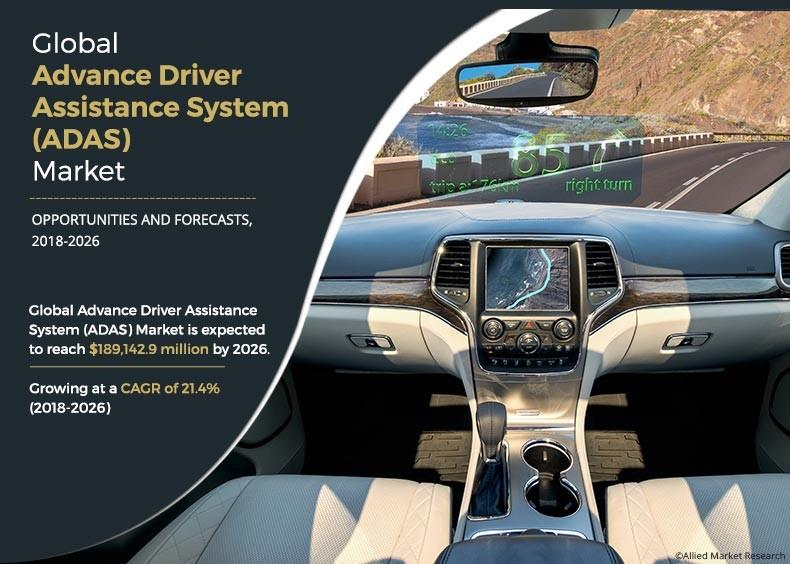 Get more information on this report : Request Sample Pages
The rise in need for safer driving conditions increase the demand for assistive driving system among the customers, which in turn propels the growth of ADAS market. Advanced driver assistance system provides various advantages such as reduction in loss of property & life, decrease in the rate of accidents, and others. ADAS consists of safety functions which are designed to improve pedestrian and passenger safety by minimizing both motor vehicle accidents and severity. Advanced driver assistance systems warn the driver with potential danger and help the driver to remain in control to prevent accident and reduce severity if possible.
The global Advanced driver assistance systems (ADAS) market is segment based on system type, sensor type, vehicle type, and region. Based on system type, the ADAS market is divided into tire pressure monitoring system (TPMS), drowsiness monitoring system, intelligent parking assist system (IPAS), adaptive cruise control system, blind spot object detection system, lane departure warning system, adaptive front lighting system, and others. Based on sensor type, it is bifurcated into image sensor, LiDAR sensor, ultrasonic sensor, infrared (IR) sensor, radar sensor, and laser. Based on vehicle type, ADAS market is categorized as passenger car, light commercial vehicle, buses, and trucks. Based on region, it is analyzed across North America, Europe, Asia-Pacific, and LAMEA.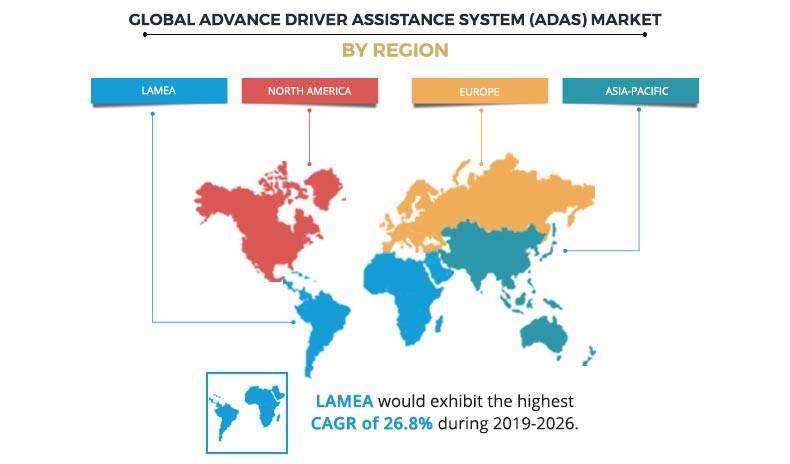 Get more information on this report : Request Sample Pages
Key players including Autoliv Inc., Continental AG, DENSO Corporation, Magna International Inc., ROBERT BOSCH STIFTUNG GMBH (ROBERT BOSCH GMBH), Valeo, NXP Semiconductors, Panasonic Corporation, Renesas Electronics Corporation, Texas Instruments, Delphi Automotive Company, Hyundai Mobis, Takata Corporation, ZF Friedrichshafen, Aisin Seiki Co., Ltd., Mobileye N.V, Harman International Industries, NVIDIA Corporation, Hitachi Ltd., Stonkam Co., Ltd., and others hold major ADAS market share.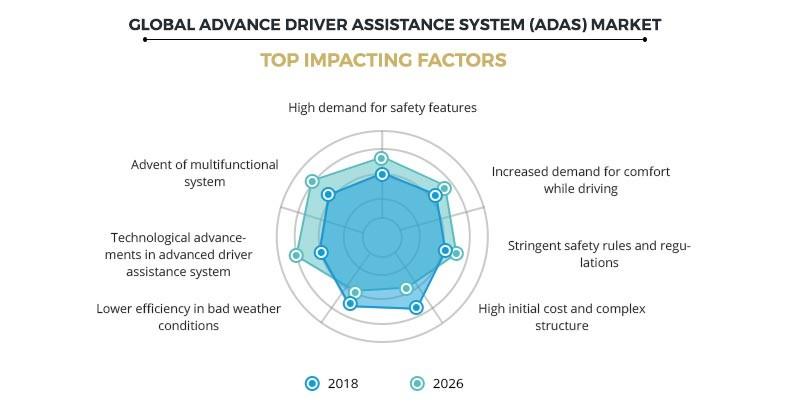 Get more information on this report : Request Sample Pages
Top Influencing Factors
High demand for safety features
The demand for safety features, such as parking assistance, collision avoidance systems, lane departure warnings, traction control, electronic stability control, tire pressure monitors, airbags, and telematics is in demand due to increase in number of road accidents, worldwide. Vehicles with installed ADAS system can detect and classify certain objects on the road, can alert the driver according to the road conditions, and sometimes can also automatically decelerate or stop the vehicle. There is a tremendous increase in the death rates caused due to road accidents. According to World Health Organization's report, nearly 1.25 million people die in road accidents each year. Moreover, road traffic injuries leading to death is higher among teenagers. These factors are leading to the growth in demand for safety features in vehicles. Automobile companies are developing and introducing the safety features to meet the needs of the customers. Thus, high demand for safety feature in turn drives the growth of the Advanced driver assistance system market.
Stringent safety rules and regulations
Countries have implemented laws and regulations for vehicles to install safety systems such as LDW and TPMS in their vehicles within a stipulated time period. The Indian Government has made amendments to the Motor Vehicle Act, to mandate the use of Advanced brake systems in all new models of commercial vehicles starting from April 2015. Technologies such as drowsiness monitoring system, lane departure system, driver monitoring system along with the presence of airbags in vehicles, wearing of seat belts by the passengers, child safety system, pedestrian safety system and others are made mandatory by countries to be installed in the vehicles. Moreover, automobile manufactures need to obtain safety ratings from organizations such as the Insurance Institute of Highway Safety (IIHS), New Car Assessment Program (NCAP), and International Centre for Automotive Technology (ICAT) to access the sales license of vehicles in the market. Thus, all these safety rules and regulations made by the government are anticipated for the growth of Advanced driver assistance systems market in the coming years. 
High initial cost and complex structure
The high cost associated with installing applications in vehicles could reduce the growth of the Advanced driver assistance systems market as this factor leads to higher cost of the car. The prospect of providing premium features in vehicles incurs additional expenses to consumers in the form of hardware, applications, and telecom service charges. Moreover, the serviceability of the vehicle is difficult, and requires skilled workers due to several electronic components and sensors. Complex structure of systems reduces the shelf life of vehicles. Thus, these factors are expected to have a significant impact on the growth of the Advanced driver assistance systems market.
Technological Advancements in Advanced driver assistance system
Companies are installing a wider range of features and technologies to their vehicles to provide comfort to consumers and to increase the sales. Technological Advancement in electronic components, such as sensors and smartphones which are supported with wireless communication & cloud systems provides better surrounding information and improves the safety of the consumers. The dynamic Advancements in technology such as intelligent parking assist system that help cars to park smoothly without the involvement of a guide to give directions, night vision system which is useful in area where no or less light is there, lane departure system, and brakes at the sign of danger, have increased the sales of the automobile industry. Moreover, the integration of various electronic equipment is expected to be introduced in the near future, which will provide ample opportunities leading to the growth of the Advanced driver assistance systems market and to the global market players. 
Key Benefits for Advanced Driver Assistance Systems (ADAS) Market:
This study presents the analytical depiction of the global ADAS industry analysis along with the current trends and future estimations to depict the imminent investment pockets.
The overall market opportunity is determined by understanding the profitable ADAS Market Trends to gain a stronger foothold.
The report presents information related to the key drivers, restraints, and opportunities of the market with a detailed impact ADAS Market Analysis.
The current ADAS market is quantitatively analyzed from 2018 to 2026 to benchmark the financial competency.
Porter's five forces analysis illustrates the potency of the buyers and suppliers in the industry.
 Key Market Segments & Key Market Players
Segments
Sub-segments
BY SYSTEM TYPE

Tire Pressure Monitoring System (TPMS)
Drowsiness Monitor System
Intelligent Parking Assist System (IPAS)
Adaptive Cruise Control System
Blind Spot Object Detection System
Lane Departure Warning System
Adaptive Front-lighting System
Others



BY SENSOR TYPE

Image Sensor
Lidar Sensor
Ultrasonic Sensor
Infrared (IR) Sensor
Radar Sensor
Laser



BY VEHICLE TYPE

Passenger Car
Light Commercial Vehicle
Buses
Trucks



BY REGION

North America
Europe

UK
Germany
Russia
France
Rest of Europe

Asia-Pacific

China
India
Japan
Australia
Rest of Asia-Pacific

LAMEA

Latin America
Middle East
Africa



Key Market Players

Autoliv Inc.
Continental AG.
DENSO Corporation
Magna International INC.
ROBERT BOSCH STIFTUNG GMBH (ROBERT BOSCH GMBH)
Valeo
NXP Semiconductors
Panasonic Corporation
Renesas Electronics Corporation
Texas Instruments