GCC Extruded Polystyrene Insulation Materials Market Overview:
The Gcc Extruded Polystyrene Insulation Materials Market size was valued at $80.5 million in 2016, and is projected to grow at a CAGR of 6.0% from 2017 to 2023 to reach $119.9 million by 2023. Extruded polystyrenes (XPS) are thermoplastic polymers manufactured through the extrusion process. These polymers are characterized by moisture resistance, superior insulation properties, owing to their closed cell structure, high compressive strength, ease of installation & handling, and long-term thermal performance. They are suitable for use in both interior and exterior applications in cold storage installations, rail beds, transmission line power foundations, walkaways, under concrete floors, parking decks, underground utility lines, fountain foundations, and other load-bearing applications.
Factors such as increase in construction expenditure, rise in popularity of energy-efficient building systems, and surge in demand for insulation against high temperatures from the residential sector drive the growth of the insulation XPS market. However, volatile prices of raw material and concerns related to presence of toxic chemicals are expected to hinder the market growth. Conversely, the development of XPS without the use of fluorochlorohydrocarbons is expected to provide lucrative opportunities for market expansion.
The GCC extruded polystyrene insulation materials market is segmented based on application into residential construction and nonresidential construction. On the basis of country, it is analyzed across UAE, Saudi Arabia, Qatar, Oman, Bahrain, and Kuwait.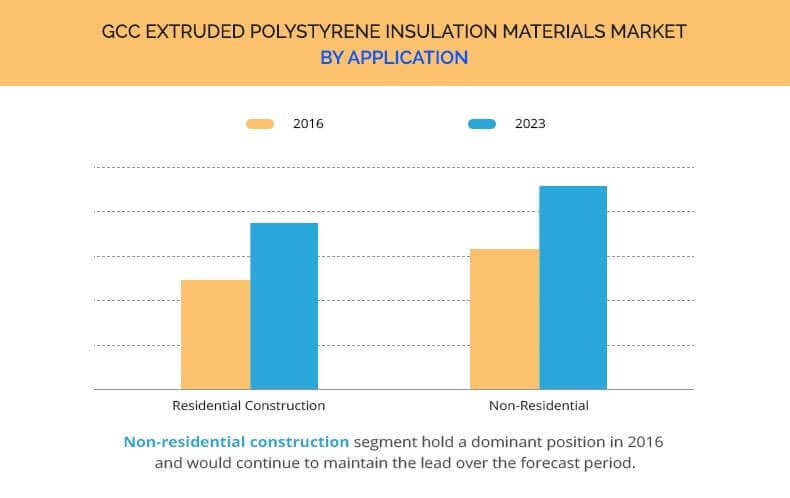 Top Investment Pockets
UAE is projected to be the most lucrative country for the GCC extruded polystyrene insulation materials industry. In 2016, UAE accounted for more than 50% share in GCC extruded polystyrene insulation materials market, owing to the high its demand and increase in local consumption of polystyrene as a construction material. Moreover, further development of UAE as a tourism destination and surge in government investments in infrastructure are expected to fuel the demand for extruded polystyrene insulation material.
Top Investment Pocket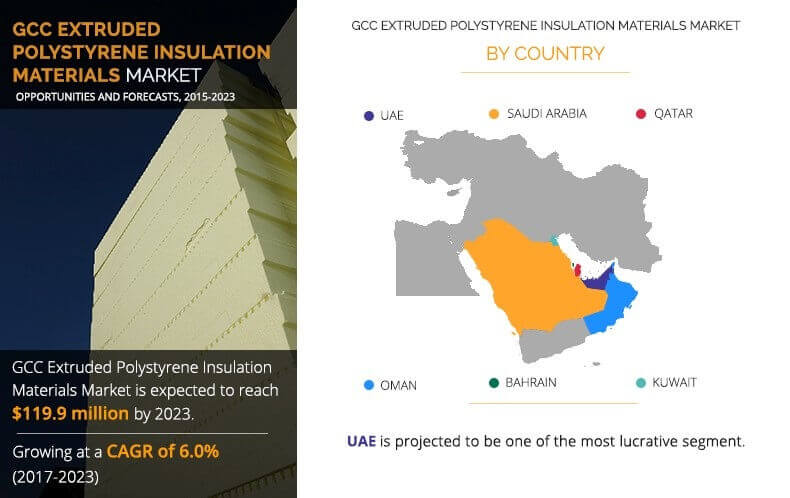 Patent Analysis
Patents are valuable assets for companies and are registered to protect the newly launched technologies and products. The patents related to extruded polystyrene insulation materials include the latest methods, new materials, and advanced equipment employed for preparation and processing of a variety of extruded polystyrene insulation materials. The year 2000 witnessed an increase in the number of patent registrations, majorly for extruded polystyrene foam laminates and foam insulation with high thermal resistance.
Patent analysis: GCC Extruded Polystyrene Insulation Materials Market, 2000-2015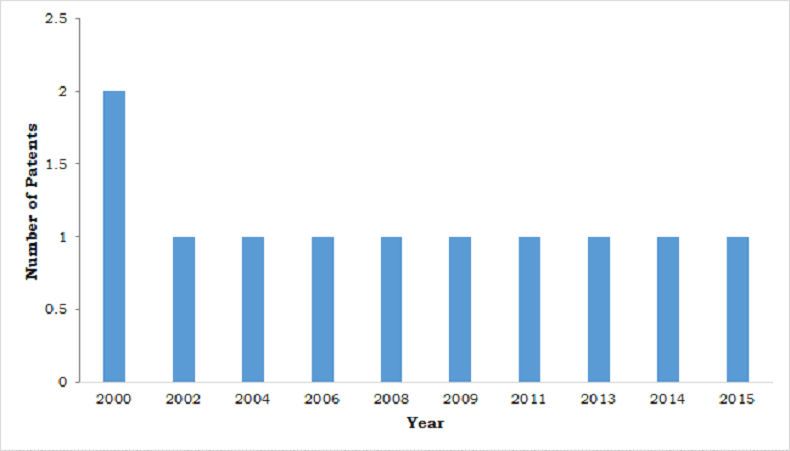 The key players profiled in the report are Styro Insulation Material Ind. (LLC), Isofoam Engineering Products, National Polystyrene Packaging Factory LLC, Emirates Extruded Polystyrene LLC, Electronic & Engineering Industries Co. LLC (EEI), Styrene Insulation Industry, Thermal Insulation Contracting LLC, BASF SE, Kingspan Holdings Ltd., and Compagnie de Saint-Gobain S.A.
Key Benefits for Stakeholders
The report offers a detailed quantitative analysis of the current trends and future estimations from 2016 to 2023 in the extruded polystyrene insulation materials market to identify the prevailing market opportunities to capitalize on.
In-depth coverage of the market, including drivers, restraints, and opportunities, assist professionals to understand the market dynamics.
Detailed study of the strategies adopted by key leaders in the market is provided in the report.
Porters five forces analysis examines the competitive structure of the market and assists strategists with better decision-making.
Pinpoint analysis of country-wise segments identifies growth opportunities within the market.
 GCC Extruded Polystyrene Insulation Materials Market Report Highlights
Aspects
Details
By Application

Residential construction
Nonresidential construction

By Country

United Arab Emirates (UAE)
Saudi Arabia
Qatar
Oman
Bahrain
Kuwait

Key Market Players
Isofoam Engineering Products LLC, Kingspan Holdings Limited, BASF SE, Styro Insulation Material Ind. (LLC), National Polystyrene Packaging Factory LLC, Emirates Extruded Polystyrene LLC, Thermal Insulation Contracting LLC, Styrene Insulation Industry, Compagnie De Saint-Gobain S.A., Electronic & Engineering Industries Co. LLC (EEI)