Automotive IoT Market, 2032
The global IoT in automotive market was valued at $102.3 billion in 2022, and is projected to reach $760.3 billion by 2032, growing at a CAGR of 22.6% from 2023 to 2032.
Report Key Highlighters:
The IoT in automotive market study covers 14 countries. The research includes regional and segment analysis of each country in terms of value ($million) for the projected period 2023-2032.

The study integrated high-quality data, professional opinions and analysis, and critical independent perspectives. The research approach is intended to provide a balanced view of global markets and to assist stakeholders in making educated decisions in order to achieve their most ambitious growth objectives.

Over 3,700 product literature, annual reports, industry statements, and other comparable materials from major industry participants were reviewed to gain a better understanding of the market.

The market is highly fragmented, with several players including AT&T, Cisco System, Inc., Google, Intel, Microsoft Corporation, NXP Semiconductors, Robert Bosch, Texas Instruments, Thales SA and TomTom. Also tracked key strategies such as acquisitions, product launches, mergers, expansion, etc. of the players operating in the IoT in the automotive market industry.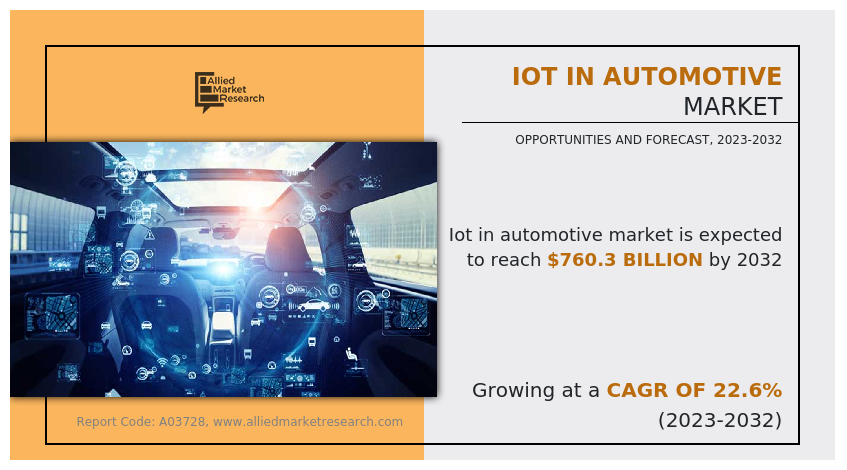 Automotive IoT refers to the integration of various components such as gadgets, sensors, cloud computing, and applications into vehicles, creating a sophisticated system that connects cars and enables functionalities like predictive maintenance, fleet management, OEM collaboration, and insurance services. This incorporation of the Internet of Things in the automotive sector empowers manufacturers to introduce sought-after innovations, pushing cars toward the realm of near-artificial intelligence.
As embedded automotive IoT solutions advance, we can expect even more intricate innovations to emerge. With the continuous rapid progress in mobile communication speed and technology within connected cars, automotive manufacturers can consistently introduce novel and exciting services to their customers.
The IoT in automotive market outlook is driven by factors such as the adoption of smart vehicles, and growing demand for connected cars. Consumers now expect their cars to seamlessly integrate with their smartphones, offer advanced infotainment systems, and provide navigation services, creating a more connected driving experience. However, the Security and data privacy can impede the progress of the market. As vehicles are digitized with the internet, all the data is uploaded to servers. This crucial information includes driving patterns, statistics, locations and much more. Server-based information can be hacked due to inadequate security and hackers can take over vehicle control and cause problems for the end user. Further, ongoing technological advancements in IoT, such as 5G connectivity and edge computing, contribute significantly to the growth of connected automotive solutions. These advancements offer faster and more reliable communication, supporting the development of advanced IoT applications in vehicles. In addition, around 9.6% of the IoT in automotive market share is on the Internet of Things (IoT) industry.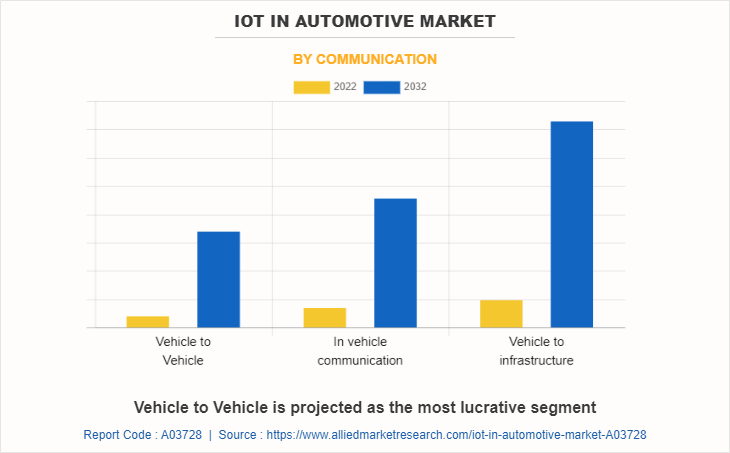 Moreover, the dawn of IoT in the automotive industry started new avenues for car manufacturers and buyers all across the globe. With usage at both industrial and commercial levels, IoT in the automotive sector become a leading hotspot for multi-purpose applications. From connected cars to automated transport systems, the applications of Internet of Things have made a deep dent in the global automotive industry. In addition, the implementation of IoT in the automotive sector has brought in a huge development in the field of fleet management. Trucks nowadays are integrated with weight measurement, location tracking, and several other sensors. The volume of sensory data gathered from a large fleet of such trucks is stored into a cloud application. This data is then processed through different analytics features and conceptualized into a visual format. A fleet operator can easily go through this information to monitor different parameters associated with its fleet.
For instance, Intel provides IoT-Based Fleet Management and Telematics solution for commercial vehicles which can capture telematics data across a diverse fleet of vehicle types and models. The latest IoT-enabled telematics benefit not only fleet managers, logistics operators, and drivers but also passengers and end customers through efficient performance and improved customer experiences.
In addition, data-driven insights play a vital role as well. IoT allows automakers to gather real-time data on vehicle performance, driver behavior, and maintenance needs. This data-driven approach enables personalized services and predictive maintenance, leading to improved customer experiences and increased vehicle reliability. Stringent government regulations related to vehicle safety, emissions, and connectivity standards also drive the adoption of IoT in automotive. Automakers need to meet these compliance requirements to ensure their vehicles meet the necessary standards and regulations.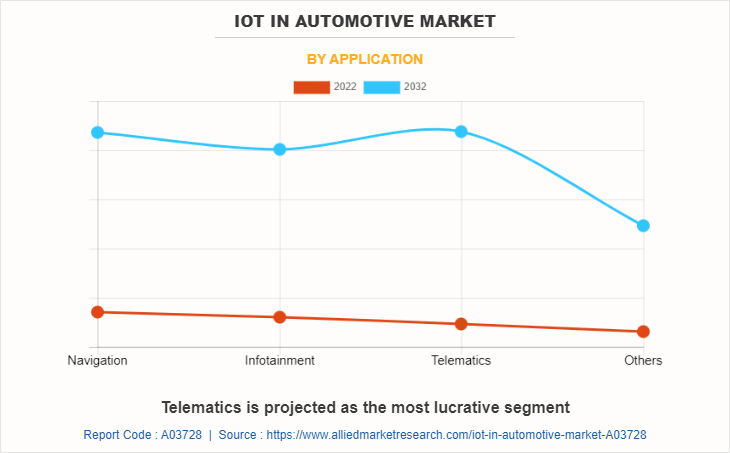 The IoT in the automotive market also creates new business models and revenue streams. IoT in automotive manufacturers and service providers can explore data monetization, offer subscription-based services, and form partnerships with third-party providers to expand their offerings and increase revenue. Environmental concerns are increasingly influencing the automotive industry, and IoT plays a crucial role in enabling energy-efficient and sustainable transportation options. As the industry moves towards eco-friendly solutions, IoT technology becomes more critical in achieving these goals.
The IoT in Automotive market is segmented based on communication, connectivity, application, and region. By communication, the market is segmented into the vehicle to vehicle, in vehicle communication and vehicle-to-infrastructure. Further, by vehicle type, the market is segmented into passenger cars and commercial vehicles. By application, the market is segmented into autonomous driving, body control & comfort systems, infotainment systems, communication systems, connected services, and others. Region-wise, the market is classified into North America, Europe, Asia-Pacific, Latin America, Middle East & Africa (LAMEA) including country-level analysis for each region.
North America includes countries such as the U.S., Canada, and Mexico. The North America IoT in the automotive market is a significant and rapidly growing segment within the automotive industry. With the increasing adoption of connected technologies and the Internet of Things (IoT), the automotive sector in North America has witnessed significant advancements and opportunities for innovation.
In addition, the market in the region is characterized by partnerships and collaborations between automakers, technology companies, and telecommunications providers. These collaborations aim to develop and implement connected car solutions, telematics platforms, and advanced infotainment systems. For instance, General Motors announced a partnership with Google to integrate Google's services and technologies into its vehicles. This collaboration aims to enhance the connected car experience for GM vehicle owners by leveraging Google's expertise in cloud computing, artificial intelligence, and voice recognition.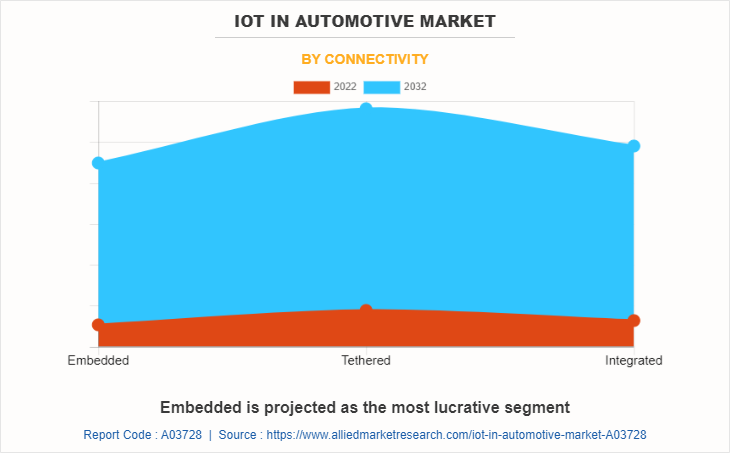 Key Developments
The leading companies are adopting strategies such as acquisition, agreement, expansion, partnership, contracts, and product launches to strengthen their market position.
In May 2023, Alphabet Inc., through its subsidiary Google, introduced a number of new features and services designed for cars, including video conferencing, gaming, and YouTube. Google expanded the types of apps developers can bring to cars with Android Auto to include Internet of Things (IoT) and weather apps.
In June 2022, Intel Corporation, through its subsidiary Intel India Design & Engineering Center, expanded its business unit with the unveiling of a new state-of-the-art facility in Bengaluru. Intel India has added a new center with 4.53 lakh sq. ft. with advanced cutting-edge design and engineering work in client, data center, IoT, graphics, artificial intelligence, and automotive segments.
In August 2021, AT&T entered into a partnership with Cisco to boost the performance of IoT applications with dedicated 5G network capabilities. The addition of 5G helps millions of IoT devices come online and bring about smart cities, autonomous vehicles, and more efficient production.
In March 2021, Microsoft Corporation collaborated with Argus to provide vehicle manufacturers with the ability to monitor, detect, and mitigate attacks in the cloud. Due to This collaboration in automotive provides vehicle manufacturers direct access to security-related in-vehicle information as well as comprehensive coverage of security events.
Increasing adoption of connected car services
Connectivity has become a common feature for nearly every electronic device including automobiles. These services allow automotive dealers, fleet operators, and drivers to optimize resource usage, improve safety, and automate certain driver functions, while generating valuable data including vehicle performance and road conditions. The connected car services can be provided in a vehicle using embedded, integrated, cloud or tethered connectivity solutions.
Many connected car services require software to perform their respective functions. This software aids with configuring, managing, and monitoring Internet of Things (IoT) devices used in automotive. In addition, the surge in the demand for connected car services is majorly due to the flow in concerns for safety & security, the rise in the demand for an enhanced driving experience, and the outline of the Internet of Things (IoT) in the automotive industry. Thus, owing to meeting the increasing demands, tier 1 manufacturers are heavily investing to adopt these services into advanced vehicles. Therefore, the increasing number of advanced services provided in connected cars is attributed to the growth of automotive software for connected services.
Intervention of innovative technologies for advanced user interface (UI)
The user interface is an interactive platform that is used as a medium for the user and the application to interact. New vehicles are being equipped with innovative technologies such as visual info-gratification including digital speedometers, climate control, navigation, driving assistance, and other car settings. These digital infographics systems can be accessed through a touchscreen display, which is placed on the vehicle's dashboard. In addition, in order to provide the same digital human experience to the users, leading automotive companies are improving the user interface (UI) inside the next vehicle generation by adding digital screens and human interfaces to the interior of a car. Such interfaces require software for technology integration, which in turn boosts the IoT in the automotive market growth.
For instance, in January 2020, Rightware, the leading provider of automotive user interface software, introduced a new Kanzi reference HMI (Human-Machine Interface) platform, which combines the company's suite of automotive user interface design software into an integrated solution to help automakers and suppliers deliver the best possible user experience in multi-display digital cockpits.
Increase in need of safety & security
Safety and security is another aspect that drives the growth of the IoT in the automotive market. This aspect has always been crucial from the perspective of the consumers as well as the auto manufacturers. In case of accidents, these cars can send an SOS message along with the coordinates of the driver's location. In case of theft, the owners can track their vehicles instantly using a smartphone app developed for this purpose. Therefore, an increase in the need for safety and security is expected to boost the growth of the IoT in the automotive market.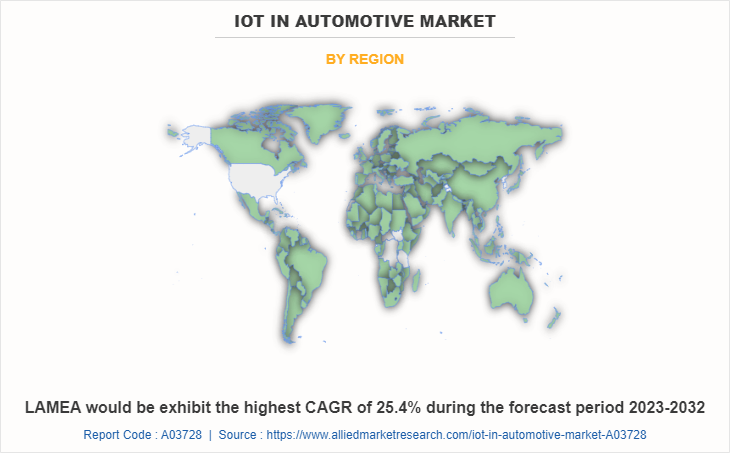 Troubleshooting and maintenance of automotive software
The integration of automotive software solutions on cars has added computer-like specs to cars. The digitization of vehicles has enhanced performance, efficiency and convenience. However, software failures pose a huge challenge to the automotive industry. Software is transforming car capabilities but also creating development challenges for automotive players. In addition, the automotive software market is in the developing phase, thus, there is a limited number of resources with hands-on experience in the latest and trending technologies to maintain or troubleshoot software problems. Moreover, not only do consumers need to learn more about software-based features and maintenance, but also car manufacturers, vendors, and automotive & transportation industry players yet have little understanding of software-based services, as well as maintenance and troubleshooting of that software. Therefore, factors such as a lack of skilled workforce, automotive software engineers, and expertise are limiting the IoT in automotive market growth.
The pandemic has brought about marked changes in consumer habits and behaviors. There is expected to be a shift away from shared mobility options as people prioritize social distancing and personal hygiene. This would effectively translate into a higher preference for personal mobility with gadgets, sensors, cloud computing, and applications which can boost sales for auto manufacturers. Further, COVID-19 has impacted the operations of many OEMs, from production to R&D. While industry participants might see short-term disruption to autonomous vehicles (AV) development and rollouts, this disruption may create new opportunities for adoption of autonomous vehicles (AV) technology with IoT in automotive within the consumer segments and accelerate adoption in various commercial segments as autonomous vehicles (AV) technology is seen as a vital component of responding in times of emergencies and uncertainty.
Key Benefits For Stakeholders
This report provides a quantitative analysis of the market segments, current trends, estimations, and dynamics of the IoT in automotive market analysis from 2022 to 2032 to identify the prevailing IoT in automotive market opportunities.
The market research is offered along with information related to key drivers, restraints, and opportunities.
Porter's five forces analysis highlights the potency of buyers and suppliers to enable stakeholders make profit-oriented business decisions and strengthen their supplier-buyer network.
In-depth analysis of the IoT in automotive market segmentation assists to determine the prevailing market opportunities.
Major countries in each region are mapped according to their revenue contribution to the global market.
Market player positioning facilitates benchmarking and provides a clear understanding of the present position of the market players.
The report includes the analysis of the regional as well as global IoT in automotive market trends, key players, market segments, application areas, and market growth strategies.
 IoT in Automotive Market Report Highlights
Aspects
Details
Market Size By 2032
USD 760.3 billion
Growth Rate
CAGR of 22.6%
Forecast period
2022 - 2032
Report Pages
263
By Communication

Vehicle to Vehicle
In vehicle communication
Vehicle to infrastructure

By Application

Navigation
Infotainment
Telematics
Others

By Connectivity

Embedded
Tethered
Integrated

By Region

North America (U.S., Canada, Mexico)
Europe (UK, Germany, Spain, France, Rest of Europe)
Asia-Pacific (China, India, Japan, South Korea, Rest of Asia-Pacific)
LAMEA (Latin America, Middle East, Africa)

Key Market Players
Microsoft Corporation, Cisco System, Inc., Thales, Alphabet Inc., NXP Semiconductors, Robert Bosch GmbH, AT&T, Texas Instruments Inc., TomTom International BV, Intel Corporation