The global MICE industry size was valued at $805.0 billion in 2017, and is estimated to reach $1,337.4 billion by 2028, registering a CAGR of 21.3% from 2021 to 2028. 
The term MICE in the context of travel is an acronym for meetings, incentives, conferences, and exhibitions. The MICE refers to the tourism dedicated to planning, booking, and facilitating conferences, seminars, and other events for business purposes, and it is the highest revenue contributor to the travel industry. The MICE industry is complex, consisting of participants, sponsors, planners, convention and visitor bureaus, meeting venues, accommodations, and suppliers generally being involved in the planning and execution of an event. The industry provides easy and convenient methods for organizing events and helps choose the right destination, which forms the basis of a successful event. The group market of the tourism industry has witnessed exponential growth owing to rapid globalization and expansion of service industries, and the continuous evolution of scientific and technological innovations.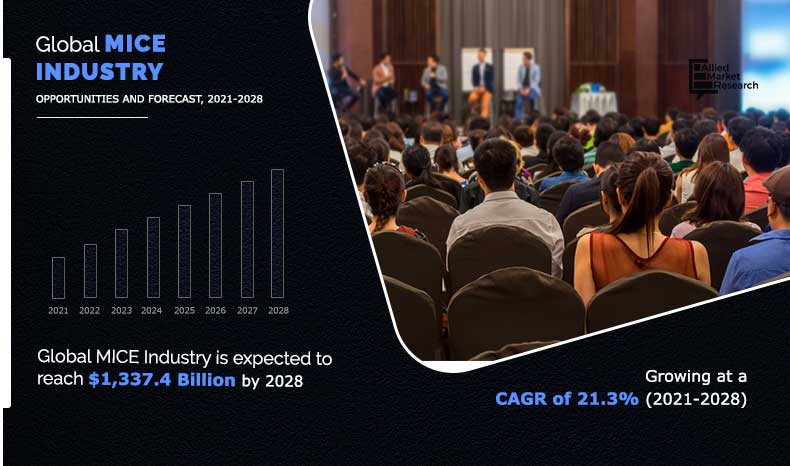 Surge in presence of corporate industries, due to the massive increase in business activities such as client meetings, brand promotions, employee training activities, and others drives the growth of the global MICE industry. Moreover, rise in government initiatives to promote SMEs and liberalization of market entry to increase FDIs are anticipated boost the growth further. Other significant factors that promote the growth of the market are change in lifestyle of business travelers to seek leisure trips, rapid urbanization, and industrial growth. Moreover, infrastructural development and continuous technological advancements fuel the market growth. However, high cost associated with MICE events and uncertain global geopolitical conditions hamper growth of the market. Factors such as investments in infrastructural development and technological advancements are expected to provide lucrative opportunities for market growth.
Hotel and transportation industries are directly involved in the MICE industry. These industries may benefit from MICE business by offering their services and facilities to the planner and attendees of MICE events. Hotels are the main suppliers of MICE and are the main beneficiaries as well. Moreover, business travelers who attend MICE events spend over 65% of their money on hotels for rooms and hotel dining while 15% is spent on other restaurants outside the hotel. Around 10% is spent on shopping and another 10% on local transportation. In addition, high penetration of internet & technology in the densely populated countries supports the growth business travel which indirectly supports the growth of the global MICE industry. Therefore, developments in MICE industry majorly drives the economic growth, regional cooperation, and intellectual development. 
The outbreak of the COVID-19 pandemic posed a major threat to the global MICE industry. The strict lockdown regulations had resulted in partial or complete ban on travel and tourism. Most of the travel destination across the globe had restricted the entry of travelers. The global tourism industry witness a fall of around 74% in international tourist arrival. Hence, all the MICE events during 2020 were either cancelled or postponed causing a major damage to the MICE stakeholders. Under such situation, the online and ICT platforms such as Zoom, Skype, and Google Meet gained immense traction. Moreover, most of the companies started using these digital platforms for conducting MICE events that also saved significant amount of costs. The growing penetration of online platforms for conducting MICE activities is expected to have a very long term impact on the MICE industry. Business travel is costly and during the COVID-19 period many company looked at it as an unnecessary expense. So they might seek the services of online platforms for hosting MICE events in future. Therefore, COVID-19 greatly harmed the global MICE industry and it may have a long term impact.     
The global MICE industry is segmented based on event type into meetings, incentives, conventions, and exhibitions. The market is analyzed across North America, Europe, Asia-Pacific, and LAMEA to understand its regional trends.
MICE Industry by Event Type

---
By Event Type
Incentive segment is expected to grow at highest CAGR of 24.1% during the forecast period
Get more information on this report :
Request Sample Pages
Based on type, in 2017, the meetings segment dominated the global MICE industry, accounting for $505.8 billion, and is expected to grow at a notable CAGR of 23.5% during the forecast period. This is attributed due to positive economic trends, improving infrastructure, and enhancing tourism combined with globalization of businesses. The segment is also estimated to witness a healthy growth rate in the future, owing to rise in number of international business travelers, surge in government initiatives for the development of MICE segment & SME sector coupled with ongoing MICE industry trends of organizing hybrid meetings and use of social media and meeting apps.
Based on region, Asia-Pacific is expected to witness the highest growth rate during the forecast period. This region is significantly driven by emerging countries such as Singapore, China, and India. Moreover, ease of visa restrictions, investments in better infrastructure, and high demand in commercial aviation further fuel the growth of the MICE industry.
MICE Industry by Event Type

---
By Regions
Middle East is expected to grow at highest CAGR of 25.3% during the forecast period.
Get more information on this report :
Request Sample Pages
Key benefits for stakeholders
The report provides an extensive analysis of the current & emerging trends and opportunities in the global MICE Industry.
It provides detailed qualitative and quantitative analysis of current trends and future estimations that assists to evaluate the prevailing market opportunities.
Comprehensive analysis of factors that drive and restrict the growth of the market is provided.
Extensive analysis of the market is conducted by following key product positioning and monitoring the top competitors within the market framework.
The report provides extensive qualitative insights on the potential and niche segments or regions exhibiting favorable growth.
 MICE Industry by Event Type Report Highlights
Aspects
Details
By Event Type

Meetings
Incentives
Conventions
Exhibitions

By Region

North America (U.S., Canada, Mexico)
Europe (Germany, UK, Italy, Spain, France, Rest of Europe (**Note: Rest of Europe includes Ireland, Netherlands, Poland, Finland, Austria, Greece, Belgium, Sweden, and other European countries))
Asia-Pacific (China, India, Singapore, Thailand, Indonesia, Australia, New Zealand, Japan, Malaysia, South Korea, Vietnam, Hong Kong, Taiwan, Rest of Asia-Pacific, (**Note: Rest of Asia-Pacific includes Philippines, Sri Lanka, Myanmar, Laos, Maldives, and other Asia-Pacific countries))
LAMEA (Brazil, Rest of Latin America, (**Note: Rest of Latin America includes Argentina, Colombia, Peru, Chile, Uruguay, Ecuador, Paraguay, Venezuela, Bolivia, and other Latin American countries))
Middle East (United Arab Emirates, Rest of Middle East, (**Note: Rest of Middle East includes Saudi Arabia, Qatar, Bahrain, Egypt, Turkey, Oman, and other Middle East countries))
Africa (South Africa, Nigeria, Ghana, Kenya, Namibia, Rwanda, Rest of Africa, (**Note: Rest of Africa includes Morocco, Tunisia, Tanzania, Uganda, Senegal, and other African countries))

Key Market Players
360 DESTINATION GROUP, ACCESS DESTINATION SERVICES, ATPI LTD., BCD GROUP (BCD MEETINGS & EVENTS), BI WORLDWIDE, CARLSON WAGONLIT TRAVEL (CWT MEETINGS & EVENTS), CIEVENTS, CONFERENCE CARE LTD., CREATIVE GROUP, INC., CSI DMC, IBTM, ITA GROUP, MARITZ, MEETINGS & INCENTIVES WORLDWIDE, INC., ONE10, LLC, THE FREEMAN COMPANY, THE INTERPUBLIC GROUP OF COMPANIES, INC.