NoSQL Market Statistics - 2026
The NoSQL market size was valued at $2,410.5 million in 2018, and is projected to reach $22,087 million by 2026, growing at a CAGR of 31.4% from 2019 to 2026.
A NoSQL is a database that includes a relational mechanism for storage and retrieval of structured and unstructured data, which is modeled in means other than the tabular relations as used in relation databases (RDBMS). It encompasses a wide variety of database technologies that are developed to handle increase in volume of data generated and stored. This data has increased from the recent past due to Internet of Things, internet, and others. As the data sources are varied, NoSQL is widely preferred by distributed data stores with hugedata storage needs.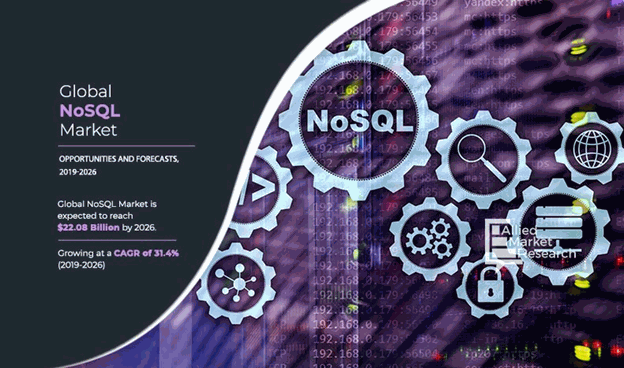 Factors such as rise in demand from numerous applications such as e-commerce, web applications, and social game development are anticipated to boost the growth of NoSQL market forecast.The research involves a study of NoSQL software, which includes revenue realized from the sale of commercial licenses as well as revenue realized from the upgrade charges of open source NoSQL solutions. The problems while testing and managing complex queries as compared to relational database approaches is a major restraint for wider adoption of NoSQL technology. However, in the next few years, the awareness would increase, and NoSQL databases would witness rapid adoption to support increased business data, especially, in social networks, retail, and e-commerce.
The graph-store databases are gaining increase in traction from social networking and online gaming applications. Therefore, graph-based NoSQL databases are poised to grow at the highest CAGR amongst all types of NoSQL. The companies, especially from the social networking segment is expected to gain impressive business value from investments in this type of NoSQL segment which in turn is expected to support NoSQL market growth.
NoSQL database technology has gained traction in the North American NoSQL market. The large number of enterprises in the regions have started adopting NoSQL in some non-critical applications. However, larger number of enterprises are planning to adopt NoSQL technology in the coming years. Moreover, growth of social networking applications and developments in online gaming are expected to accelerate the demand for NoSQL across the world, especially in the Asian countries.
The report focuses on the growth prospects, restraints, and market analysis. The study provides Porter's five forces analysis of the NoSQL industry to understand the impact of various factors such as bargaining power of suppliers, competitive intensity of competitors, threat of new entrants, threat of substitutes, and bargaining power of buyers on the market.
Segment Review
The NoSQL market is segmented on the basis of type, application, industry vertical, and region. By type, it is categorized into key-value store, document database, column-based store, and graph database. On the basis of application, it is divided into data storage, mobile apps, data analytics, web apps, and others. Further the data storage segment is sub-segmented into distributed data depository, cache memory, and metadata store. Depending on industry vertical, it is categorized into retail, gaming, IT, and others. By region, the NoSQL market is analyzed across North America, Europe, Asia-Pacific, and LAMEA.
The market players operating in the NoSQL market analysis include Aerospike, Inc., Amazon Web Services, Inc., DataStax, Inc., Microsoft Corporation, Couchbase, Inc., Google LLC, MarkLogic Corporation, MongoDB, Inc., Neo Technology, Inc., and Objectivity, Inc.
Key-value store is projected as one of the most lucrative segments.
Top impacting factors
The significant factors impacting the global NoSQL market include the demand for data analytics, increase in unstructured data, and rise in demand for data analytics. Along with these factors, the market is also dependent on the app development industry, innovative business models, and software testing issues over its technological alternatives. All the factors collectively create opportunities for market growth, while some of them account for limitations in the market. Thus, testing limitations while using NoSQL for critical business analysis is a factor expected to hinder the market growth. However, each factor would have a definite impact on the market. Therefore, rise adoption of big data is a NoSQL market opportunistic factor.
NoSQL Market

---
By Application
Web Apps is projected as one of the most significant segments.
Rise in unstructured data 
There has been an increase in amount of unstructured and semi-structured data such as blogs, files, and gamesover the past few years. This semi-structured or unstructured data is in the form of objects of data structures. Standard SQL queries are not a feasible option to analyze object oriented data structures.Moreover, as a result of changed business needs and users' preferences, there is an increase in the amount of unstructured and semi-structured data. The rise in social media such as games, blogs, and portals such as Facebook, LinkedIn, matrimonial sites have led to rise in semi-structured and unstructured data. NoSQL is the only feasible technology to store and manage this data.
NoSQL Market

---
By Verticals
IT is projected as one of the most significant segments.
Rise in demand for data analytics 
Businesses across the globe are inclined toward analytical solutions, owing to the ability to provide decision optimization on the basis of data-driven approaches. In addition, rise in need to automate business processes, owing to advent of digitalization is further expected to propel the growth of the market, as analytics offer automated business process optimization strategies that have the capability to predict and optimize diverse business process outcomes. These factors are expected to drive the growth of the global market during the forecast period. Appropriate database technology is essentialto analyze the data. NoSQL serves this purpose in case of unstructured data, by providing support for moderate data analytics. The need of data analytics, especially on unstructured data is expected to increase in the future.
Asia-Pacific would exhibit the highest CAGR of 35.5% during 2019-2026.
Key Benefits For Stakeholders
This study includes the NoSQL market trends, opportunity, analysis, and future estimations to determine the imminent investment pockets.
The report presents information related to key drivers, restraints, and opportunities of the NoSQL industry.
The NoSQL market shareis quantitatively analyzed from 2018 to 2026 to highlight the financial competency of the industry.
Porter's five forces analysis illustrates the potency of the buyers & suppliers in the market.
 NoSQL Market Report Highlights
Aspects
Details
By Type

Key-Value Store
Document Database
Column Based Store
Graph Database

By Application

DATA STORAGE
MOBILE APPS
WEB APPS
DATA ANALYTICS
OTHERS

By Industry Vertical
By Region

North America (U.S., Canada)
Europe (Germany, UK, France, Rest of Europe)
Asia-Pacific (Japan, China, India, Rest of Asia-Pacific)
LAMEA (Latin America, Middle East, Africa)

Key Market Players
OBJECTIVITY, INC., DATASTAX, AMAZON WEB SERVICES, INC., NEO4J, INC., COUCHBASE, MICROSOFT CORPORATION, GOOGLE LLC, MARKLOGIC CORPORATION, MONGODB INC., AEROSPIKE