U.S. Airborne LiDAR Market Outlook - 2030     
The U.S. airborne LiDAR market size was valued at $211.7 million in 2020, and is projected to reach $1,031.3 million by 2030, growing at a CAGR of 17.70% from 2021 to 2030. The Airborne Light Detection and Ranging (LiDAR) system is a mapping technique that uses a laser beam to detect the geographical location of terrestrial objects and their properties with high precision using onboard GPS and Inertial Measurement Unit (IMU) sensors. Airborne LiDAR is generally installed on an aircraft, helicopter or drone for collecting data. 
The transportation & logistics segment has been negatively impacted by the COVID-19 pandemic outbreak.
It is suitable for a wide range of environmental monitoring, terrain modelling, traditional aerial survey, and infrastructure development projects. For surveying the ground through forested areas, uses of airborne LiDAR is the most appropriate method. Also, ground and sub-canopy areas, which are difficult to interpret in ground surveying situations can be captured easily using airborne LiDAR penetrating laser pulses. In addition, components such as airborne lidar sensors are widely used in aerial lidar systems to create 3D topographical aerial maps.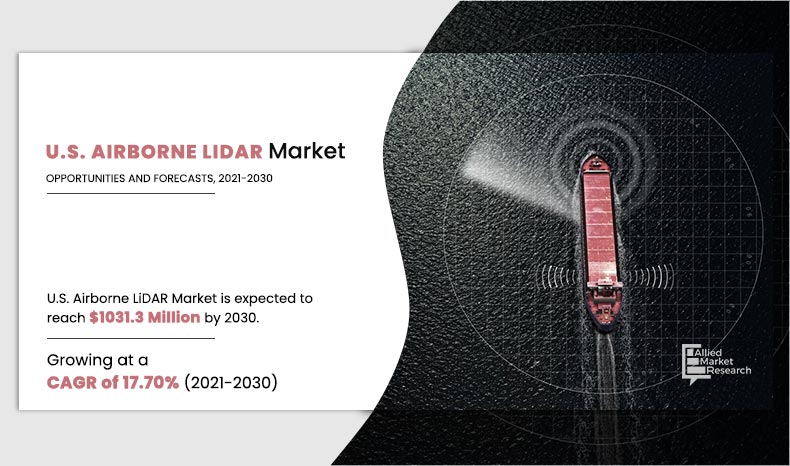 Growth of the U.S. airborne LiDAR market is anticipated to be driven by factors, such as growth in the defense & aerospace industry and technological advancements in forestry & agriculture applications. Also, growing adoption of LiDAR in engineering and construction applications fuel the growth of the market. However, lack of awareness among end users acts as a major restraint for the U.S. airborne LiDAR market. On the contrary, increasing uses of GIS (Geographic Information System) systems is expected to create lucrative opportunities for the U.S. airborne LiDAR industry.
Segmentation Analysis
The U.S. airborne LiDAR market is segmented on the basis of component, application, and end user. By component, the market is classified into lasers, inertial navigation systems, cameras, GPS/GNSS receivers, microelectromechanical systems, and others. On the basis of application, market is divided into corridor mapping, seismology, exploration and detection, and others. Depending on end user, it is categorized into aerospace and defense, civil engineering, forestry and agriculture, transportation and logistics, archaeology, and mining industry. 
U.S. Airborne LiDAR Market

---
By Component
GPS/GNSS Receivers segment will grow at a highest CAGR of 24.60% during 2021 - 2030.
Leading U.S. airborne LiDAR industry manufacturers such as Saab, 3D Laser Mapping (GeoSLAM), and Raymetrics S.A. are focusing on their investments on technologically advanced, cost-effective, and more secure products and solutions for various applications.  
Top Impacting Factors
The prominent factors that impact the U.S. airborne LiDAR market growth include, surge in LiDAR applications in defense and civil engineering, falling price of drones, rise in need for aerial LiDAR, and increase in number of drones in the U.S. However, regulations by FAA (Federal Aviation Administration) for commercial usage of drones restricts the U.S. airborne LiDAR market growth. On the contrary, increase in demand for LiDAR in forestry & agriculture, and growing need of LiDAR-captured data in newer applications are expected to create lucrative opportunities for the market.
Competitive Analysis
Competitive analysis and profiles of the major U.S. airborne LiDAR market players such as, 3D Laser Mapping (GeoSLAM), Faro Technologies Inc., Firmatek LLC, Leica Geosystems Inc. (Hexagon), Leosphere SaS (Vaisala), Raymetrics S.A., RIEGL Laser Measurement Systems GmbH, Saab, SAM LLC, and Teledyne Technologies have been covered in the report.
U.S. Airborne LiDAR Market

---
By Application
Corridor Mapping segment is projected as one of the most lucrative segments.
Covid-19 Impact Analysis
The outbreak of COVID-19 has significantly affected the electronics and semiconductor sector. Business and manufacturing units across various countries were closed, owing to increase in number of COVID-19 cases, and remain closed in 2021. Furthermore, partial or complete lockdown has disrupted U.S. supply chain posing challenges for manufacturers to reach customers.
The COVID-19 pandemic impacted the society and the overall economy across the globe. The impact of this outbreak grows day-by-day as well as affects the overall business globally. The crisis is creating uncertainty in the stock market and is resulting in falling business confidence, massive slowing of supply chain, and increasing panic among the customer segments.
North American countries under lockdowns suffered major loss of business and revenue due to shutdown of manufacturing units. The operations of the production and manufacturing industries have been heavily impacted by the outbreak of the COVID-19 disease, which further impacted the growth of the market.
In addition, the COVID-19 pandemic impacted the electronics sector, as production facilities stalled, which, in turn, boosted the demand for electronics and semiconductor products in the industries. Its major impact includes large manufacturing interruption across Europe and interruption in Asian parts exports, which may hinder the U.S. airborne LiDAR market opportunity. It is expected that the demand for new and innovative products could surge once the economy begins to recover. Companies are looking forward to invest in next-generation products using new technologies, as it is expected to boost its goodwill, once customer demand surges.
U.S. Airborne LiDAR Market

---
By End User
Forestry and Agriculture segment would exhibit the highest CAGR of 6.1% during 2021-2030
Key Benefits For Stakeholders
This study comprises analytical depiction of the U.S. airborne LiDAR market size along with current trends and future estimations to depict imminent investment pockets.
The overall U.S. airborne LiDAR market analysis is determined to understand the profitable trends to gain a stronger foothold.
The report presents information related to key drivers, restraints, and opportunities with a detailed impact analysis.
The current U.S. airborne LiDAR market forecast is quantitatively analyzed from 2020 to 2030 to benchmark the financial competency. 
Porter's five forces analysis illustrates the potency of the buyers and the U.S. airborne LiDAR market share of key vendors.
The report includes the U.S. airborne LiDAR market trends and the market share of key vendors.
 U.S. Airborne LiDAR Market Report Highlights
Aspects
Details
By Component

Lasers
Inertial Navigation Systems
Cameras
GPS/GNSS Receivers
Microelectromechanical Systems
Others

By Application

Corridor Mapping
Seismology
Exploration and Detection
Others

By End User

Aerospace and Defense
Civil Engineering
Forestry and Agriculture
Transportation and Logistics
Archaeology
Mining Industry

By KEY PLAYERS

3D Laser Mapping (GeoSLAM)
Faro Technologies Inc.
Firmatek LLC
Leica Geosystems Inc. (Hexagon)
Leosphere SaS (Vaisala)
Raymetrics S.A.
RIEGL Laser Measurement Systems GmbH
Saab
SAM LLC
Teledyne Technologies

Other players in the value chain include
FLIR Systems, Inc., EHang, Inc., 3D Robotics, Inc., Trimble Navigation, Merrick & Company, Surveying and Mapping, LLC, s Inc.CyPhy Work