VCSEL Market Overview:
The global VCSEL market size was valued at $ 1,977 million in 2017, and is projected to reach $ 4,749 million by 2023, registering a CAGR of 15.7% from 2017 to 2023.
A Vertical cavity Surface Emitting Laser (VCSEL) is a semiconductor-based laser diode that emits high power optical laser beam vertically from its top surface. Such devices replace edge emitting lasers (EEL) offering a wide range of applications especially in networks. A VSCEL device operates within a wavelength of 850 nm to 1310 nm and at transmission rate of 2.125-150 Gbps.
The scope of VCSEL market is derived from multiple VCSEL including configuration, managed support, and portable services. It discusses the potential opportunities for market players to enter the VCSEL market. The report also provides in-depth market analysis of VCSEL market, outlining current trends, key driving factors, and potential areas for product investments.
Surge in demand of VCSEL in data communication is expected to boost the market. Further, rise in usage of VCSELs in infrared illumination owing to technological advancements is also anticipated to fuel the market growth. However, high cost and limitations in data range of VCSELs hinders the VCSEL market. Furthermore, demand for VCSELs in consumer electronics is expected to boost the VCSEL market in the upcoming years.
In the Porter's Five Forces model, VCSEL service providers are considered as suppliers, while organizations such as large and small & medium enterprises are considered as buyers. This analysis includes the impact of threat of substitutes, threat of new entrants, and intensity of rivalry within the industry on the growth of the VCSEL market.
Significant players operating in the VCSEL market are Finisar Corporation, Avago Technologies, JDS Uniphase Corporation, Royal Philips Electronics N.V., II-VI Incorporated, IQE PLC, Vertilas GmbH, Princeton Optronics, Vixar Inc., and Ultra Communications Inc. These key players have adopted product launch and acquisition strategies to strengthen their VCSEL market share. For instance, In August 2017, Philips acquired Spectranetics Corporation—a U.S.-based global leader in vascular intervention and lead management solutions—to strengthen its healthcare product portfolio. In September 2017, II-VI Incorporated launched flexible structure optical module (FlexSOM) Erbium Doped Fiber Amplifier (EDFA) platform designed to manufacture next-generation 100, 200, and 400G coherent transceivers. In December 2015, IQE PLC partnered with Cornell University and University of Notre Dame to manufacture gallium nitride (GaN) power diodes.
This strategic move helped the company to strengthen its semiconductor's product portfolio.
Segment Overview
The VCSEL market size is segmented based on type, application, and region. By type, the market is divided into single mode and multimode VCSEL. By application, the VCSEL market is classified into data communications, infrared illumination, sensing, pumping, GPS, and others. Based on region, the market is analyzed across North America, Europe, Asia-Pacific, and LAMEA.
In 2016, North America held the largest market share in the VCSEL market, due to innovation in advanced technologies and growth in data communication application. North America includes the U.S., Canada, and Mexico. Growth in enterprise mobility and extensive wireless connectivity contributes to the growth of the VCSEL in this region. SMEs are expected to dominate the VCSEL market during the forecast period.
Asia-Pacific witnesses the highest growth rate during forecast period due to lucrative opportunities offered by countries such as China, India, Singapore, South Korea, Japan, and other countries. These countries have adopted VCSEL solutions owing to the growth in penetration of mobility and cloud deployment by small and mid-sized companies
By application, data communication segment held the highest market share in 2016 period due to high implementation of VCSEL. However, sensing segment is expected to register the highest CAGR during the forecast period.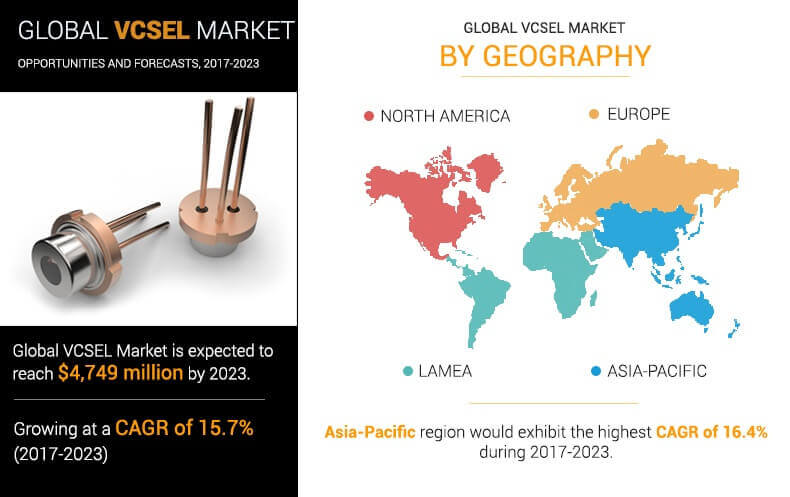 Top Impacting Factors
Factors that are expected to drive the global VCSEL market during the forecast period are surge in demand for VCSEL in data communication and rise in usage of VCSELs in infrared illumination owing to technological advancements. However, high cost and limitations in data range of VCSELs is expected to impede the VCSEL market growth during the forecast period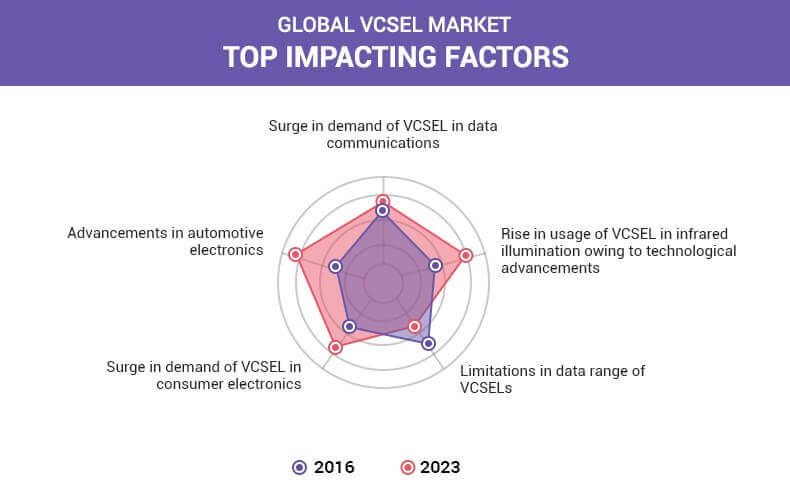 Drivers
Surge in demand for VCSEL in data communications and rise in usage of infrared illumination owing to technological advancements majorly drive the Global VCSEL Market. VCSEL is compressed, quick, and consumes low power proving high quality. All these factors differ VCSEL from light emitting diodes (LEDs) making it more efficient.
Restraints
Limitations in data range of VCSELs majorly hampers the growth of the VCSEL market
Opportunities
Increase in demand of VSCELs in consumer electronics and advancement in automotive electronics are major opportunities for the VCSEL market. VCSEL devices are used extensively for sensing applications.
Key Benefits for VCSEL Market:
This study comprises analytical depiction of the global VCSEL market with current trends and future estimations to depict the imminent investment pockets.Th
The overall market potential is determined to understand the profitable trends to gain a stronger foothold.
The VCSEL market report presents information related to key drivers, restraints, and opportunities with a detailed impact analysis.
The current market is quantitatively analyzed from 2017 to 2023 to highlight the financial competency of the market.
 VCSEL Market Report Highlights
Aspects
Details
By Type

SINGLE-MODE VCSEL
MULTIMODE VCSEL

By Application

Data Communications
INFRARED ILLUMINATION
SENSING
PUMPING
GPS
OTHERS

By Region

North America (U.S., Canada, Mexico)
Europe (UK, Germany, France, Rest of Europe)
Asia-Pacific (China, Japan, India, Rest of Asia-Pacific)
LAMEA (Latin America, Middle East, Africa)

Key Market Players
PRINCETON OPTRONICS, IQE PLC, BROADCOM, VIXAR INC., II-VI INCORPORATED, ULTRA COMMUNICATIONS, KONINKLIJKE PHILIPS N.V., VERTILAS GMBH, FINISAR CORPORATION, VIAVI SOLUTIONS INC.