Ablation Devices Market Outlook: 2022
The global ablation devices market size was $3,047 million in 2015 and is estimated to reach $6,658 million by 2022, growing a CAGR of 11.7% from 2016 to 2022.
Ablation therapies can be used for the treatment of various diseases across several medical domains such as ophthalmology, cancer, gynecology, and cardiovascular. Being a minimally invasive procedure, it is less painful than conventional surgical operations, leading to shorter recovery time. In addition, it causes very little damage to the surrounding tissues. Even though it lowers the side effects, it has some disadvantages as well. For instance, large and bulky tissues, such as bone and neck nodules, cannot be treated with ablation. Besides, the availability of ablation treatment in remote locations is quite restricted.
Sudden cardiac arrest is the leading cause of death in U.S., responsible for about 300,000 deaths per year. As per a research by St. Jude Medical, Inc., in 2015, there were about 250,000 catheter ablations performed in U.S. alone, whereas the global estimate was about 990,000. Electrophysiology employs catheter ablation to destroy abnormal heart tissues that cause irregular heart rhythms or cardiac arrhythmia. Radiofrequency and cryoablation are the most widely used ablation catheters and are expected to proliferate in the future. In addition, the number of ablation procedures performed for the treatment of atrial fibrillation are expected to increase substantially in the future.
Cancer is one of the leading causes of morbidity and mortality in the world. In the year 2012, there were approximately 14 million new cases and 8.2 million cancer-related deaths. According to the WHO, the number of new cases are expected to increase by 70% within the next two decades. Thus, there is an imminent need for more advanced and innovative technologies to treat cancer. Ablation is a technique that uses heat to destroy cancer cells by reducing its size and relieving symptoms. It can be used on its own or in combination with surgery, chemotherapy, or radiotherapy. The demand for ablation devices have increased in the recent years, as this treatment is very specific for destroying only tumor tissues.
MAJOR TYPES OF CANCERS WORLDWIDE IN 2012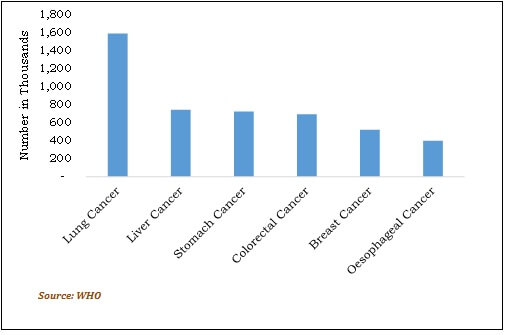 This can be attributed to the innovation in technologically advanced ablation devices. Moreover, common occurrence of chronic diseases, such as cancer and atrial fibrillation, and the rise in awareness about the benefits of ablation techniques are anticipated to contribute towards the market growth.
GLOBAL ABLATION DEVICES MARKET SEGMENTATION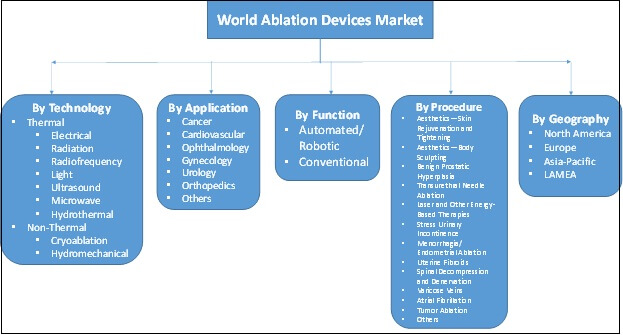 The report covers the analysis of ablation devices market share by technology, application, procedure, and geography. Based on technology, the market is broadly categorized into thermal and non-thermal ablation. The thermal ablation devices are further categorized into electrical, radiation, radiofrequency, light, ultrasound, microwave, and hydrothermal ablation devices; whereas the non-thermal ablation devices are sub-segmented as cryoablation and hydromechanical ablation devices. By application, the market is divided into cancer, cardiovascular, ophthalmology, gynecology, urology, and orthopedics. By procedures, the ablation devices industry is categorized as aesthetics skin rejuvenation & tightening, aesthetics body sculpting, fat reduction, and the reduction in the appearance of cellulite, benign prostatic hyperplasia, transurethral needle ablation, laser, and other energy-based therapies/holmium laser ablation/enucleation of the prostate, stress urinary incontinence, menorrhagia/ endometrial ablation, uterine fibroids, spinal decompression & denervation, varicose veins, atrial fibrillation, and tumor ablation. By function, the market is categorized into automated/robotic and conventional ablation devices. By geography, this market is studied with respect to four major regions North America (U.S., Canada, and Mexico); Europe (Germany, France, UK, Italy, Spain, and Russia); Asia-Pacific (Japan, China, India, Australia, South Korea, and Taiwan); and LAMEA (Brazil, Turkey, Venezuela, Saudi Arabia, and Republic of South Africa). The report includes the revenue generated from the sales of these categories.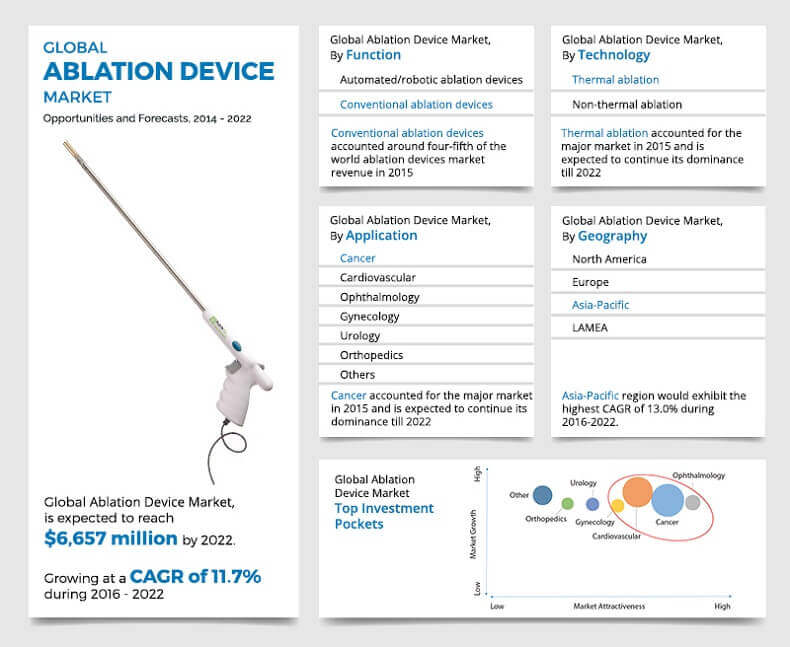 The ablation devices market is growing at the steady pace due to the growth in incidence of cardiac diseases such as atrial fibrillation (AF), atrial flutter, and cardiac arrhythmias. Hence, different mid-to-large sized companies have augmented research and development (R&D) investments in this market. Moreover, even smaller companies have shifted their focus and increased their R&D activities, which has led to a surge in product developments (approvals & launches), and in turn contributing to the growth of ablation devices industry. For instance, Medtronic launched the new Barrx 360 Express radiofrequency ablation balloon catheter in April 2016, which is a self-adjusting circumferential RFA catheter to remove diseased tissues. This catheter is anticipated to aid the treatment of Barretts esophagus.
Acquisition is another key strategy that has been adopted by key companies. Due to the presence of numerous small-sized to mid-sized companies, the larger companies acquire smaller and emergent companies to curb the competition and increase their revenue. For instance, Galil Medical, a manufacturer of cryoablation systems and needles, was acquired by BTG plc on 6th May 2016 to expand BTGs product portfolio and market share.
The key players profiled in this report include St. Jude Medical, Inc., Medtronic plc, Boston Scientific Corporation, AngioDynamics, Inc., AtriCure, Inc., Conmed Corporation, Olympus Corporation, Smith & Nephew plc, BTG plc, and Johnson & Johnson. Other players in the ablation devices market include Accuray Incorporated, C.R. Bard, Inc., Varian Medical Systems, Inc., Elekta AB, Misonix, Inc., Hologic, Inc., Stryker Corporation, EDAP TMS S.A., Japan Lifeline Co., Ltd., Halyard Health, Inc., Merit Medical Systems, Inc., Integra LifeSciences Holdings Corporation, Abbott Laboratories, and Terumo Corporation.
GLOBAL ABLATION DEVICES MARKET REVENUE, BY GEOGRAPHY, 2014-2022, ($MILLION)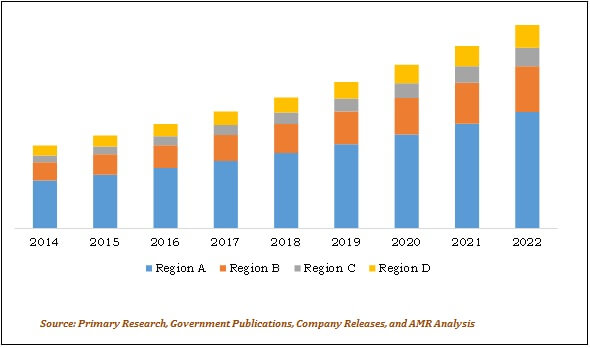 The untapped markets, such as Asia-Pacific, Africa, and Latin America, are anticipated to emerge as a lucrative market, owing to the presence of promising ablation devices, growth in demand of minimally invasive treatments, and rise in disposable incomes. Moreover, a large undiagnosed patient population, rapid urbanization which leads to increasing cases of chronic diseases, growing awareness about prostate cancer, and improved government funding towards healthcare are expected to contribute towards the market growth in these regions.
TURKEY ABLATION DEVICES MARKET, 2014-2022 ($MILLION)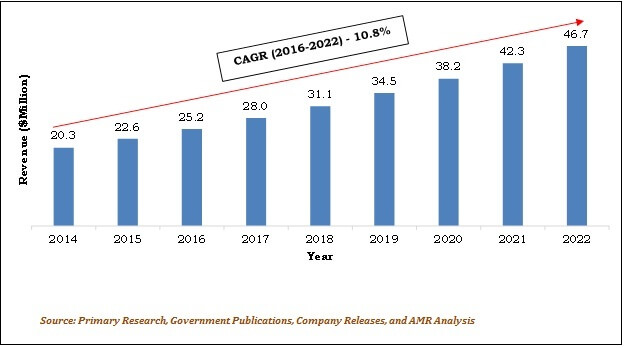 Turkey ablation devices market is projected to grow at a high CAGR of 10.8% during the forecast period. However, lack of awareness and issues pertaining to price constraints could restrain the market growth. However, the presence of untapped ablation devices market would boost the growth of the market. Furthermore, the increase in focus of the key players on the emerging markets (such as Asia-Pacific and LAMEA nations) is primarily set to contribute towards the growth of the market.
KEY BENEFITS FOR STAKEHOLDERS:
The report provides an extensive analysis of the current trends and highlights the market potential from 2014 to 2022.
The market scenario is comprehensively analyzed with respect to the technology, application, function, and procedure.
Comprehensive analysis of the patents and clinical trials is provided to determine the prevailing opportunities.
Recent developments, key manufacturers, and market shares are listed in this report to analyze the competitive scenario of the market.
In-depth analysis of the market based on geography gives an understanding of the regional market, which assists in strategic business planning.
ABLATION DEVICES MARKET KEY SEGMENTS:
The world ablation devices market segmentation is explained below.
By Technology
Thermal Ablation

Electrical

Electrical Ablators

Argon Plasma/Beam Coagulator
Irreversible Electroporation

Electronic Brachytherapy

Radiation

Brachytherapy

High-Dose-Rate Brachytherapy
Pulsed-Dose-Rate Brachytherapy
Permanent Seed Brachytherapy

Stereotactic Radiotherapy & Radiosurgery
Stereotactic Body Radiation
Image Guided Radiation Therapy
Intensity Modulated Radiation Therapy
Proton Beam Therapy

Radiofrequency

Temperature Controlled
Fluid Cooled
Catheter Manipulation Systems

Light

Cold Lasers
Excimer Lasers

Ultrasound

High Intensity Focused Ultrasound (HIFU)
Magnetic Resonance Imaging-Guided Focused Ultrasound (MRI-FUS)
Ultrasonic Surgical Systems
Shock Wave Lithotripsy

Microwave
Hydrothermal

Non-Thermal Ablation

Cryoablation

Tissue Contact Probe
Cryogen Spray Probe
Epidermal and Subcutaneous Cryoablation Devices

Hydromechanical Ablation
By Application
Cancer
Cardiovascular
Ophthalmology
Gynecology
Urology
Orthopedics
Others
By Function
Automated/Robotic
Conventional
By Procedure
Aesthetics-Skin Rejuvenation and Tightening
Aesthetics-Body Sculpting, Fat Reduction, And The Reduction in The Appearance of Cellulite
Benign Prostatic Hyperplasia
Transurethral Needle Ablation
Laser and Other Energy-Based Therapies/Holmium Laser Ablation/Enucleation Of The Prostate
Stress Urinary Incontinence
Menorrhagia/Endometrial Ablation
Uterine Fibroids
Spinal Decompression and Denervation
Varicose Veins
Atrial Fibrillation
Tumor Ablation
Others
By Geography
North America
Europe

Germany
France
UK
Italy
Spain
Russia
Rest of Europe

Asia-Pacific

Japan
China
Australia
India
South Korea
Taiwan
Rest of Asia-Pacific

LAMEA

Brazil
Turkey
Venezuela
Saudi Arabia
Republic of South Africa
Rest of LAMEA