The global acne medication market was valued at $11,865.9 million in 2019, and is projected to reach $13,357.57 million by 2027 at a CAGR of 3.80% from 2020 to 2027.
Acne or acne vulgaris is one of the most common skin conditions majorly caused by changes in skin structures. It affects millions of adolescents across the world. It is characterized by pimples, blackheads, oily skin, and scarring. There are two types of acne including non-inflammatory and inflammatory, where the latter takes longer duration to heal and can cause permanent effects on skin. It generally affects skin with comparatively high number of sweat glands such as upper part of chest, back, and face. Acne medications are drugs that are indicated for treatment of acne. These include several prescription and over-the-counter medicines such as retinoids, isotretinoin, antibiotics, salicylic acid, benzoyl peroxide, and oral contraceptives.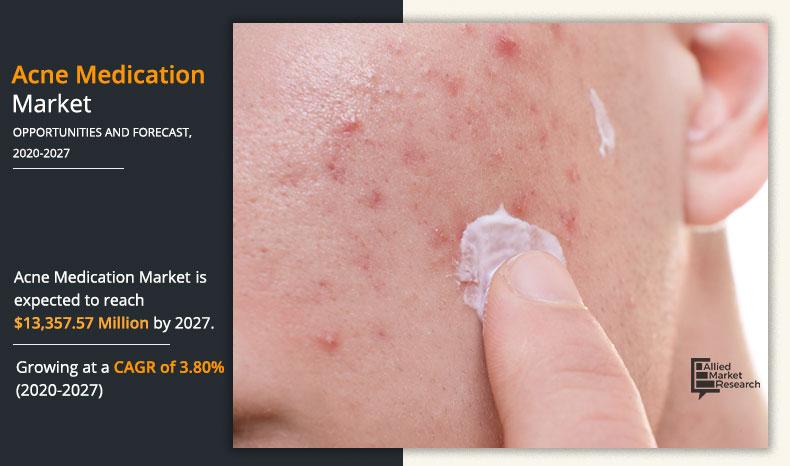 Increase in prevalence of acne diseases is the major factor that contributes toward growth of the acne medication market. Moreover, other factors that fuel the market include unhealthy urban lifestyle and presence of robust acne medications in pipeline. However, side-effects associated with the use of acne medications and presence of alternative treatment impede the market growth. Conversely, development of effective medications with lesser side effects and high market potential in untapped emerging economies are expected to provide lucrative growth opportunities for the market growth.
The COVID-19 outbreak that started from Wuhan city of China has now wide spread globally. Almost every nation is dealing with the outbreak. The acne medication market is impacted by the pandemic as most countries adopted lockdown to combat the pandemic. This pandemic has disrupted growth in many economies across various domains. The COVID-19 pandemic has stressed healthcare systems worldwide and many dermatology clinics are no longer open for public services, owing to safety. Several hospitals and clinics have been transformed into COVID-19 centers using pandemic-designated hospital structures for treatment and isolation of patients with a COVID-19 infection. Furthermore, owing to lockdown, many patients are not able to visit dermatology clinics and pharmacies to pick up prescriptions. In this pandemic situation factors such as telemedicine has become an appropriate and effective way to offer necessary dermatological services to patients with acne.
The global acne medication market is segmented into therapeutic class, formulation, type, acne type, distribution channel, and region. By therapeutic class, the market is divided into retinoids, antibiotics, salicylic acid, benzoyl peroxide, and others. The retinoids segment is further classified into topical retinoid & combination retinoid and oral retinoid (isotretinoin). Moreover, the antibiotics segment is further sub segmented into topical antibiotics & combination antibiotics and oral antibiotics. On the basis of formulation, the market is bifurcated into topical medication and oral medication. By type, it is divided into prescription medicine and over-the-counter (OTC) medicine. By acne type, it is fragmented into non-inflammatory and inflammatory acne. By distribution channel, it is classified into retail Store, pharmacy & drug store, and e-commerce. Region wise, it is analyzed across North America, Europe, Asia-Pacific, and LAMEA.
Acne Medication Market

---
By Therapeutic Class
Retinoids segment holds a dominant position in 2019 and would continue to maintain the lead over the forecast period.
Therapeutic Class segment review
By therapeutic class, the retinoids segment accounted for the largest share in 2019. Retinoids are most effective for moderate to severe acne as it unblocks pores, allowing topical creams and gels to work better. Moreover, retinoids decrease post-inflammatory hyper pigmentation, while simultaneously preventing formation of any new acne on the skin. However, the salicylic acid segment is expected to grow at the highest CAGR from 2020 to 2027.
Acne Medication Market

---
By Formulation
Topical Medication Segment is projected as one of the most lucrative segment.
Type segment review
On the basis of type, presently, the prescription medicine segment is the revenue generating segment in the acne medication market. Prescription acne products such as antibiotics are usually combined with benzoyl peroxide or a topical retinoid that makes up for an effective combination, which is anticipated to drive the prescription acne medication market during the forecast period. On the other hand, the over-the-counter medicine segment is anticipated to record a CAGR of 3.20% during the forecast period, owing to rise in preference of patient population who use over-the-counter(OTC) products as they are convenient to purchase and inexpensive in nature, which propels the acne medication market growth.
Acne Medication Market

---
By Region
Asia Pacific region would exhibit the highest CAGR of 4.9% during 2020-2027.
North America accounted for the largest share of revenue in 2019, and is anticipated to maintain its dominance from 2020 to 2027, owing to numerous developments related to acne therapeutics. However, Asia-Pacific is expected to register highest CAGR during the forecast period, owing to increase in number of product launches, high demand for acne therapeutics, and surge in healthcare expenditure as well as growth in awareness related to new developed therapeutics that can replace conventional acne treatment in this region.
Some of the key players operating in the acne medication market include Almirall SA.,Bausch Health Companies Inc., GlaxoSmithKline Plc (GSK), Johnson & Johnson, Galderma S.A, Mayne Pharma Group Limited, Mylan N.V., Pfizer Inc., Sun Pharmaceutical Industries Limited, and Teva Pharmaceutical Industries Ltd.
Key Benefits For Stakeholders
This report provides a detailed quantitative analysis of the current acne medication market trends and future estimations from 2020 to 2027, which assists in identifying prevailing acne medication market opportunities. 
An in-depth analysis of various regions is likely to provide a detailed understanding of the current trends to the stakeholders to formulate region-specific plans.
Comprehensive analysis of factors that drive and restrain growth of the acne medication market are provided.
Key regulatory guidelines for the acne medication market are critically dealt according to region.
A deep dive analysis of various regions provides insights that would allow companies to strategically plan their business moves.
 Acne Medication Market Report Highlights
Aspects
Details
By Therapeutic Class

Retinoid

Topical Retinoid & Combination Retinoid
Oral Retinoid (Isotretinoin)

Antibiotic

Topical Antibiotic & Combination Antibiotics
Oral Antibiotics

Salicylic Acid
Benzoyl Peroxide
Other medications

By Formulation

Topical Medication
Oral Medication

By Type

Prescription Medicine
Over-the-counter medicines

By Acne Type

Non-inflammatory acne
Inflammatory acne

By Distribution Channel

Retail Store
Pharmacy & Drug Store
E-Commerce

By Region

North America (U.S., Canada, Mexico)
Europe (Germany, France, UK, Italy, Spain, Rest of Europe)
Asia-Pacific (Japan, China, India, Australia, South Korea, Rest of Asia-Pacific)
LAMEA (Brazil, Saudi Arabia, South Africa, Rest of LAMEA)

Key Market Players
ALMIRALL SA, BAUSCH HEALTH COMPANIES INC., GLAXOSMITHKLINE PLC (GSK), JOHNSON & JOHNSON, GALDERMA S.A., MAYNE PHARMA GROUP LIMITED, MYLAN N.V., SUN PHARMACEUTICAL INDUSTRIES LIMITED, PFIZER INC., TEVA PHARMACEUTICAL INDUSTRIES LTD