The global acoustic insulation market size was valued at $12,274.9 million in 2020, and is projected to reach $21,205.7 million by 2030, registering a CAGR of 5.6% from 2021 to 2030. Acoustic insulation is a technique used for reducing, deadening, or controlling sound and noise levels for environmental and regulatory reasons. Acoustic insulating and sound proofing materials are adopted for noise reduction or absorption. Acoustic design is a complicated aspect of architecture and construction that is used to create acoustic insulation systems to achieve optimal building sound quality. Transfer of airborne and structural sounds between various rooms in a building is prevented by insulation. 
The COVID-19 outbreak has affected the growth of the acoustic insulation industry owing to the lockdown measure in the countries and delay in production and manufacturing of acoustic insulation which are utilized in building, construction, industries, and others.
The acoustic insulation market growth in the health concerns against noise pollution, stricter noise pollution regulations, expansion in the building sector, and energy efficiency benefits given by insulating materials. Noise pollution-related rules have a significant influence on the acoustic insulation sector. The World Health Organization (WHO) has issued multiple noise standards for buildings in Europe, resulting in the study of impacts of ambient noise on health of people, as well as various initiatives and increased awareness among urban residents. Acoustic insulation materials have particular features that aid newly constructed structures in meeting the prescribed acoustic solutions mandated by contemporary building codes. Such factors create growth opportunities in the acoustic insulation market. However, lack of understanding about value of acoustics in emerging nations and downturn in the construction industry hampers growth of the market.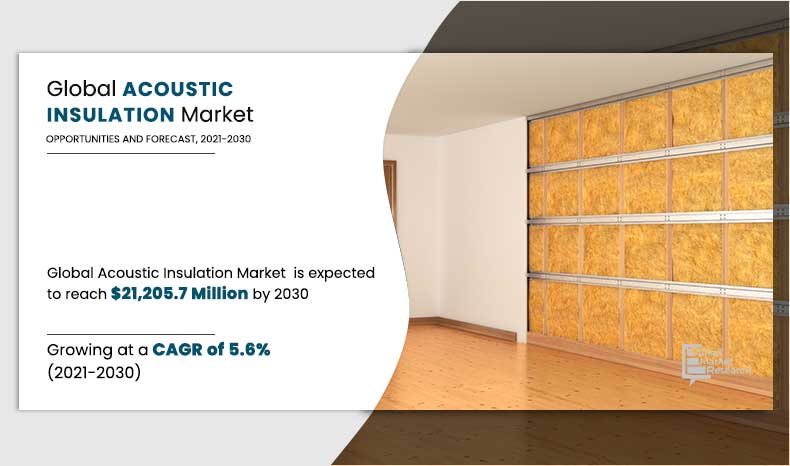 Several acoustic insulation market manufacturers adopt acquisition, product launch, partnership, and collaborations as essential developing approaches to keep ahead of the competition and expand their product line. For instance, in in January 2021, Armacell partnered with German TITK Group and Melamine. Armacell will manufacture affective acoustic insulation products with melamine resin-based nonwovens. This high-performance material has numerous emission requirements and is UV and flame resistant. It does not burn or melt, which makes it outstanding thermal and acoustic insulator for the transportation sector. Similarly, in August 2020, it has also introduced ArmaGel DT acoustic insulator. It offers exceptionally low thermal conductivity, high acoustic performance and has reduced insulation thicknesses compared to other insulation products. Such advanced products from key players impact positively on the market growth. 
The novel coronavirus has rapidly spread across various countries and regions, causing an enormous impact on lives of people and the overall community. It began as a human health condition and has now become a significant threat to global trade, economy, and finance. The COVID-19 pandemic has halted production of many products in the acoustic insulation business, owing the lockdowns. Furthermore, the number of COVID-19 cases are expected to reduce in the future as the vaccine for COVID-19 is introduced in the market. This has led to the reopening of acoustic insulation companies at their full-scale capacities. This is expected to help the market recover by the start of 2022. After COVID-19 infection cases begin to decline, equipment & machinery producers must focus on protecting their staff, operations, and supply networks to respond to urgent emergencies and establish new methods of working.
Acoustic Insulation Market

---
By Material Type
Others segment is projected to grow at a significant CAGR
The global acoustic insulation market is segmented on the basis of material type, sales channel, end user, and region. By material type, the market is categorized into stone wool, glass wool, plastic foam, and others. Depending on end user, it is fragmented into building construction, industrial, and transportation. By sales channel, it is divided into in store and online. Region wise, the global market analysis is conducted across North America (the U.S., Canada, and Mexico), Europe (the UK, France, Germany, Italy, and Rest of Europe), Asia-Pacific (China, Japan, India, South Korea, and Rest of Asia-Pacific), and LAMEA (Latin America, the Middle East, and Africa).
Acoustic Insulation Market

---
By End User
Building and Construction segment holds dominant position in 2020
Competition Analysis
Key companies profiled in the acoustic insulation industry report include Johns Manville, Rockwool International A/S, Owens Corning, Fletcher Insulation, Knauf Gips KG, Trelleborg AB, Saint-Gobain S.A., Paroc Group Oy, Armacell GmbH, and BASF SE.
Acoustic Insulation Market

---
By Region
Europe holds a dominant position in 2020 and Asia-Pacific is expected to grow at a significant rate during the forecast period.
Key Benefits For Stakeholders
The report provides an extensive analysis of the current and emerging acoustic insulation market trends and dynamics.  
In-depth acoustic insulation market analysis is conducted by constructing market estimations for key market segments between 2021 and 2030. 
Extensive analysis of the acoustic insulation market is conducted by following key product positioning and monitoring of top competitors within the market framework.
A comprehensive analysis of all the regions is provided to determine the prevailing opportunities.
The global acoustic insulation market forecast analysis from 2021 to 2030 is included in the report.
The key players within acoustic insulation Industry are profiled in this report and their strategies are analyzed thoroughly, which help understand the competitive outlook of the Acoustic insulation industry. 
 Acoustic Insulation Market Report Highlights
Aspects
Details
BY MATERIAL TYPE

Stone Wool
Glass Wool
Plastic Foam
Others

BY SALES CHANNEL
BY END USER

Building Construction
Industrial
Transportation

BY REGION

North America
Europe

Germany
UK
France
Italy
Rest of Europe

Asia-Pacific

China
India
Japan
South Korea
Rest of Asia-Pacific

LAMEA

Latin America
Middle East
Africa