Acrylic Acid Market Outlook - 2021–2030
The global acrylic acid market size was valued at $12.0 billion in 2020, and is projected to reach $19.2 billion by 2030, growing at a CAGR of 4.8% from 2021 to 2030.
Statement for COVID-19 banner: Disruptions in the supply chain caused due to the lockdown measures have severely hampered the acrylic acid raw material trade thereby impacting the demand from the end-use industries and creating a negative impact on the global acrylic acid market.
Acrylic acid is an organic compound with a tart or acrid odor. Acrylic acid is used as a feedstock for the production of acrylate esters. Acrylate ester has various applications including Paper treatment, plastic additives, textiles, sealants, adhesives, and surface coatings. In addition, acrylic acid is also utilized in the production of sanitary medical devices, detergents, and wastewater treatment chemicals. Industries are developing and commercializing processes for producing acrylic acid from petrochemicals. Due to stringent regulations on commercial usage of acrylic acid, producers are turning to bio-based techniques to produce acrylic acid and acrylates from renewable resources such as glycerol and sugar. When compared to petrochemical techniques, renewable feedstock produces cost-competitive results.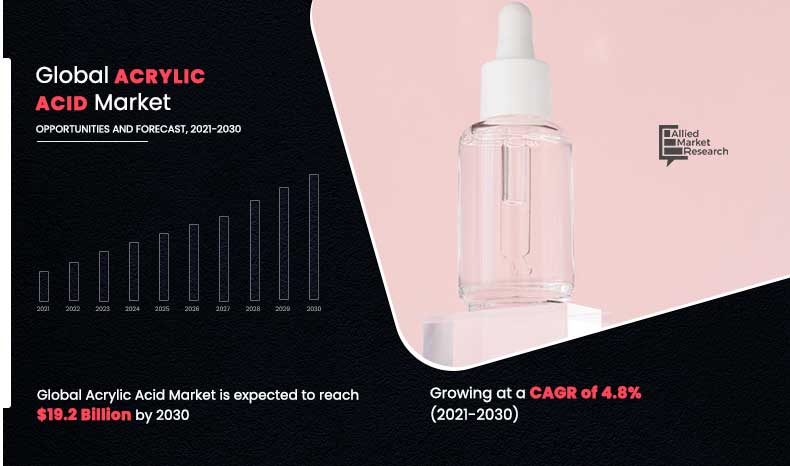 The acrylic acid market is driven by rising demand for superabsorbent polymers and widespread acceptance of acrylic-based products in emerging economies such as Asia-Pacific. Stringent government regulations are implemented on the use of acrylic acid because of environmental concerns in regions such as North America and Europe, which acts as a major restraining factor for the growth of the acrylic acid market. The commercialization of bio-based acrylic acid, as well as the increased demand for poly (methyl methacrylate) or PMMA resins in various industries are expected to get a number of growth opportunities for this market.  Hence, the producers of acrylic acid focus on R&D to find bio-based sources for the production of acrylic acid. 
The global acrylic acid market is segmented on the basis of derivative type, end-user, and region. By derivative type, the market is fragmented into acrylic esters, acrylic polymer, and others. Acrylic esters segment further segmented into methyl acrylate, ethyl acrylate, butyl acrylate, and ethylhexyl acrylate. Acrylic polymer segment is further segmented into acrylic elastomers, super absorbent polymers, and water treatment polymers. Others segment is further segmented into ammonium polyacrylate and cyanopolyacrylate. By end-user, the market is divided into diapers, surface coatings industry, adhesives and sealants industry, plastic additives industry, water treatment industry, textiles industry, surfactants industry, and others. Region-wise, the market is analyzed across North America, Europe, Asia-Pacific, and LAMEA.
Comprehensive competitive analysis and profiles of major market players, such as Mitsubishi Chemical Holdings Corporation, Arkema S.A., BASF SE, The Dow Chemical Co., The Lubrizol Corporation, Evonik, Industries Ag, LG Chem Ltd., Myriant Corporation, Formosa Plastic Group, and SIBUR, are considered in the report. 
Acrylic acid market, by derivative type
The acrylic polymer segment dominated the global acrylic acid market in 2020, and is expected to maintain its dominance during the forecast period, owing to increasing adoption of superabsorbent polymers by the manufacturers of disposable diapers.
Acrylic Acid Market

---
By Derivative Type
Acrylic Polymer is projected as the most lucrative segment.
Acrylic acid Market, by End-user
The diapers segment dominated the global acrylic acid market in terms of revenue, in 2020, owing to Rapid rise in consumers' disposable income and growth in urbanization are driving the adoption of acrylic based diapers in emerging and developed economies.
Acrylic Acid Market

---
By End-user
Diapers is projected as the most lucrative market.
Acrylic acid Market, by Region
The Asia-Pacific region accounted for the largest share of the acrylic acid market in 2020. The Asia-Pacific market for acrylic acid is expected to grow at the highest CAGR, in terms of both volume and value, emerging economies such as China, India, and others, generate a very high demand for acrylic acid owing to a relatively large adult population.
Acrylic Acid Market

---
By Region
Asia-Pacific is projected as the most lucrative segment.
Key Benefits For Stakeholders
The report provides in-depth analysis of the global acrylic acid market along with the current trends and future estimations. 
This report highlights the key drivers, opportunities, and restraints of the market along with the impact analysis during the forecast period.
Porter's five forces analysis helps to analyze the potential of the buyers & suppliers and the competitive scenario of the global acrylic acid market for strategy building.
A comprehensive market analysis covers the factors that drive and restrain the global Acrylic acid market growth.
The qualitative data about market dynamics, trends, and developments is provided in the report.
Impact Of Covid-19 On The Global Acrylic Acid Market
Superabsorbent polymers (SAP) manufacturers benefitted from a short-term hike in sales as consumers sought to stock up on nappies and other hygiene products owing to national lockdowns implemented due to the COVID-19 pandemic. This was particularly noticeable in the European and American markets, where there was a surge in demand that resulted in a temporary tightening of the system and empty grocery shelves. However, as the supply chain was normalized and buying habits restored to a more typical pattern, the situation was relieved.
The construction industry has faced difficulties as a result of the COVID-19 epidemic, including logistics and shortage of raw derivative type. Attributed to the massive drop in financial markets around the world, it is projected that construction investments have been withdrawn globally. As a result, the demand for acrylic acid has decreased. The restrictions imposed by governments to combat the virus's impacts may result in lack of raw derivative type and people as well as disrupted supply chains, making it more difficult to meet contractual responsibilities. Furthermore, COVID-19 pandemic has forced builders to postpone the projects. These factors will hinder the acrylic acid market growth.
According to the International Finance Corporation, due to the COVID-19 crisis, it is expected to slow down global investments in the water sector. According to a survey conducted by Global Water Leaders Group, the outbreak will reduce industrial water demand by about 27%. As a result, demand for water treatment chemicals is expected to fall in the water sector, which will negatively impact the acrylic acid market.
 Acrylic Acid Market Report Highlights
Aspects
Details
By Derivative type

Acrylic Esters
Acrylic polymer
Others

By Formulation

Water-borne Coating
Solvent-borne Coating
Solventless Coating
Powder Coating
Radiation Curable Coating

By End-user

Diapers
Surface Coatings Industry
Adhesives And Sealants Industry
Plastic Additives Industry
Water Treatment Industry
Textiles Industry
Surfactants Industry
Others

By Region

North America (U.S., Canada, Mexico)
Europe (France, Germany, Italy, Spain, U.K., Rest Of Europe)
Asia-Pacific (China, Japan, India, South Korea, Australia, Rest of Asia Pacific)
LAMEA (Brazil, South Africa, Saudi Arabia, UAE, Rest of LAMEA)

By Key Market Players

Mitsubishi Chemical Holdings Corporation
Arkema S.A.
BASF SE
The Dow Chemical Co.
The Lubrizol Corporation
Evonik, Industries Ag
LG Chem Ltd.
Myriant Corporation
Formosa Plastic Group
SIBUR