Active Insulation Market Research, 2031
The global active insulation market forecast was valued at $288.5 million in 2021, and is projected to reach $512.8 million by 2031, growing at a CAGR of 5.9% from 2022 to 2031.
Active insulation is a thermal insulation or a type of clothing layer that is used as an ideal mid-layer for protecting against cold. Active insulation allows to create warm environmental conditions by allowing exchange of moisture/sweat.                 
Thermal layering is an important consideration or essential aspect considered by mountaineers and ice climbers. Proper layering of active thermal insulation protects ice climbers from harsh cold climatic conditions. Ice climbing includes high intensity activities and some low intensity activities. However, climbers needs to be protected and should keep themselves warm in both working conditions. However, the climbers need less thermal protection during climbing as they tend to sweat owing to high climbing activity and other factors. Thus, these ice climbers need proper active insulation that might be worn outside the protective gears or as a mid-layer thermal protection. In addition, protective textiles that are used by mountain climbers and army personnel are vulnerable to growth in intensity of body heat. Growth in body heat further escalates saturation and discomfort level. Thus, polyester blend active insulation materials are widely used during manufacturing of protective textiles used by mountain climbers. Active insulated pants are generally constructed on box chamber design that allows absorption of heat internally within the textile keeping and making cool environment conditions in the warm environmental condition and vice-versa in cold climatic conditions. All these factors are major active insulation growth factors.
The global active insulation industry has been negatively affected amid the COVID-19 pandemic. Active thermal insulation products are used in order to minimize heat loss by building external walls. Building & construction industry is prone to economic change. For instance, emergence of COVID-19 had a significant impact on the construction industry owing to change in economic trends across the globe. This in turn has negatively impacted the growth of the active insulation market during the pandemic.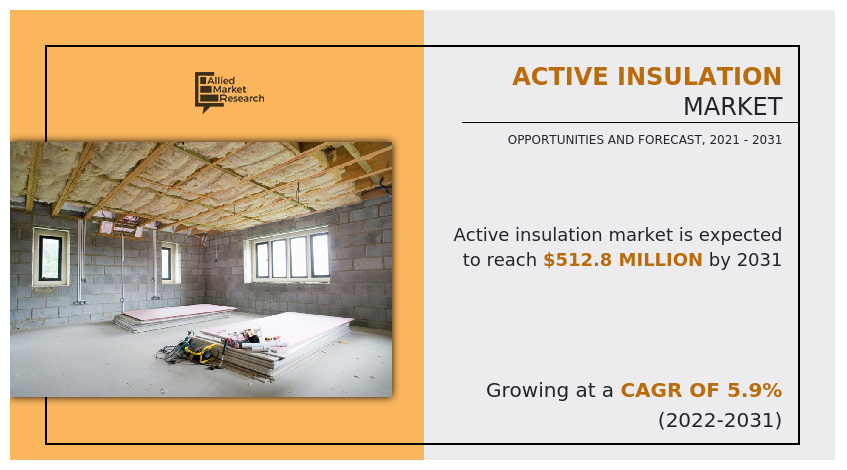 However, passive house design includes thick walls and air tight construction in order to minimize heat loss and infiltration. U-value determines the intensity of active insulation products used in building & construction industry. Use of thick conventional insulation lowers the U-value and improves intensity of active insulation used in passive house design. However, retrofitting of houses with active insulation is high cost process and potential risk of interstitial condensation may occur in the retrofitted buildings. This factor is anticipated to hamper the market growth.
On the contrary, protective textiles used during mountain climbers and army sector require proper thermal insulation and should be capable of sustaining extreme temperature variations. Active insulation materials are capable of withstanding temperature variation, offers breathability, and are durable. All these factors make active insulation a widely used material during production of protective textiles used by mountain climbers and army. Key-players in the active insulation market are launching innovative products that have evolutionary design and improved performance level. For instance, Down, a key-player in the active insulated clothes witnessed a downfall in sales. However, business strategies such as product launch, have created new growth opportunities to the company. Down active insulated products are well-known for their thermal protection level, strength to weight ratio, and performance level. In addition, availability of wide choice of active insulated products in the market is anticipated to offer new growth opportunities. For example, consumers can choose active insulation depending upon their activities such as jackets ranging from active sports activity to high altitude ice climbing. In addition, these active insulation layers are feather weight and highly compressible making them easy to be packed during mountain hike activities.
The active insulation market is segmented on the basis of material, application, and region. On the basis of material, the market is categorized into polyester, cotton, wool, nylon, and expanded polystyrene (EPS). The applications covered in the report include textile and building & construction. Region wise, the market is studied across North America, Europe, Asia-Pacific, and LAMEA.
The major companies profiled in this report include BASF Corporation, Hdwool Ltd., Invista Textiles, 3M Company, Polartec, LLC, Polybond Insulation Private Limited, Remmers, Stoney Creek Limited, Toray Industries, Inc., and W.L. Gore & Associates.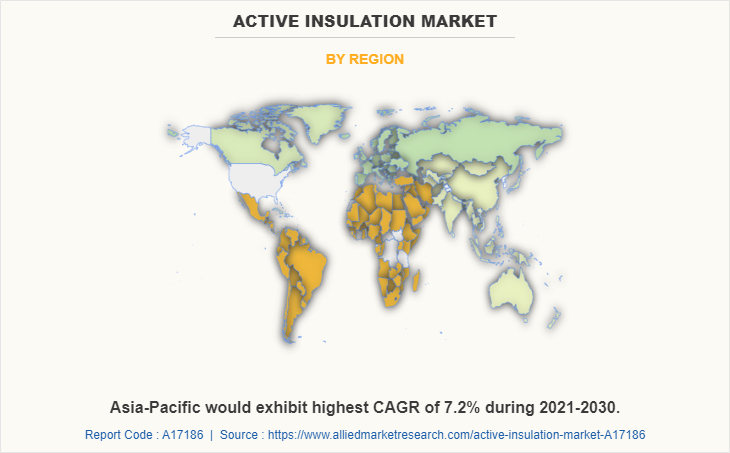 The Asia-Pacific active insulation market accounted for 24% of the global active insulation market share in 2021, and is projected to grow at the highest CAGR of 7.2% during the forecast period. Nylon is mainly used during production of active insulation pants that are used during trekking, mountain climbing, and others. Nylon active insulation pants are developed such that the heat produced during activity can be easily transferred internally within the textile that in turn creates cool climatic conditions and vice-versa.  Presence of several trekking destinations near Australia such as Fraser Island Great Walk, Heysen Trail, Kangaroo Island, and others, has attracted large number of trekkers across these trekking destinations. This in turn has escalated the demand for active insulated trekking pants, which is driving the demand of the global market.
In 2021, the polyester material segment was the largest revenue generator, and is anticipated to grow at a CAGR of 6.2% during the forecast period. Use of polyester blend active insulation for production of protective textile and rise in use of this protective textile by defense sector is the key market trend. Protective textiles used by army personnel require textile that should be light weight, should have high breathability, and should offer efficient thermal insulation. Polyester blend active insulated protective textiles are proven to offer high breathability during army activities that in turn provides proper comfort to the army person. In addition, polyester active insulation layers tend to offer durability and offer required thermal insulation, which drives the demand of the global market.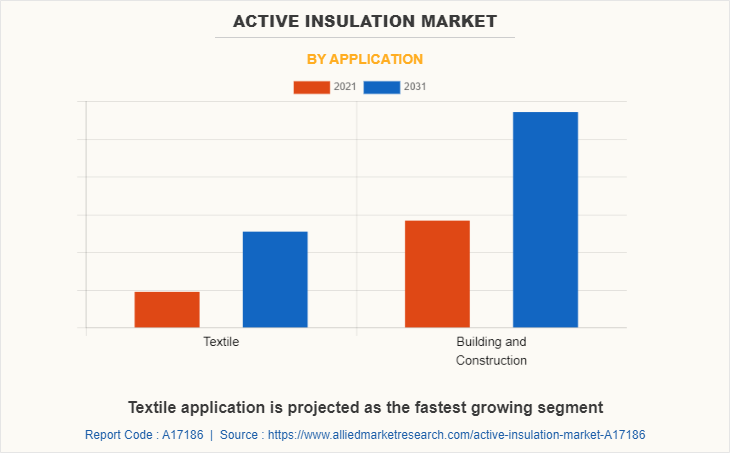 By application, the building & construction application dominated the global market in 2021, and is anticipated to grow at a CAGR of 5.8% during the forecast period. Growing concern over exhaustion of the natural energy resources and rise in environmental pollution accounting from building & construction industry are anticipated to offer growth opportunities for active insulation market. For instance, according to publication by ScienceDirect in 2019, the residential construction segment accounted for 25% of energy consumption in Europe. Thus, in order to minimize the energy consumption several regulations and standards have been implemented. This in turn has put forward several growth factors that are anticipated to drive the demand for the active insulation market in building & construction application.
Key Benefits For Stakeholders
This report provides a quantitative analysis of the market segments, current trends, estimations, and dynamics of the active insulation market analysis from 2021 to 2031 to identify the prevailing active insulation market opportunities.
The market research is offered along with information related to key drivers, restraints, and opportunities.
Porter's five forces analysis highlights the potency of buyers and suppliers to enable stakeholders make profit-oriented business decisions and strengthen their supplier-buyer network.
In-depth analysis of the active insulation market segmentation assists to determine the prevailing market opportunities.
Major countries in each region are mapped according to their revenue contribution to the global market.
Market player positioning facilitates benchmarking and provides a clear understanding of the present position of the market players.
The report includes the analysis of the regional as well as global active insulation market trends, key players, market segments, application areas, and market growth strategies.
 Active Insulation Market Report Highlights
Aspects
Details
By Application

Textile
Building and Construction

By Material

Polyester
Cotton
Wool
Nylon
Glass Wool
Expanded Polystyrene

By Region

North America (U.S., Canada, Mexico)
Europe (Germany, U.K., France, Spain, Italy, Rest of Europe)
Asia-Pacific (China, India, Japan, South Korea, Australia, Rest of Asia-Pacific)
LAMEA (Brazil, Saudi Arabia, South Africa, Rest of LAMEA)

Key Market Players
Stoney Creek Limited, Toray Industries, Inc., Invista Textiles, Polybond Insulation Private Limited, Hdwool Ltd, W.L. Gore and Associates, BASF SE, Polartec, LLC, Remmers, The 3M Company