Active Optical Cable Market Outlook - 2028
The global active optical cable market size was valued at $1.63 Billion in 2019, and is projected to reach $12.60 Billion by 2028, growing at a CAGR of 27.5% from 2021 to 2028. 
An active optical cable (AOC) is a cabling technology that uses optical fiber between the connectors to improve the cable's performance. There is a rise in demand for AOC cable as it serves as an alternative to copper cables, due to its various advantages such as small bend radius for easy installment, low power consumption, and light weight. Applications of these cables have expanded from high-performance computers to networking and storage with the support of many protocols. In addition, active optical cable relies on different protocols, such as InfiniBand, USB, and Ethernet, for data transmission.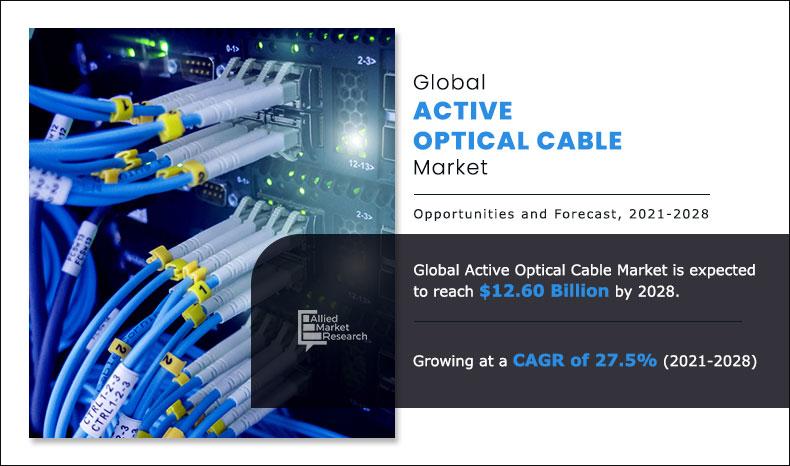 According to active optical cable market analysis, numerous governments across the globe have invested in active optical cables across all public communication networks and taken several initiatives to improve the network infrastructure in their countries. Rise in number of hacking incidents in WLAN networks offers opportunities for the growth of the active optical cable market. 
The commercial sectors dealing with voluminous data prefers AOC with high bandwidth and speed, as wireless connection can be damaged by overload and extended users. In addition, the adoption of emerging technologies such as software-defined networking (SDN) and network-function virtualization (NFV) is expected to impact the growth of the active optical cable market globally.
Increase in adoption of active optical cables based on Ethernet protocols by various end users mainly due to features such as offering virtualized connectivity and minimized errors within switch to switch, server to switch, and many other high-speed storage applications with cost-efficiency fuels the market demand toward Ethernet-based optical cables. Moreover, these optical cables are capable of offering high EMI, resistivity, which makes it ideal choice for various end-use applications within harsh industrial environments. As these optical cables are ruggedized in nature, they are getting high adoptability across applications such as high-speed control and data systems, aircraft system ground stations, avionics system controls, and others. 
Active Optical Cable Market

---
By Technology
HDMI Segment holds a dominant position throughout the forecast period.
Factors such as increase in bandwidth requirements, huge data center deployments, and rise in adoption of virtualization and cloud-based service drive the growth of the active optical cable market globally. However, the major challenges faced by the industry include high implementation cost of AOC cable and vulnerability to physical damage and transmission losses. Furthermore, improved connectivity in emerging countries and advancements in fiber optics technology are expected to create lucrative opportunities for the market growth in the coming years.
Segmentation
The active optical cable market size is segmented on the basis of connector type, technology, application, and region. The connector type segment is divided into QSFP, CXP, CDFP, CFP, SFP, and others. By protocol, the market is analyzed across InfiniBand, Ethernet, HDMI, DisplayPort, USB, and others. By application, the market is studied across data center, high-performance computing, personal computer, digital signage, consumer electronics, and others. By region, the market is analyzed across North America, Europe, Asia-Pacific, and LAMEA along with their prominent countries.
Active Optical Cable Market

---
By Application
Digital Signage segment will grow at a highest CAGR of 30.8% during 2021 - 2028
COVID-19 Impact Analysis
The ongoing spread of COVID-19 has become one of the biggest threats to the global economy and is causing widespread concerns and economic hardship for consumers, businesses, and communities across the globe. The "New Normal" that includes social distance and working from home has created challenges with daily activities, regular work, needs, and supplies, causing delayed initiatives and missed opportunities.
The COVID-19 pandemic is impacting the society and overall economy across the global. The impact of this outbreak is growing day-by-day as well as affecting the supply chain. It is creating uncertainty in the stock market, falling business confidence, massive slowing of supply chain, and increase in panic among the customer segments. 
The European countries under lockdowns have suffered a major loss of business and revenue due to shutdown of manufacturing units in the region. The operations of the production and manufacturing industries have been heavily impacted by the outbreak of the COVID-19 disease; thereby, leading to slowdown in the growth of the active optical cable market share in 2020.
COVID-19 has severely impacted the global automotive and industrial sector as the production facility have stalled, which in turn have the significant demand in the industries. The symptoms include a large-scale manufacturing interruption across globe and disruption in export of Chinese parts, which may hinder the active optical cable market growth.
The emergence of COVID-19 has declined the growth rate of the active optical cable market in 2020, and is estimated to witness slow growth by the end of 2021. Implementation of partial or complete lockdown across various countries globally is the prime reason for this decline in the growth rate. As the industries were temporarily shut, it reduced the need of maintenance from various industries. However, the demand from power plants and oil & gas refineries remain to have unaltered effect of COVID-19 pandemic.
Top Impacting Factors
The significant factors impacting the growth of the global active optical cable market include growth in the demand for higher bandwidth, adoption of active optical cables, and shifting of the telecom sector toward optical network. However, high implementation cost acts as the major barrier for early adoption; thereby, hampering the growth of the market. On the contrary, improved connectivity in emerging countries and the advancement of optical technologies are the factors anticipated to provide lucrative opportunities for the growth of the active optical cable market during the forecast period.
Competitive Analysis
The key players profiled in the active optical cable industry include 3M Company, Amphenol Corporation, Avago Technologies Limited, Finisar Technologies, Fujitsu Limited, IBM, Lumentum Holdings Inc., Molex LLC, Siemon Company, and Sumitomo Electric Industries ltd.
These key players have adopted strategies, such as product portfolio expansion, mergers & acquisitions, agreements, geographical expansion, and collaborations to enhance their market penetration.
Active Optical Cable Market

---
By Region
Asia-Pacific region would exhibit the highest CAGR of 30.6% during 2021-2028
Key Benefits For Stakeholders
This study includes the analytical depiction of the active optical cable market forecast along with the current trends and future estimations to determine the imminent investment pockets.
The report presents information regarding the key drivers, restraints, and opportunities in the active optical cable market outlook.
The active optical cable market trends are quantitatively analyzed from 2019 to 2028 to highlight the financial competency of the industry.
Porter's five forces analysis illustrates the potency of the buyers and suppliers in the industry.
 Active Optical Cable Market Report Highlights
Aspects
Details
By Technology

InfiniBand
Ethernet
HDMI
DisplayPort
USB
Others

By Connector Type

QSFP
CXP
CDFP
CFP
SFP
Others

By Application

Data Center
High-Performance Computing
Personal Computing
Digital Signage
Consumer Electronics
Others

By Region

North America (U.S., Canada, Mexico)
Europe (UK, Germany, France, Russia, Rest of Europe)
Asia-Pacific (China, Japan, India, Australia, Rest of Asia-Pacific)
LAMEA (Latin America, Middle East, Africa)

Key Market Players
3M COMPANY, AMPHENOL CORPORATION, AVAGO TECHNOLOGIES LIMITED (BROADCOM INC.), FINISAR CORPORATION (II-VI INC.), FUJITSU LIMITED, INTERNATIONAL BUSINESS MACHINES CORPORATION (IBM), LUMENTUM HOLDINGS INC., MOLEX, LLC, SIEMON COMPANY, SUMITOMO ELECTRIC INDUSTRIES, LTD.