Additives Market Outlook - 2021–2028
The global additives market forecast was valued at $150.0 billion in 2020, and is projected to reach $212.7 billion by 2028, growing at a CAGR of 4.6% from 2021 to 2028.
Industries such as building & construction, oil & gas, automotive, and chemical are major consumers of additives, however, temporary closure of these industries has impacted negatively on the global additives market amid COVID-19 pandemic.
Additive is an active substance that is added to improve specific properties such as performance, texture, efficiency, shelf life, and productivity. Various types of additives available in the market such as plastic additives, food additives, construction additives, lubricant additives, fuel additives, coating additives, and agrochemical additives. Plastic products that are used in applications such as synthetic bumper, dashboards, steering wheels, plastic hypodermic syringes, and artificial hip joints are made up of polymer mixed with a composite combination of materials known as plastic additives. Food additives are substances that are added to food products to improve shelf life as well as enhance flavor, appearance, and other sensory qualities.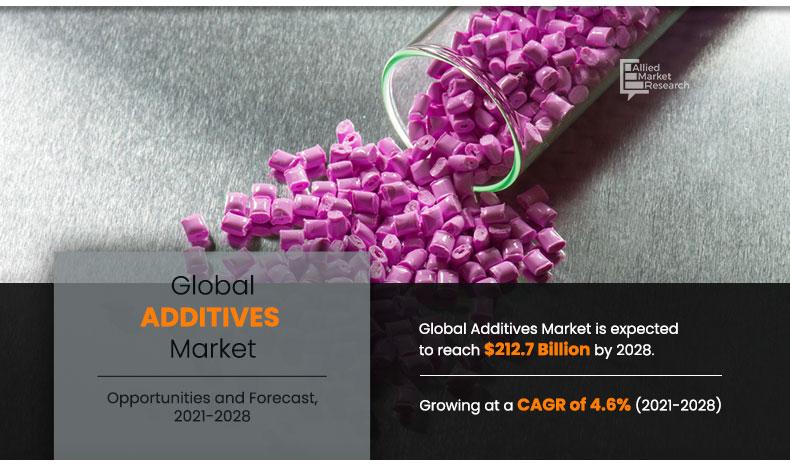 The growth of the global additives market is driven by rise in adoption of lightweight materials in automotive sector and development of the food & packaging industry. In addition, increase in awareness for hygienic food options has surged the demand for packed food & beverage items. According to a report, the packed food & beverage industry has launched around 3,500 new food products worldwide over the past 12 months. These packed food & beverage items are widely preferred by individuals due to their freshness, hygiene, taste, and other specifications. These specifications are met by using a wide range of food additives such as monosodium glutamate (MSG), high fructose corn syrup, guar gum, and sodium nitrite. However, several regulations led by regulatory bodies for intended use of additives is predicted to hamper the market growth during the forecast period. Food additives such as MSG and sulfite can cause headaches, redness of eyes & skin, nausea, sweating, and weakness-like health disorders if they are exposed beyond specified level.
On the contrary, the intense research & development in the medical field to make medicines more effective by using various additives such as solubilizing additives, surfactants additives, stabilizing additives, and other parental additives is anticipated to offer remunerative opportunities for the expansion of the global market.
The global additives market analysis is done based on product type, end use, and region. Depending on product type, the market is segregated into plastic, food, construction, lubricant, fuel, coating, agrochemical, medicated feed, and others. Plastic additive is sub-segmented into plasticizers, impact modifiers, UV stabilizers, and others. Food additives are further segregated into preservatives, flavor enhancers, and others. Construction additives are subdivided into retarding agents, waterproofing agents, and others. Lubricant additives are further classified into anti-oxidants, viscosity index improvers, and others. Fuel additives are sub-segmented into gasoline stabilizer, octane boosters, and others. Agrochemical additives are subcategorized into alkoxylates, agricultural emulsifier blend, and others. Coating additives are segmented into rheology modifiers, wetting agent, and others. Medicated feed additives are fragmented into antioxidants, antibiotics, and others. Other additives include battery additives, aquafeed additives, silicone additives, and surface additives. The major end users covered in the study include packaging, food & beverages, building & construction, chemical, automotive, aerospace, animal husbandry, and others. On the basis of region, the global additives market is studied across North America, Europe, Asia-Pacific, and LAMEA. Presently, Asia-Pacific garners the largest share in the global market, followed by North America and Europe. The major companies profiled in this report include BASF SE, Clariant AG, Dow Inc., Evonik Industries AG, Lanxess AG, Eastman Chemical Company, Milliken Chemical, PolyOne Corporation, Sanitized AG, and BioCote Limited.
Additives market, by region
The Asia-Pacific additives market size is projected to grow at the highest CAGR of 5.3% during the forecast period and accounted for 38.3% of additives market share in 2020. Rheology modifiers, dispersing, wetting agent, impact modifier, and anti-foaming additives used in outer coating materials of railways and submarines. This, in turn, has forced additives manufacturers to multiply the production of additives, which exhibit high resistance to corrosion, thereby protection the outer surfaces. Thus, development of the transportation sector majorly the railway sector in Japan and submarines & ships manufacturing sectors in China and India act as the key factors augmenting the growth of the additives market in Asia-Pacific.
Additives Market

---
By Region
Asia-Pacific would exhibit highest CAGR of 5.30% during 2021-2028.
Additives market, by product type
In 2020, the food additives segment was the largest revenue generator segment, and is anticipated to grow at CAGR 4.4% in the forecast period. Polystyrene, polyamide, polycarbonate, polyesters, polyethylene, polypropylene, and polyurethanes belongs to plastic group that widely use plastic additives for various processes such as coloration and light & process stabilization. However, the plastic additives segment is predicted to grow with 5.3% CAGR due to extensive use of food additives for preserving flavor and enhancing taste, appearance, and other sensory qualities.
Additives Market

---
By Product Type
Plastic additives type is the most lucrative segment
Additives market, by end use
In 2020, the food & beverages segment was the largest revenue-generating segment, and is anticipated to grow at CAGR of 4.2% during forecast period, while the packaging segment is anticipated to grow with 5.9% CAGR during the forecast period. 
Additives Market

---
By End-use
Packaging end-use is projected as the fastest growing segment
Key benefits for stakeholders
Porter's five forces analysis helps analyze the potential of buyers & suppliers and the competitive scenario of the industry for strategy building.
It outlines the current additives market trends and future estimations from 2020 to 2028 to understand the prevailing opportunities and potential investment pockets.
The major countries in the region have been mapped according to their individual revenue contribution to the regional market.
The key drivers, restraints, and opportunities and their detailed impact analysis are explained in the study.
The profiles of key players and their key strategic developments are enlisted in the report.
Impact Of Covid-19 On The Global Additives Market
The COVID-19 pandemic has negatively affected the global economy and is subsequent shrinking the GDP in global economies, thereby changing consumer spending patterns globally.
There are several challenges put forward by COVID-19 pandemic, however, according to the International Food Additives Council (IFAC), food additives are gaining importance in the food sector, owing to their capability of maintaining safety and quality of foods in the home pantry.
According to a report by Food Ingredients First, there has been a rise in kitchen staple products such as rice, flours, lentils, grains, and bakery ingredients. Food additives help to extend product shelf life and allow consumers to stock up on food products without trepidation of instantaneous expiration. 
Major key players in the global market are launching innovative additives to tackle the spread of coronavirus.  
In addition, automotive manufacturers prefer incorporation of additives during manufacturing of interiors to curb the spread of trapped virus particles inside the cabin. 
Key market segments
By Product Type
Plastic Additive
Food Additive
Construction Additive
Lubricant Additive
Fuel Additive
Coating Additive
Agrochemical Additive
Medicated Feed Additive
Others
By End-Use
Packaging
Food & Beverage
Building & Construction
Chemical
Automotive
Aerospace
Animal Husbandry
Others
By Region
North America
Europe

Germany
UK
France
Italy
Spain
Rest of Europe

Asia-Pacific

China
Japan
India
South Korea
Australia
Rest of Asia-Pacific

LAMEA

Brazil
Saudi Arabia
South Africa
Rest of LAMEA
Key players in the global additives market are:
BASF SE
Clariant AG 
Dow Inc.
Evonik Industries AG
Lanxess AG
Eastman Chemical Company
Milliken Chemical
PolyOne Corporation
Sanitized AG
BioCote Limited