Adenovirus Diagnostic Testing Market Outlook - 2028
Adenovirus is a group of common viruses that infect the lining of the airways of the lungs, eyes, urinary tract, intestines, and nervous system. These viruses are the common causes of pneumonia, fever, diarrhea, sore throats, and pink eye. Adenovirus infections commonly happen in children, but anyone can develop them. Infections cause mild symptoms and can get better on their own in just a few days. However, in people with weak immune systems, adenovirus infection can be severe. Currently, the most commonly used adenovirus diagnostic tests include the use of polymerase chain reaction (PCR) assays and antigen detection tests.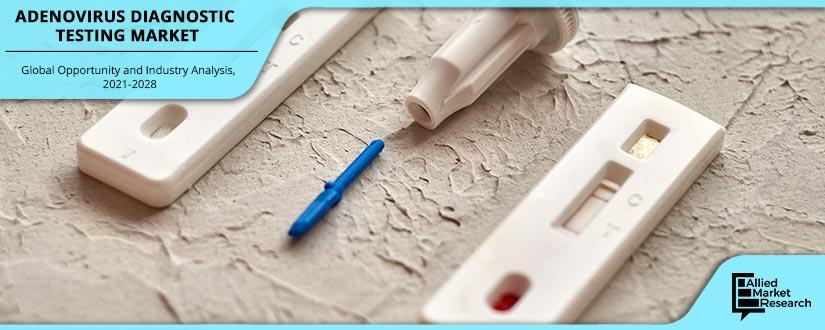 COVID-19 Impact Analysis
COVID-19 is an infectious disease that originated in the Hubei province of the Wuhan city in China in late December. The highly contagious disease, caused by a virus, severe acute respiratory syndrome coronavirus 2 (SARS-CoV-2), is transmitted from human to human. Since the outbreak in December 2019, the disease has spread to almost 213 countries around the globe with the World Health Organization declaring it a public health emergency on March 11, 2020.
At the early phase of the COVID-19 pandemic, there was no availability of specific diagnostic tests to detect the disease in patients. Alternative diagnostic tests were used initially but were not much effective. This unavailability of specific COVID-19 diagnostic tests presented lucrative opportunities for diagnostic manufacturers to introduce their COVID-19 diagnostic kits. Many leading players as well as some start-ups from various countries utilized this opportunity and introduced COVID-19 diagnostics kits into local as well as global adenovirus diagnostic testing market. These players achieved an edge over other diagnostics players capitalizing on the opportunity from demand for COVID-19 diagnostic tests, which, in turn, helps them in maintaining their revenues in such a crisis.
Owing to such factors, COVID 19 is expected to have a significant impact on the adenovirus diagnostic testing market.
Top Impacting Factors
Validation of adenovirus is crucial for selecting the most appropriate treatment for the infection. In addition, since adenovirus infection is associated with many clinical syndromes and nonspecific manifestations, the diagnosis on clinical criteria alone is quite challenging. Due to this, there is a rise in demand for adenovirus diagnostic testing kits, which drives the adenovirus diagnostic testing market growth.
When it comes to diagnosing adenovirus, there has been a significant increase in the use of monoclonal antibodies. These antibodies help detect cells infected by adenovirus using direct fluorescence antibody assay. In addition, detection and amplification of adenovirus DNA by polymerase chain reaction (PCR) methods are gaining popularity and are positively influencing the adenovirus diagnostic testing market.
Research and development of technologies for use in the diagnosis of infections of viral etiology is growing, which fuels the adenovirus diagnostic testing market growth.
However, lack of awareness of adenovirus infection in developing countries and stagnant reimbursement policies for healthcare in these nations negatively affect the market .
Key Market Trends
North America is anticipated to gain significant market traction, owing to increase in public health concerns regarding infectious diseases such as pneumonia. Pneumonia is known to be associated with adenovirus infection.
In Africa, a large number of children who are underserved are infected with adenovirus, hence, the diagnostic testing market is expected to gain traction in Africa.
Manufacturers are offering different immunoassays for the detection of adenovirus antigens. One of the immunoassays offered by Abbott, Inc. is the SD BIOLINE Rota/Adeno Ag test. This test helps in the qualitative detection of adenovirus and rotavirus antigen in human fecal specimens.
In 2017, the University of California, San Francisco (UCSF) collaborated with Abbott, Inc. to characterize and discover a novel virus. They are focusing on developing diagnostic tools that help address the potential health threats caused by adenovirus infections.
Vendors are focusing on improving the quality of their assays by conducting surveillance projects at hospitals. If they receive concerns about their test kits, they subsequently perform a parallel evaluation for the improvement of the diagnostic methods.
Key Benefits of the Report
This study presents the analytical depiction of the adenovirus diagnostic testing industry along with the current trends and future estimations to determine the imminent investment pockets.
The report presents information related to key drivers, restraints, and opportunities along with a detailed analysis of the adenovirus diagnostic testing market share.
The current market is quantitatively analyzed to highlight the growth scenario.
Porter's five forces analysis illustrates the potency of buyers & suppliers in the market.
The report provides a detailed analysis depending on competitive intensity and how the competition will take shape in the coming years.
Questions Answered in the Adenovirus Diagnostic Testing Report
Which are the leading players active in the adenovirus diagnostic testing market?
How is each segment of the market expected to grow during the forecast period?
What are the adoption trends for the adenovirus diagnostic testing market in emerging economies and established economies across the world?
What are the current trends that will influence the market in the next few years?
What are the driving factors, restraints, and opportunities of the market?
What future projections would help in taking further strategic steps?
What are the impacts of COVID-19 in the industry?
What is adenovirus diagnostic testing?
What is the adenovirus diagnostic testing market prediction in the future?
What are the current trends and predicted trends?
 Adenovirus Diagnostic Testing Market Report Highlights
Aspects
Details
By Diagnostic Method

Viral Culture
Polymerase Chain Reaction Assays and Antigen-Based Assays
Monoclonal Antibodies
Liposomes and Flow Cytometry
Chromatography
Gel Microdroplets

By Assay Type

PCR Assay Kits
Antigen Detection Kits
Others

By End User

Hospitals
Diagnostic Laboratories
Others

By Region

North America (U.S., Canada, Mexico)
Europe (Germany, France, UK, Italy, Spain, Rest of Europe)
Asia-Pacific (China, Japan, India, South Korea, Australia, Rest of Asia-Pacific)
LAMEA (Brazil, Saudi Arabia, South Africa, Rest of LAMEA)

Key Market Players
Qiagen N.V., Novartis AG, DiaSorin Inc., Affymetrix, Inc, Abbott Laboratories, Becton Dickinson and Company, F. Hoffmann-La Roche AG, BioMerieux, Inc.