Advanced Aerial Mobility Market Statistics 2035 -
The global advanced aerial mobility market is expected to be valued at $16.81 billion in 2025, and reach $110.02 billion in 2035, registering a CAGR of 21.7 %    
Flying car is the new era of the urban mobility, which refers to the vehicle type that operates on road as well as air as per requirements. Majority of future flying car solutions are expected to be equipped with vertical takeoff and landing systems to avoid long run way requirements to take off and land as well as it can mold with urban aerial mobility infrastructure. Policy makers are required to introduce conducive regulations and rules to boost changing needs for urban commute solutions. Flying cars have a wide range of applications, including passenger commute, commercial transport such as air taxi and professional transport such as police or medical services. In the upcoming era, infrastructural development is expected to be quite critical along with the product development.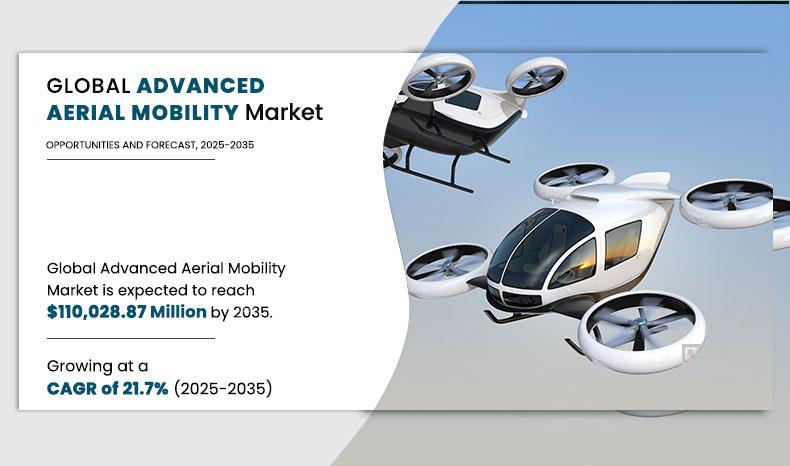 The global cargo drone service industry is projected to expand, owing to increase in innovations, reduced drone costs, and development of automation technologies. Drone services become more affordable as the use and integration of new technologies into numerous sectors and daily lives of customers grows.
Factors, such as changing urban mobility outlook and rise in demand for time-efficient delivery services are expected to drive growth of the advanced aerial mobility market. However, cybersecurity issues associated with drones and stringent regulations for aviation license restrain the market growth. Moreover, revamped government regulatory framework and acquiring untapped potential of Asia-Pacific are projected to offer lucrative growth opportunities for the market players.
The market segmentation is based on mode of operation, end use, propulsion type, and region. By mode of operation, the market is divided into piloted and autonomous. On the basis of end use, it is classified into cargo and passenger. By propulsion type, it is bifurcated into parallel hybrid, electric, turboshaft, and turboelectric. Region wise, the market is analyzed across North America, Europe, Asia-Pacific, and LAMEA.
Key players operating in the global advanced aerial mobility market include AeroMobil, Airbus S.A.S., Flytrex, Hyundai Motor Company, Lilium, Matternet, PAL-V International B.V., The Boeing Company, Volocopter GmbH, and Zipline. 
Advanced Aerial Mobility Market

---
By Mode Of Operation
Autonomous is projected as the most lucrative segments
Change in urban mobility outlook
In recent years, urban mobility, comprising mostly fuel-driven vehicles, is shifting toward digital high-end technologies, along with rise in adoption of green mobility solutions to develop next-generation sustainable and resilient transportation system. Moreover, rapid trend toward urbanization is demanding for alternative transportation solutions to overcome modern urban transportation issues such as traffic congestions and increased air pollution. This has led companies operating in the mobility sector to think around the introduction of flying cars, which can be operated as motor vehicles as well as air mobility solutions. Market players of flying car solutions are focused to develop electric or hybrid propelled transportation medium that can be operated on the road as well as air. Moreover, the problem of traffic congestion across the globe has increased to a larger extent with the increase in number of automotive fleets running on the road. Traffic congestion leads to a severe impact on environment and increases carbon footprint. Therefore, demand for flying cars is gaining immense popularity that will be quite supportive in reducing traffic congestion. Flying cars, which are being made across the globe at personal as well as commercial front are operable. Thus, increased road traffic congestion and growth in requirement for alternative transportation solutions across the globe has led to increase in demand for flying cars to be operable various regions.
AeroMobil's prototype, Airbus Vahana, Volocopter 2X, Terrafugia Transition, Ehang 184, and Joby Aviation air taxi are some of the prominent flying cars that have been thoroughly tested and would be available in the market soon. Rise in demand for flying cars is expected to drive growth of the global advanced aerial mobility market during the forecast period.  
Advanced Aerial Mobility Market

---
By End-use
Passenger is projected as the most lucrative segments
Rise in demand for time-efficient delivery services
The global logistics and e-commerce market has experienced significant growth in recent years. Growth in e-commerce and logistics industries calls for time-efficient delivery solutions for transportation of goods across the globe. In line with rise in demand for faster delivery of goods, in April 2021, ANA Holdings Inc. and Wingcopter announced a partnership for accelerating delivery of vital pharmaceuticals and other consumer products, which boosts drone delivery infrastructure. The partnership is aimed at building a drone delivery infrastructure across Japan. Major e-commerce and logistics giants Amazon and DHL have launched drone delivery systems to make quick deliveries and transport packages to places inaccessible by conventional transport systems. For instance, in May 2019, DHL Express and EHang entered into a strategic partnership to launch an intelligent and fully automated smart drone delivery solution in urban areas of China. Smart drone delivery solution offers a less energy-consuming, efficient, and cost-effective autonomous delivery service in China. Aviation administrations around the world are approving commercial delivery companies for operating drones to expedite drone delivery services. For instance, in April 2019, the Federal Aviation Administration (FAA) approved Alphabet-owned startup, Wing, for making commercial deliveries through drones in the U.S. The approval will facilitate Wing in making drone-based deliveries in Virginia. In addition, advantages such as safe and efficient operations associated with drone delivery solutions have attracted investments for developing drone delivery systems by commercial organizations across the globe. Increase in adoption of drone delivery systems to enhance efficiency and increase cost-effectiveness of delivery systems are the factors that are expected to propel growth of the global advanced aerial mobility market during the forecast period.
Cybersecurity issues associated with drones
Flexibility, cost-effectiveness, and high efficiency associated with cargo drones have resulted in proliferation of drone deployment in commercial and private applications. Rise in implementation of drones in multifaceted applications has also increased cybersecurity threat for its users. Modern drones are equipped with GPS, USB ports, and other means of technologies that can act as a critical cybersecurity target to easily hijack a drone. Hackers can exploit drones by accessing unencrypted Wi-Fi and GPS technologies used by drones to communicate. Government administrations have issued a ban or restrictions on drone ownership, owing to cybersecurity threats associated with drones. For instance, in April 2021, Legislator Huang Kuo-shu of the Democratic Progressive Party (DPP) of Taiwan issued a guideline warning against procurement of drones for Made-in-China aerial photography, robots, and coding platforms and subsequent phasing out of the existing equipment. Announcement was made, owing to cybersecurity loophole on consumer electronics manufactured in China. Rise in instances of cybersecurity attacks on drones is expected to hinder adoption of drones by government and private organizations, which obstructs growth of the global advanced aerial mobility market during the forecast period.
Advanced Aerial Mobility Market

---
By Propulsion Type
Electric is projected as the most lucrative segments
Revamped government regulatory framework  
Drone operators need to pass certain aviation regulatory frameworks of their respective countries. Increase in use of drones internationally has led regulatory bodies to incorporate drones in their framework for supporting drone service development, owing to benefits offered by drones such as low energy consumption, less air, and noise pollution, and reduced road congestion. With increase in demand for Beyond Visual Line of Sight (BVLOS) operations, the Global Navigation Satellite System (GNSS) technology is utilized for navigation by drone operators. Use of regional GNSS such as GPS, GLONASS, Galileo, and Beidou are regulated by governments. Aviation administrations around the world are developing new regulations for promoting growth in adoption of drones. For instance, in August 2019, the Kansas Department of Transportation was authorized by the Federal Aviation Administration (FAA) to conduct Beyond Visual Line of Sight operations (BVLOS) operations in the country. BVLOS operation was conducted by using onboard detect-and-avoid systems. Governments across the world are developing and implementing a new regulatory system for encouraging drone usage. For instance, the Norwegian Civil Aviation Authority issued European Light UAS Operator Certificate (LUC) to Nordic Unmanned in April 2021. The certificate enables Nordic Unmanned in deploying its entire Unmanned Aerial System (UAS) fleet for beyond visual line of sight (BVLOS) flights throughout EASA member countries. The governing bodies have eased regulations for drone operation namely authorization, certification, and spatial limitations worldwide to facilitate adoption of drones by various industries. 
The welcoming government regulatory framework presents an opportunity for the rising usage of cargo drones, which is expected to propel growth of the global advanced aerial mobility market during the forecast period.
Advanced Aerial Mobility Market

---
By Region
Europe would exhibit the highest CAGR of 23.7% during 2025-2035.
Key Benefits For Stakeholders
This study presents analytical depiction of the global advanced aerial mobility market analysis along with the current trends and future estimations to depict imminent investment pockets.
The overall advanced aerial mobility market opportunity is determined by understanding profitable trends to gain a stronger foothold.
The report presents information related to key drivers, restraints, and opportunities of the global advanced aerial mobility market with a detailed impact analysis.
The current advanced aerial mobility market is quantitatively analyzed from 2025 to 2035 to benchmark the financial competency.
Porter's five forces analysis illustrates the potency of the buyers and suppliers in the industry.
Key Market Segments
By Mode of Operation
By End-Use
By Propulsion Type
Parallel Hybrid
Electric
Turboshaft
Turboelectric    
By Region
North America
Europe

Germany
UK
France
Spain
Rest of Europe

Asia-Pacific

China
Japan
India
South Korea
Rest of Asia Pacific

LAMEA

Latin America
Middle East
Africa
Key Players
AeroMobil 
Airbus S.A.S. 
Flytrex
Hyundai Motor Company 
Lilium
Matternet
PAL-V International B.V.
The Boeing Company 
Volocopter GmbH 
Zipline
 Advanced Aerial Mobility Market Report Highlights
Aspects
Details
By MODE OF OPERATION
By END-USE
By PROPULSION TYPE

Parallel hybrid
Electric
Turboshaft
Turboelectric

By Region

North America (U.S., Canada, Mexico)
Europe (France, Germany, Italy, Spain, UK, Russia, Rest of Europe)
Asia-Pacific (China, Japan, India, South Korea, Australia, Thailand, Malaysia, Indonesia, Rest of Asia-Pacific)
LAMEA (Brazil, South Africa, Saudi Arabia, UAE, Argentina, Rest of LAMEA)

Key Market Players
Airbus S.A.S., VOLOCOPTER GMBH, .HYUNDAI MOTOR COMPANY, PAL-V International B.V., LILIUM, Flytrex, AEROMOBIL, Zipline, THE BOEING COMPANY, Matternet