Advanced Analytics Market Research, 2031
The global advanced analytics market size was valued at $29.5 billion in 2021, and is projected to reach $184.4 billion by 2031, growing at a CAGR of 20.2% from 2022 to 2031.
The COVID-19 pandemic had a positive impact on the advanced analytics market, which showcased positive growth during the period due to a rise in demand for analytics tools and services as businesses tried to improve their online services and offerings. This, in turn, helped in advanced analytics market growth during the period.
Advanced analytics solutions extend the capabilities of typical business intelligence (BI) tools to evaluate data or business information using predictive modeling, statistical approaches, machine learning, and process automation techniques. Advanced analytics solutions can use data science algorithms and sophisticated analytical methodologies to forecast future trends and predict the likelihood of probable events.
The rise in demand for work from home and remote working policies during the period of the COVID-19 pandemic aided in propelling the growth of global data analytics and remote management solutions, hence empowering the demand for the overall advanced analytics industry. However, data privacy and sharing challenges of third-party advanced analytics platforms can hamper the advanced analytics market forecast. On the contrary, the integration of advanced tools such as machine learning and data analytics with advanced analytics solutions suites is expected to offer remunerative opportunities for expansion of the advanced analytics industry during the forecast period.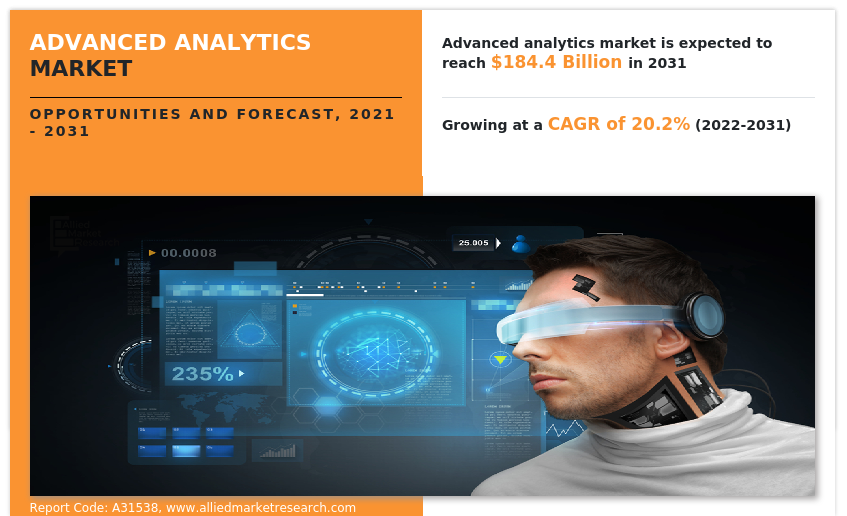 The advanced analytics market is segmented into Offering, Deployment Mode, Type, Application, Enterprise Size and Industry Vertical.
Segment Review
The advanced analytics market is segmented on the basis of offering, deployment model, type, application, enterprise size, industry vertical, and region. On the basis of offering, the industry is divided into software and service. Depending on deployment mode, the market is classified into on premise and cloud. Based on type the industry is divided into predictive analytics, prescriptive analytics, data visualization, data mining, others. On the basis of application, the industry is segmented into supply chain, sales and marketing, finance, human resources (HR), and others. Based on enterprise size, the market is bifurcated into large enterprises and SMEs. The industry vertical covered in the study include BFSI, manufacturing, healthcare, government and defense, energy and utilities, transportation and logistics, retail and e-commerce, IT and telecom, media and entertainment, and others. Region wise, it is analyzed across North America, Europe, Asia-Pacific, and LAMEA.
The key players profiled in the advanced analytics market analysis are Adobe, AWS, Absolutedata, Altair Engineering Inc, Databricks, Dataiko, IBM Corporation, KNIME, Microsoft Corporation, Moody's Analytics, Oracle Corporation, QlikTech International AB, All, Rapid Miner, SAS Institute, SAP SE, Salesforce, and Teradata. These players have adopted various strategies to increase their market penetration and strengthen their position in the industry.
Advanced Analytics Market

---
By Industry Vertical
The healthcare segment is anticipated to grow at a significant rate owing to, the growing need to optimize the patient data in the healthcare sector.
Get more information on this report :
Request Sample Pages
Depending on industry vertical, the BFSI segment dominated the advanced analytics market share in 2021, and is expected to continue this trend during the forecast period owing to the growing digital participation of BFSI sector companies, incentivizing major businesses of the sector to invest in effective advanced analytics solutions for their organization. However, the healthcare segment is expected to witness the highest growth in the upcoming years, owing to the growth in amount of patient data in healthcare sector businesses.
Advanced Analytics Market

---

By Region
Asia-Pacific countries are expected to adopt a high rate owing to, the ongoing digital and economic transformation of the region.
Get more information on this report :
Request Sample Pages
Region wise, the advanced analytics market was dominated by North America in 2021, and is expected to retain its position during the forecast period, owing to its high concentration of advanced analytics vendors such as Oracle Corporation, Microsoft Corporation, and IBM corporation, which is expected to drive the market for advanced analytics technology within the region during the forecast period. However, Asia-Pacific is expected to witness significant growth during the forecast period, owing to rapid economic and technological developments in the region, which is expected to fuel the growth of advanced analytics market in the region in the coming few years.
The report focuses on growth prospects, restraints, and analysis of the global advanced analytics market trends. The study provides Porter's five forces analysis to understand the impact of various factors, such as bargaining power of suppliers, competitive intensity of competitors, threat of new entrants, threat of substitutes, and bargaining power of buyers on the global advanced analytics market share.
COVID-19 Impact Analysis
The advanced analytics market has witnessed significant growth in the past few years due to the outbreak of the COVID-19 pandemic, the market witnessed a sudden increase in demand during the period. This was attributed to the fact that there was a sudden increase in demand for advanced technologies and data analytics solutions, as businesses were moving to capitalize on the increased online presence of their customers. Furthermore, the rising number of COVID-19 cases influenced governments and local authorities to enforce strict measures such as social distancing and self-isolation policies to the closing of physical shops and businesses in order to help slow the spread of the COVID-19 cases, this caused a serious dip in the numbers of customers depending on traditional brick and mortar stores for their daily shopping needs. Additionally, in response to the COVID-19 pandemic, many businesses have used advanced analytics and AI technologies to manage immensely complex supply chains and engage customers online. For instance, in September 2020, Google announced the support for COVID-19 AI and data analytics projects, Google.org is giving more than $8.5 million to 31 organizations around the globe to aid in COVID-19 response. Moreover, such trends accelerated the digital transformation of physical businesses during the period of the pandemic. This, in turn, caused the demand for advanced analytics solutions to raise during the period, as businesses depended upon advanced technologies for faster digital transformation.
Top Impacting Factors
Surge in demand for operation optimization and data analytics solutions
Consumer data can be trickier to analyze and harder to handle. Major business enterprises such as Amazon and FedEx, both of which have been using data analytics practices for more than a decade. Have developed specialized algorithms focused on the analyzing everyday needs of its customers, thanks to its army of in-house data scientists and analysts. Moreover, large corporations have access to a vast amount of data on their customers, which aids in the creation of user profiles of their customers. Such user profiles can compile various user preferences and information and uses it to target them with specific advertising and marketing campaigns, increasing the likelihood of a confirmed sale. However, many smaller (and even large) businesses may not have access to a large team of data scientists and analysts at their disposal and may need to employ third-party data analytics and mining solutions to help them with their data mining needs as in-house solutions can be expensive. Furthermore, advanced analytics solutions can help organizations to help identify and focus on their most profitable revenue generator segment, which can immediately contribute positively toward the goals and needs of the company. Such factors are fueling the need for advanced analytics solutions in modern business enterprises.
Growing digitization trends and increased digital data production
In the past few decades, digital data production has grown exponentially, and it is not expected to slow down in the near future. Increased penetration of digital devices such as smartphones and computers in the daily life of average consumers, is one of the key factors responsible for this boom in digital data production. Additionally, the increasing popularity of the Internet of Things (IoT) and the data produced from various IoT devices have also been contributing to this data boom. High amounts of digital data production have made it difficult for data analysts to process this data and make sense of it. Advanced analytics and data mining tools have to be employed to help process these huge amounts of data to help with identifying data trends of these huge amounts of data, which can optimize the process of decision-making in many business sectors. Moreover, with the adoption of big tools and analysis solutions becoming common in the modern business infrastructure, advanced analytics market growth is expected to increase even further in the coming few years.
Key Benefits For Stakeholders
This report provides a quantitative analysis of the market segments, current trends, estimations, and dynamics of the advanced analytics market analysis from 2021 to 2031 to identify the prevailing advanced analytics market opportunities.
The market research is offered along with information related to key drivers, restraints, and opportunities.
Porter's five forces analysis highlights the potency of buyers and suppliers to enable stakeholders make profit-oriented business decisions and strengthen their supplier-buyer network.
In-depth analysis of the advanced analytics market segmentation assists to determine the prevailing market opportunities.
Major countries in each region are mapped according to their revenue contribution to the global market.
Market player positioning facilitates benchmarking and provides a clear understanding of the present position of the market players.
The report includes the analysis of the regional as well as global advanced analytics market trends, key players, market segments, application areas, and market growth strategies.
 Advanced Analytics Market Report Highlights
Aspects
Details
Market Size By 2031
USD 184.4 billion
Growth Rate
CAGR of 20.2%
Forecast period
2021 - 2031
Report Pages
343
By Industry Vertical

BFSI

Sector

Banks
Insurance Companies
Others

Manufacturing
Healthcare
Government and Defense
Energy and Utilities
Transportation and Logistics
Retail and E-commerce
IT and Telecom
Media and Entertainment
Others

By Offering

Software
Service

Service Type

Professional Services
Managed Services

By Deployment Mode
By Type

Predictive Analytics
Prescriptive Analytics
Data Visualization
Data Mining
Others

By Application

Supply Chain
Sales and Marketing
Finance
Human resources (HR)
Others

By Enterprise Size
By Region

North America (U.S., Canada)
Europe (UK, Germany, France, Italy, Spain, Netherlands, Rest Of Europe)
Asia-Pacific (China, Japan, South Korea, Australia, India, Rest Of Asia-Pacific)
LAMEA (Latin America, Middle East, Africa)

Key Market Players
SAP SE, Databricks, Oracle Corporation, Microsoft Corporation, Altair engineering inc, QlikTech International AB, Rapid Miner, Dataiku, Adobe, SAS Institute, Teradata, KNIME, Amazon Web Services, Inc., Salesforce, IBM Corporation, Absolutedata, moody's analytics
Analyst Review
Demand for advanced analytics technologies has been on a rise for the past few years and the market is expected to continue this trend in the coming years as well, owing to growth in complexity of digital data and increase in smartphone penetration. In addition, growth in internet penetration in many regions of the world is promising new opportunities for the growth of the advanced analytics market.
Key providers of the advanced analytics tool market such as Oracle Corporation, Microsoft Corporation, and SAP SE account for a significant share of the market. With larger requirements for advanced analytics tools and services, various companies have established partnerships to increase their advanced analytics capabilities. For instance, in May 2022, SAP SE announced a strategic partnership with UST to integrate SAP Business Technology Platform (SAP BTP) into its Cogniphi AI Vision platform, which will be subsequently marketed as UST Sentry Vision AI. The offering is expected to help build predictive, contextual, and analytical capabilities into retail and manufacturing operations through advanced video analytics, as a SaaS-based packaged solution that can easily be integrated with SAP S/4HANA® and RISE with SAP.
In addition, with the increase in demand for advanced analytics tools, various companies are expanding their current product portfolio with increasing diversification among customers. For instance, in April 2022, Salesforce, Inc., announced the launch of its CRM Analytics with new innovations that surface AI-powered, actionable insights directly in the flow of work. These technologies help sales leaders, service leaders, and employees across any industry — including financial services, manufacturing, consumer goods, and communications — put data at the center of every customer relationship and ultimately, deliver more personalized experiences.
Moreover, market players have expanded their business operations and customers by increasing their acquisitions. For instance, in December 2021, Altair Engineering Inc. announced the acquisition of World Programming, a UK-based technology company specializing in data analytics software. World Programming's platform supports the development and execution of multi-language software solutions leveraging popular languages used in data science including Python, R, and the SAS language in a single program. The acquisition includes World Programming's flagship product, WPS Analytics, which is backed by more than two decades of experience and developed to meet the increasing use of open-source languages. WPS Analytics is a powerful and versatile software platform for scalable data manipulation and analytics, with several notable features.