The advanced clinical decision support platforms market size was valued at $450.4 million in 2020, and is projected to reach 1,049.8 million by 2030, registering a CAGR of 8.70% from 2020 to 2030.Advanced clinical decision support platform provides legal information for improving the decision making abilities of the health professionals. It provides clinicians, staff, patients or other individuals with knowledge and person-specific information, intelligently filtered or presented at appropriate times, to improve health and health care. CDS encompasses a variety of tools to enhance decision-making in the clinical workflow. Furthermore, these tools include computerized alerts and reminders to care providers and patients; clinical guidelines; condition-specific order sets; diagnostic support, focused patient data reports and summaries; documentation templates and contextually relevant reference information, among other tools.
Clinical decision support platform (CDSS) technology is still in its early phase, doctors, patients, and other stakeholders will be required to offer continual input in order to effectively integrate CDSS technology in order to enhance relevant applications, decrease costs, and improve treatment outcomes, thus significantly boosting the market growth. The rise in the elderly population, increase in the number of hospitals, growth in need for data-driven technologies, and the number of emergency department (ED) visits are the main drivers for the market expansion. In the coming years, the healthcare system is projected to face a physician shortage, necessitating the use of decision-making technologies to efficiently manage physician time and prevent errors.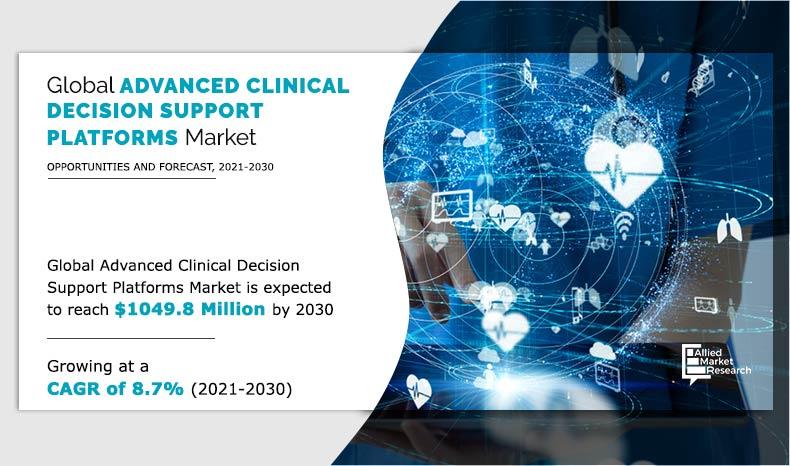 Rise in geriatric population leads to rise in chronic diseases, increased health assessments, rise in number of hospitals, rise in medical errors, growing demand for data driven technologies, number of emergency department (ED) visits. The healthcare system is also expected to witness shortage of physicians in the upcoming years; thus, enhancing the need of decision making tools in order to effectively manage physician time and prevent the overcrowding of hospitals due to increased medical needs. It has significantly improved the clinical results and facilitated reduction in healthcare costs, thus further boosting the market growth. Despite the advantages of the clinical decision support platforms, there are certain factors that may restrain the market growth such as the adoption rate of these tools is modest due to implementation problems. Furthermore, physicians view CDSS technologies as a threat to their professional autonomy. 
Also, COVID-19 pandemic has created new challenges in the health-care ecosystem. Huge growth in the number of critically sick patients as well as personnel shortages and capacity constraints, challenge hospitals and health systems. It has directly led to the rise in usage of CDSS tools for immediate medical treatment with fast diagnosis. The increased usage of clinical decision support software in COVID-19 has emphasized the global need for uniform healthcare data while shortening decision-making timelines owing to excessive stress. Many health care providers have altered their clinical decision support system vendors to get the desired outcomes quickly.
Advanced Clinical Decision Support Platforms Market Segmentation  
The advanced clinical decision support platforms market is segmented on the basis is segmented on the basis of type, application, setting and region. By type, it is bifurcated into therapeutic and diagnostic, the diagnostic type dominates the type segment and is most commonly used. By model, it is bifurcated into Knowledge base and Non-Knowledge based. By setting type it is bifurcated into hospitals and ambulatory care. Region-wise, it is analyzed across North America, Europe, Asia-Pacific, and LAMEA.
Advanced Clinical Decision Support Platforms Market

---
By Type
Therapeutic type segment holds a dominant position in 2020 and would continue to maintain the lead over the forecast period.
Segment Review
On the basis of model, the advanced clinical decision support platforms market is segmented into knowledge-based CDSS and non-knowledge-based CDSS. In 2020, the knowledge-based CDSS segment accounted for the largest share of the market. The large share and high growth of this segment can be attributed to the several beneficial functionalities of knowledge-based CDSS, such as helping clinicians with knowledge-based reasoning to make clinical decisions in the face of uncertainties. These systems can also be integrated into clinical workflows and are less prone to errors as compared to non-knowledge-based systems.
Advanced Clinical Decision Support Platforms Market

---
By Model
Knowledge based segment is projected as one of the most lucrative segment.
Snapshot of North America Advanced clinical decision support platforms market  
North America accounted for the largest market share in 2020 and is expected to retain its dominance throughout the forecast period. This is attributed to the increased in geriatric population, rise in hospitals and emergency department visits and growth in technological advancements for CDSS. In addition, Asia-Pacific is expected to witness significant growth during the forecast period, owing to the increasing population in regions such as China and India. However, LAMEA is expected to emerge as a lucrative area with maximum growth potential, due to the improvement in healthcare facilities, available disposable income, and rapid development of economic conditions.
Advanced Clinical Decision Support Platforms Market

---
By Region
Asia-Pacific region would exhibit the highest CAGR of 10.60% during 2021-2030.
The key market players profiled in the report include Allscripts Healthcare Solutions, Cerner, Epic, Elsevier B.V., IBM Watson, Meditech, NextGen Healthcare, Siemens Healthineers, Wolters Kluwer Health and Zynx Health.
Key Benefits For Stakeholders
The study provides an in-depth analysis of the global advanced clinical decision support platforms market along with the current trends and future estimations to elucidate the imminent investment pockets.
A comprehensive analysis of the factors that drive and restrict the advanced clinical decision support platforms market growth is provided in the report.
Comprehensive quantitative analysis of the industry from 2020 to 2030 is provided to enable the stakeholders to capitalize on the prevailing market opportunities.
Extensive analysis of the key segments of the industry helps to understand the application and products the market used across the globe.
Key market players and their strategies have been analyzed to understand the competitive outlook of the advanced clinical decision support platforms market.
Key Market Segments
BY Type
By Model        
Knowledge based    
Non-Knowledge based    
BY SETTING
By Region
North America
Europe

Germany
France
UK
Italy
Spain
Rest of Europe

Asia-Pacific

Japan
China 
Australia
India
South Korea
Rest of Asia-Pacific

LAMEA

Brazil
Saudi Arabia
South Africa
Rest of LAMEA