Advanced High-strength Steel Market Overview:
The global advanced high-strength steel market size was valued at $13,147 million in 2016 and is anticipated to reach $29,151 million by 2023 at a CAGR of 12.2% during the forecast period.
Advanced high-strength steels are complex sophisticated materials containing multiphase microstructures and chemical compositions resulting from precisely controlled cooling and heating processes. These steels possess a yield strength of 550 MPa and tensile strength of 780 MPa. They offer high strength and optimized formability, which allows weight reduction and design freedom for various types of crash components and structural reinforcements.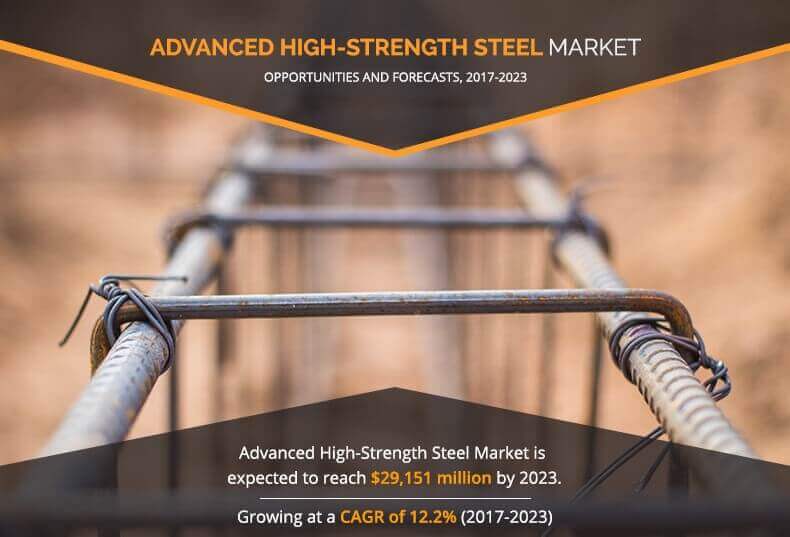 Increase in penetration of lightweight components, particularly in automobiles, growth in consciousness toward decreasing the GHG and CO2 emission levels, and the rapid growth in automotive industry drive the global advanced high-strength steel market. In addition, fast growing aerospace industry and accelerating urbanization and industrialization in developing economies is projected to create lucrative opportunities for vessel manufacturers to integrate AHSS grades in the industry. However, availability of substitutes and lack of awareness of the new steel across other industries is projected to impede the global advanced high-strength steel market.
The report segments the advanced high-strength steel market based on grade, end user, and region. Based on grade, it is divided into dual phase (DP), complex-phase (CP), transformation-induced plasticity (TRIP), and others. DP steel is increasingly used by carmakers in the present car models. For instance, as of 2011, Chevrolet Volt's upper body and lower structure is around 6% and 15% dual phase by mass, respectively, which includes reinforcement of rocker outer panel.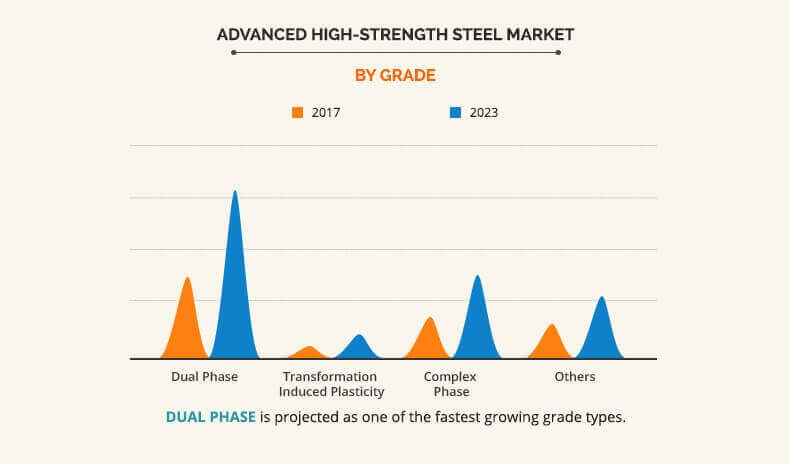 Based on end user, it is classified into automotive, construction, and others (power generation and shipbuilding). The automotive industry generated the maximum revenue in 2016.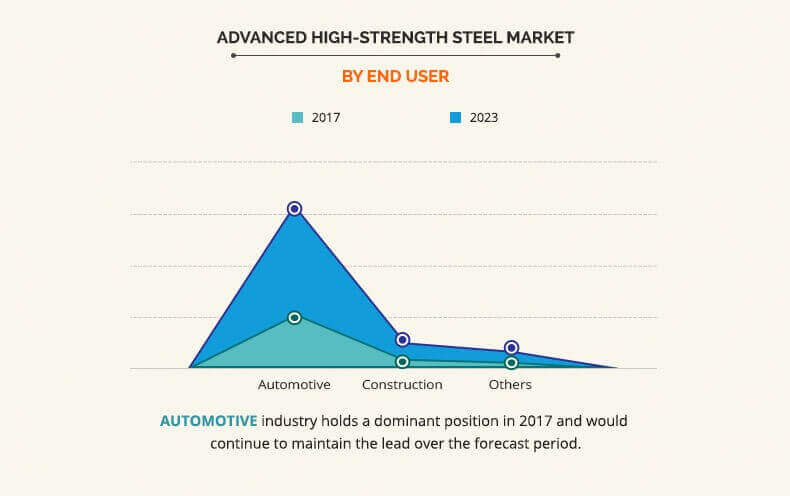 By region, advanced high-strength steel industry is analyzed across North America, Europe, Asia-Pacific, and LAMEA. North America accounted for the highest revenue in 2016, owing to upsurge in demand for lightweight vehicles and rise in efforts to conform to the fuel economy standards. For instance, Nucor Corporation is working on developing third-generation AHSS for automotive application. These new grades are stronger and are used in lesser quantity, thereby saving maximum weight.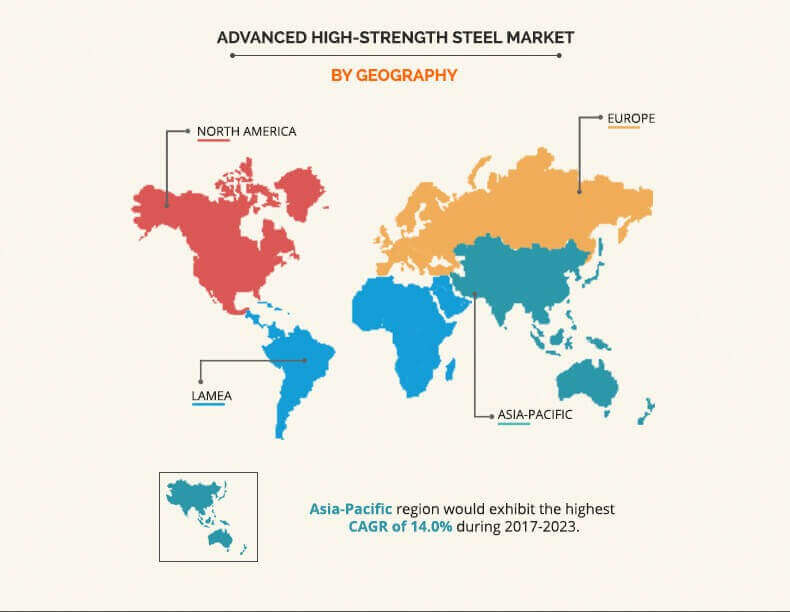 The prominent players operating in the global advanced high-strength steel market have strategically focused on product launch as their key strategy to gain significant share in the market. The key players profiled in the report include Tata Steel Limited, ArcelorMittal S.A., NanoSteel, AK Steel Corporation, Nucor Corporation, MTL Advanced Ltd., United States Steel Corporation, Baoshan Iron and Steel Co. Ltd., Kobe Steel Ltd., and SSAB AB.
Key Benefits for Advanced High-strength Steel Market:
Porter's five forces analysis helps analyze the potential of buyers & suppliers and their Advanced High-strength Steel market share for building strategies. 
It outlines the current trends and future scenario of the Advanced High-strength Steel market size from 2016 to 2023 to understand the prevailing opportunities and potential investment pockets.
Major countries in four major regions, namely, North America, Asia-Pacific, Europe, and LAMEA have been mapped according to their individual revenue contribution in the Advanced High-strength Steel market analysis at regional and country level.
The key drivers, restraints, and opportunities and their detailed impact analyses are elucidated in the study.
The profiles of key players along with their contribution in Advanced High-strength Steel market growth are enlisted in the report.
 Advanced High-strength Steel Market Report Highlights
Aspects
Details
By Grade

Dual Phase (DP)
Transformation-induced Plasticity (TRIP)
Complex Phase (CP)
Others

By End User

Automotive
Construction
Others

By Region

North America (U.S., Canada, Mexico)
Europe (Germany, France, UK, Italy, Spain, Rest of Europe)
Asia-Pacific (Japan, China, South Korea, India, Rest of Asia-Pacific)
LAMEA (Brazil, Argentina, Africa, Saudi Arabia, UAE, Rest of LAMEA)

Key Market Players
AK STEEL HOLDING CORPORATION, ArcelorMittal South Africa Limited, Baoshan Iron & Steel Company Limited, Kobe Steel, Ltd., WEC Group Ltd. (MTL Advanced Ltd.), The NanoSteel Company, Nucor Corporation, SSAB AB, Tata Steel Limited, United States Steel Corporation