Advanced visualization systems are medical instruments that are equipped with advanced software that displays the numerous aspects of a living cell efficiently. These systems decrease the turnaround time taken by clinicians to report the result to the patient. These systems are widely utilized in pathological laboratories for various clinical applications.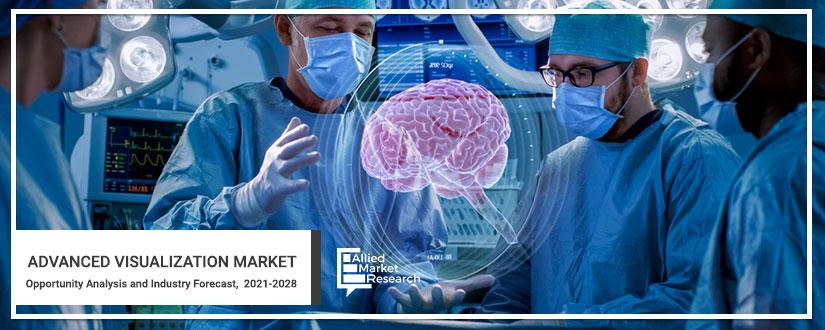 The factors that drive the global advanced visualization market are technological advancements in advanced visualization technology & software, increasing prevalence of chronic diseases, rising geriatric population, need for efficient and early diagnosis, and increasing awareness of benefits offered by advanced visualization tools in disease diagnosis. However, limited reimbursements for radiology-based diagnostic procedures and technological limitations associated with existing advanced visualization systems restrain the advanced visualization market growth. Conversely, growth opportunities in emerging economies of Asia-Pacific and LAMEA are expected to provide numerous opportunities for advanced visualization market growth during the forecast period.
The report segments the market based on products and services, solution, imaging modality, application, end-user, and geography. Based on products and services, the market is bifurcated into hardware & software and services. On the basis of solution, it is categorized into enterprise-wide thin client-based solutions, and standalone workstation-based solutions. Based on imaging modality, the market is divided into magnetic resonance imaging (MRI), computed tomography (CT), positron emission tomography (PET), ultrasound, radiotherapy (RT), and nuclear imaging. Advanced visualization finds its applications in radiology/interventional radiology, cardiology, orthopedics, oncology, vascular, neurology, and other clinical applications. 
Based on end-user, the market is divided into hospitals and surgical centers, imaging centers, academic and research centers, and other end-users (such as pharmaceutical/biotechnology companies and CROs). Geographically, the market is analyzed across North America (U.S., Canada, and Mexico); Europe (Germany, France, Italy, UK, Spain, and rest of Europe); Asia-Pacific (China, Japan, Australia, India, South Korea, and rest of Asia-Pacific); and LAMEA (Brazil, South Africa, Saudi Arabia, and rest of LAMEA).
The major companies profiled in the report include General Electric Company, Koninklijke Philips N.V., Siemens AG, Fujifilm Holdings Corporation, and Toshiba Corporation, among others.
Key Benefits for Stakeholders
The study provides an in-depth analysis of the advanced visualization market with current trends and future estimations to elucidate the imminent investment pockets.
It offers a quantitative analysis which is expected to enable the stakeholders to capitalize on prevailing market opportunities.
Comprehensive analysis of all geographical regions is provided, which helps in determining the prevailing opportunities.
Key players are profiled and their strategies are analyzed thoroughly, which helps in understanding competitive outlook of the global advanced visualization market.
 Advanced Visualization Market Report Highlights
Aspects
Details
By Products and Services

Hardware & Software
Services

Implementation Services
Post-sale and Maintenance Services
Consulting/Optimization Services
Training and Education Services

By Solution

Enterprise-wide Thin Client-based Solutions
Standalone Workstation-based Solutions

By Imaging Modality

Magnetic Resonance Imaging (MRI)
Computed Tomography (CT)
Positron Emission Tomography (PET)
Ultrasound
Radiotherapy (RT)
Nuclear Medicine

By Application

Radiology/Interventional Radiology
Cardiology
Orthopedics
Oncology
Vascular
Neurology
Others

By Region

North America (U.S., Canada, Mexico)
Europe (France, Germany, Italy, Spain, UK, Rest of Europe)
Asia-Pacific (China, Japan, India, South Korea, Australia, Rest of Asia-Pacific)
LAMEA (Brazil, South Africa, Saudi Arabia, Rest of LAMEA)

By End User

Hospitals and Surgical Centers
Imaging Centers
Academic and Research Centers
Other End Users

Key Market Players
Terarecon, Inc., Carestream Health, Inc., Agfa HealthCare NV, Qi Imaging, Visage Imaging, Inc., Siemens AG, General Electric Company, Koninklijke Philips N.V., Fujifilm Holdings Corporation, Toshiba Corporation