Aerial Imaging Market Statistics 2021-2030:
The global aerial imaging market was valued at $2.26 billion in 2020, and is projected to reach $8.52 billion by 2030, registering a CAGR of 14.2%.
The COVID-19 outbreak severely impacted the aerial imaging industry on a global level. For most of the large drone and UAV manufacturers, the COVID-19 pandemic has resulted in slowing down of new product deliveries due to disruption of supply chain. The pandemic also have impacted the revenue streams allocated towards the R&D and adoption of new technologies in aerial imaging sector. The challenges such as manufacturing difficulties and low demand new drones and UAVs amid stringent lockdown measures were observed throughout 2020 and mid-2021. However, the post pandemic demand for aerial imaging is foreseen to grow appreciably owing to the growing application of aerial imagery and analytics in various end use verticals.
Aerial imaging is the process of capturing images of ground surfaces with the help of cameras attached to vehicles, such as helicopters, parachutes, aircraft, kites, unmanned aerial vehicles (UAVs), balloons, vehicle-mounted poles, and airships. Aerial imaging assists in risk mitigation, resource planning, mapping, research & excavation, security and surveillance, urban planning, engineering, farming management, tourism, and others.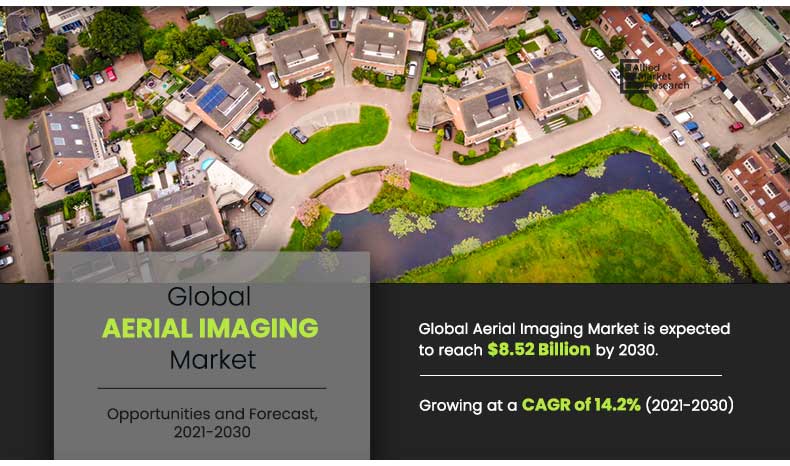 The adoption of aerial imagery services has increased owing to their various applications such as photogrammetric surveys, development of topographic maps, environmental studies, surveillance, and others. Increased application areas among various verticals, such as agriculture, forestry, energy & resource, and civil engineering is expected to drive the market growth in the coming years. 
In addition, factors such as rise in demand for aerial imaging in disaster risk reduction and prevention, surge in demand for varied commercial applications and use of aerial imaging technology in setting up 5G infrastructure are expected to supplement the aerial imaging market growth. However, stringent government regulations regarding national security, inaccuracy in image data collection, and rise in concerns over cyber-security data security regarding drones are expected to hamper the market growth. Technological advancements such as advanced motion & temperature sensors in cameras, 3D mapping software, unmanned aerial vehicles, and others, have created ample opportunities for the market growth.
The aerial imaging market is segmented on the basis of application, end user, platform, and region. By application, the global market is divided into geospatial mapping, disaster management, energy and resource management, surveillance and monitoring, urban planning and others. By end user, it is classified into government, military and defense, energy, agriculture and forestry, civil engineering, media and entertainment and commercial. By platform, it is classified into fixed wing aircraft, helicopter, UAV and drone and others. By region, the market has been analyzed across North America, Europe, Asia-Pacific, and LAMEA.
Infogrphic Image
The key players analyzed in the aerial imaging market include Aerial Imaging Productions, LLC, Blom Norway AS, Cooper Aerial Surveys Co., Digital Aerial Solutions (DAS), LLC, EagleView Technologies, Inc., Fugro N.V., Global UAV Technologies Ltd, Kucera International and Landiscor. 
Surge in demand for aerial imaging in varied commercial applications
Aerial imagery refers to all images taken from an airborne craft that includes fixed-wing aircraft, helicopters, drones, rockets, and others. In recent years, aerial imagery has proven to be quite beneficial in carrying out planning work toward sustainable agriculture, monitoring and studying the bio-geological characteristics of oceans, environmental assessment and monitoring, disaster monitoring and mitigation, water security and management, and others. 
In precision agriculture, farmers across the world are making use of remote sensing data to make informed decisions in maximizing crop yields and reducing agricultural waste. In this, the use of aerial imagery in multiple wavelengths lets farmers plan appropriate inspection and supervision of the fields. Using normalized difference vegetation index (NDVI) and multispectral sensors, plant health can be easily determined and addressed. Owing to the rise in demand for precision agriculture using aerial imaging, in September 2019, DJI (a global leader in civilian drones and aerial imaging technology) introduced a P4 Multispectral drone for precision agriculture and land management. 
Besides precision agriculture, aerial imaging is quite useful for asset monitoring. While old-style approaches of asset inspection involve expensive and time-consuming logistics; the use of aerial imagery has allowed accessible remote asset monitoring. High-resolution aerial imagery augments infrastructure management, while carefully monitoring assets over time for both public utilities and private facilities.
Organizations that have their assets spread across a large area are using aerial imaging in order to have real-time info about the working operations and condition of different assets. For instance, in August 2021, SkyX, one of the leading providers of aerial data services for infrastructure assets, and Denbury Onshore, LLC, which is a subsidiary of Denbury Inc. (an energy company), signed a multi-year asset monitoring agreement.
Aerial Imaging Market

---
By Applicaton
Geospatial Mapping segment is projected as the most lucrative segment
Using aerial imaging, maintaining equipment and infrastructure can be done proactively and pre-emptively, which helps in saving resources in the long run. Such benefits offered by aerial imaging are expected to propel the growth of the global aerial imaging market during the forecast period.
Surge in use of aerial imaging for disaster risk reduction and prevention
Every year, thousands of individuals are affected by both natural and man-made disasters. Disasters may be earthquakes, hurricanes, tornados, floods, fires, or explosions. According to ReliefWeb (a humanitarian information service offered by the United Nations Office for the Coordination of Humanitarian Affairs (OCHA), 396 natural disasters were recorded in EM-DAT (the international disasters database) with a death count of 11,755, and about 95 million people affected and economic losses of about $103 billion across the world in 2019. Asia witnessed the maximum impact and accounted for about 45% of deaths, 74% of the total affected, and 40% of the disaster events. In Asia, India observed the highest damages and recorded approximately 20% of the total deaths and around 24.5% of the total number of affected people.
Aerial Imaging Market

---
By End User
Agriculture and Forestry segment is projected as the most lucrative segment
Aerial imaging helps in mitigation of the destructive effects of natural catastrophes and other related risks. Aerial images captured by different kinds of aircraft can help in the analysis of hazards and the planning and implementation of quick modifications that could prevent a disaster and save lives. This involves preventing landslides, detecting flames during heat waves, and monitoring overflowing rivers during heavy rainfall. 
Aerial imagery combined with Geographic Information System (GIS) maps provides a plethora of information to disaster and emergency response managers for situation assessment, analysis, and speedy response. Owing to this, disaster management teams across different nations are using aircraft-based aerial imaging for deploying apt resources at the disaster-hit site. For instance, in October 2021 Nearmap Ltd., announced its plans to design a geospatial tool to help governments plan for severe weather events, support recovery, and expedite insurance claims. The company has already gathered more than 6,200 Km2 of disaster-affected land including the Perth Hills fires, Cyclone Seroja in Western Australia, and the New South Wales floods. Hence, rise in usage of aerial imaging to prevent severe damage to human lives and valuable assets in case of disasters is expected to fuel the growth of the global imaging market during the forecast period. 
Aerial Imaging Market

---
By Platform
UAV and Drone segment is projected as the most lucrative segment
Increase in demand for overhead aerial imaging
Aerial imaging technology allows to document effects of climate change and helps to obtain effective remote sensing data with topographical information showing variation in soil, climate, vegetation, forest coverage, water coverage, and others. Overhead aerial images are taken with camera pointed as down as possible. Overhead images are often used for mapping purposes as these are taken vertically downward. Overhead aerial imaging has been incorporated to create digitally enhanced, and detailed maps & charts. Experts use aerial imaging for determining land-use, environmental conditions, and spatial data of the Earth's surface. Rise in demand for mapping and remote sensing coupled with latest technical advancements, such as GIS, UAVs, and cloud computing boost the demand for overhead aerial imaging during the forecast period.
COVID-19 Impact Analysis 
Aerial imaging industry was expected to witness steady growth in 2020; however, due to the adverse impact of the widespread COVID-19 pandemic. Revenue crunch and rising maintenance costs were two major challenges adversely affecting the aerial imaging industry. Furthermore, the reduced GDP of major economies, such as the U.S., the UK, China, France, India, Germany, and others, in 2020, resulted in a decline in investment in emerging technologies, including aerial imaging. The reduction in aerospace spending had a negative impact on unmanned aircraft development and deployment plans, particularly unmanned aerial vehicles (UAVs), thereby limiting the availability for UAV-based aerial imaging services globally.
Aerial Imaging Market

---
By Region
Asia-Pacific would exhibit the highest CAGR of 16% during 2021-2030.
Key Benefits For Stakeholders
This study presents analytical depiction of the global aerial imaging market analysis along with the current trends and future estimations to depict imminent investment pockets.
The overall aerial imaging market opportunity is determined by understanding profitable trends to gain a stronger foothold.
The report presents information related to key drivers, restraints, and opportunities of the global aerial imaging market with a detailed impact analysis.
The current aerial imaging market is quantitatively analyzed from 2020 to 2030 to benchmark the financial competency.
Porter's five forces analysis illustrates the potency of the buyers and suppliers in the industry. 
 Aerial Imaging Market Report Highlights
Aspects
Details
By Application

Geospatial Mapping
Disaster Management
Energy and Resource Management
Surveillance and Monitoring
Urban Planning
Others

By End User

Government
Military and Defense
Energy
Agriculture and Forestry
Civil Engineering
Media and Entertainment
Commercial

By Platform

Fixed Wing Aircraft
Helicopter
UAV and Drone
Others

By Region

North America (US, Canada, Mexico)
Europe (UK, Germany, France, Russia, Italy, Rest of Europe)
Asia-Pacific (China, India, Japan, South Korea, Rest of Asia-Pacific)
LAMEA (Latin America, Middle East, Africa)

By KEY PLAYERS

Aerial Imaging Productions, LLC
Blom Norway AS
Cooper Aerial Surveys Co.
Digital Aerial Solutions (DAS), LLC
EagleView Technologies, Inc.
Fugro N.V.
Global UAV Technologies Ltd
Kucera International
Landiscor
Nearmap Ltd.