Aerogel Market Outlook - 2027
The global aerogel market was valued at $701.0 million in 2019, and is projected to reach $1,395.5 million by 2027, registering a CAGR of 9.3%.
Aerogels is a diverse class of ultralow synthetic material derived from a gel, in which the liquid component of the gel is replaced with a gas by supercritical drying.  It is composed of an interconnected nanostructure network with minimum 50% porosity. Though solid, it is extremely lightweight and possesses low thermal conductivity, which make it an ideal insulation material. 
The growth of the aerogel market is primarily driven by the development of the building and oil & gas industries. This is attributed to the fact that aerogel coatings are used in the oil & gas industry as insulators. Oil & gas or in particular petroleum industry carries volumes of unprocessed oil materials through pipes. Aerogel, due to its properties of chemical inertness and lower heat conductance, acts as an ideal choice for pipe insulation and protection. Owing to its special molecular structure, it acts as a barrier for heat transfer, hence, aerogel does not show tendency of melting down. In the construction industry, aerogel-based blankets are increasingly being used to insulate roofs and walls of buildings. Aerogel is the much lighter than other conventional insulation products. Hence, with much thinner coating, it is able to provide more resistance than the conventional plastic foam and glasses, due to its lightweight. Thinner coating of aerogel can provide similar insulation effect as compared to plastic foam and glass. For example, thermal sensitivity value of aerogel is ~R 10 per inch, whereas that of plastic foam versions such as for XPS ~R 5 per inch, for EPS ~R 4 per inch, and for PU ~R 6 per inch. Furthermore, by having low density and low thermal conductivity, aerogel is considered as an ideal material for thermal protection. Owing to such protective performance, it is embedded in fire fighter's protective clothing and is being incorporated in apparels such as shoes and jackets. Moreover, the development of the aerospace and automotive industries significantly contribute toward the growth of the global market.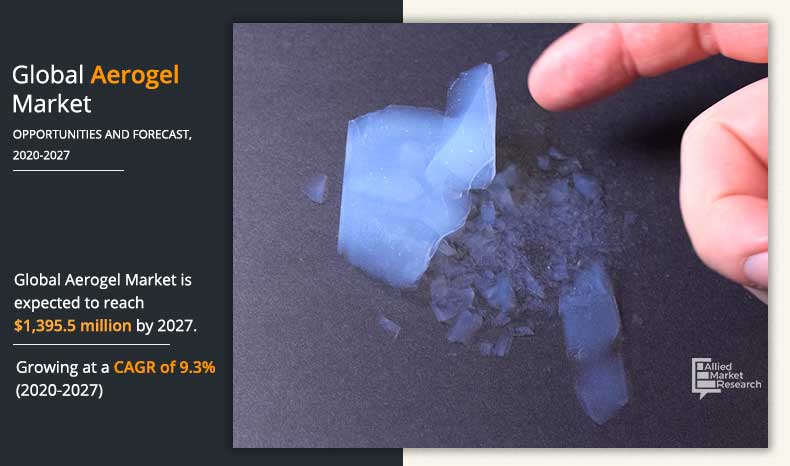 However, high cost of production of aerogel is expected to hinder the growth of the market. The expensive production process of aerogel is a major limiting factor of the market growth. The complex heating and supercritical drying process add to the cost of production. Owing to this major drawback in the new production technology, the overall production cost increases and manufacturers have to increase the price of product to meet the expense, thereby negatively impacting the market growth. On the contrary, the cost of production is expected to fall, which is anticipated to further motivate stakeholders to adopt aerogel for various purposes. Moreover, due to lack of customer awareness, presently the adoption of aerogel is less as compared to the other insulating materials, though it is expected to increase during the forecast period. Thus, all these factors collectively are expected to provide remunerative opportunities for the expansion of the global market.
With high surface area, the carbon aerogel could be used in hydrogen and electrical energy storage. Most importantly, the energy storage capacity could be improved by manipulating the network structure of carbon aerogel. Moreover, due to such unusual chemical and textural characteristics, it could be used as electrode material in super capacitors, rechargeable batteries, and advanced catalyst support. Increase in trend of electric mobility is expected to create growth opportunity for graphene aerogel-based batteries market. In 2019, a team of researchers in the UK created a graphene aerogel composite anode material as part of their battery development program. They concluded that graphene-containing aerogels could be potential candidates for low-cost high-performance composites for energy storage applications. Graphene-containing aerogels could be used in high-performance composite materials for near future energy storage applications, such as in electric vehicles. Hence, increase in demand for electric vehicles from both developed and developing nations to curb pollution and to reduce the dependency on the conventional fuel usage is expected to create lucrative opportunities for aerogel market growth in future.
The report segments the global aerogel market by raw material into silica, carbon, alumina, and others. The market is categorized by form into blanket, particle/powder, blocks, and panel. Applications include building insulation, oil & gas, aerospace, automotive, health care, chemical, electronics, apparel, and others. Region wise, the market is analyzed across North America, Europe Asia-Pacific, and LAMEA.
Some of the leading manufacturers profiled in this report include Armacell International S.A, Active Aerogels, Aerogel Technologies LLC, Aspen Aerogel Inc., BASF SE, Cabot Corporation, Dow Inc., JIOS Aerogel, Svenska Aerogel AB, and Thermablok Aerogels Limited. These major key players are adopting different strategies such as strategic agreements, new product launches, and business expansions to stay competitive in the global aerogel market.
Europe would exhibit an CAGR of 10.6% during 2020-2027
Aerogel Market, By Region
North America dominated the market in 2019, accounting for a market share of 39.1%, owing to rise in consumer awareness toward global warming, which, in turn, boosts the adoption of insulation solutions such as aerogel in industrial and domestic applications such as buildings and oil & gas refineries.
Aerogel Market

---
By Raw Material
Carbon is projected as the fastest growing segment
Global Aerogel Market, By Raw Material
In 2019, the silica aerogel segment garnered the highest share of 69% in the global market. This is attributed to the fact that aerogels possess enhanced heat insulation properties and characteristics such as lightweight, chemically inertness, and reusability of silica aerogel.
Particle is projected as the fastest growing segment
Global Aerogel Market, By Form
In 2019, blanket was the largest revenue generator, accounting for a share of 69% in the global aerogel market, owing to its increase in use in building insulation and oil & gas industry. 
Aerogel Market

---
By Application
Automotive is the fastest growing application
Global Aerogel Market, By Application
In 2019, oil & gas was the highest revenue generator, accounting for a market share of 56%. This is attributed to chemical inertness and lower heat conductance of aerogel, which make it a suitable material for pipeline insulation.
Key Benefits For Stakeholders
The global aerogel market analysis covers in-depth information of major industry participants.
Porter's five forces analysis helps to analyze the potential of buyers & suppliers and the competitive scenario of the industry for strategy building.
Major countries have been mapped according to their individual revenue contribution to the regional market.
The report provides an in-depth analysis of the global aerogel market forecast for the period 2020-2027.
The report outlines the current global aerogel market trends and future estimations from 2020 to 2027 to understand the prevailing opportunities and potential investment pockets. 
The key drivers, restraints, and global aerogel market opportunity and their detailed impact analysis is elucidated in the study.
 Aerogel Market Report Highlights
Aspects
Details
By Row Material

Silica
Carbon
Alumina
Others

By Form

Blanket
Particle
Block
Panels

By Application

Building Insulation
Oil & Gas
Aerospace
Automotive
Healthcare
Chemical
Electronics
Apparel
Other

By Region

North America (U.S, Canada, Mexico)
Europe (France, Germany, UK, Spain, Italy, Rest of Europe)
Asia-Pacific (India, china, Japan, Korea, Australia, Rest of Asia-Pacific)
LAMEA (Brazil, Saudi Arabia, South Africa, Rest of LAMEA)

Key Market Players
ARMACELL INTERNATIONAL S.A., ACTIVE AEROGELS, AEROGEL TECHNOLOGIES LLC, ASPEN AEROGELS INC., BASF SE, CABOT CORPORATION, DOW INC., JIOS AEROGEL CORPORATION, SVENSKA AEROGEL AB, THERMABLOK AEROGELS LIMITED