Aeroponics Market Outlook - 2026
The global aeroponics market was valued at $578.70 million in 2018, and is projected to reach $3.53 billion by 2026, growing at a CAGR of 25.60% from 2019 to 2026. Aeroponics is an indoor gardening practice in which plants are grown and nourished by suspending their root structures in air. The process requires regular spraying of nutrients in a water solution. Aeroponics offers an efficient means to grow plants, including fruits and vegetables, without the need to pot the plants in nutrient-rich soil. In aeroponics system, the roots of plants are misted with nutrients, water, and oxygen. Therefore, this process does not require any containers or trays to hold water. It is an effective and efficient way to grow plants as it requires less water and minimal space compared to traditional farming techniques.
Aeroponics system offers the possibility to enhance crop production and diminish costs compared to traditional farming methods or to any other alternate technique of farming. Aeroponics system successfully utilizes every vertical distance for either farming or production of the greenhouse. This technique does not need pesticides, in addition to zero harmful waste production. The controlled environment of aeroponics has the capability to produce approximately 70% more yield compared to traditional agriculture. The world's biggest aeroponics farm is under construction, with 6400 m2 of cultivating space without soil.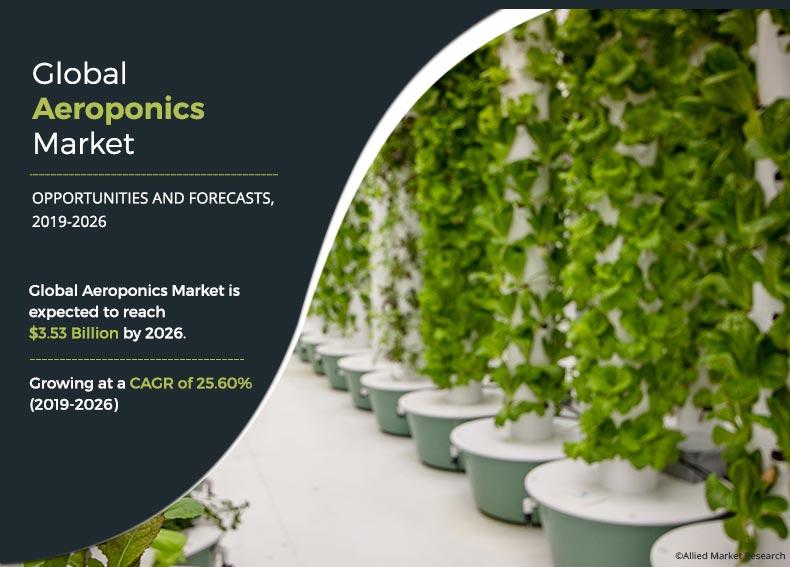 The world's biggest aeroponics farm is under construction, with 6400 m2 of cultivated spaces without soil. The infrastructure is being developed by AeroFarms and is fueled by photo-voltaic panels, which is expected to produce over 2 million kg of vegetables per year. In addition, the UAE received its first vertical aeroponics farm on January 2018 from Indoor Farms of America, an American vertical farming industry. The farm is located in Dubai and is set to open for business in the coming months.
The demand for aeroponics industry is expected to increase rapidly during the forecast period, owing to rise in popularity of organic food and disease-free environment in the agriculture sector. The technologies used in this farming enable to keep track of plant growth and harvesting, which further drives the market growth. However, high initial investment is required for setting the indoor structure and lighting and irrigation systems. Also, the technologies involved in aeroponics farming are nascent, which is expected to have a negative impact on the market growth. Nonetheless, rise in urban population and surge in adoption of technology driven agriculture are expected to provide lucrative aeroponics market opportunities globally.
Aeroponics Market

---
By Component
Climate control would exhibit the highest CAGR of 30.3% during 2019-2026.
Segment Overview
The global aeroponics market trends are analyzed across various segments including application, component, and region. On the basis of component, it is categorized into irrigation component, lighting, sensor, climate control, building material, and others. Depending on application, it bifurcated into indoor farming and outdoor farming.   
The regional segmentation of the market includes North America, Europe, Asia-Pacific, and LAMEA. The European aeroponics market industry is expected to grow at the highest CAGR during the forecast period, owing to growth in concern over availability of water in certain parts, majorly in central and southern regions, rise in demand for organic foods and requirement of ensuring urban food security.
Top Impacting Factors
The significant impacting factors in the aeroponics market include increase in popularity of organic foods, limited arable land for traditional agriculture, and growing popularity of disease-less environment in agriculture. However, high initial investments and developmental phase of technologies used in the aeroponics market pose a major threat, thus, hamper the aeroponics market growth globally. Conversely, surge in adoption of technology driven agriculture and growth in urban population are projected to offer remunerative opportunities to the market. Each of these factors are anticipated to have a definite impact on the aeroponics market during the forecast period. 
Aeroponics Market

---
By Application
Indoor Farming would exhibit the highest CAGR of 27.6% during 2019-2026.
Increase in popularity of organic foods
Organic food refers to the products obtained through farming system that does not use synthetic fertilizers, pesticides, and growth regulators. In the present scenario, people across the globe have become increasingly aware about the source of food that they consume on a daily basis. This results in increase in demand for organic foods. For instance, in North America, the sale of organic food has witnessed significant growth over the past few years. 
Limited arable land for traditional agriculture
According to the United Nations Population Division (2009), the global population is expected to increase from about 6.9 billion in 2010 to 9.2 billion in 2050. Presently, the growth rate of global population is nearly 80 million per annum, which is a major concern, as habitable area of the Earth is limited to nearly 13 billion hectares. Therefore, people have shifted from traditional agricultural techniques to sustainable ways to cater to the increasing demand-supply gap. This is a major factor that drives the adoption of aeroponics farming across the globe as a sustainable, profitable, and ecologically healthy option of traditional farming.
Popularity of disease-free environment in agriculture
The modern idea of aeroponics farming uses indoor farming technique and controlled environment agriculture technology, where all environmental factors can be controlled. These facilities use artificial control of light, environmental control, and fertigation. Controlled environment has a strong potential to improve plant development stages, growth, and health. Usage of aeroponics farming significantly lowers the occupational hazards associated with traditional farming. Such competitive edge provided by aeroponics farming over traditional farming assists its market expansion.
Competitive Analysis
The key players profiled in the report include AeroFarms, Aeroponics (AERO Development Corp), BrightFarms Inc, Evergreen Farm Oy, LettUs Grow, CombaGroup SA, Altius Farms, Ponics Technologies, Living Greens Farm, and Freight Farms. These key players have adopted strategies, such as product portfolio investments, expansion, and product launch to enhance their position in the aeroponics market. 
Aeroponics Market

---
By Region
Europe would exhibit the highest CAGR of 28.8% during 2019-2026.
Key Benefits for Aeroponics Market :
This study comprises analytical depiction of the global aeroponics market size along with the current trends and future estimations to depict the imminent investment pockets.
The overall aeroponics market analysis is determined to understand the profitable trends to gain a stronger foothold.
The report presents information related to key drivers, restraints, and opportunities with a detailed impact analysis.
The current aeroponics market forecast is quantitatively analyzed from 2019 to 2026 to benchmark the financial competency.
Porter's five forces analysis illustrates the potency of the buyers and suppliers in the aeroponics market industry.
The report includes the aeroponics market share of key vendors and market trends.
 Aeroponics Market Report Highlights
Aspects
Details
By Application

Indoor Farming
Outdoor Farming

By Component

Irrigation Component
Lighting
Sensor
Climate Control
Building Material
Others

By Region

North America (U.S., Canada, Mexico)
Europe (Germany, France, UK, Netherlands, Rest of Europe)
Asia-Pacific (China, India, Japan, Australia, Singapore, Rest of Asia-Pacific)
LAMEA (Brazil, Saudi Arabia, South Africa, Rest of LAMEA)

Key Market Players
AEROFARMS, AEROPONICS (AERO DEVELOPMENT CORP), BRIGHTFARMS INC., EVERGREEN FARM OY., LETTUS GROW, COMBAGROUP SA, ALTIUS FARMS, PONICS TECHNOLOGIES, LIVING GREENS FARM, FREIGHT FARMS