Aerospace Artificial Intelligence Market Statistics 2028 -
The global aerospace artificial intelligence market valued $373.6 million in 2020 and is projected to reach $5,826.1 million in 2028, registering a CAGR of 43.4%.    
The COVID-19 outbreak forced governments across the globe to implement strict lockdowns and made social distancing mandatory to contain the spread of the virus. As a result, thousands of airplanes were grounded internationally and the industry witnessed a huge slump in revenues. The losses witnessed by the aviation sector have impacted the adoption of innovative technologies such as AI. Airports and airlines suffered to a large scale by the pandemic that stopped the companies and authorities to invest in AI technologies. With the ongoing vaccination across the globe, the aerospace industry is expected to come on track in some time and the adoption of AI is projected to increase over the years.
Artificial intelligence (AI) holds great possibilities for the aerospace industry. Implementation of AI in the aerospace sector can allow aircraft manufacturers reorganize production of various components and lessen various safety issues at airports. AI technologies such as machine learning, computer vision, and natural language processing are capable of bringing dramatic changes across different areas such as customer service, smart maintenance, product design, pilot training, and threat identification. In recent years, major aircraft manufacturers such as Airbus S.A.S and Boeing announced AI-based product launches and research initiatives. Moreover, these companies have made huge investments in AI startup firms through their venture arms to develop cutting-edge solutions driven by AI. Engineers in Boeing are making use of artificial intelligence to propel higher effectiveness from precision automation equipment assembling aircraft in South Carolina. Recently, Airbus launched Algym and Skywise solutions that are set to offer great value to aerospace companies in the future.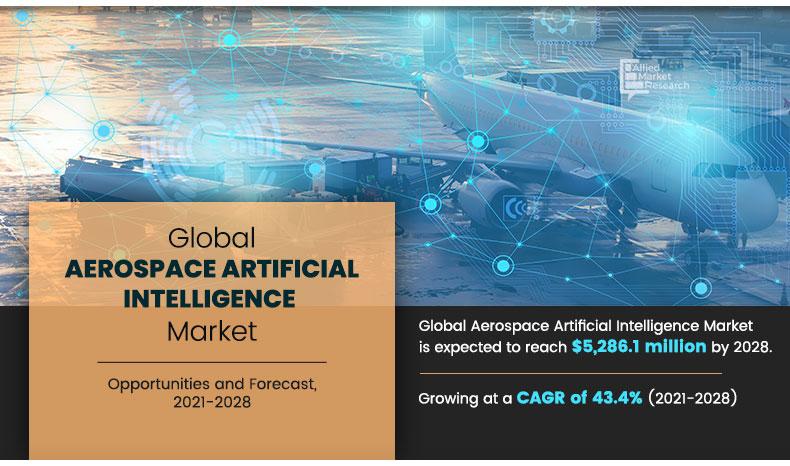 AI is expected to offer great solutions that offer increased efficiency, safety, and productivity for companies operating in the aerospace sector. These new solutions are projected to redefine main capabilities of next generation of aviation professionals.  
The aerospace artificial intelligence market is segmented into offering, technology, application, and region. By offering, it is divided into software, hardware, and services. By technology, it is fragmented into machine learning, natural language processing, computer vision, and context awareness computing. By application, it is classified into customer service, smart maintenance, manufacturing, training, flight operations, and others. By region it is analyzed across North America, Europe, Asia-Pacific, and LAMEA.
Key players operating in the global aerospace artificial intelligence market include Airbus S.A.S., General Electric Company, Intel Corporation, International Business Machines Corporation (IBM), Iris Automation Inc., Microsoft Corporation, SITA, Spark Cognition, Thales Groups, and The Boeing Company. 
Increase in fuel efficiency by use of artificial intelligence (AI)
Aircraft consumes billions of gallons of fuel every year. According to IATA Factsheet published in December 2019, commercial airlines consumed around 98 billion of fuel worldwide. Although fuel-consumption witnessed a drastic decline in 2020, owing to the COVID-19 pandemic as there was decline in air traffic. Moreover, to overcome expenses due to rise in fuel consumption, various organizations are already making lightweight components with assistance of 3D printing technology. Artificial intelligence (AI) can also help aerospace firms improve fuel efficiency of aircraft.
Airplane consumes fuel at maximum rate during the climb phase. AI designs can help analyze fuel consumption data by studying climb phase of several airplanes and operations of aircraft by various pilots to develop climb phase profiles for each aircraft model and pilot. These profiles can help improve fuel consumption. By using AI-produced profiles, pilots can efficiently consume fuel during several stages of flight. In addition, to benefit from fuel-saving prospects of AI, several airlines are making use of AI models to save fuel expenses. For instance, in 2019, Air France announced its plans to make use of AI to cut fuel use and emissions. The company uses Sky Breathe technology (based on big data, AI, and machine learning) in partnership with Open Airlines with the objective to reduce total fuel consumption by up to 5%. Increase in use of AI technologies to make aircraft more fuel-efficient is expected to drive growth of the global aerospace artificial intelligence market during the forecast period.  
Rise in use of AI to ensure safety at airports
In the last decades, airport authorities across the globe have ramped up their security considerably in response to growing threats at airports. Artificial intelligence-generated systems help tackle safety concerns for airport authorities. In February 2018, the government of the UK invested around $2 million for development of new AI systems to enhance safety and lessen wait times across the nation's busiest airports. Moreover, to tighten security, in 2018, the U.S. transportation security administration introduced new computed tomography scanners at John F. Kennedy, Los Angeles International Airport, and Phoenix airports, which make use of AI in finding threats. In addition to ensuring security at airport checkpoints, AI can also be used to scale up security at landside zones of airports. Various airports are installing cutting-edge solutions to strengthen safety. For instance, in July 2019, one of the California's busiest airports, Oakland international airport, selected Evolv Edge physical threat detection. This system makes use of combination of facial recognition, millimeter-wave technologies, and camera to inspect individuals walking through a moveable security gate. It scans about 900 people in an hour, making it significantly faster as compared to regular X-ray scanners. 
Machine learning models can be deployed to automatically analyze data for several threats. For instance, they can help detect firearms and explosives, while ignoring other items such as keys and belt buckles, which are usually carried by passengers. Hence, rise in usage of AI for improving security at airports is expected to propel growth of the global aerospace artificial intelligence market during the forecast period.
Stringent airline regulations and high cost of adoption of AI in aerospace
AI holds great prospects for the future of the aviation industry by assisting in efficient product design, air traffic management, pilot training, enhanced customer service, and in offering operational efficiency and maintenance. While it can be quite profitable to deploy AI models in the aerospace sector, there are some pitfalls as well. The aerospace sector is governed by strict regulations and standards, hence safety of airports, product design of aircraft, ground operations, and other parameters have to be in accordance with strict global regulations. Therefore, adopt AI in aerospace, organizations have to develop systems that go hand-in-hand with all the global standards. This leads to increase in time for implementation of AI by the global aerospace industry. 
Another aspect that is expected to result in low adoption of AI models in aerospace is the high cost involved with AI systems. For instance, to deploy a chatbot to handle customer requests, an airline has to invest thousands of dollars. Hence, it would be highly unfeasible for small airline companies to invest in the same, which acts as a barrier for the adoption of AI tools for airlines. Such factors are anticipated to obstruct growth of the global aerospace artificial intelligence market during the forecast period.
Use of AI to ensure operational efficiency and maintenance of airplanes
Aircraft have numerous sensors that assist pilots in measuring air pressure, altitude, and speed. To make better use of parameters (temperature, moisture, and pressure in different parts of an aircraft) calculated by sensors, AI models can really be helpful in identifying anomalous behavior in aircraft components. For instance, sensors fitted in turbines can gather useful data such as temperature, air pressure, and rotation speed. This data can be employed to instruct AI models regarding standard turbine performance. By examining this data, AI models can identify when turbines perform in their standard manner, which can alert concerned staff about probable faults. In this way, application of AI in aerospace can help airlines enhance their operational efficiency by preventing component failures that can cause interruptions in flight operations. 
In recent years, several airlines have adopted AI to improve their operational efficiencies. For instance, in March 2018, easyJet signed a 5-year contract with Airbus S.A.S. to provide predictive maintenance services by using Skywise digital aviation data platform for its fleet of 300 aircraft. easyJet aims to reduce delays and cancellations caused by technical problems in aircraft. Several other airlines, such as Southwest Airlines, Delta Airlines, and United Airlines, are making wide use of AI to manage various operations such as bag-scanning, air traffic control, and customer services. Rise in adoption of AI to ensure operational efficiency and maintenance of airplanes is expected to propel growth of the global aerospace artificial intelligence market during the forecast period.
COVID-19 Impact Analysis 
The COVID impact on the aerospace artificial intelligence (AI) market is unpredictable and is expected to remain in force till the second quarter of 2021. 
The COVID-19 outbreak forced governments across the globe to implement strict lockdowns and banned domestic and international travel for most of the year 2020. This led to sudden fall in demand for air-travel and hampered adoption of artificial technology for aerospace applications across the globe. 
Moreover, nationwide lockdowns forced aerospace and AI related parts manufacturing facilities to partially or completely shut their operations.
Adverse impacts of the COVID-19 pandemic have resulted in delays in activities and initiatives regarding development of robust and innovative aerospace artificial intelligence solutions globally.
Key Benefits For Stakeholders
This study presents analytical depiction of the global aerospace artificial intelligence market analysis along with current trends and future estimations to depict imminent investment pockets.
The overall aerospace artificial intelligence market opportunity is determined by understanding profitable trends to gain a stronger foothold.
The report presents information related to key drivers, restraints, and opportunities of the global aerospace artificial intelligence market with a detailed impact analysis.
The current aerospace artificial intelligence market is quantitatively analyzed from 2020 to 2028 to benchmark the financial competency.
Porter's five forces analysis illustrates the potency of the buyers and suppliers in the industry.
Key Market Segments
By Offering
Software
Hardware 
Services
By Technology
Machine Learning
Natural Language Processing
Computer Vision
Context Awareness Computing
By Application
Customer Service
Smart Maintenance
Manufacturing
Training
Flight Operations
Others
By Region
North America
Europe

Russia
UK
Germany
France
Rest of Europe

Asia-Pacific

China
Japan
India
South Korea
Rest of Asia-Pacific

LAMEA

Latin America
Middle East
Africa
KEY PLAYERS
Airbus S.A.S.
General Electric Company
Intel Corporation
International Business Machines Corporation (IBM)
Iris Automation Inc.
Microsoft Corporation
SITA
Spark Cognition
Thales Groups
The Boeing Company