Aerospace Coatings Market Overview:
Global Aerospace Coatings Market was valued at $1,587 million in 2016 and is expected to garner $2,433 million by 2023, registering a CAGR of 6.3% during the forecast period 2017 - 2023. Aircrafts are subjected to high climatic stress which causes wear & tear of metal surfaces, which results in frequent maintenance and repair. Aerospace coatings offer high resistance against corrosion, solar heat & ultra violet rays, fog, and other adverse weather conditions. Along with high protection, it also reduces the weight of aircrafts, and thus helps reduce CO2 emissions. Increase in number of aircrafts due to growth of aviation industry in the emerging markets such as China, and India is expected to propel the demand for aerospace coatings. Airline mergers are of significant interest for aerospace coatings manufacturers, which is expected to fuel the growth of aerospace coatings market during the forecast period.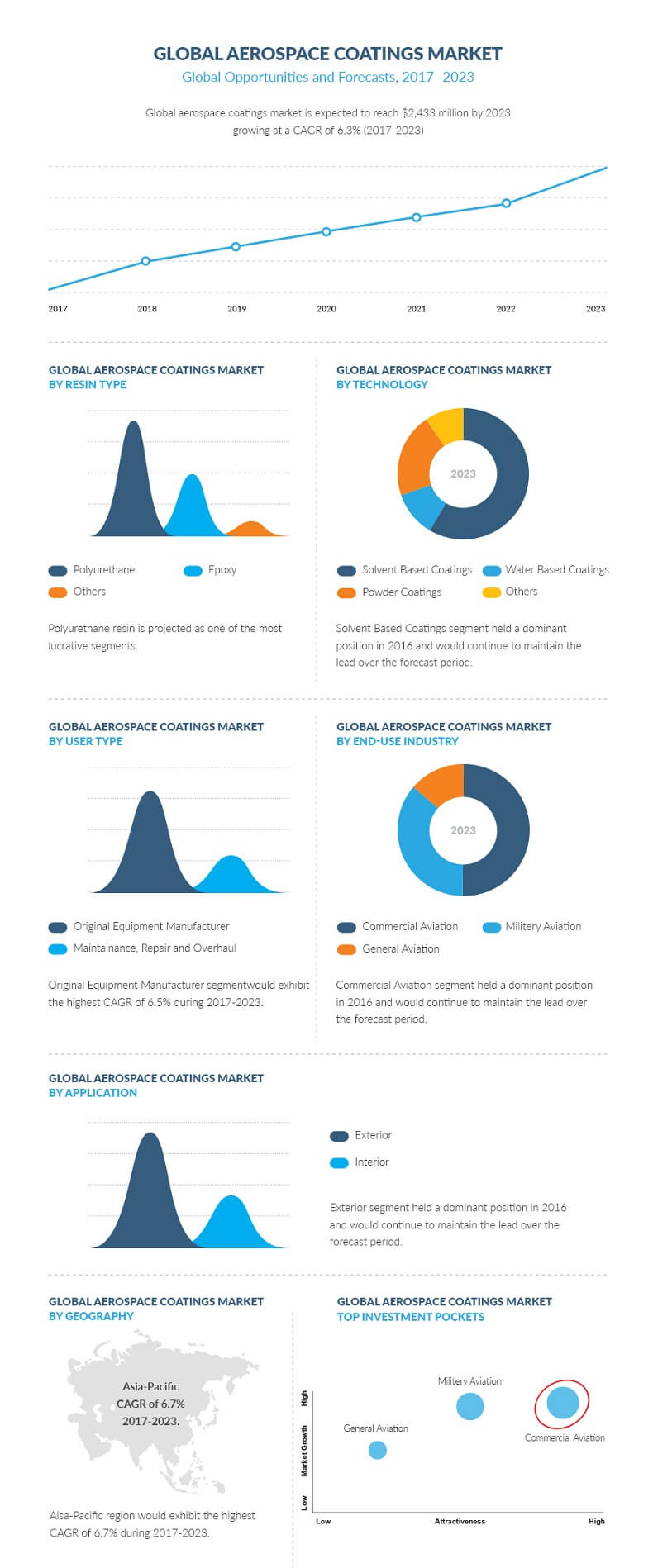 The global aerospace coatings market is segmented based on resin type, technology, user type, end-use industry, and geography. Based on resin type the market is divided into epoxy, polyurethane, and others. Based on technology the market is segmented into solvent-based coatings, water-based coatings, powder coatings, and others. User type segment is classified into original equipment manufacturer (OEM) and maintenance, repair & overhaul (MRO). The end-use industry is segmented as commercial aviation, military aviation, and general aviation. Application of aerospace coatings market includes exterior and interior surface of the aircraft. Geographically, the market is analyzed across North America, Europe, Asia-Pacific, and LAMEA.
Asia-Pacific is anticipated to grow at significant rate from 2017 to 2023. Increase in cargo traffic, rise in number of air travelers, and international trade in emerging countries, such as China and India has led to the growth of aerospace industry, which offer lucrative opportunities to market players.
Top Investment Pocket
Commercial aviation is the most lucrative market for aerospace coatings and is expected, to grow at the significant CAGR during the forecast period. Rise in number of air travelers, increase in cargo traffic, and growth in international trade has led to the development of commercial aviation industry, which fuels the market. Military aviation is the second most attractive market due to the increase in investment in military & defense sector in countries such as U.S., Mexico, China, India, and Russia.
Segment Review
Polyurethane resin type has high resistance to abrasion, staining, and chemicals. It has high degree of resistance to the damaging effects of ultraviolet rays from the sun, which makes it a preferred choice in the aerospace coatings market. It is expected to grow at the highest CAGR from 2017 to 2023.
LAMEA Review
The aerospace industry in LAMEA region has witnessed a rise in trend owing to the rise in number of air travelers. According to the General Civil Aviation Authority of UAE, it currently has the second largest airport is in the United Arab Emirates (UAE). Moreover, Abu Dhabi International Airport (AUH) is one of the fastest growing airport hubs, which serves over 94 destinations in 56 countries. According to an article in the gulf news (April 2017), the UAEs aviation sector is anticipated to contribute $53 billion to the countrys economy by 2020. This is expected to open new avenues for the aerospace coatings manufacturers in the Middle East region.
Some of the key players operating in the global aerospace coatings market include Akzonobel N.V., BASF SE, Henkel AG & Co. KGaA, Hentzen Coatings, Inc., IHI Ionbond AG, Mankiewicz Gebr. & Co., Mapaero, PPG Industries, Inc., The Sherwin-Williams Company, and Zircotec Ltd.
Other key market players (not profiled in this report) in the value chain include AHC Oberflchentechnik GmbH, Argosy International, Asahi Kinzoku Kogyo Inc., Brycoat Inc., Cheaerospacel, Hohman Plating & Manufacturing LLC, International Aerospace Coatings Holdings Lp, Merck Performance Materials, NVSC Specialty Coatings, and Zodiac Aerospace.
Key Benefits for Stakeholders
The report provides an in-depth analysis of the current trends, drivers, and dynamics of the global aerospace coatings market to elucidate the prevailing opportunities and the probable investment pockets.
It offers qualitative trends as well as quantitative analysis from 2015 to 2023 to assist the stakeholder to understand the market scenario.
In-depth analysis of the key segments demonstrates the application of aerospace coatings across various user types and end use industries.
Competitive intelligence highlights the business practices followed by key players across the geographies as well as the prevailing market opportunities.
Key players are profiled along with the strategies and developments, which portray the competitive market outlook.
 Aerospace Coatings Market Report Highlights
Aspects
Details
By Resin Type

Polyurethane
Epoxy
Others

By Technology

Solvent Based Coatings
Water Based Coatings
Powder Coatings
Others

By User Type

Original Equipment Manufacturer
Maintenance, Repair & Overhaul

By End Use Industry

Commercial Aviation
Military Aviation
General Aviation

By Application
By Geography

North America
Europe

UK
Germany
France
Italy
Spain
Rest of Europe

Asia-Pacific

China
Japan
Korea
India
Rest of Asia-Pacific

LAMEA

Brazil
Argentina
Saudi Arabia
UAE
Rest of LAMEA

Key Market Players
AKZONOBEL N.V., PPG INDUSTRIES, INC., IHI IONBOND AG, THE SHERWIN-WILLIAMS COMPANY, HENKEL AG & CO. KGAA, BASF SE, ZIRCOTEC LTD., HENTZEN COATINGS, INC., MANKIEWICZ GEBR. & CO., MAPAERO