The global aerospace cyber security market size was valued at $39.7 billion in 2021, and is projected to reach $92.0 billion by 2031, growing at a CAGR of 9.0% from 2022 to 2031.
Cyber security in the age of the internet is a major concern. It is also a growing concern in the aerospace industry as the industry continues to advance technology and needs to be proactively known to be protected with strong cybersecurity practices. Aerospace cybersecurity sets the industry standard for securing the flow of critical information to and from aircraft. Its solutions address current and future risks to flight security and the integrity of the vast amounts of data traveling in and out of aircraft and it is a fundamental requirement in this digital age.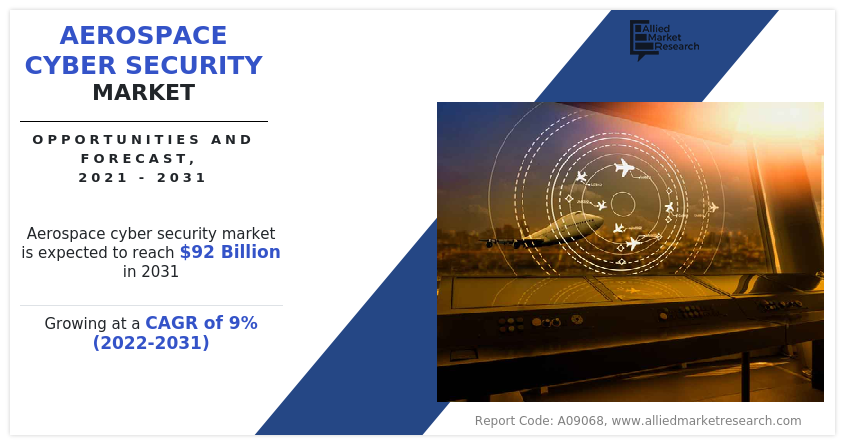 It helps in maintaining safe and resilient operations. Technology and digitization bring many benefits to the aerospace industry, but they also create challenges in managing cyber vulnerabilities in this complex environment. The aerospace industry is an attractive target for cyber attackers with motives ranging from stealing data and money to causing disruption and damage.
In addition, there is always the risk that an aerospace company's systems will be attacked or compromised, disrupting business operations, or exposing sensitive information. There have been numerous examples of ransomware and cyber espionage campaigns at various aerospace companies. Manufacturers, airlines, and government agencies are all victims of cyberattacks, resulting in the loss of sensitive data and disrupted operations. Also, increasing satellite constellations are a case in point for improved aerospace cybersecurity.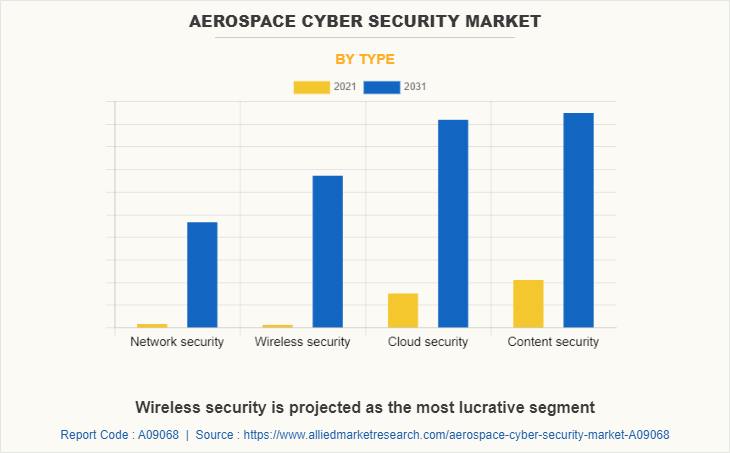 Without robust cybersecurity protocols, hackers can seize control, shut down, deny users access, or jam signals. Such disruptions could affect space operations and the critical infrastructure that relies on these satellites such as electricity, networks, water systems, and transport networks. These factors have made the aerospace industry take cybersecurity more seriously.
The global aerospace cyber security market is expected to experience significant growth due to increasing severity of cyber-attacks, technology advancement required to support passenger traffics, and stringent government regulations. However, limited awareness related to cybersecurity and lack of cybersecurity professionals or workforce hamper the growth of the market. On the contrary, the rise in cyber-attacks on aviation and increasing use of modern technologies and automation to foster growth are the major factors that are expected to provide lucrative opportunities for market growth during the forecast period.
The aerospace cyber security market is segmented into deployment, application, component, and region. As per type, the market is classified into network security, wireless security, cloud security, and content security. Based on deployment, it is segregated into clouds and on-premises. Depending on application, it is classified into aircraft, drones, and satellite. By component, the market is classified into services and solutions. Region wise, the market is analyzed across North America, Europe, Asia-Pacific, and LAMEA.
The key players profiled in the aerospace cyber security market include Astronautics Corporation of America, DXC Technology Company, The Aerospace Corporation, EUROCONTROL, Lockheed Martin Corporation, Thales Group, Raytheon Technologies Corporation, Northrop Grumman Corporation, BAE Systems, and Honeywell International, Inc.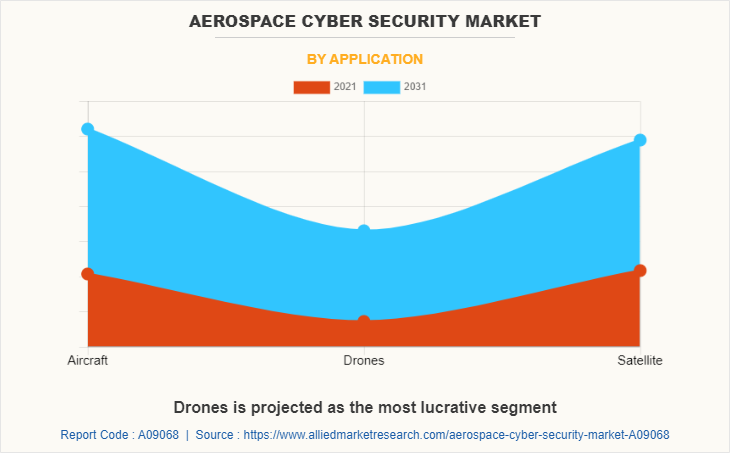 Increasing severity of cyber attacks
Advancements in cyber-attack tools and methods as well as the growing motivation and exposure of the attackers have led to the current trend in these cyber-attacks thus affecting airlines, aircraft manufacturers, and authorities. Cyber Risk International reported that the rise in cyber-security challenges in the aviation industry is a result of the combination of digital transformation, connectivity, segmentation, and complexity currently being experienced in the industry due to a surge in global travel.
This further makes the industry rely heavily on IT facilities to keep up with the pace, needs, and transformations, thus getting it exposed to storms of cyber-attacks. In all, they are of the opinion that with multiple entries and exits in the aviation industry, creating a watertight defense is becoming a herculean task. Moreover, having lots of Legacy IT issues and fragmentation in the industry have in no measure increased the complexities as many of the IT systems in use were not designed to cope with the modern challenges of cyber-crime.
The number of reported cybersecurity breaches has risen at an alarming rate. In the U.S. alone, there have been 1,579 data breaches, resulting in over 178 million records being exposed in previous years, representing a 44.7% increase in 2020. Cybercrime is now the second most reported crime around the world and in the UK, cybercrime now accounts for over 50% of all crime. With the introduction of modern IT tools such as IoT devices, machine learning, cloud storage, and cloud computing in the aviation industry, attention will be needed in aerospace cyber-security due to their inherent vulnerabilities. These cyberattacks will further help in creating demand for the cyber security in aerospace.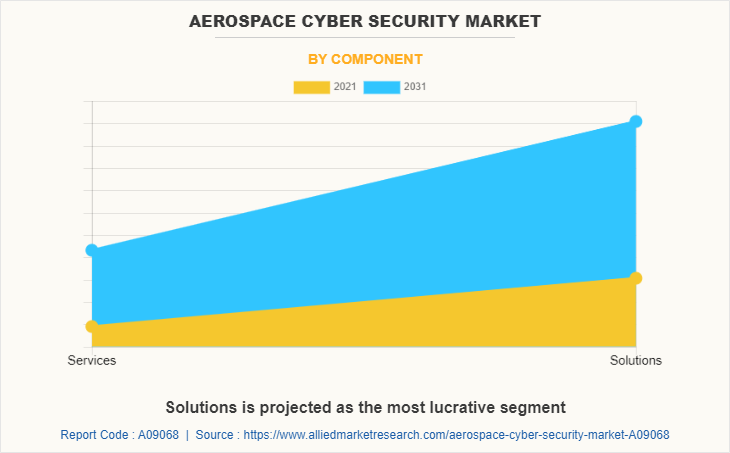 Technology advancement required to support passenger traffics
Airports continue to expand their infrastructure knowledge to improve passenger travel experiences and drive growth as passenger numbers increase at a rapid pace each year. By enabling a real-time exchange of information on flight plans, coordination, and coordination of the entire airport process, airports significantly improve operational performance, customer facilities, and enhanced security capabilities. Where automation and the use of IT services are required, cybersecurity plays a key role in protecting sensitive passenger data, aircraft security details, and more. Such factors contribute to the acceptance of these systems and impact the aerospace cyber security market share.
Limited awareness related to cybersecurity
Various countries with archaic IT technology are easy targets for ransomware attacks or malware infections. As a result, hackers will hit underprepared companies with email phishing frauds, stolen passwords, or malware to break in and steal confidential and important government data or lock up critical systems needed for operations and services. For instance, in September 2022, LockBit ransomware targeted the Agency for Aerial Navigation Safety in Africa and Madagascar (ASECNA). During this high severity incidence, the data of the agency's 18 member countries have been encrypted, and the agency has threatened to disclose breached data to the dark web unless a $25,000 ransom is paid. Therefore, a lack of awareness related to cyber security in aerospace may impede the demand of the market.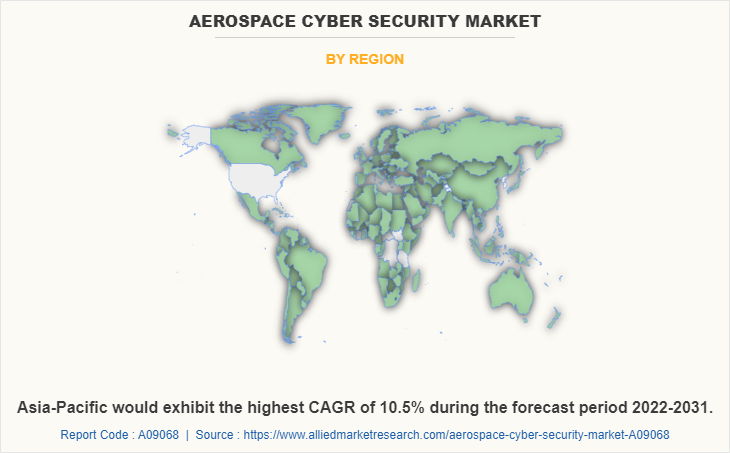 Increasing use of new technologies and automation
The use of complex and interconnected information technology systems in the aerospace industry is increasing daily. From Wi-Fi connections and in-flight entertainment systems for passengers to software used at airports and airlines to manage security controls and reservations, complex information technology solutions are used throughout the industry supply chain. New information and communications technologies (ICT) such as artificial intelligence (AI), 5G networks, and internet of things (IoT) sensors are at the peak of inflated expectations.
Modern airports embrace the benefits of automation and innovative technologies for operational efficiency, reduction of maintenance costs, customer satisfaction, and predictive capacity planning. However, modern technologies also bring along new potential vulnerabilities. The European Aviation Safety Agency (EASA) estimates that an average of 1,000 attacks occur per month on aviation systems, thus becoming a real threat to airport safety, security, and reputation. Cybersecurity will play a pivotal role as the rapid inclination toward digitization through all kinds of channels makes it a target for cybercriminals, rogue states, and the number of threats is growing fast.
The spread of COVID-19 further accelerated the development and adoption of cybersecurity services by governments for application in the changing needs of surveillance and control missions. Aerospace cybersecurity will play a pivotal role as the rapid inclination toward digitization through all kinds of channels makes it a target for cybercriminals, and rogue states, and the number of threats is growing fast. These factors play a vital role in promoting the growth of the aerospace cybersecurity market during the forecast period.
Key Benefits For Stakeholders
This report provides a quantitative analysis of the market segments, current trends, estimations, and dynamics of the aerospace cyber security market analysis from 2021 to 2031 to identify the prevailing aerospace cyber security market opportunities.
The market research is offered along with information related to key drivers, restraints, and opportunities.
Porter's five forces analysis highlights the potency of buyers and suppliers to enable stakeholders make profit-oriented business decisions and strengthen their supplier-buyer network.
In-depth analysis of the aerospace cyber security market segmentation assists to determine the prevailing market opportunities.
Major countries in each region are mapped according to their revenue contribution to the global market.
Market player positioning facilitates benchmarking and provides a clear understanding of the present position of the market players.
The report includes the analysis of the regional as well as global aerospace cyber security market trends, key players, market segments, application areas, and market growth strategies.
 Aerospace Cyber Security Market Report Highlights
Aspects
Details
Market Size By 2031
USD 92 billion
Growth Rate
CAGR of 9%
Forecast period
2021 - 2031
Report Pages
292
By Type

Network security
Wireless security
Cloud security
Content security

By Deployment
By Application

Aircraft
Drones
Satellite

By Component
By Region

North America (U.S., Canada, Mexico)
Europe (UK, Germany, France, Russia, Italy, Rest of Europe)
Asia-Pacific (China, Japan, India, South Korea, Rest of Asia-Pacific)
LAMEA (Latin America, Middle East, Africa)

Key Market Players
DXC Technology Company, EUROCONTROL, Thales Group, Astronautics Corporation of America, Honeywell International, Inc., BAE Systems, The Aerospace Corporation, Northrop Grumman Corporation, Lockheed Martin Corporation, Raytheon Technologies Corporation