The global aerospace robotics market was valued at $2.9 billion in 2020, and is projected to reach $9.2 billion by 2030, growing at a CAGR of 12.69% from 2021 to 2030.
Aerospace robotics is a robotic technology used to manufacture aircraft in aerospace industry. Aerospace robots are utilized for various tasks, including engine drilling holes, manufacturing, welding metal parts, and painting airframes. Various positive aspects of aerospace robotics technology, including high precision, flexible automation, capacity to conduct repeatable operations, and high-speed production are critical in aircraft manufacturing.
The COVID-19 impact on the aerospace robotics market is unpredictable and is expected to remain in force for a few years. The COVID-19 outbreak forced governments across the globe to implement stringent lockdown and ban import–export of raw material items for most of 2020 & few months in 2021. This led to sudden fall in availability of important raw materials for manufacturing aerospace robot components. Moreover, nationwide lockdown forced aerospace robotics manufacturing facilities to partially or completely cease their operations. Adverse impacts of the COVID-19 pandemic resulted in delays in activities and initiatives regarding development of advanced aerospace robotics components across the globe.
Increase in need for efficient manufacturing of aircraft, surge in use of robotics to handle aircraft order backlog, and rise in labor cost boost demand for robotic solutions, machines, and equipment for aircraft manufacturing. However, high costs associated with installation of robotic systems and lack of skilled workforce limit adoption of robotic systems in aerospace industry.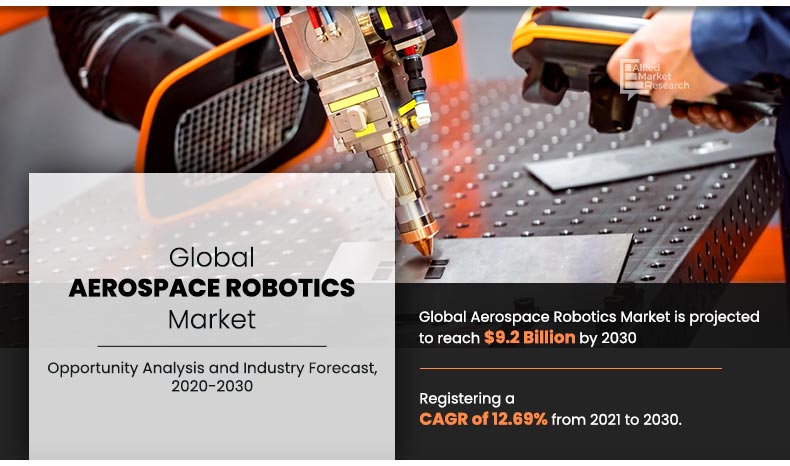 On the contrary, technological advancements, including artificial intelligence (AI), Internet of Things (IoT), cloud computing & 3D vision technology, and high paced growth in aerospace industry are expected to provide lucrative growth opportunities for the aerospace robotics industry in future.
Aerospace Robotics Market

---

By Technology
Collaborative is projected as the most lucrative segment
The aerospace robotics market is segmented on the basis of technology, application, type, and region. Depending on technology, it is segmented into traditional and collaborative. According to application, it is bifurcated into drilling, welding, painting, inspection, and others. As per the type, it is categorized into articulated, cartesian, and others. Region wise, it is analyzed across North America (the U.S., Mexico, and Canada), Europe (the UK, Germany, France, and rest of Europe), Asia-Pacific (China, India, Japan, and rest of Asia-Pacific), and LAMEA (Latin America, Middle East, and Africa).
The key players profiled in this aerospace robotics market report include ABB, AV & R, Electroimpact Inc., Fanuc Corporation, JH Robotics, Inc., KUKA AG, Mitsubishi Electric Corporation, OC Robotics, Universal Robots A/S, and Yaskawa Electric Corporation.
Aerospace Robotics Market

---

By Application
Drilling is estimated to witness highest market share during the forecast period
Increase in need for automation for efficient aircraft production
Aerospace companies focus on automation of operational processes to reduce cost, save time, deliver high-quality products, and increase productivity to meet  stiff competition. Aerospace robots automate internal processes and reduce workload of employees by working in collaboration with workers for better efficiency. Several companies, including Boeing Company, GKN Aerospace, Pratt & Whitney, and Airbus focus on deploying robots for manufacturing process of aerospace components. For instance, in October 2019, Airbus started its highly automated fuselage structure assembly line for A320 Family aircraft in Hamburg. The new facility features 20 robots, a new logistics concept, automated positioning by laser measurement, and a digital data acquisition system. Furthermore, in 2019, the Boeing Company reported that technologists in South Carolina used artificial intelligence (AI) to drive assembly efficiency. The AI solution is being used to support fuselage section assemblies for Boeing 787.
Moreover, robots are used for various applications in aerospace industry, including drilling, painting, sealing, inspection, and engine fabrication. Large number of activities can be executed in less duration of time by robots in comparison with man power. In addition, robot deployment by aerospace companies is growing, due to robotic systems being able to do repetitive tasks, including drilling a large number of holes in aircraft parts, welding of metal parts, and painting, which reduces costly rework. These factors propel growth of the adoption of robotic systems for efficient aircraft production. For instance, large and complex jigs are required for manual drilling process whereas, robots perform seamless drilling procedures without the help of jigs and fixtures.
Growth in use of robotics to handle aircraft order backlog
Aircraft manufacturers including Airbus, Boeing Company, and others witness manufacturing backlog, owing to increase in number of aircraft orders and growth in number of passengers across the globe. For instance, according to the Airbus's annual report 2020, in December 2020, backlog of 7,184 aircraft commercial orders was observed. Furthermore, as per the Boeing Company's annual report 2020, backlog of more than 4,000 commercial airplane orders was reported.
Robotic devices used in the aerospace industry help in automated drilling and fastening operations, including welding, material handling, and aircraft parts handling. The aerospace robotics machines are flexible and lighter compared to the existing manufacturing machines. Robotic devices help human operators in performing complex and repetitive manufacturing processes. Several industries, including automotive and aerospace adopt automation and robotic systems to speed up their production with maintaining quality to cover backlogs. For instance, in February 2022, according to the Association for Advancing Automation (A3), 39,708 robots sold in North America in 2021, a 14% over the previous high in 2017 and 28% increase over 2020.
Moreover, aerospace companies, including Airbus Group, Bombardier Inc., and  the Boeing Company implement automation and robotics technologies in their manufacturing processes for development of humanlike robotic technology that can perform complex manufacturing tasks and are capable of working in hard-to-access parts of aircraft and handle a backlog of orders.
Lack of skilled workforce
Unavailability of skilled labor for development and implementation of robotics technology hinder the growth of the aerospace robotics industry. Existing workers in manufacturing sector, including automotive and aerospace industries lack the skills required for operating advanced robotic devices.
Technological advancements
Aerospace robotics market is expected to significantly grow in future, owing to introduction of new technologies. Advancements, including Internet of Things (IoT), 3D vision technology, artificial intelligence, and cloud computing enhance the features of robotic devices used in aerospace industry. Advanced ultrasonic and metrology inspection technologies used in robots help in performing operations, including delamination, cracks, and fastener inspections during assembly process in aircraft manufacturing industry. In addition, advanced industrial robots can communicate with others for improved manufacturing process, owing to development of Internet of Things (IoT). For instance, in July 2021, Airbus introduced its new fully automated solar array production for aircraft and spacecraft. This new project combines 18 separate robots that work together to build solar cells in a seamless manner. Furthermore, in 2019, Airbus acquired MTM robotics, an industrial automation company for expanding advanced robotics capabilities within its manufacturing processes.
Moreover, robots are used for building various complex shapes of aircraft components using 3D printing. For instance, In January 2022, the Boeing Company developed the first 3D printed flight critical part for spin during test flights. In addition, in 2020, according to The Boeing Company's 4th quarter report 2019, more than 70,000 3D-printed production parts fly through Boeing commercial and defense programs
Aerospace Robotics Market

---

By Region
Asia-Pacific would exhibit the highest CAGR of 14.82% during 2021-2030
Key Benefits For Stakeholders
This report provides a quantitative analysis of the market segments, current trends, estimations, and dynamics of the aerospace robotics market analysis from 2020 to 2030 to identify the prevailing aerospace robotics market opportunities.
The market research is offered along with information related to key drivers, restraints, and opportunities.
Porter's five forces analysis highlights the potency of buyers and suppliers to enable stakeholders make profit-oriented business decisions and strengthen their supplier-buyer network.
In-depth analysis of the aerospace robotics market segmentation assists to determine the prevailing market opportunities.
Major countries in each region are mapped according to their revenue contribution to the global market.
Market player positioning facilitates benchmarking and provides a clear understanding of the present position of the market players.
The report includes the analysis of the regional as well as global aerospace robotics market trends, key players, market segments, application areas, and market growth strategies.
 Aerospace Robotics Market Report Highlights
Aspects
Details
By Technology

Traditional
Collaborative

By Application

Drilling
Welding
Painting
Inspection
Others

By Type

Articulated
Cartesian
Others

By Region

North America (U.S., Canada, Mexico)
Europe (U.K., Germany, France, Russia, Rest of Europe)
Asia-Pacific (China, India, Japan, South Korea, Rest of Asia-Pacific)
LAMEA (Latin America, Middle East, Africa)

Key Market Players
ABB, AV&R, Electroimpact Inc., Fanuc Corporation, JH Robotics, Inc., KUKA AG, Mitsubishi Electric Corporation, OC Robotics, Universal Robots A/S, Yaskawa Electric Corporation