Aesthetic fillers are gel-like substances this solution are injected into the skin to restore lost volume, smooth lines, soften wrinkles, and improve facial contours for aesthetic filler treatment non-surgical aesthetic filler procedures are most widely used which contain hyaluronic acid, collagen, polymers and particles are used to give the skin. Various material types are introduce in aesthetic filler market such as polymer and particles, collagen and hyaluronic acid. Out of which hyaluronic acid dermal fillers are popular among patient and dermatologist. This is most commonly used for the treatment of acne, wrinkles, scars and augmentation of lips, chin and cheek. It helps to hydrate, stimulate new collagen, volumized, and soften fine line on the face. The outcome of this treatment can last for 6-12months. According to "who" 1million men and women have prefer aesthetic filler treatment which can be cost effective and look younger. Rising trend of using anti-aging treatment and the demand for a much younger lifestyle rises the growth of aesthetic filler market. "International society of aesthetic plastic surgery reported that in 2018, 10 million minimally invasive injectable procedure was done across the globe, this thread anticipated to increase the demand for facial line correction, face lift, lip treatment, bone treatment, others this factor develop the aesthetic filler market growth. In 2017, new injectable fillers are introducing in European industry such as "polymethyl-methacrylate microspheres" (PMMA) is considered as semi-permanent filler used to treat medium to deep wrinkles, furrows and folds, mostly nasolabial folds and also used augmenting thin lips and there were 17890 treatment with non-permanent dermal fillers were done in "Netherlands".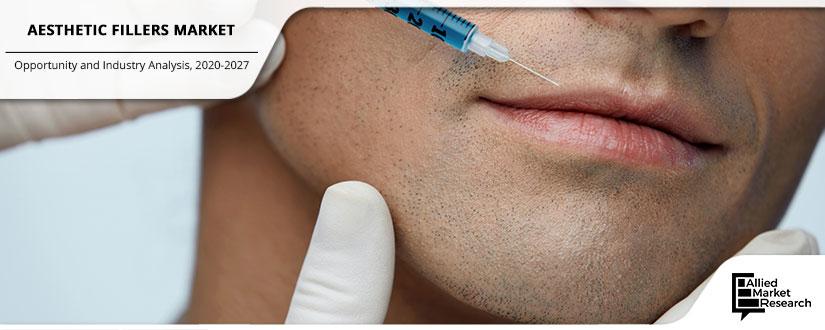 COVID-19 Scenario Analysis:
To take care of infected population the demand for medical supplies is increasing. Respiratory support devices such as atomizer, life-support machine, oxygen generator, and monitor are among the majorly used medical devices in primary clinical treatment. Moreover, COVID-19 has led to a huge surge in demand for medical supplies such as personal protective equipment including masks, gloves, and protective eyeglasses. With rise in number of COVID-19 cases worldwide, the need for medical supplies keeps on rising among, both from healthcare professionals and civil population for precautionary measures. Manufacturers of these products have a chance to capitalize this increased demand of medical supplies to ensure adequate and continuous supply of personal protective equipment in the market.
The ongoing outbreak of COVID-19 pandemic impacted the medical device industry. It affect aesthetic fillers market. During this pandemic situation all the surgical and non-surgical asthetic procedure are stopped due to the spreading of viral infection and lockdown announced by government in various region. It affect the demand of dermal filler devices and reduce the supply chain of the facial treatment associated product. By affecting demand and supply chain of the product major market player losses their business 
Top impacting factors: Market Scenario Analysis, Trends, Drivers and Impact Analysis:
Globally, North America, hold the largest market share and dominated the aesthetic filler market due to the increasing demand for aesthetic filler devices, availability of advanced product and rising interest of market player in aesthetic appearance. However, Europe is the second largest market share which attributed to presence of advanced technology and increasing R&D activities Whereas, Asia- Pacific anticipated to expand market growth rate due to the increasing demand for advanced technology for facial associated treatment, rising awareness amongst the population regarding the usage of product and non-surgical aesthetic filler procedure.  
In 2018, "International Society of Aesthetic Plastic Surgery", reported that around 10 million minimally invasive injectable procedures done across the globe and 12,659,147 number of non-surgical aesthetic procedures are completed across the globe.
The factors that drive the growth of aesthetic filler market such as, increasing demand for the ever-expanding range of dermal fillers and non-surgical aesthetic procedure, growing acceptance of tissue fillers with rising dermal filler surgeries, rising attention on facial aesthetic amongst older population, growing the number of operations performed, growing demand for facial aesthetics, increasing investment in aesthetic filler treatment, rising R&D activities, However, the factor such as the negative effect of unregistered practitioner side effects associated with dermal fillers, lack of regulations governing the usage of dermal filler products, and an increasing circulation of counterfeit products are restrain the growth of the aesthetic filler market. 
New Product launch to flourish the market:
Major Key market manufacturer have been focusing on increasing research and development activities and producing new product solution for specific applications as there are varying demands based on the utilization. Leading market players have determined how improved accuracy can be influential in many applications. In 2018, "Allergen" has launched new device such as "UVEDERM®". This device is an injectable dermal filler with a base of hyaluronic acid. This is used to restore facial contours and improve signs of aging.  It's a treatment that focuses on the face, specifically the cheeks, lips, and around the mouth. The procedure to inject the product takes 15 to 60 minutes. In 2019, "Integra Life science" has launched "Accell Evo3(R)" device. This device used as a bone graft extender in the spine, extremities and pelvis or as a bone void filler for the extremities and pelvis, and may replace the need to harvest bone graft material from the iliac crest, thus sparing the patient additional surgery and postoperative pain. In 2019, "Merz Pharma" has launched "Juvederm" is a cosmetic treatment referred to as a filler that focuses on the face, specifically the cheeks, lips, and around the mouth. It's used to restore facial contours and improve signs of aging. It's an injectable dermal filler with a base of hyaluronic acid. In 2019, "Toxane" has launched "RHA® hydrogel mask" this mask used as a complement to a professional aesthetic procedure to soothe and comfort sensitized skin after the application of the post procedure care. 
Key benefits of the report:
This study presents the analytical depiction of the global aesthetic fillers market along with the current trends and future estimations to determine the imminent investment pockets.
The report presents information related to key drivers, restraints, and opportunities along with detailed analysis of the global aesthetic fillers market share.
The current market is quantitatively analyzed to highlight the global aesthetic fillers market growth scenario.
Porter's five forces analysis illustrates the potency of buyers & suppliers in the market. 
The report provides a detailed global aesthetic fillers market analysis based on competitive intensity and how the competition will take shape in coming years. 
Questions answered in the Aesthetic Fillers Market research report:
Who are the leading market players active in aesthetic fillers market?
What are the current trends will influence the market in the next few years?
What are the driving factors, restraints, and opportunities in the market?
What are the projections for the future that will help in taking further strategic steps?
 Aesthetic Fillers Market: Global Opportunity Analysis and Industry Forecast, 2020–2027 Report Highlights
Aspects
Details
By Product Type

Absorbable
Non Absorbable

By Material

 Polymer and Particles
Collagen
Hyaluronic Acid

By Application

Facial Line Correction
Face Lift
Lip Treatment
Bone Treatment
Others

By Region

North America (U.S., Canada, Mexico)
Europe (France, Germany, Italy, Spain, UK, Rest of Europe)
Asia-Pacific (China, Japan, India, South Korea, Australia, Rest of Asia-Pacific)
LAMEA (Brazil, South Africa, Saudi Arabia, Rest of LAMEA)

Key Market Players
Integra Lifesciences, Sinclair Pharma PLC, Laboratories Vivacy SAS, Galderma Pharma SA, Sinclair Pharma, Allergan, Merz Pharma, Suneva Medoical Inc., Teoxane, Dr. Koreman laboratories