After Sun Care Products Market Outlook - 2026
Skin care products are mainly used to protect the skin against harmful UV rays of the sun. The end users purchasing sun care products are also looking for multi-functional skin care. There is an increase in the demand for multi-functional cosmetic products and companies dealing in this industry are focusing on the launch of sun care creams with value-added benefits such as SPF level, waterproofing, and antioxidant vitamins. The manufacturers are also focusing on advanced product packaging to increase the usability of skin care products. Wide product offerings with integrated personal care features is offering lucrative growth opportunities for the companies. The rise in demand for such multi-function products has created a new path for new entrants in the market. As a result, new players are entering the market in the Asia-Pacific and Europe regions through their innovative product offerings. Products such as anti-aging creams are incorporated with sun care cream to recover from sun damage while maintaining skin aging. The widespread product offerings and entry of new players in the market with innovative packaging and multi-functional attributes are anticipated to flourish the demand for the after-sun care products market during the forecast period. According to World Cancer Research Fund International, the melanoma of skin is the nineteenth most common type of cancer that occurs among men and women. 
The global after sun care products market size was valued at US$ 2.1 billion in 2018 and is anticipated to reach US$ 2.9 billion by 2026, with a CAGR of 3.7% during the forecast period. Sunlight is a vital element for many essential functions such as vitamin D production and circadian rhythm management. However, too much exposure to sun light might be harmful. Ultraviolet (UV) radiations from the sun often result in skin damage, including sunburn, aging, and skin cancer. After sun products are largely used as over the counter skin nourishing cosmetic among people involved in outdoor activities. After sun care products help to recover skin from sun damage. These products provide antioxidants, vitamins, and other soothing ingredients in a single pack. The organic after sun care products include ingredients such as essential oils.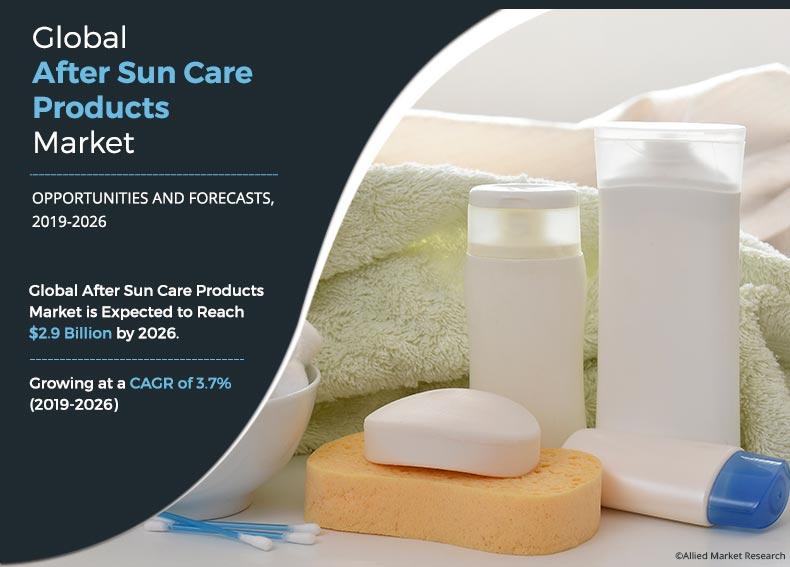 Consumers are actively looking for more advanced and multifunctional skin care solutions for their daily skin care routines. This has resulted into introduction of novel multifunctional after sun care products in the market, which are integrated with other cosmetic ingredients such as anti-aging elements, lotions with moisturizing properties, tinting agents, and makeup primers. After sun care products in combination with targeted skincare are becoming popular among consumers. 
The organic after sun care products, including essential oil-based products, organic and natural products, and home-made sun care products, are widely preferred by local consumers in the mass market. End users mainly procure organic sun care products through a traditional supply chain. However, increased penetration of internet and growing awareness for e-commerce distribution channels has significantly increased the penetration of locally produced goods. This has also resulted into increased penetration of local manufacturers in the global after sun care products market. 
SMEs operating in Asia and Europe are targeting online sales channel to increase their sales. These companies are also investing into various marketing and advertising activities to increase their product awareness. The growing penetration of organic sun care products among people and increased preference of organic/natural cosmetics is anticipated to fuel the after sun care products market growth during the forecast period.
After Sun Care Products Market

---
By Price Point
Mass After-Sun segment dominates the global After Sun Care Products market and is expected to retain its dominance throughout the forecast period.
Rapid growth in e-commerce distribution is the prime factor responsible for counterfeiting of cosmetic products. According to a report by Financial Times, in 2017, the online distribution of non-grocery goods grew by 12.5% to contribute around 24.1% in the total sales. The cosmetic industry has been strongly hit by counterfeit activities due to large number of consumers purchasing products through online sales channels. In addition, lack of brand loyalty among consumers while purchasing cosmetic products is also responsible for the decrease in penetration of cosmetic products.
Companies operating in the after sun care products market face challenges from fake product distributers thus, witness reduction in terms of sales. Such increased counterfeit activities due to lack of effective supply chain management is expected to hamper the revenue growth of personal care and cosmetic products market in the long run.
After Sun Care Products Market

---
By Form
Essential Oils segment is projected to grow with fastest CAGR during the forecast period
The growing disposable income and awareness toward probable risks associated with sun exposure and sun care increases the demand for sun care products. Leading manufactures of the market target private label brands to increase their product reach in the after sun care products market, thereby supplementing overall revenue growth in the sun care industry. 
The search for natural and organic sun care products is booming and contributing to the growth of after sun care products market demand. Consumers are going after physical sun care products which include various mineral-based ingredients such as titanium dioxide and zinc oxide. The popularity of such after sun care products has increased due to the increase in side effects from chemical ingredients such as oxybenzone, avobenzone, octisalate, and homosalate, which are used in these products. 
After Sun Care Products Market

---
By Distribution Channel
Retail Pharmacies segment is expected to grow at a highest CAGR of 4.4% during the forecast period.
According to a report by Consumer Reports National Research Center, nearly half of the sunscreen users search for "natural" products while shopping. The consumers purchasing after sun care products are always focused toward ingredients of products and give more weightage to them while making purchase decisions. This shows the importance of ingredients in sun care products. 
The after sun care products market is segmented on the basis of price point, form, distribution channel, and region. By price point, the market is categorized into mass after sun and premium after sun. By form, the after sun care products market segments include cream, gel, lotion, essential oil, and others. By distribution channel, it is categorized into retail pharmacies, convenience stores, supermarket/hypermarket and e-commerce.
Region-wise, the after sun care products market is analyzed across North America (the U.S., Canada, and Mexico), Europe (Germany, France, the UK, Spain, Italy, and Rest of Europe), Asia-Pacific (China, India, Japan, Australia, South-East Asia, and Rest of Asia-Pacific), and LAMEA (the Middle East, Latin America, and Africa).
After Sun Care Products Market

---
By Region
North America dominates the Global After Sun Care Products market and is expected to grow with a CAGR of 2.5% during the forecast period
The key players operating in after sun care products industry include L'Oréal SAS, Beiersdorf AG, Clarins Group, Lancaster Group, Unilver Plc, Estee Lauder Companies, Bioderma Laboratories, Johnson and Johnson, Coty Inc. and Shiseido.
Key Benefits for After Sun Care Products Market:
The report provides detailed qualitative and quantitative analysis of the current after sun care products market trends and future estimations that help evaluate the prevailing after sun care products market share and opportunities.
The key drivers, restraints, opportunities, and detailed after sun care products market analysis are elucidated in the study.
The market analysis is conducted by following key product positioning and monitoring the top competitors within the industry.
The report provides extensive qualitative insights on the potential and niche segments or regions exhibiting favorable after sun care products market growth.
Industry player positioning segment facilitates benchmarking and provides a clear understanding of the present position of players along with the after sun care products market forecast.
 After Sun Care Products Market Report Highlights
Aspects
Details
By Price Point

Mass After Sun
Premium After Sun

By Form

Cream
Gel
Lotion
Essential Oils
Others

By Distribution Channel

Retail Pharmacies
Convenience stores
Supermarket/Hypermarket
E-Commerce

By Region

North America (United States, Canada, Mexico)
Europe (Germany, France, UK, Spain, Italy, Rest of Europe)
Asia-Pacific (China, India, Japan, Australia, South-East Asia, Rest of Asia-Pacific)
LAMEA (Latin America, Middle East, Africa)

Key Market Players
Shiseido Company, Limited, Coty Inc., Unilever PLC, L'Oréal SAS, Clarins Holding, REVLON, INC., The Estée Lauder Companies Inc., Johnson & Johnson Services, Inc. (J&J), Bioderma Laboratories, Beiersdorf AG