Agricultural Textiles Market Research, 2031
The global agricultural textiles market was valued at $11.8 billion in 2021 and is projected to reach $18.8 billion by 2031, growing at a CAGR of 4.9% from 2022 to 2031.
Report key highlighters
The analysis in the report is provided on the basis of the type, material, product type, and application. The study will also contain qualitative information such as the market dynamics (drivers,  restraints, opportunities), Porter's Five Force Analysis, key regulations across the region, and value chain analysis.
This report makes it easier for existing market players and new entrants to the agricultural textile business to plan their strategies and understand the dynamics of the industry, which ultimately helps them make better decisions.
The report provides competitive dynamics by evaluating business segments, product portfolios, target market revenue, geographical presence, and key strategic developments by prominent manufacturers.
 The report facilitates strategic planning and industry dynamics to enhance decision-making for existing market players and new entrants entering agricultural textile industry.
The widespread use of biodegradable mulches in agriculture would help to enhance crop output and quality while also preventing soil contamination. People are increasingly turning to sustainable materials and goods as society becomes more aware of environmental pollution, global warming, and environmental calamities. This comprises agricultural textiles used in a variety of products, such as nonwoven agricultural textiles used for mulching.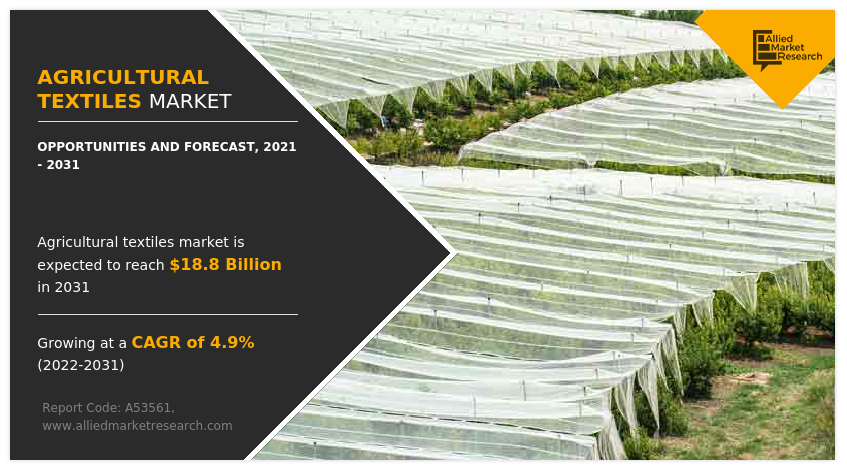 Agricultural textile (agro textile) products protect farmers from toxic pesticides and chemicals, increase crop output, and prevent soil from drying up. Currently, the term "agro-textile" is used to categorize the woven, non-woven, and knitted materials used in horticulture and agriculture. A healthy farming culture is produced by using fewer toxic pesticides and herbicides, which is also an environmentally beneficial method. Agricultural textiles can enhance the quantity, quality, and safety of agricultural goods due to their superior mechanical capabilities, resistance to the environment, ease of processing, and durability features.
Agriculture has used textile fabrics for a very long time. The majority of textile materials are created using synthetics in a variety of decompositions and are either woven or nonwoven in fabrication. The use of textiles has expanded to protect agricultural items including plants, vegetables, and fruits from the elements, weeds, and birds. Agriculture can act as a partnership, enhancing one another's strengths to create a new iteration of the "agro-textiles" revolution. It also provides multiple perspectives and solutions to the issues the agriculture business is currently facing, drawn from the textile industry.
Manmade fibers are preferred for agricultural products over natural fibers mainly due to their favorable price-performance ratio, ease of transport, space-saving storage, and long service life. Natural fibers like wool, jute, and cotton are also employed where the product's biodegradability is crucial. Although natural polymers have the benefit of biodegradation, they have a shorter service life than synthetic ones. After sowing or planting, agro textiles are immediately spread throughout the farmed areas.
Agrotextiles must be able to endure sun radiation and a range of ambient temperatures for this application. The polyethylene used as outdoor material has been treated with the proper UV stabilizers. These particular varieties of carbon black transform ultraviolet energy into heat radiation. There is good potential for light-absorbing or light-reflecting nonwovens to lessen the effects of UV radiation on plants.
Increased agriculture activities across the globe
The surge in demand for products, which helps to improve crop quality and boost overall productivity, together with the rise in requirement to boost agro productivity to meet the needs of the expanding population are expected to propel industry expansion throughout the forecast period. In some OPEC member states, the COVID-19 epidemic created a number of problems with plant management, logistics, and the supply chain.
However, favorable government policies promoting sustainable practices in agriculture and related industries are anticipated to increase product demand. The growth of the sector is supported by the numerous applications of agro textiles, including their ability to increase germination in nurseries, protect soil from moisture evaporation and erosion, and provide protection from environmental and climatic variables including hail, rain, and sunlight.
The U.S. has seen a growth in product acceptance thanks to protection from pests like birds, insects, fungi, and other pests. Agro textiles are created on weaving machines. Woven fabrics are the best choice for applications where the textile is likely to come into contact with moisture since they are resistant to shrinkage or weathering from water.
Woven fabrics are stronger and thicker than other types of textiles, which makes them ideal for protective uses including packaging and floor coverings. Applications for the items include forestry, horticulture, aquaculture, landscape, and animal husbandry. They secure cattle and crops during transportation and shield them from vermin, pests, fungi, weeds, and other annoyances. These agricultural fabrics are also employed for irrigation, capture, and shading functions.
The creation of agro textiles is an expensive operation due to expensive and widely utilized basic materials, such as petroleum, and sophisticated manufacturing techniques used to produce yarn from these raw materials. The fluctuating cost of raw materials is hindering the market growth.
The agricultural textile market is segmented into material, type, product type, application, and region. On the basis of material, the market is divided into nylon, polyethylene, polypropylene, polyesters, and others. On the basis of type, it is categorized into woven, knitted non-woven, and others. On the basis of product type, it is classified into mulch mats, fishing nets, anti-hail & anti-bird nets, crop covers, shade nets, and others. Applications covered in the report are agriculture, horticulture, aquaculture, forestry, and others. Region-wise, the market is studied across North America, Europe, Asia-Pacific, and LAMEA.
Agricultural Textiles Market

---
By Material
Polyethylene segment has garnered major share and is projected as the fastest growing segment.
The polyethylene segment accounted for the largest market share. PE is a more expensive substance than polypropylene and is one of the most commonly used materials for agricultural textiles. PE-based agriculture textile is used for both interior and outdoor agricultural applications. PE is frequently used to make monofilament meshes and row coverings.
Agricultural Textiles Market

---
By Type
Knitted segment is projected as the fastest growing segment.
The knitted agro textile segment led the global industry in 2021 and accounted for the maximum share of more than 47.4% of the overall revenue as the fabric is used in a wide variety of applications, such as impact protection in the form of wind control, hail protection, and bird nets. Simple handling and adoption of different ways to use knitted fabrics boost the demand for the product.
Several processes, including chemical bonding, thermal fusion, and mechanical entanglement, are used to create non-woven fibers. A web structure is used during the manufacturing process to first give mechanical strength and then subsequently additional qualities depending on the fiber's intended usage.
Woven agro textiles are developed on weaving machines, such as the Sulzer projectile machines. Woven fabrics are the best choice for applications where the textile is likely to come into contact with moisture since they are resistant to shrinkage or weathering from water. Compared to other textiles, woven fabrics are thicker and more durable, making them suitable for protective applications like the packaging of agricultural products.
The woven textile segment is anticipated to experience growth during the forecast period due to its long-term durability and superior strength compared to knitted goods. However, woven fabric production takes more time and money when compared with other types of materials, which could restrict expansion.
Agricultural Textiles Market

---
By Product Type
Fishing nets segment has garnered major market share.
The fishing nets segment led the global industry in 2021 and accounted for the largest share of more than 32.1% of the overall revenue. The expansion of aquaculture boosts the growth of the fishing net market due to a surge in the usage of aquatic life in a variety of industries, including nutraceuticals, medicines, and cosmetics. Shade nets are selected based on the crops produced beneath them depending on the amount of light a crop can handle. They also assist in boosting agricultural productivity throughout the summer and lowering damage brought on by extreme heat. They are employed in a variety of processes, including the production of vermicompost, nurseries, and floriculture.
The biodegradability of natural mulch mats aids in the replenishment of soil nutrients at the conclusion of their life cycle, hence highly preferred over other types of mulch mats. This promotes sustainable farming and lessens the harm brought on by the disposal of synthetic fibers. Anti-hail nets are used in regions where hail is common, such as high altitude and cold regions. They are typically used to protect tall fruit trees in hail-prone locations, where each tree needs its own net. These nets are made of UV-stabilized HDPE yarn that is weaved or knitted to endure the impact of falling hail.
Agricultural Textiles Market

---
By Application
Aquaculture has garnered major market share and agriculture segment is projected as the fastest growing segment.
Based on application, the agricultural textiles market is segmented into agriculture, horticulture, aquaculture, forestry, and others. The aquaculture segment dominated the market in 2021 and is likely to continue its dominance during the forecast period due to growth in the fishing industry. Aquaculture relies heavily on aquatic plants like seaweeds because they supply essential nutrients and vitamins.
The COVID-19 outbreak has impacted the aquaculture sector causing the consumption of aquatic animals to suddenly decline, leading to a substantial economic loss and a decline in the aquaculture market. The agriculture industry is anticipated to grow favorably during the forecasted period owing to rapid population growth. Agriculture textiles are used to stop soil erosion and increase crop productivity due to the rise in consumer need for food.
Agricultural Textiles Market

---
By Region
Asia-Pacific hold the major market share and is projected as the fastest growing region.
The Asia-Pacific dominated the global industry in 2021 and accounted for the maximum share of more than 52.5% of the overall revenue. The high share of the Asia-Pacific region is due to the increased demand for agricultural products, which is caused by an aging population and shifting consumer tastes. The existence of advanced economies like the U.S. and Canada helps the North American economy to demonstrate a high degree of diversity.
The North America market is anticipated to be driven by R&D into more sustainable agriculture practices and a rise in consumer interest in organic products during the forecast period. China is the dominant region in the agriculture textile market. There is a significant increase in the demand for agricultural textiles in other Asian economies, including South Korea and India.
The demand in the agriculture industry in Europe is expected to increase owing to the rise in governmental efforts to boost the total agricultural yield. The issues restricting agricultural output in Europe include climate change, environmental sustainability concerns, and competition with other economic sectors for finite resources like water.
Central and South America is anticipated to expand significantly throughout the projection period owing to an increase in product demand from the fishing and agricultural sectors. Moreover, high consumer awareness regarding agro products is expected to have a positive impact on the regional market during the forecast period.
The major players operating in the global agricultural textile market include Hy-Tex (UK) Limited, Diatex, Helios Group S.r.l., belton industries,  Siang May Pte Ltd, Meyabond Industry & Trading (Beijing) Co., Ltd., Tencate geosynthetics, Garware Technical Fibres Ltd., Aduno SRL, and Beaulieu Technical Textiles.
Key developments undertaken by market players:
January 2020– Diatex participated in the world's largest horticultural trade show, IPM ESSEN 2020, which was held in Germany. At the IPM ESSEN 2020, the company will display a customized plant protection system as well as other crop field protection solutions.

Beaulieu Technical Textiles (BTT) has launched a new product, "Agrolys WH FR" which is the first halogen-free, flame-retardant, and reflective woven ground cover.
Key Benefits For Stakeholders
This report provides a quantitative analysis of the market segments, current trends, estimations, and dynamics of the agricultural textiles market analysis from 2021 to 2031 to identify the prevailing agricultural textiles market opportunities.
The market research is offered along with information related to key drivers, restraints, and opportunities.
Porter's five forces analysis highlights the potency of buyers and suppliers to enable stakeholders make profit-oriented business decisions and strengthen their supplier-buyer network.
In-depth analysis of the agricultural textiles market segmentation assists to determine the prevailing market opportunities.
Major countries in each region are mapped according to their revenue contribution to the global market.
Market player positioning facilitates benchmarking and provides a clear understanding of the present position of the market players.
The report includes the analysis of the regional as well as global agricultural textiles market trends, key players, market segments, application areas, and market growth strategies.
 Agricultural Textiles Market Report Highlights
Aspects
Details
Market Size By 2031
USD 18.8 billion
Growth Rate
CAGR of 4.9%
Forecast period
2021 - 2031
Report Pages
472
Type

Woven
Knitted
Non-woven
Others

Material

Nylon
Polyethylene
Polypropylene
Polysters
Others

Product Type

Mulch Mats
Fishing Nets
Anti hail and anti bird nets
Crop covers
Shade Nets
Others

Application

Agriculture
Horticulture
Forestry
Aquaculture
Others

By Region

North America (U.S., Canada, Mexico)
Europe (Germany, France, Italy, Spain, UK, Rest of Europe)
Asia-Pacific (China, India, Japan, South Korea, Australia, Rest of Asia-Pacific)
LAMEA (Brazil, South Africa, Saudi Arabia, Rest of LAMEA)

Key Market Players
Hy-Tex (UK) Limited, Diatex, belton industries, Meyabond Industry & Trading (Beijing) Co., Ltd., tencate geosynthetics, Aduno SRL, Helios Group S.r.l., Siang May Pte Ltd., Garware Technical Fibres Ltd., Beaulieu Technical Textiles