Agriculture Biotech Market Research, 2031
The global agriculture biotech market size was valued at $93.1 billion in 2021 and is projected to reach $214.6 billion by 2031, growing at a CAGR of 8.8% from 2022 to 2031. The branch of biotechnology that focuses on agricultural applications is called agricultural biotechnology. Agriculture biotech has been used for a very long time to improve agriculturally significant organisms through breeding and selection.
The COVID-19 pandemic has created several uncertainties, resulting in significant economic losses as various enterprises around the world have come to a standstill. The agricultural biotechnology market was impacted by the COVID-19 epidemic. COVID-19 posed a significant threat to global food security. Millions of people were malnourished and hungry prior to the epidemic, thus immediate action is required to address the worldwide food crisis. Dealing with food security is a crucial step toward post-COVID-19 rehabilitation strategies. Also, the epidemic impacted domestic food supply networks in a number of countries. The aftereffects of COVID-19, along with the global economic crisis, could disturb the smooth operation of food systems in the future years. As a result, mitigation of such disruptions by advanced technologies such as biotechnology is expected to increase in the future years.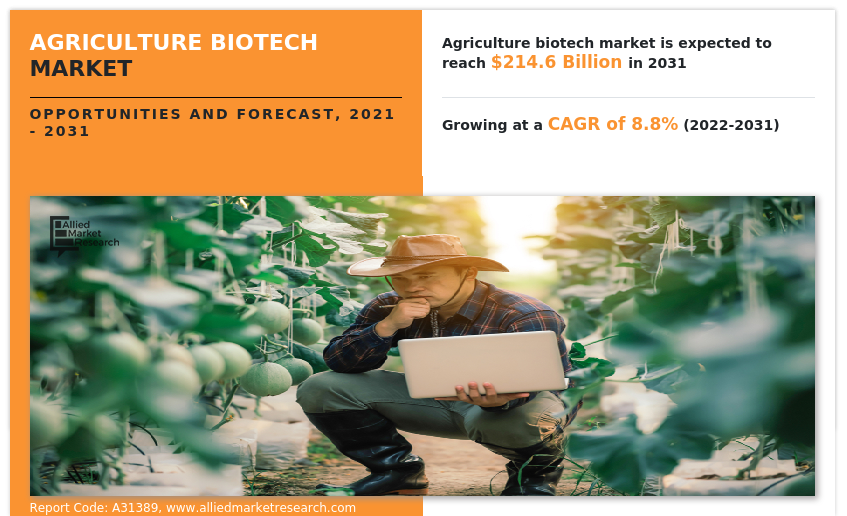 Biotechnology also makes it easier to spread favorable features throughout plants and animals. For instance, it has been used to create animals with characteristics like quick growth and greater disease resistance. To boost milk output in dairy cows, the growth hormone gene in cattle can be cloned using biotechnology. During the forecast period, the agriculture biotech market is anticipated to grow because of the rapid adoption of biotechnology in transgenic crops. Crop genetic engineering aids plant breeders in enhancing plants and reducing significant problems with modern agriculture. These transgenic plants have outstanding resistance to pesticides, diseases, and insects.
Insufficient budget allocation for R&D in developing economies and a lack of infrastructure for research, insufficient human resources, and expertise are anticipated to restrain agriculture biotech market growth. Agricultural biotechnology is a sector of deep research that requires highly skilled human resources to achieve significant results. Many developing economies lack skilled human resources and where they are available, it is in short supply or they don't get enough opportunities. Agricultural biotechnology has the great potential to boost crop yield by providing crops with disease resistance. The technology also enables the enhancement of the flavor, texture of food, and nutritional content. For example, potatoes with more amino acid content and soybeans with higher protein content can be produced using biotech. 
The key players profiled in this agriculture biotech market forecast report include KWS SAAT SE & Co. KGaA, ChemChina, Bayer AG, Corteva, Nufarm, Limagrain, MITSUI & CO., LTD, Evogene Ltd., Valent BioSciences LLC., and Marrone Bio Innovations.
The global is segmented on the basis of type, technology, application, and region. By type, the market is sub-segmented into hybrid seeds, transgenic crops, bio-pesticides and bio-fertilizers. By technology, the market is classified into genetic engineering, tissue culture, embryo rescue, somatic hybridization, molecular diagnostics, vaccine, and others. By application, the market is classified into crop production, crop protection, chemical tolerance, disease resistance, and others. By region, the market is analyzed across North America, Europe, Asia-Pacific, and LAMEA.
The agriculture biotech market is segmented into Type, Technology and Application.
Agriculture Biotech Market

---
By Type
The hybrid seeds sub-segment held the highest market share in 2021
By type, the hybrid seeds sub-segment dominated the market in 2021. Hybrid seeds are produced for specific reasons such as increasing output, resistance to certain plant diseases, or a particular characteristic like form or color. Plants are now routinely subjected to targeted mutagenesis techniques, particularly CRISPR techniques that may produce desired changes quickly and easily. These are predicted to be the major factors affecting the agriculture biotech market share during the forecast period.
Agriculture Biotech Market

---
By Technology
The genetic engineering sub-segment held the highest market share in 2021
By technology, the genetic engineering sub-segment dominated the global agriculture biotech market in 2021. The growth of this sub-segment can be attributed to the use of agriculture biotech for enhancing the medicinal and nutritional value of crops as genetic engineering increases global crop output. It helps scientists create plants that can survive harmful illnesses and challenging climatic conditions. Using genetic engineering, scientists can modify a plant's DNA to increase its pesticide resistance. The earth's ecosystem and agricultural production gain from designing plants to tolerate difficult climatic conditions. These are predicted to be the major factors affecting the market during the forecast period.
Agriculture Biotech Market

---
By Application
The crop production sub-segment is projected to grow with the highest CAGR from 2022-2031
By application, the crop production sub-segment dominated the global market in 2021. Abiotic and biotic stresses pose a threat to the yield of crops including wheat, corn, and rice. Drought, extreme temperature, soil infertility, acidity, and alkalinity are some examples of abiotic stresses. Weeds, insects, and plant pathogens including fungi, viruses, and bacteria are examples of biological stresses. Biotechnology makes it feasible to integrate the genes in a manner that they are expressed once an insect begins to feed on the plant. Biotechnology is enabling plant scientists to understand the mechanisms that account for a plant's natural tolerance or resistance to herbicides. As a result, scientists use this knowledge in crop production science.
Agriculture Biotech Market

---
By Region
Asia-Pacific is estimated to grow at a fastest CAGR during the forecast period
By region, North America dominated the global market in 2021 and Asia-Pacific is projected to have the fastest-growing market during the forecast period. Many distinct governmental and economic systems, cultural traditions, and linguistic groups are found in this region. Within these, the agricultural sector differs, with India using simple techniques and Japan adopting high technical standards. Asia-Pacific accounts for about 40% of the world's arable land, making it a valuable market (nearly 600 million hectares). In addition, the area is distinguished by the significance of the rice crop and the dominance of small farmers.
Impact of COVID-19 on the Global Agriculture Biotech Industry
Key Benefits For Stakeholders
This report provides a quantitative analysis of the market segments, current trends, estimations, and dynamics of the agriculture biotech market analysis from 2021 to 2031 to identify the prevailing agriculture biotech market opportunities.
The market research is offered along with information related to key drivers, restraints, and opportunities.
Porter's five forces analysis highlights the potency of buyers and suppliers to enable stakeholders make profit-oriented business decisions and strengthen their supplier-buyer network.
In-depth analysis of the agriculture biotech market segmentation assists to determine the prevailing market opportunities.
Major countries in each region are mapped according to their revenue contribution to the global market.
Market player positioning facilitates benchmarking and provides a clear understanding of the present position of the market players.
The report includes the analysis of the regional as well as global agriculture biotech market trends, key players, market segments, application areas, and market growth strategies.
 Agriculture Biotech Market Report Highlights
Aspects
Details
Market Size By 2031
USD 214.6 billion
Growth Rate
CAGR of 8.8%
Forecast period
2021 - 2031
Report Pages
280
Type

Hybrid Seeds
Transgenic Crops
Bio-pesticides
Bio-fertilizers

Technology

Genetic Engineering
Tissue Culture
Embryo Rescue
Somatic Hybridization
Molecular Diagnostics
Vaccine
Others

Application

Crop Production
Crop Protection
Chemical Tolerance
Disease Resistance
Others

By Region

North America (U.S., Canada, Mexico)
Europe (Germany, UK, France, Spain, Italy, Rest of Europe)
Asia-Pacific (China, Japan, India, South Korea, Australia, Rest of Asia-Pacific)
LAMEA (Brazil, United Arab Emirates, Saudi Arabia, South Africa, Rest of LAMEA)

Key Market Players
Bayer AG, KWS SAAT SE & Co. KGaA, Corteva Agriscience, ChemChina, Limagrain, Marrone Bio Innovations, Inc., Valent BioSciences, ADAMA, VILMORIN & CIE, Certis Biologicals